Caroline O'Donoghue: "The way Irish femaleness was constructed came out of a conservative culture where you were also expected to have sex"
London-based Cork author and journalist Caroline O'Donoghue stops by Hot Press HQ to discuss her brilliant sixth novel The Rachel Incident, Fight Like Apes, Marian Keyes, depictions of sexuality in YA literature, and more. 
Caroline O'Donoghue was seemingly inspired by her close friend Ryan from the day they met. It was one of those instant connections, a meeting of minds that cements a long-lasting platonic relationship every bit as meaningful as a romantic one. The journalist was elbow deep into a new novel exploring corporate feminism, which she felt compelled to abandon during the grimness of lockdown.
Instead, the writer turned inwards, taking notes from her own past in Cork City with her best friend, retail colleague and confidante. The resulting novel, The Rachel Incident, is an unconventional, messy and often hilarious portrait of young love in all its naivety.
"Ryan and I were deeply in each other's pockets when we lived together in Cork," the writer reflects. "Our London relationship became far healthier. He's still one of my best friends, but it's grounded. We're not literally sharing the same cereal bowl anymore! Both of us got bikes during lockdown and we ended up talking a lot more about that time in our lives. All we talked about was the sitcom we were going to write about our lives back then. When you're young, you think everything you're experiencing is romantic and cinematic. We were insufferable (laughs)."
When protagonist Rachel falls in love with her married professor, Dr Fred Byrne, her best friend James helps her devise a plan to seduce him – but Dr Byrne's passions lie elsewhere. What begins as a harmless crush pushes their friendship to its limits. While The Rachel Incident isn't totally autobiographical, it's O'Donoghue's most personal yet, and the authenticity is palpable through all the self-deprecating jokes.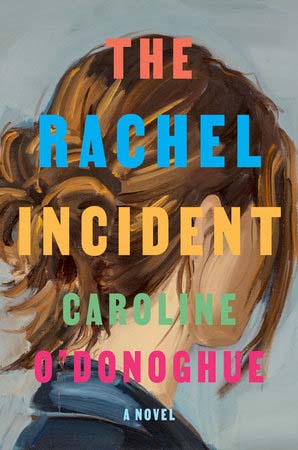 Advertisement
"Ryan was talking about his past a lot, which mirrors that of James in the book – a really tough upbringing," she says. "He's always been this person who I can't believe isn't a household name. To put that into a book and make him a little famous in a way is lovely. He was the first to read everything."
The character of James is totally alive, his quick wit and ability to clock anyone in his vicinity jumping through every page. The depiction of gay men over the years has often taken place within the story of a white woman, where stereotypes of the Fairy Godmother or Gay Best Friend ran rife. Sex & The City debuted in 1998, followed by Russell T. Davis' Queer As Folk.
"There had been a real block on depicting gay life because of the AIDS crisis," Caroline nods. "Back then, queer existence was shown through the prism of a straight woman. You don't see their interior life, their longing. The gay man in rom-coms is the fixer – think Stanley Tucci in The Devil Wears Prada. We no longer need the safety net of a straight woman, but we don't examine how deep that relationship is. Why are we already acting like it doesn't have nuance?
"When I think about 2009, the only people who were 'out' were those who didn't have the ability to mask it. It was definitely seen as shameful. I remember hearing about the loneliness of queer life. Lots of people tried to stay in the closet as a result. It's the same with the trans movement now: 'For the sake of the kids, the fewer of them that exist, the better'."
James and Rachel's attachment, at times worryingly codependent, shines a light on how textured those ties are. Three-dimensional male characters are a highlight of the novel, though the rise of young, female Irish authors has led to a thrilling array of authentic, real women.
"It is genuinely fascinating, because even with TV writers like Sharon Horgan, Lisa McGee and Aisling Bea, there's an explosion of us," says O'Donoghue eagerly. "When I was growing up, Irish 'femaleness' did not exist on an international scale. It was Damien Rice and Colin Farrell. Irish women were never on TV, except Laura Whitmore later on. It's totally different now. When you think of Irish writers now, you don't always think of Yeats. You think of Rooney. That's incredible and so exciting to be part of. It's like a rising tide lifting all boats.
"Because of the specifics of how Irish millennial women grew up, the way Irish femaleness was constructed came out of a conservative culture where you were also expected to have sex. It creates this weird conflict of desire and shame. Women everywhere feel that, but Irish women have a far more tangible relationship with it. We're able to access those emotions in a deep, instant way because we grew up in this pressure cooker after the Magdalene Laundries.
Advertisement
"When I was 17, I was reading Marian Keyes. I wanted to know what 'women life' would be like. I was in my twenties before I started talking to other women about pleasure. My favourite writers all write about sex. What I found so frustrating when I was a teenager, growing up reading teen books, was that sex was always framed as either a predecessor to a pregnancy storyline or it was abuse. There was never pleasure or tenderness."
O'Donoghue's first young adult novel was 2021's All Our Hidden Gifts. It was acquired for a six figure sum in 2019, and has found a loyal, dedicated fanbase, especially for young queer people. The characters are also shown sexuality and consent in a beautiful manner.
"I wanted to make sure that my YA books have a virginity-losing scene without shying away from it being uncomfortable or awkward," says O'Donoghue, "but still showing two consenting teenagers who love each other. I felt the need to give young adults what I didn't have, which was a roadmap of how virginity should look. Because I write YA, you're put in the same bracket as JK Rowling. For me, it was so important for those books to have trans characters in them. What's been the most gratifying part of my career to date, is that the series is a safe place for these kids. Trans young people are deeply struggling, and really coming to terms with it."
I can't let her leave without quizzing her on Cork's 2009 indie-rock music scene, referenced throughout The Rachel Incident. It was the era of HamsandwicH, Bell X1 and Fight Like Apes, Irish rockers/electro-pop heroes who all remain active today.
"There was this moment where CD sales were falling, so bands had to tour more. All those kinds of bands were suddenly always in Cork," O'Donoghue smiles. "We felt like we were at the centre of something. Dirty Pretty Things were always touring, and people were queuing up to desperately buy Carl Barât a pint (laughs)."
Advertisement
There wasn't a dry eye left in the house at Fight Like Apes' recent Dublin reunion.
"I saw their gig in London on Paddy's Day, and cried all the way through," Caroline exclaims. "We were 18 when their debut album became huge. They were amazing. Now that the fight for marriage equality and abortion rights is done, there are less opportunities for Irish expats to get together. It was weird being in a packed out room full of Irish people my own age. The band were really moved. It was one of the most emotional gigs I've ever been to.
"I never go to Irish pubs but I understand why they exist now. It awakens something really weird and ancient in you. We've always had this practice of going abroad and finding each other. I felt so safe in that room."
• The Rachel Incident is out now via Hachette.