Beabadoobee: "There are ups and downs, but I'm hopeful that this could be a thing for me for a long time"
Grunge-pop star Beabadoobee on her captivating new album Beatopia, meeting Taylor Swift, and her friendship with The 1975's Matty Healy.
An album that melds make-believe with diaristic authenticity couldn't arrive at a more potent time. It seems like lots of people want to escape the chaos of our current era, and who could blame them? Slacker-rock songstress Beabadoobee, meanwhile, has her own methods…
"I'm getting ready for a big party," the 22-year-old grins, with raucous noise and laughter audible in the background. Bea Kristi certainly has a list of things to celebrate, whether it's supporting Halsey, Clairo and Bleachers on their North American tours, or the steady release of hypnotic singles from her sophomore LP, Beatopia. The Philippines-born, London-raised grunge-indie star has come a long way since her celebrated debut, Fake It Flowers, in 2020.
"My new single '10:36' came out yesterday, Beatopia is coming out soon and I'm throwing a party," she explains. "We're playing a gig, and I'm just gonna get super fucked up." It's easy to see how Bea has collected a smattering of highly respected artists as friends, given the refreshing lack of filter.
While newfound fame affects her deeply, Beabadoobee doesn't allow it to affect her down-to-earth personality. The laidback Kristi escapes the strangeness around her by incorporating (often substance-fuelled) daydreams into art. Inspired primarily by her day-to-day life and relationships, much of Beatopia was curated during the process of "getting fucked up".
"I don't know what's going on, if I'm being honest. I make music and that's kind of all I really want to do right now," she says, bluntly. "That's the only thing that keeps me going. I depend on this shit, mentally more than anything else. It makes it all worthwhile."
Advertisement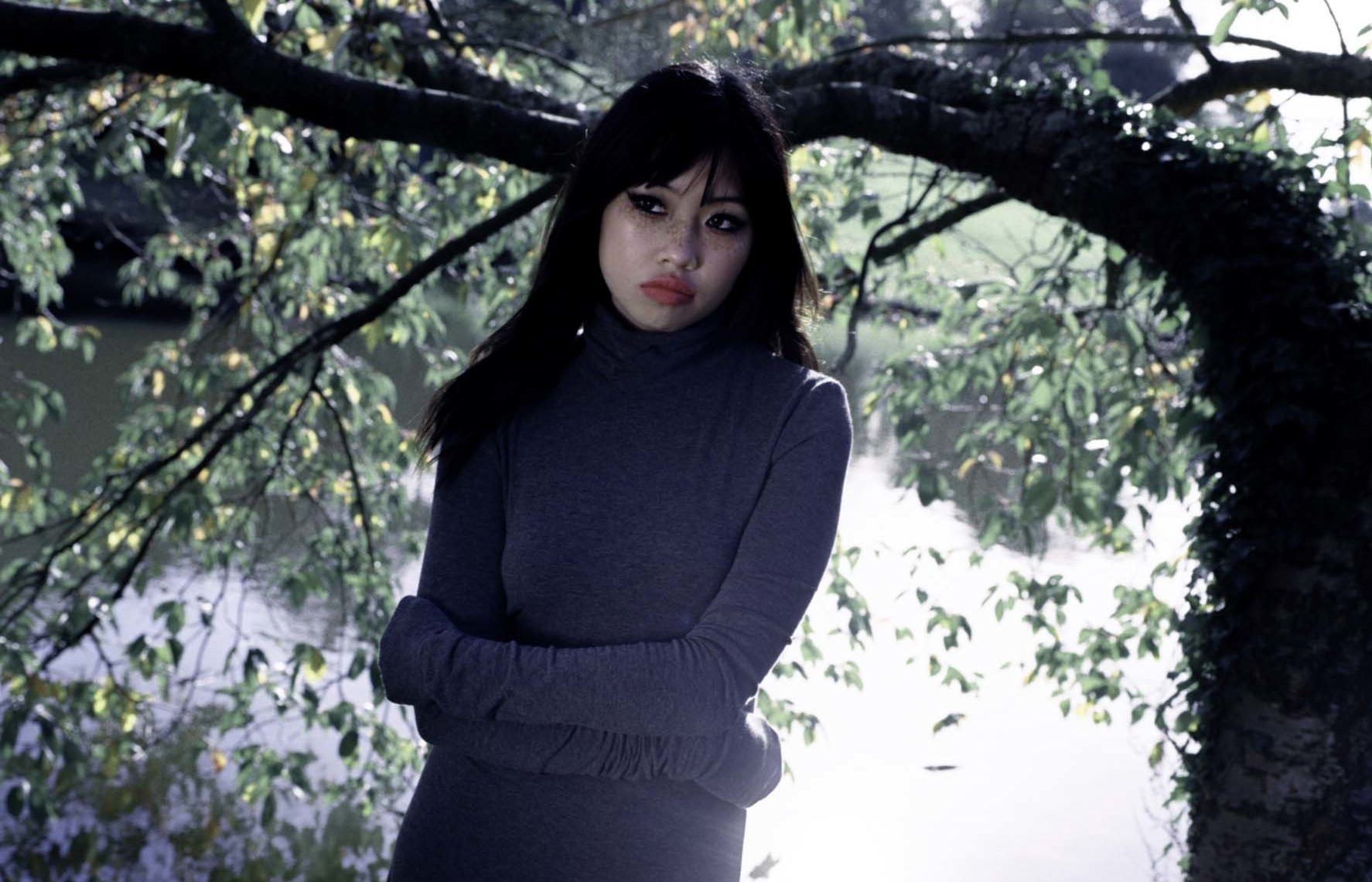 It must be overwhelming, having lived a regular 17-year-old life of trying to fit in at school, before suddenly garnering a viral hit with 'Coffee' in 2017. Fast forward 12 months and Beabadoobee is signing to Dirty Hit, home to The 1975, Rina Sawayama, Pale Waves and more. A string of EPs arrived across 2018 and 2019 –
Lice, Patched Up, Loveworm and Space Cadet – paving the way for her debut album. All were written in her bedroom.
Luckily, Dirty Hit's office was only down the road from her secondary school in London. The interest shocked her, given that she envisioned a future as a nursery teacher. Suitably, perhaps, the story of Beatopia is very much tied in with her experiences of education.
Seven-year-old Bea returned to her classroom after a violin lesson to find her teacher sticking one of her drawings on the whiteboard, depicting a universe the musician had created at home. It included a map dotted with the names of all the continents and countries, as well as a unique language.
She crowned her fictional kingdom 'Beatopia' and kept the drawing on her desk at school. It was also around the age of seven that Bea started going to therapy. She had a lot to process, from her family's move to London when she was three, to feeling isolated at her all-girls Catholic school in Hammersmith.
She was one of very few Southeast Asian attendees, and struggled with her mental health from age 11. A period of drug and alcohol misuse, and expulsion from Sacred Heart High School, meant that Kristi completed her A-levels at Hammersmith Academy.
Advertisement
"I get overwhelmed by how much my life has changed all the fucking time, but what makes it alright is the fact that girls who feel like I did when I was 15 can relate to the songs I make," Bea posits. "If the songs I write can make anyone feel less alone, that's amazing. Especially if it makes me feel less alone, too, and validates my feelings, you know?
"I've been very personal in my music, so people tend to want to believe what they want to believe, or deliberately misinterpret things I say. The only person who knows what's true is me. I'm going to have to understand that, when I release my music, people will inevitably have their hot takes. I have to accept that, because it is what it is. If my music helps one person, it makes the other stuff all worth it in the end, right?"
Bea's nostalgia-tinged indie tracks were a tonic to a young audience craving a new musician within the grunge sphere, who perhaps shared similarities to Nirvana and The Cranberries. The "Nineties grunge" label doesn't capture Kristi's essence entirely, with Beabadoobee making sure to cite Original Pilipino Music as inspiration.
The genre led by acts like APO Hiking Society and Eraserheads encompasses both disco-inspired dance and sentimental ballads. She hopes to release a song in Tagalog soon, in fact. Understandably, she shrugs off the notion of being a Gen Z Kurt Cobain.
"I mean, no music is original nowadays," she says. "Everyone's done it before. I'm not trying to say I'm a fucking genius!"
Canadian rapper Powfu sampled 'Coffee' on his TikTok hit 'Death Bed (Coffee For Your Head)', which exposed millions more people to the first song Bea ever wrote on guitar. Allowing others that artistic freedom worked a treat.
Advertisement
"No one's a fucking genius, she continues. "But people write how they feel. If someone wants to take inspiration from that, they can. I feel fine. Let them have it. Beatopia is super-different to Fake It Flowers. Like any other musician, you criticise a lot of your old work, but it doesn't mean that I hate my debut album.
"It's just that there were a lot of things I wanted to improve on. I think I did that with Beatopia, in terms of growing as a person and a musician. I worked on that with my guitarist Jacob [Bugden] and it became one of my favourite aspects of the album. It's so personal."
The thrillingly diverse and experimental offering is fantastical yet deeply personal. In 14 songs, Beabadoobee traverses fuzzy rock, psychedelia, midwest emo and outright pop, whilst remaining undeniably herself throughout.
"A lot of Beatopia is about experiencing feelings that I pushed under the rug for a while, and learning to write and sing about that," Bea concedes.
Bugden and Kristi spent a year making the record in a windowless, miniscule studio in Wandsworth. The pair sourced inspiration from The Chemical Brothers, Stina Nordenstam and Cibo Matto.
"It was something I was feeling right at that moment," she says, "and I leaned into it heavily."
Having spoken to Hot Press back in 2020 upon the release of Fake It Flowers, her anticipated 3Olympia Theatre gig this October marks the first time in years that Kristi has touched down on Irish soil. She ended up down the road in a Capel Street karaoke bar.
Advertisement
"I love Dublin," she enthuses. "The energy is always great there, the crowds are always sick and everyone's always really nice to me. The last time I was there was with The 1975. The first time I went to Ireland, I went to a karaoke bar and got tattooed by Mac DeMarco, which was really fun. It's hard to see the cities because you're only there for like a minute and then you leave. You try your best to experience them, you know?"
Has Beabadoobee had any other famous faces approach her in strange places?
"Taylor Swift, which was really cool," she recalls. "I met her at the NME Awards and she just came up to me and said she liked my music. I'd listen to anything from folklore. All her new stuff is amazing, songs like 'Cardigan' and 'Betty' are especially good. It was surreal."
Surely Bea has become accustomed to catching the eye of high-profile musicians, given the kind of support slots she's landed over the past two years.
"Being a support act is a tool, but it's really hard to communicate sometimes with the main acts because everything's really busy," she offers. "But you feel the appreciation from the artists. Everyone really wants you to be there. I always like to choose the people I take with me, because you're probably going to hang out.
"I spend time with my tour acts. I really like this band called Momma, they're pretty sick. This band called Lowertown are also joining me on tour, and Molly Payton. She's great, Molly's a really good friend of mine."
Advertisement
Another noteworthy London-based name who found viral fame on TikTok, PinkPantheress, appears on Beatopia. On 'Tinkerbell Is Overrated', the pair's soft vocals combine beautifully, helped along by The 1975's drummer and co-producer George Daniel. The tune reflects on the first lockdown of 2020, back when Bea was trashing her room and acting out online.
"PinkPantheress is a friend of mine, so it was really fun to do," she says. The pair have plenty in common, being a similar age and having very online fanbases.
"It just happened because we're in the same scene," Bea continues. "I'm a fan of hers, she's a fan of mine. It made sense. I wrote 'Tinkerbell Is Overrated' before she hopped on, though. But 'See You Soon' is one of my favourite songs I've ever written. I realised so much shit when I was creating it. There's a lot of things that I'm having epiphanies about right now.
"I listened back to that song and it still means so much. As a single, it's the best example of what Beatopia equates to, sonically and lyrically."
The sparkling pop track was written the day after her first time doing shrooms last winter, its glitchy beat reminding her of her own heartbeat.
"Each song on this album means the world to me," says Beabadoobee. "At times, you can get detached when you're doing press or busy working with other people. But it's what's keeping me sane and it's how I stay in love with this record. It genuinely is so close to my heart. Media can get quite tiring.
"There's a lot of interviews and you get asked the same questions, but it is what it is. It's normally great and can be good fun. I'd do anything in the name of Beatopia!"
Advertisement
That includes inviting other respected industry names into the studio with her, like pop producer Starsmith and Bombay Bicycle Club. The album's strings, meanwhile, come courtesy of Georgia Ellery of Jockstrap and Black Country, New Road.
"I think she's friends with my guitarist, Jacob. We're big fans of that band," says Bea. "She's an incredible, talented musician. She only made the album better, and encapsulated Beatopia in the world of stringed instruments perfectly."
Elsewhere, The 1975 frontman Matty Healy co-wrote the emo-vibed 'Pictures Of Us' and the folk-flecked 'You're Here That's the Thing'. He also co-wrote 'Ripples' after showing Bea a video of Paul Simon playing guitar. The melancholy, string-layered track is partially about feeling silenced in the intimidating music business, but also about co-dependency.
"You're so comfortable with someone you work with, so you're going to say exactly what you feel," Kristi says of the welcoming studio environment. "That's something I had to learn the hard way, but I'm confident with my ideas and opinions. At times, other people's opinions and ideas are better than mine, but it's something you just have to accept.
"There's no harm in telling anyone what you think. In this world and in the music industry, being a woman is kind of hard, isn't it? You've got to stick to your guns a bit more than anyone else."
Advertisement
Given her connection to Dirty Hit, support slots for The 1975 and co-writes, Bea must be growing weary of the line of questioning that always circles back to The Great Matty Healy.
"Obviously, yeah, but Matty Healy's my big brother!" she laughs. "What are big brothers there to do except help you and to annoy you a little bit, but he doesn't annoy me. Matty's great and he's talented, and he has the best advice in the world."
With over 4.6 billion streams, Kristi's young fanbase remain loyal. Artist relationships these days predominantly stay online, but she describes in-person interactions with her followers.
"It's like the word fan is quite weird, because my connection to my audience is so much more intimate and close," says Bea. "There's a lot of understanding between us. I feel like there's so many amazing experiences I've had with them. One time this girl came up to me after a gig and told me she started a band with two girls she'd met at my show.
"She came alone and started a band with two strangers after watching me! Stuff like that helps all of this make sense. The fact that, for some strange fucking reason, I'm some sort of person that people look up to is crazy. It's just because I'm being myself. I'm not perfect at all, but I think people can see right through that. A lot is happening in my life."
Advertisement
At this, the atmosphere shifts slightly. The indie sensation cites a recent break-up as contributing to her low mood, not that it's any of my business.
"I'm just going to keep on growing and maybe I'm on the right path right now," she says. "There are ups and downs, shit times and good times. I'm hopeful that this could be a thing for me for a long time. I want to keep writing. That's all I want to do, because of Beatopia.
"I want to get really fucked up when it comes out and immerse myself in the Beatopia world. That's what it's all about as a universe: being together and escaping."
We'd follow her down that Alice In Wonderland sonic rabbithole any day.
• Beatopia arrives on July 15 via Dirty Hit. Beabadoobee plays Dublin's 3Olympia Theatre on October 4.