Atlanta musician Teddy Swims: "I'm ultimately learning everyday that it's truly not about me"
"I want my own music to not be what someone only comes to for one feeling," Georgia native Jaten Dimsdale (aka Teddy Swims) tells Hot Press ahead of his sold-out Academy Dublin shows.
When Jaten Dimsdale uploaded a cover of Michael Jackson's hit 'Rock With You,' the now famous video was merely another cobblestone on the Atlanta singer's lengthy musical journey. Dimsdale, better known as Teddy Swims, may be the tattooed celebrity figure in his viral covers, from the 52 million-times viewed 'You're Still The One' Shania Twain-approved clip to the singer's version of Mario's 'Let Me Love You,' which has reached over 39 million pairs of eyes and ears – but he didn't just accidentally stumble into the spotlight.
From the outside, Dimsdale is a steel cut product of the American south: he was raised on football and church, the grandson of a pastor. But from the onset, the young prodigy craved so much more, taking up musical theatre and weaving his way through high school bands alongside his closest friends - many of whom he now employs.
"The whole way this started was with us," he says. We are alone in a quaint backstage room on Swims' tour stop in Dublin, but he gestures to the thin walls carrying the laughter and music of his bandmates, his team – his "family," he corrects me. "We were in bands together coming up, so I never saw myself as a solo artist. It was never that way, I still don't quite see myself as that."
His moniker, Teddy Swims, carries deeper meaning in the shape of its five-letter surname. Swims is an acronym, standing for 'Someone Who Isn't Me Sometimes'. The double-masked thing implies an alternate reality, but Dimsdale isn't claiming to be anything other than the friendly, fast-talking, warm person I find myself in conversation with. He's merely aware of the capacity music holds.
"I'm ultimately learning everyday that it's truly not about me," he declares. "I told myself for so long that if I could do this for a living and have this career, all my problems would go away. I would be financial stable and be able to do whatever I want, and nothing else would fucking matter."
Advertisement
"Then I got it, and I had all these people that were validating my feelings and telling me I was great, and I started feeling like they were liars. Or I was a liar. I started feeling some imposter syndrome, like if they really knew me and who I was, they would be disgusted," he shares. "Working on myself and caring about myself, because of that past trauma and issues with relationships where I felt like an unloveable burden, means still coping with that."
Songwriting is a means of expression for Swims, who has an unfair share of his own past traumas, financial difficulties and more than a few run-ins with heartbreak. Just before his speedy rise to fame, Swims was forced to move in with his father while he worked part-time odd jobs, spending the rest of his spare time focused on music.
After making a name for himself on YouTube and TikTok with his covers, Swims signed with Warner Records and released 'Broke,' later joined on the track by country star Thomas Rhett. But it's the people who caught him when he had no net to fall back on that he surrounds himself with now, paying it forward from his newfound vantage point.
"All of these kids I've known for ten to twenty years, so it's people I've had my entire life who have invested in me and we were all in bands that nobody gave a shit about."
Dimsdale rejects the notion of flipping on a switch and becoming the more widely known Teddy Swims, saying, "I try to be the most authentic and unapologetic me as possible…I feel like the bigger I get and the more I do this, the more introverted I become because it's expecting so much of me and I give a piece of myself to every single person I meet."
When the music succeeds in stirring up the things we keep locked within, bringing untouched emotion to the surface, the effect on the singer himself is twofold. "That's the weird thing about the meet and greet situation, too. In some cities, we have a hundred people we meet and greet with and it's really extraordinary. The first person will come up to you crying and you're hugging them, they're telling me my music got them through their divorce, the pandemic. Then the next person comes up and they're like, 'This is my husband, we just got married and used your song as our first dance song!' and they're just so happy," he laughs.
"You have to meet every single person with their emotions. Which is bizarre. It's an emotional rollercoaster, but it's the best job in the world. All I wanted was this."
Advertisement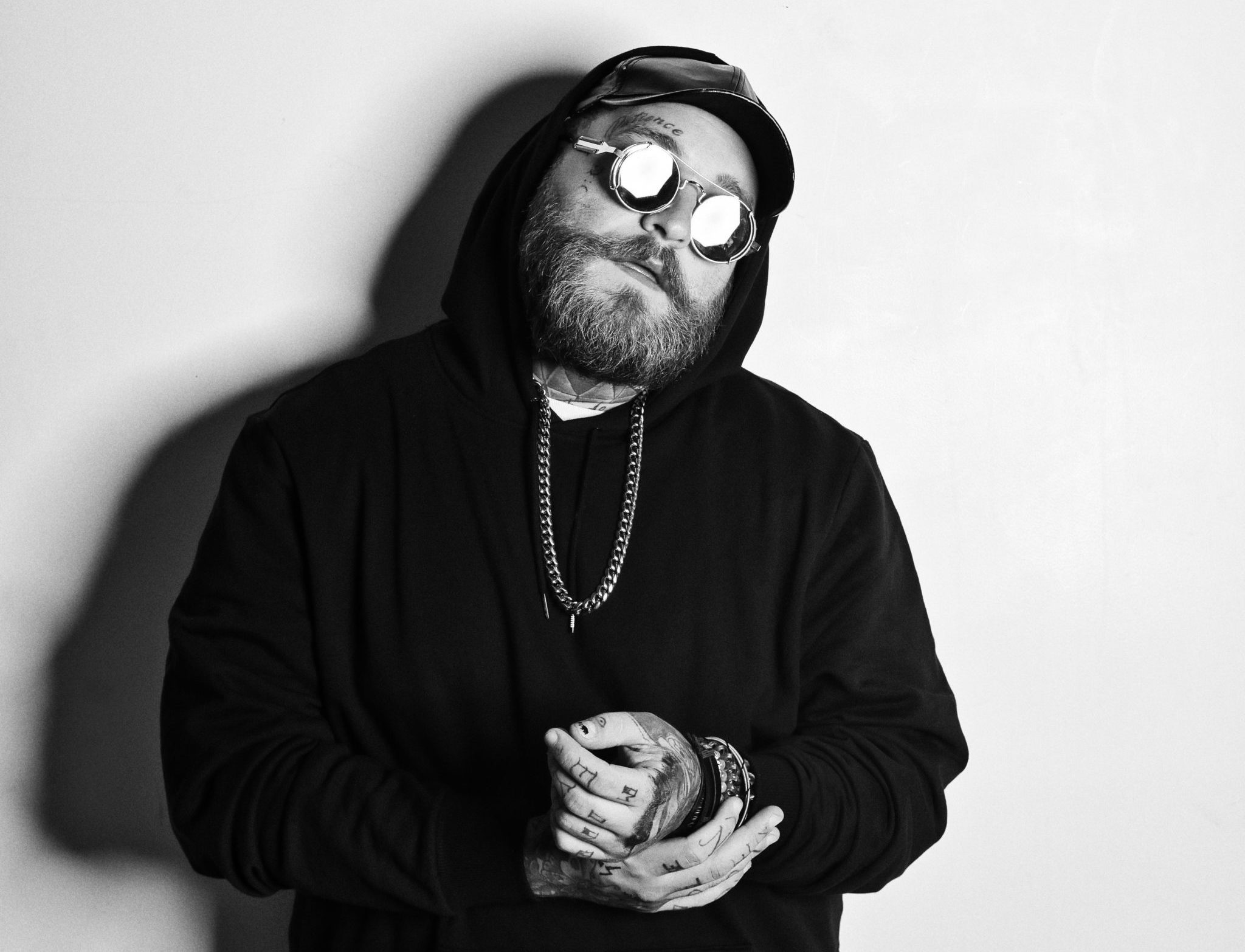 He's an artist in constant flux between highs and lows. Swims wears an authentic smile that seems to have risen from the artist's unique genesis, proof of his desire to connect with strangers like myself despite the events of his own, backstage reality. He still peels back the curtains, telling me, "Last night was really hard for me because I got news yesterday when I woke up that my best friend and my uncle Dewy passed away. He had a heart attack. It was hard for me to do this show at all. I stayed at the hotel, came to do soundcheck around four and there were already people lined up out front."
Last night being the first of Swims' back-to-back sold out shows at The Academy, where he managed to shine onstage despite news of a sudden loss back home. "I just kept my glasses on, wiped my eyes, took pictures, signed things and hugged everybody. And then just walked in there and sobbed it out. My guys were all giving me hugs and reminding me that these people are all here and they need this in their lives."
One's life doesn't conveniently pause when you become, unexpectedly, part of the lives of millions of strangers. Even as Swims walks around handing out shreds of his warm exterior to the people who need it, night after night, he's carrying the weight of their emotions in two hands. And he's still figuring out when – and how – to put it down.
"On the American tour I was leaning on alcohol. There's just something about a few shots of tequila that dumbs you down, so I could be loving and meet everybody and not feel so exhausted," he explains.
That's a temporary coping mechanism of course, and it wasn't long before Swims recognised that fact. Tequila took the weight off his shoulders only to replace it with something heavier – something he refused to carry. "When we first got here, I wanted to see if I was able to meet everyone's energy without alcohol, without it weighing on me."
"And I also wanted to make sure I didn't have a crippling alcohol problem," he points out, laughing. "Turns out, I'm okay. I'm good."
Advertisement
"I've just been trying myself and making sure I'm capable. I do the same thing in a writing room and it's easy when I'm writing with my buddies here and people I'm used to. Even when you know your ideas aren't good, it's okay. We do the most sacred art together."
Despite being surrounded by a family of collaborators, Swims' sudden shot into the darkness of fame has landed him in rooms with producers and industry figureheads whom he isn't as used to. "That's the ultimate reason why, with my manager, if he ever sends me a certain writer I'm going to work with I'll tell him, 'Do not tell me what they've done.' Because then I'll have this preconceived notion," he explains. "It's like you predetermine this songchild that is no longer what it was. I think the sole purpose of working with others is because I bring something to the table and they bring something else."
The polarised state of the States goes beyond politics at the moment, having effectively established a culture where creativity is more or less shunned in favour of sticking certain stereotypical labels on the kinds of people who listen to country, pasting others on the crowd that veers toward rap music. Swims hopes his music moves beyond genre to find a home in anyone's life – to meet his listeners where they are.
"Genres are good, but not to bind you in one place. It's like musical theory in a way, people see music theory as rules but it's not rules, it's meant to be an avenue for communicating."
"As someone who genuinely loves this instrument," he wraps both hands around his throat, "if I hear someone doing something with their voice that I can't, it drives me fucking insane…That's why I was in a bunch of bands, so I didn't have to be bound by one thing. Luckily, I think I'm doing a decent job of trying to be everything but still authentically myself at the same time."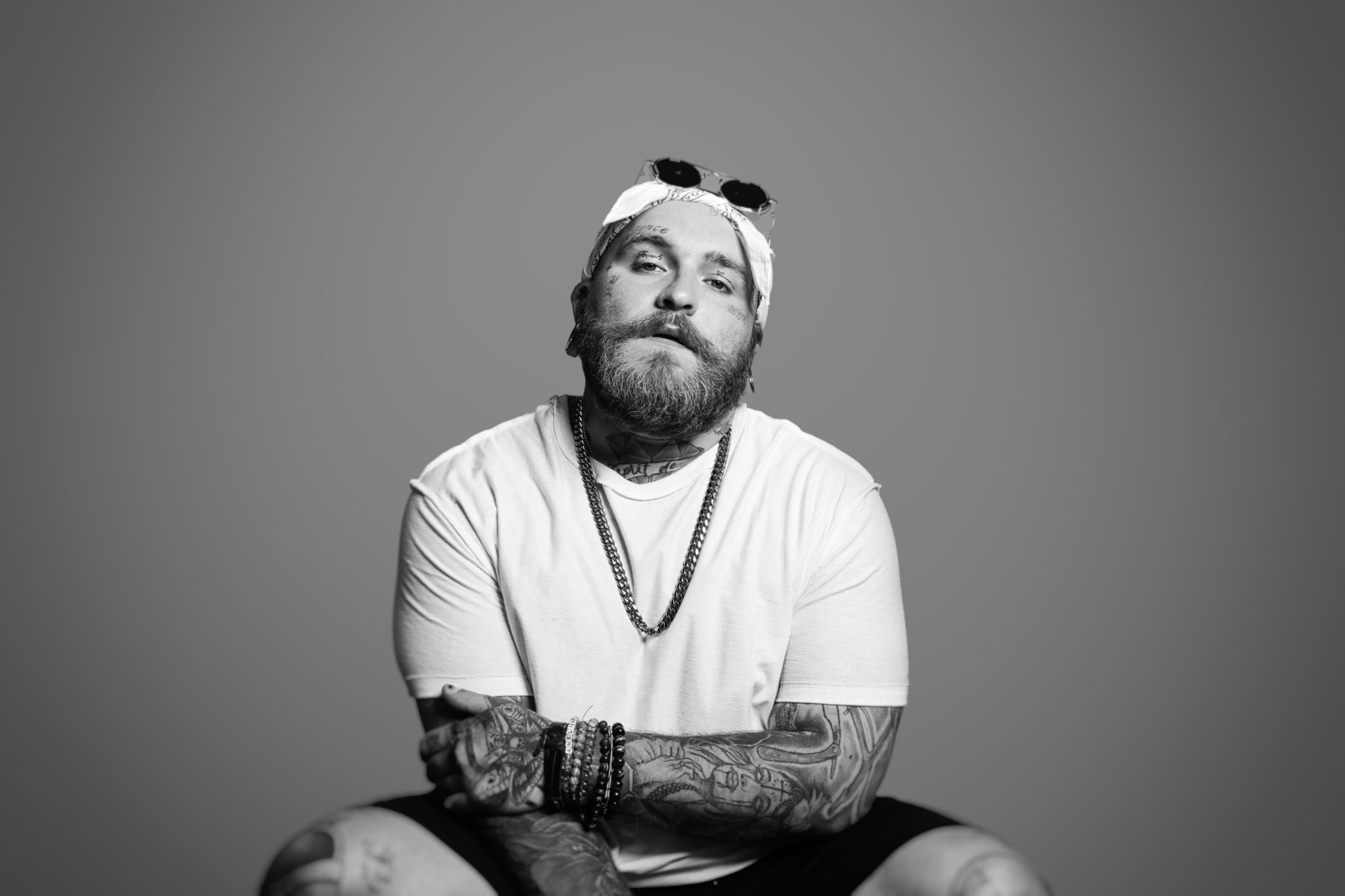 Swim's most recent EP, Tough Love, is a testament to that very work on his part. The collection of songs neglects genre in a manner which re-defines multi-faceted, blending a mixture of soul, country, pop and R&B that allows each song to stand out beside the next. At the same time, the themes – falling in love, heartbreak, leaving the only place he's ever known – tell a six-song, 18-minute story. His rich vocals are golden and more than captivating enough on their own, but Swims' songwriting is proof of his craving for connection.
Advertisement
"The thing with genres that I've noticed is that they totally lend themselves to an emotion better than another one might. So instead of being bound by genre, I use the ins and outs of that to get that emotion," he says. "I want my own music to not be what someone only comes to for one feeling."
"I want people to know that I'm a human with the full range of emotions, just like they are. I want them to put on a Teddy Swims album and have access to all of their emotions, and I want them to also come to me with that. Because that's what music is supposed to be, it's supposed to be a safe space for that."
"There's that and everything in the middle," he clarifies. "I think with Tough Love and the EP before it, I'm Learning, instead of cohesive thoughts it was just me really trying to write, write, write. Working with artists and trying to figure out who I am and what I want to sound like."
And he did – write, write, write. He says he now has an archive of over three hundred unheard originals, which he predicts will double by the time he "puts out a real album."
His writing hand might be feeling a bit worn out, but Swim's dreams are lofty enough to put the effort to good use. "I want to put out a massive, thirty track album. Just a collection featuring all my favourite heroes I'm getting so lucky to talk to right now."
While appearing at peace with being painted as a work in progress in all facets of his life, he's still intent on figuring it all out. Nevertheless, Jaten Dimsdale and everything that makes up Teddy Swims have made it miles from the starting line.
"The reality is that I can control what I do to fix things, rather than just wallowing because someone else is. That's unhealthy to everyone in my life, to do that to them," he admits. "It's so hard to break habits and mental stops, yet to not truly get close to anybody and keep everyone at a distance is not fair to anybody. But especially to myself."
Advertisement
Listen to Teddy Swims' EP Tough Love below, via Warner Records.
RELATED