By: Colm O'Hare
The mother of Philip Lynott has seen her home in Dublin double as a place of pilgrimage for fans of the Irish rock legend – and she wouldn't have it any other way.
Few have done more to celebrate the memory of the late great Phil Lynott than his own mother Philomena. She told their story poignantly in her book My Boy – The Philip Lynott Story (written with our own Jackie Hayden) and she continues to be heavily involved in preserving his musical legacy.
She is currently raising money to erect a statue in Philo's memory in Dublin's Grafton Street. And as the presence in the charts of the latest greatest hits compilaton attests, the music of Thin Lizzy is still in demand.
Dublin born, Philomena Lynott spent 35 years in England, where she ran a hotel in Manchester, before returning to Ireland in the early 1980's. Home today is White Horses, a house by the sea in Sutton, overlooking Dublin Bay, where she lives with her partner Denis and her nephew Graham (not forgetting her dog Lady!). Prior to moving here she lived in Glen Corr, in nearby Burrow Road - the house that Phil had lived in with his family before he died so tragically in 1986.
"I'm very secure and very happy living here," she says. "I like this house better than Philip's old house. It was very exposed, backing onto the beach and I was burgled five times when I was there. I was even burgled one night when my mother was in the house with me, shortly before she died. And I had five dogs at the time! They were barking madly, telling me there was someone in the house and I was telling them to shut up. Don't get me wrong, it was a lovely house in a lovely location but it was a bit too secluded for me and I couldn't relax there."
Unlike most people of her age (she's now in her early 70's), retirement is the furthest thing from her mind. She spends much of her time answering the thousands of letters she receives as well as receiving fans of Phil's who constantly call to the house.
"I'm always busy and never get time to relax," she says. "If my neighbours were to ask me in for morning coffee I'd have to decline the offer. You'd be amazed at the amount of mail I get every day. Letters come from all over the world, from Tasmania, Brazil, Japan, Finland and there's a guy who writes from Russia and he always signs his letters, 'from Russia with love'. They're all thanking me and I say, 'no, it's me who should be thanking you for being fans of Philip's music'. It's just another part of my life now. When I'm not doing that I'm usually travelling to the different countries that invite me to concerts they organise in memory of Philip."
One room in the house is dedicated totally to Phil's memory and contains a massive amount of memorabilia. All around the walls are gold and silver records, with pictures, posters, records and other souvenirs filling every available space in the room. In one corner is an old Seeburg jukebox containing all of Phil's favourite records. Visitors to the house are usually shown into this room.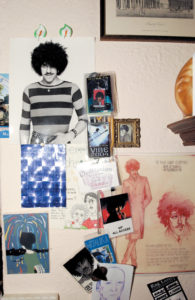 Advertisement
"They can't believe their luck especially when they find that I'm at home," says Philomena "They usually cry. Especially the Japanese, who are very emotional."
Does she not find the constant stream of visitors an intrusion into her private life?
"I don't mind it at all. I'm not a normal housewife you see. For a start I've never been married. Secondly I used to run a hotel so I'm well used to people coming and going all the time. They just come in and sit down and I say 'would you like a cup of tea? They say 'we'd love one' and I say 'well go and make it yourself.
"Actually, I'll give you a laugh," she continues. "I was in the house one day with some Americans and I was showing them around Philip's room. Two Chinese lads came up the drive and I walked out and I said 'hello' and they bowed so I said 'come on in'. So I bring them in and I show them into Philip's room and I'm yapping away and they're staring at me and looking at one another. Finally, they hand me a note which said, 'do you want your car washed?' It turned out they were not fans of Philip at all - they hadn't a clue who he was. They were just a couple of Chinese students doing a few odd jobs in the area. I didn't need my car washed so I gave them a cup of tea but we were crying laughing afterwards. It was so funny."
White Horses is located a short distance from Phil's grave in St Fintan's Cemetery, a place of pilgrimage for fans from all over the world.
"All these people that call to the house have usually been to the cemetery beforehand," Philomena says. "They leave mementos - some of it good quality gold and silver, everything from earrings, plectrums, drumsticks even money and they leave messages. I usually take home the good stuff and that goes into the room."
It's not just ordinary fans of Thin Lizzy who pay homage. Some of the biggest bands in the world have made contact with Philomena, as she explains
"When they hit town they all come and tell me how much they loved Philip's music. Jon Bon Jovi, Metallica, Whitesnake - I've met them all. And I've met Bruce Springsteen, I can't remember exactly what he said but whatever compliment he paid, I said to him, 'Philip thought the same of you'. The Darkness have given Philip's daughters passes for life and Ash, that lovely band from the North, are big fans of Philip's. Tim Wheeler is my toy boy (laughs)."
"People say to me 'you're always running about, why don't you slow down? But I can't. I'd go goggled-eyed sitting at home looking at the TV. I have to keep busy or I'd just fold over."