It started as a battle for women's bodily autonomy – and against the domination exerted by the Roman Catholic Church in Poland. But – especially for young people – it has become a wider revolutionary struggle in opposition to the rise of far-right nationalism, and of neo-Nazi thugs. We talk to women's activists living in Poland and in Ireland about the battle so far...
Protests erupted across Poland recently, triggered by the introduction of a near-total ban on abortion by the country's largely Roman Catholic, right-wing Government. When Julia Marciniak saw what was happening in the country where she was born, she decided to use her holidays to travel home. She was hoping that she would be there for an uprising.
"I couldn't stay here in Ireland," Julia says. "I needed to go. It's not just about abortion rights: people want this Government to go. I wanted to be part of that."
The demonstrations in Poland are among the largest in the country since the downfall of the Communist regime in 1989, which brought an end to the country's dependence on the Soviet Union. Younger Polish citizens like Marciniak have never seen anything like it. She uses the word 'revolution' often, as she describes her recent experience.
Marciniak is a Dublin-based union organiser with the UNITE trade union. She is still in Poland when we speak.
ABORTION ISSUE A CATALYST
Advertisement
Wroclaw is a city on the western edge of Poland. Every day, Marciniak leaves her parents' house to go to city centre locations, where protestors gather. They sometimes convene outside the city's train station, but the locations often change, Marciniak says, to keep the authorities guessing. Her mother, a liberal-minded teacher, worries about her safety and insists on accompanying her.
"My mother still thinks I'm a child," Julia says, laughing.
The Government's recent announcement that they will delay the implementation of the conservative new anti-abortion law has not affected the routine of the protestors.
"Even before the new restriction, abortion law was very strict in Poland," Marciniak says, "so going back to what it was is just not good enough now."
Marciniak is right. Dominated as it is by the Roman Catholic Church, Poland already had one of Europe's most aggressively restrictive abortion policies.
Nevertheless, on October 22, the country's so-called Constitutional Tribunal ruled that terminating pregnancies over foetal abnormalities – which accounted for 1,074 of 1,100 abortions performed last year – was unconstitutional.
If the new ruling is adopted as law, the termination of a pregnancy will only be permitted in Poland when there is a threat to a woman's health or if the woman is pregnant as a result of rape or incest.
Advertisement
Polish women seeking to terminate an unwanted pregnancy will have to either travel abroad or face legal consequences at home – as applied to women in Ireland, just a few years ago.
So far, the protests have worked – up to a point.
In a bid to stifle the growing political dissent, the Polish State has delayed the publication of the recent ruling. This, temporarily at least, prevents it from coming into effect. How long this will last remains to be seen, since the Government can end the delay any time it chooses.
For many Polish women – here in Ireland and at home – the protests go further than simply winning more liberal abortion rights. Instead, the movement has mutated into a much wider campaign to dismantle the current regime.
"Government get the fuck out and never come back," many of the placards read.
In this way, activists say, the abortion issue has become a catalyst for a wider revolutionary struggle. It is a climate in which Irish solidarity is warmly welcomed.
A FIGHTER IS BORN
Advertisement
Twelve years ago, Julia Marciniak chose to move to Ireland. Poland was a mess. Jobs were hard to find. She needed more opportunities than were available there.
For a decade, she waited tables in restaurants across Dublin.
In 2019, while working as a waiter in the newly opened branch of the UK's Ivy Restaurant, on Dawson Street, she questioned the way in which tips were included automatically in bills. While legal, the effect, according to Marciniak, was to deny workers their right to be tipped directly.
Incensed at what was happening, she joined UNITE. When they heard, the company fired her. What she considered a blatantly unfair dismissal politicised Marciniak. She spoke out publicly against her former employers.
Impressed by her fighting spirit, UNITE decided to hire her as the organiser of the trade union's tourism and hospitality sector.
Marciniak, who speaks fluent English, with a Polish twang, laughs boisterously as she recalls the story. It is not at all what she had expected.
Now, she is on the frontlines of another battle, this time in Poland. She is proud of the fact that there is a new mood for change in the air, in the land of her birth.
Advertisement
"You'd see a lot of young people dancing to music in the streets," she says, "and no one is drunk or on drugs or anything. It's really beautiful, it is like a revolution."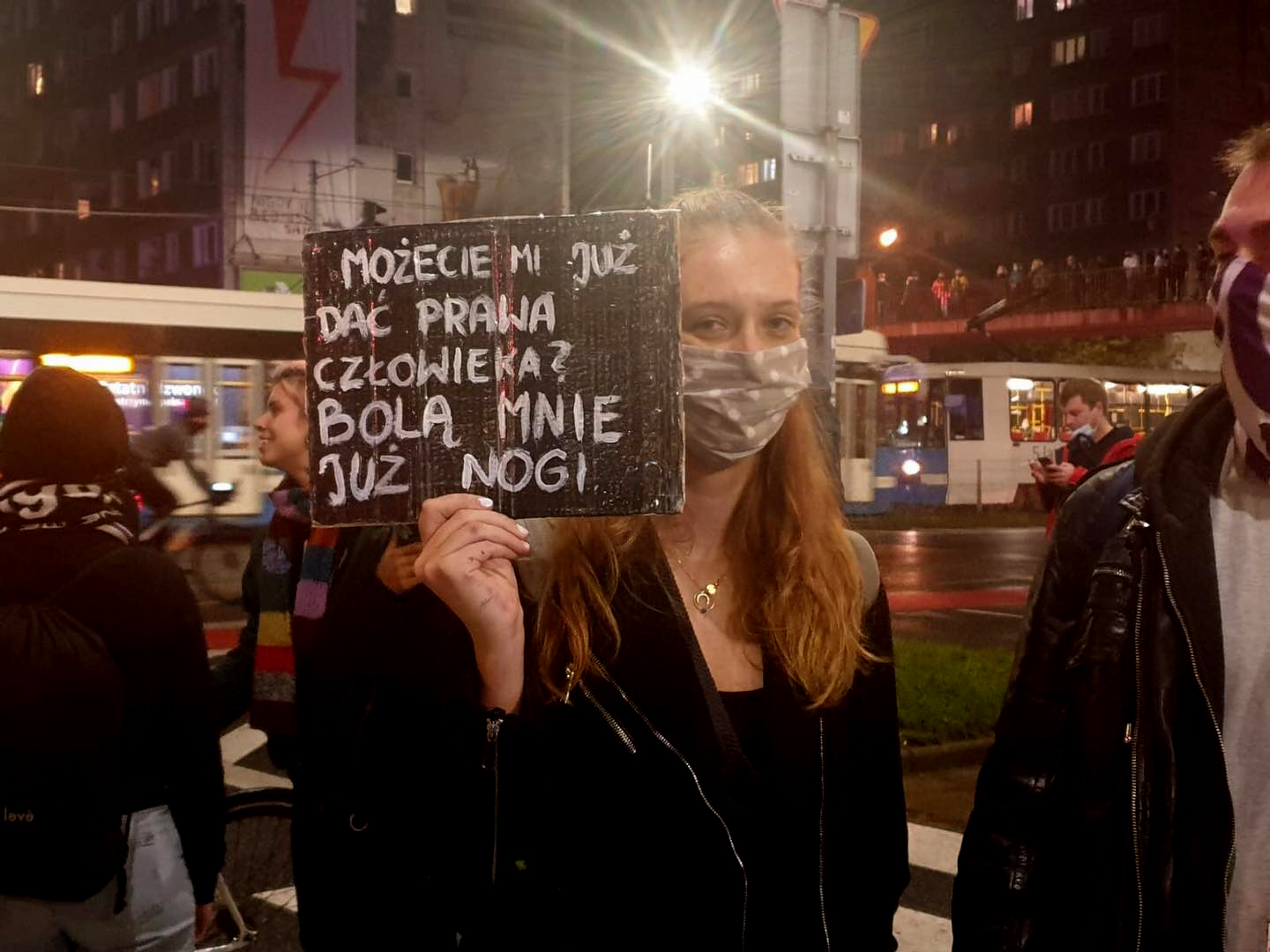 CLASHING WITH NATIONALISTS
Is Poland really as reactionary as its current reputation in Europe suggests? The answer is, emphatically 'Yes'.
For a start, Poland's governing party is brutal in its disdain for queer people and minorities.
In July 2020, that prejudice took on a more sinister and threatening form, with six Polish towns declaring themselves as "LGBT-free zones." The European Union responded to this clear act of discrimination by imposing a financial sanction on those areas.
This is only the latest example, however, of a disturbing drift towards autocracy in Poland. The ruling party, PiS (Prawo i Sprawiedliwość translates as Law and Justice) has steadily chipped away at the democratic values that are regarded as fundamental within the 27-nation EU – including freedom of the press and the autonomy of the judicial system.
Advertisement
So far at least, the authorities in Poland are unrepentant. Their politics are fundamentally bigoted and nastily intolerant. Racism, religious intolerance and hatred of foreigners is endemic. And unfortunately, they do currently enjoy widespread old-style Nationalist support. But opposition, especially among young people is growing. For many, the wave of protests in Poland is also about LGBTQI rights and those of people of colour.
Julia Marciniak points out that the State media in Poland has become a bullhorn for Government propaganda. They count on the Government's hush money for survival and so criticism is muted at best, and more often suppressed completely.
On the streets, protestors routinely clash with neo-Nazi groups, who are there – they claim – to "protect the Churches."
The neo-Nazis are encouraged in their confrontational activities by the populist rabble-rousing of Jaroslaw Kaczynski, the leader of the Law and Justice party, and current deputy Prime Minister. Kaczynski has appealed to supporters to "defend Poland" against the tens of thousands of women who are taking to the streets to fight for their rights.
Wojciech Lobodzinski is a journalist, activist and chairman of the youth wing of Zwiazkowa Alternatywa. He recounts that his sister was attacked by neo-Nazis while protesting on the streets of the capital city, Warsaw.
Lobodzinski, who has the face of a man well-familiar with long nights of reading political literature on a diet of coffee and cigarettes, says those who attacked his sister are in effect politically sanctioned.
"They were told by Law and Justice to attack people," he says.
Advertisement
He says police often find these ultra-Nationalists groups in possession of weapons, yet they usually walk free.
It's common for Polish opposition groups to refer to the supporters of the Nationalist government as Nazis, notwithstanding that the word is highly inflammatory due to its historical implications.
In what is another mark of authoritarianism, it is against the law in Poland to suggest that the country was complicit in Nazi atrocities during the Holocaust. Unlike Germany, Poland is still reluctant to confront the ghosts lurking in some of the darkest chapters of its past.
A RED LIGHTNING BOLT
Karolina Kulpa, 22, is a student of Literature and Philosophy in university in Warsaw. She confesses that she is afraid of Government supporters on the streets – but that doesn't stop her from skipping classes to join the rallies.
On the other side, students face the fury of conservative university officials, who are putting them under pressure to stop attending demonstrations.
"Some of the lecturers won't let us go," Kulpa says, calmly smiling. "But some of them do."
Advertisement
Dozens of people have been arrested at Polish protests. Julia Marciniak says the Government is currently punishing political dissent on the pretext of upholding regulations imposed to reduce the spread of coronavirus.
"They are using the pandemic as an excuse," she says.
The State, Marciniak adds, uses the pandemic to guilt-trip protestors, going as far as calling them "murderers."
"It's important to note that everyone wears masks at the protests," Marciniak, who wears a red, UNITE mask says.
The police force in Poland, she says, has been reluctant to attack protestors because "they also have sisters, girlfriends, partners and mothers."
"A lot of them call in sick because of the pandemic," she says, hoping to avoid clashing with dissenters.
Some local businesses in Poland have also stuck posters, and signs on their windows in solidarity, all emblazoned with a red lightning bolt, the iconic symbol of the movement.
Advertisement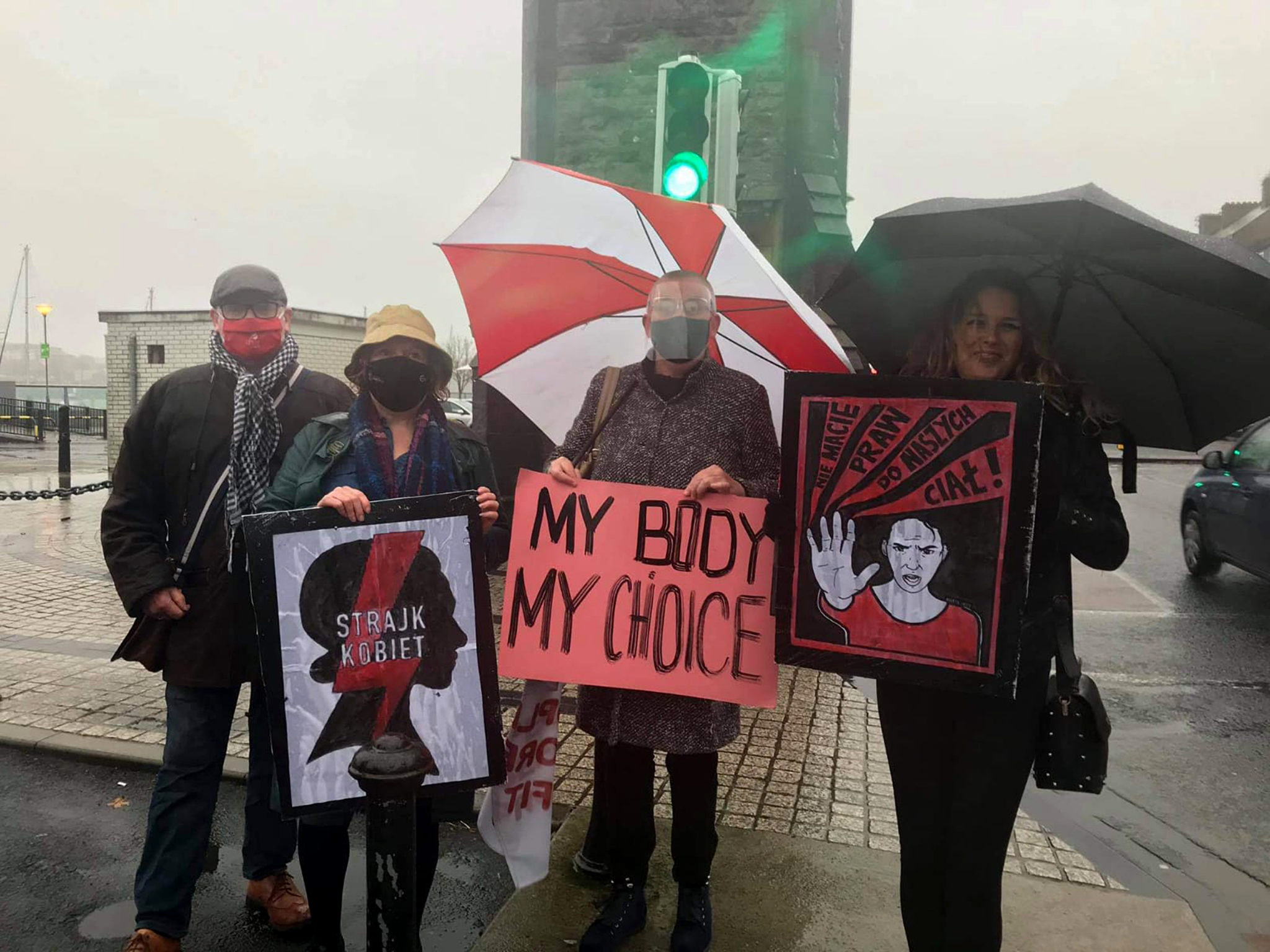 THE IMPORTANCE OF IRISH SOLIDARITY
Back in Ireland, where women walked a long road to freedom in relation to their bodily autonomy, Ania Wojewodka, a queer, Polish woman stood in heavy rain in solidarity with protestors in Poland, last week.
Based in Waterford, Wojewodka, who sports a close-crop haircut, says she grew up hiding her sexuality in Poland. She found Ireland's welcoming aura a release. In Poland, she says, queer people are labelled as paedophiles.
Here, Irish far-right groups also accuse queer politicians like Minister for Children and Equality, Roderic O'Gorman TD, of supporting paedophilia, with not a shred of evidence to back-up what are risible claims. The difference is that in Poland, these slurs are an expression of the State's hatred of citizens who are LGBTI+.
For Wojewodka, the demonstrations in Poland are a fight not just draconian abortion laws but also against the fascist and nationalist politics that have produced such a fundamentally repressive climate.
"The treatment of the LGBTQ community, and of minorities, is appalling," she says. "So is the rise of fascism. As a member of the LGBTQ community, I cannot stand to see that people's rights are being stripped away from them."
Advertisement
Jagoda Wierzbicka, another Polish woman in Waterford, says it was inspiring to stand alongside Irish people, in protest at what is going on in her home country. Having lived through a similar Roman Catholic tyranny, Ireland gets it, she says.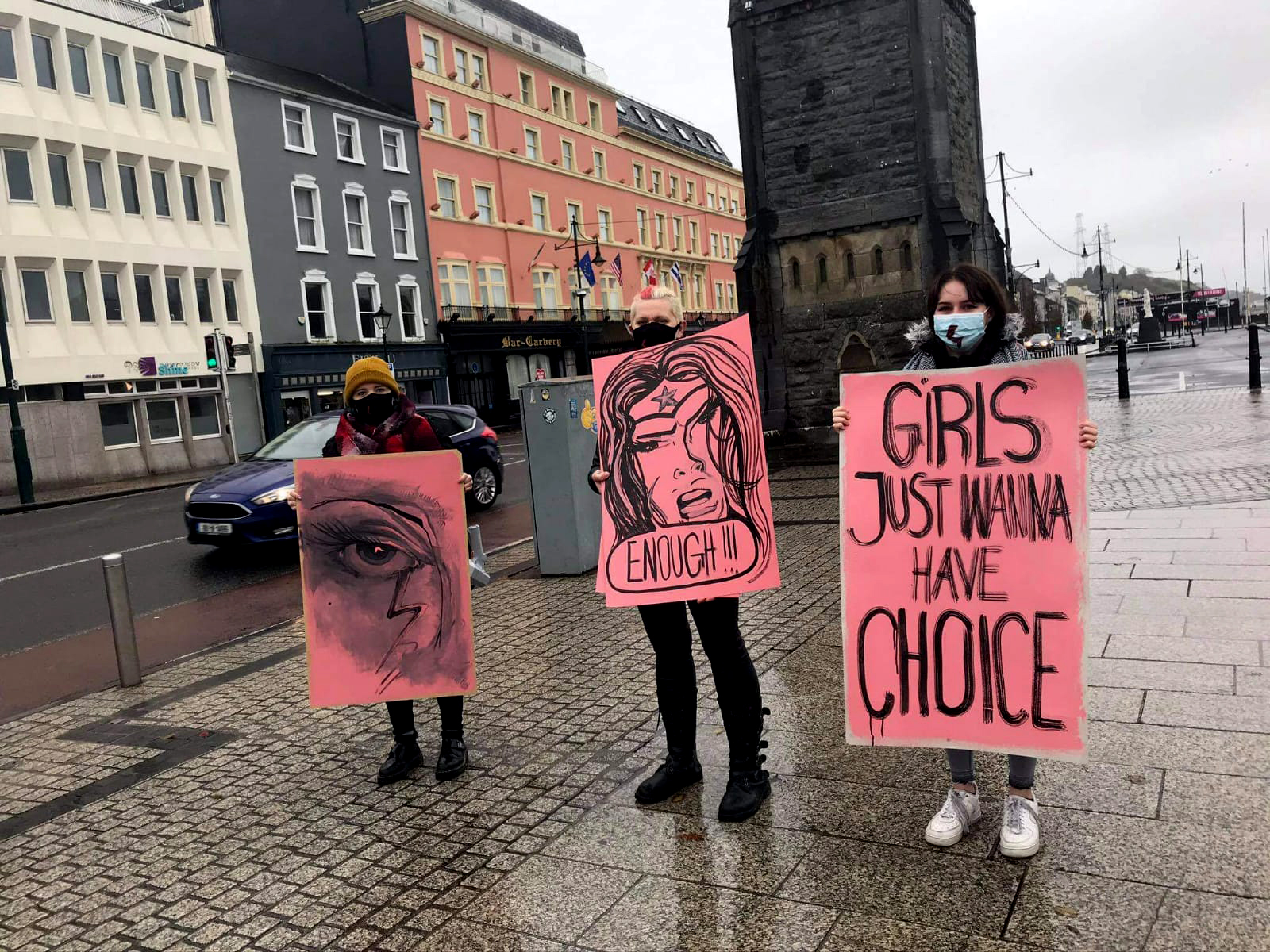 Michelle Byrne, a Waterford-based union activist and former Deputy President of the Union Students of Ireland (USI), says that she was extremely upset to see the lack of response to the persecution of LGBTQI+ people in Poland from Irish members of the European Parliament.
"Irish MEPs are well-aware of this, they should be putting pressure on Poland," she says.
Byrne says Polish women were an integral part of the Repeal the Eighth campaign: now, it is our turn to stand beside them.
"We have a vibrant Polish community integrated into our town and cities," she observes. "We must stand with them like they stood in solidarity with us during the Repeal the Eighth campaign."
REGRETS THEY HAVE NONE
Advertisement
Jagoda Wierzbicka acknowledges that some members of the Polish community in Ireland can be judgmental and unaccepting of different sexual identities.
In Poland itself, there is a stubbornly traditional, Religiously-driven conservative attitude still that may yet undermine the protests.
"Some people wouldn't go to protest with LGBT people, even though they are against the abortion law," Marciniak acknowledges.
It may seem strange to Irish observers, but a significant percentage of Polish people who support abortion rights for women look down on queer people.
Perhaps that is why Wojciech Lobodzinski is pessimistic. He says that the opposition parties in Poland are hypocritical: some of them agreed with conservative rules not so long ago, and are now shifting policies only for political gain.
"The opposition has no clue how to work with this movement," he insists.
Lobodzinski names the Poland 2050 party as one whose leader is hoping to advance politically through the protests. The movement's leader Shimon Holovnya is a TV celebrity. Lobodzinski is not impressed.
Advertisement
"He used to be, a couple of years ago, anti-abortion," he says. "He wanted to be a priest, now he is leading the Christian Democratic party, which is the only party gaining from the protest."
Marciniak, Kulpa and Lobodzinski are acutely aware that the Government is likely to triumph – for now. Despite this, and the towering shadow of age-old bigotry that dominates Poland, they remain hopeful.
"There is a possibility that this will cause people to get out – and vote this Government out – next time," Marciniak says.
I am reminded of the ABBA song, 'Fernando'.
"Though we never thought that we could lose/ There is no regret/ If I had to do the same again, I would/ My friend, Fernando!"
For freedom fighters, there must be no regret. They are sustained by the belief that their hour will come. That tyranny can indeed be brought to an end.