The Kinks: Their Struggle
As David Hepworth explained in entertaining detail in this year's Overpaid, Oversexed And Over There, British bands got to make an awful lot of hay in America in the mid-sixties. The Beatles, as they so often did, kicked open the doors and everyone who was anyone rushed in behind them. The Stones and The Who were one thing – well, two things – but even absolute chancers like Herman's Hermits made a killing.
Yep, they all made out like bandits. All of them that is, except for The Kinks, one of the greatest bands of them all who literally could not get arrested in America, because they weren't allowed in. The American Federation Of Musicians hit the band with a four-year touring ban in 1965, which meant that by the time they could board the tour bus again, they had missed the metaphorical one.
From the off, the Davies brothers – main singer/songwriter Ray and lead guitar player Dave – were at war, fighting in a way that made Roger Daltrey and Pete Townshend look like soul mates. Punch-ups on stage weren't unusual, like the one that happened in May '65 on their first US tour, although this time it was Dave and drummer Mick Avory. Dave spent the night in hospital, Mick spent it in a cell. This kind of messing was hardly likely to endear the band to promoters.
The tour was a disaster. Davies missed his wife and child and feared getting shot – something that would actually happen to him decades later in New Orleans. It didn't help that their seemingly uncaring management bailed out early and headed back to Blighty. In Reno, promoter Betty Kaye only came up with half the promised cash so The Kinks played twenty of the forty minutes they were contracted for. In Sacramento, they offered a patience-testing jam of 'You Really Got Me' for most of their set. The final straw for the far-from-blameless Betty came at a badly under-sold show in San Francisco's Cow Palace where the band basically took the stage to wave goodbye to those in the crowd who had actually turned up, and she filed an "unprofessional conduct" complaint with the Federation.
That might have been enough on its own but at a taping of a Dick Clark TV show in Los Angeles, according to Ray Davies autobiography, X-Ray, a bloke who claimed to work for the station had a good go at the band, calling them a bunch of "commie wimps" and promising to file another report. Punches were, perhaps unsurprisingly, thrown. The Federation declared their ban, and work permits would not be issued again until 1969. According to Davies, the reasons for their fall were "a mixture of bad agency, bad management, bad luck, and bad behaviour." Apparently, the band even had to sign a confession before they could get back in once the ban was lifted.
Advertisement
Ray Davies would tell Tom Dunne years later in 2014 that the "ridiculous ban took away the best years of The Kinks' career when the original band was performing at its peak. It was a big pot of honey, an opportunity to take our careers further and we had that denied to us." Davies went on to point out that by the time they were allowed back in, "the Woodstock generation had arrived and the Kinks were almost forgotten."
We Are The Sherlock Holmes English Speaking Vernacular
One could argue that, artistically, this was the best thing that ever happened to them. Their early music – as great as it is – was, like everyone else's at the time, heavily influence by American R&B, while the records they made during the ban included English-centric masterpieces like Something Else (1967), The Kinks Are The Village Green Preservation Society (1968), and Arthur (Or The Decline And Fall Of The British Empire) (1969), unique records, filled with brilliant songs, whose influence would be felt down the decades. Arthur even dented the American charts. Ok, it reached number 105, but it was their best showing since before their American exclusion, and a step, albeit a baby one, in the right direction.
This brings us up to Lola Versus Powerman And The Moneygoround, Part One, originally released in November 1970, and now reissued as the latest fiftieth anniversary super deluxe, bells-and-whistles edition in a series that has already seen superb releases celebrating Village Green and Arthur. Ray Davies was no stranger to the notion of the concept album, and here he vented his ire at all those who had crossed him, i.e. the suits, the man, the music business, and anyone else he could think of. Luckily for us, he wrapped all this giving out and score settling in some great songs.
The album opens with a tune each from the Davies brothers. Ray's 'The Contenders' begins with some acoustic picking before his brother's electric guitar takes over and speeds things up. It's a song about ambition, he lists the jobs he doesn't want because he's "got to see what it's like on the world outside" and "be a winner".
I could have been a contender, I could have been somebody, you were my brother, you should have looked out for me. Unlike Terry and Charley 'The Gent' Malloy, the Davies brothers – despite the fights – were looking out for each other. Ray's last verse must be speaking of how he felt about the relationship with his brother, "We're not the greatest when we're separated, but when we're together, I think we're going to make it."
Advertisement
Dave responds with one of his best songs, 'Strangers'. "I will follow you wherever you go, if your offered hand is still open to me… we are not two, we are one" he sings over a strummed acoustic guitar and a rolling piano and organ backing, brothers saying what they can't say in the way they knew best, through the music.
'Denmark Street' – one of Ray Davies' series of English variety dancehall, knees-up round the Johanna numbers - takes precise aim at the rip-off merchants sitting behind desks who don't know much about the music but know a pound note when they smell one, "I hate your music and your hair is too long, but I'll sign you up because I'd hate to be wrong". What happens after you sign their bit of paper becomes clear in 'The Moneygoround'. The tune - another Mother Brown-esque entry - is a bit annoying but Davies' hits the bullseye with the lyrics, calling out, amongst others, the infamous Larry Page, one of their three managers during the sixties and the man who headed back to London half way through that disastrous US tour in 1965. Everybody takes their half and Ray is "on the verge of a nervous breakdown", "there's no end to it, I'm in a pit and I'm stuck in it, the money goes round and around and around."
If that sounds like hard work as a song - it is, but at least it doesn't outstay its welcome – 'Get Back In Line' is a much better bet. Jangly guitars, a soaring melody propped up by harmony vocals and a lyric for the common man, possibly inspired by Davies seeing his father in the dole queue. There's still room to bemoan their own misfortunes too; the union man might be the one who lords it over the man in the street, or it could be one of those federation officials that kept the band out of America, "the union man's got such a hold over me, he's the man who decides if I live or I die, if I starve or I eat".
'Top Of The Pops' and 'This Time Tomorrow' are more shots across the music business' bows. Over power chords in the former, Davies chases the dream and finds everyone is his friend when the records are doing well. In the latter - another great song, little wonder Wes Anderson featured it, alongside 'Strangers' and 'Powerman', in his 2007 movie, The Darjeeling Limited - he's on a plane, heading for God knows where. The lovely 'A Long Way From Home' might well be told from their father's point of view, looking at his sons' cars and "funny clothes" and knowing that "wealth will never make you stronger."
Dave is just as pissed off as his brother in 'Rats', a song driven by his guitar and Mick Avory's busy work behind the kit, bemoaning the "fat black rats holding me down" with their "pinstripe minds", and by the time we get to 'Apeman', Ray has had enough and wants to head off to the jungle and get away from the "cities and motor traffic rumble" of the modern world. Whatever one might think of all the tree hugging, there was no arguing with that chorus. It was released as the second single and its jaunty, quasi-calypso sound provided The Kinks with their last – so far – British top ten hit.
'Powerman' is more of the "same old story", the villain in question has Davies' "money and my publishing rights", if you're not rich, you're not free. Davies isn't having anymore of it and demands emancipation in the closing 'Got To Be Free', "and it won't be long, 'cause we're right and they are wrong."
Advertisement
I Met Her In A Club Down In Old Soho
That's the ideas behind the album taken care of, but there's one song that doesn't seem to have received the memo, one of the title tracks, the big single, 'Lola'. The story goes that Davies was having a drink with his Dad, who advised him that he needed a big song now that the band could tour properly again. The origin of the song's lyric – boy meets girl, who turns out to be a boy – has been variously attributed to a night one of the managers spent with a cross-dresser in Paris, the clubs and bars drummer Mick Avory ended up in a few times, and – perhaps more unbelievably - a dinner date between Davies and Warhol "superstar" Candy Darling, who Davies claimed to know was trans all along.
The music was another matter. Davies was deliberately trying to write the big hit that his father had advised him to. He went guitar shopping and came home with a 1938 Dobro resonator and a Martin acoustic, and it's the combination of these two instruments that gives the song its distinctive sound. You can also hear them opening and closing the album on 'The Contenders' and 'Got To Be Free' and Davies would employ them again on The Kinks' next proper record, Muswell Hillbillies. Dave threw in some E-Major riffing and the job was done. The single – everybody knows it, and you're probably humming it now – was a substantial, world-wide hit, and crucially went top ten in America.
The lyrics were always going to be controversial – but it was the mention of coca cola on the original track that the BBC took umbrage at, forcing Davies to interrupt an American tour and fly back to London just to record the cherry cola change that went out on the single. Whatever about that, it still sounds fantastic – coca cola lyric and all – as it leaps from the vinyl on this reissue. Another note on those lyrics, "girls will be boys and boys will be girls" must have been stuck in Damon Albarn's head years later when he was putting 'Girls And Boys' together for Parklife, as we know he listened to a lot of Kinks when Blur were having their own trying US tour trials just before they too performed an artistic volte-face on Modern Life Is Rubbish.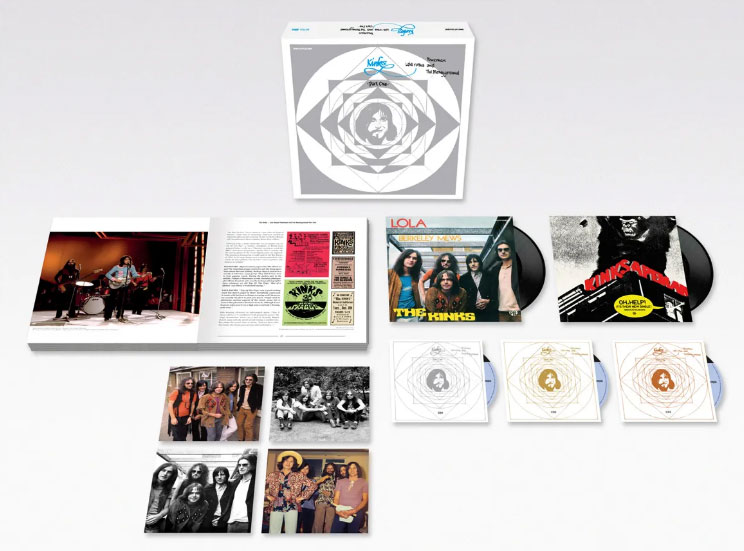 This Time Tomorrow
The extra discs in the big box are a bit of a mixed bag. There are plenty of the usual demos, mono mixes and 2020 re-polishings – all interesting enough to hear but they don't really add much to the original album. The live cuts include a medley from 1971, albeit one that sounds like it was recorded from another room, a nice version of 'A Long Way From Home' from Austin City Limits in 2006, a BBC version of 'Get Back In Line', the acoustic 'Apeman' that first appeared on 1994's To The Bone, and Ray with The Danish National Vocal Ensemble running at 'Lola', but it's a shame there isn't a full concert from the period, as the band were working as a five-piece thanks to the addition of John Gosling on keyboards. The two tracks from Davies' appearance in the BBC TV play, The Long Distance Piano Player, which addressed performer exploitation too, are also a bit too lo-fi to bear repetition, which is a pity, as they're worth hearing and historically important in the context of the album.
Advertisement
There's a series of tracks where Ray and Dave have a cup of tea - they're speaking to each other, that's good news, hopefully we'll get a night out when the world comes back - in Ray's kitchen and discuss the songs as they're playing, and it's charming fare, which Kinks obsessives will eat up. They might not get re-played too often, but they're certainly preferable to the spoken word oddity of 'The Follower'. The best things on these discs are three outtakes, the arms-around-the-shoulders-I'm-here-for-you reassurance of 'Anytime' – which, despite not sticking strictly to 'the concept', would have served the album better than 'Denmark Street' or 'The Moneygoround', the strutting 'The Good Life', and the delicate 'The Way Love Used To Be', which would turn up on the following year's patchy Percy soundtrack album. The box is filled out by a superb book and saved from permanent shelfdom by beautiful reproductions of the 7" singles of 'Lola' and 'Apeman', which, taken on their own, justify whatever admission fee is being asked.
Despite it being a a fine album, and despite the impact of the big hit single, Lola Versus Powerman And The Moneygoround did not trouble too many cash registers in The Kinks' native land, but it did reach number 35 in America and this, combined with the success of 'Lola', meant that now they could work there again, people might actually want to come and see them. Eventually, when we get to 1977's Sleepwalker, The Kinks started to enjoy actual American success, although many fans – like me – reckon they lost something in the process. Lola was their last album for the Pye label and, in some ways, it brings an end to their classic period – although there's plenty to love on Muswell Hillbillies, Everybody's In Show-Biz, and Preservation Act 1 – where The Kinks turned misadventure and misfortune into gold.