Tara Nome Doyle: "I hope the album's lyrics inspire people to think about their own shadow, or the things they find unacceptable about themselves"
Rising star Tara Nome Doyle discusses her Irish, German and Norwegian roots, dealing with anxiety through music, and the creation of her stunning new album, Værmin. Portrait Sonja-Stadelmaier.
Berlin-based alternative artist Tara Nome Doyle may only be turning her sights on Ireland this year, but the singer-songwriter has already made a name for herself in Germany. Attracting the attention of major names in cinema, the multi-talented act co-wrote a song with Isobel Waller-Bridge (Fleabag, Emma) for Netflix feature film Munich - The Edge Of War last year. Italian pianist Federico Albanese is also a collaborator, as well as Malakoff Kowalski. Not a bad list of contacts, at all.
In April 2018, Doyle's first single 'Down With You' was unveiled. It has since been streamed more than four million times, with her first EP Dandelion landing that same year to similar numbers and acclaim. The project was published by avant-pop label Martin Hossbach - noted for jump-starting the careers of many Berlin artists. Debut album Alchemy came in 2020, cementing Tara's status as a star on the rise.

Tara Nome Doyle is a triple threat in more than just the musical sense. While her creative talents lie in painting, writing and music, her background brings together a trifecta of rich cultures and folklore from Ireland, Norway and Germany.  
"I've been visiting Ireland two to three times a year since I was very young, because it's where my father is from," Tara explains over Zoom. "With Covid, this has been the longest time that I've not been there. My grandparents on my Irish side have passed away, but I still have family in Dublin. I have lots of cousins and aunts and uncles, so it's a shame we can't see each other. Especially when big life changes are happening and you can't share them.
"In some ways, not having to perform lots of shows because of the pandemic has also meant that I could concentrate solely on songwriting," she continues, speaking frankly. "I made the new album without as much stress and time pressure from my home. Playing live for me has been a struggle because of my history with anxiety."
Advertisement
Born and raised in Germany, with an Irish father and a Norwegian mother, does the 24-year-old have more inherent connection to any one culture?
"I've never known anything else. I always had the feeling that I'm kind of all three cultures but also none of them, if that makes sense?" Doyle laughs. "I grew up in Germany, so I probably feel most at ease within that group. At the same time, I don't really feel like I'm German. I'm half-Irish and half-Norwegian, but I've never lived in those countries so, in a way, I've never been part of those societies. When I was a child, my mother asked me what country I feel like I belong to the most. I told her that my head is German, my stomach is Irish and my legs are Norwegian."
Doyle's path towards a music career was natural, but came after a life-changing bump in the road during adolescence. After developing severe anxiety disorder, Tara was forced to stop attending school at the age of 16.
"When I was young, music was never something I considered as a job," she says. "But ever since I was little, I loved expressing my imagination and building things. At around 11, I wrote my first song. Someone asked me to write one for a school show and then it became part of who I am. A while later, I struggled with severe anxiety disorder and couldn't even leave the house.
"During that time, I really got to know myself through therapy. That led to a breaking point where I really wanted to try to make this my job. If it doesn't work out, fine, but I didn't want to look back with regrets just because I was scared. It grew organically once I met my manager, who opened a lot of doors for me."
One factor in particular has been crucial.
"The key thing for me has been to choose who I surround myself with very wisely," says Doyle. "It makes a huge difference just feeling safe around people and being critical about who I allow into the circle. You're in such high stress situations basically all the time, so you really don't need anyone who adds to that. That decision has also been a big reason for me getting this far. Time and time again, it shows that if you work with good people, you develop strong connections that benefit you as a whole."
Advertisement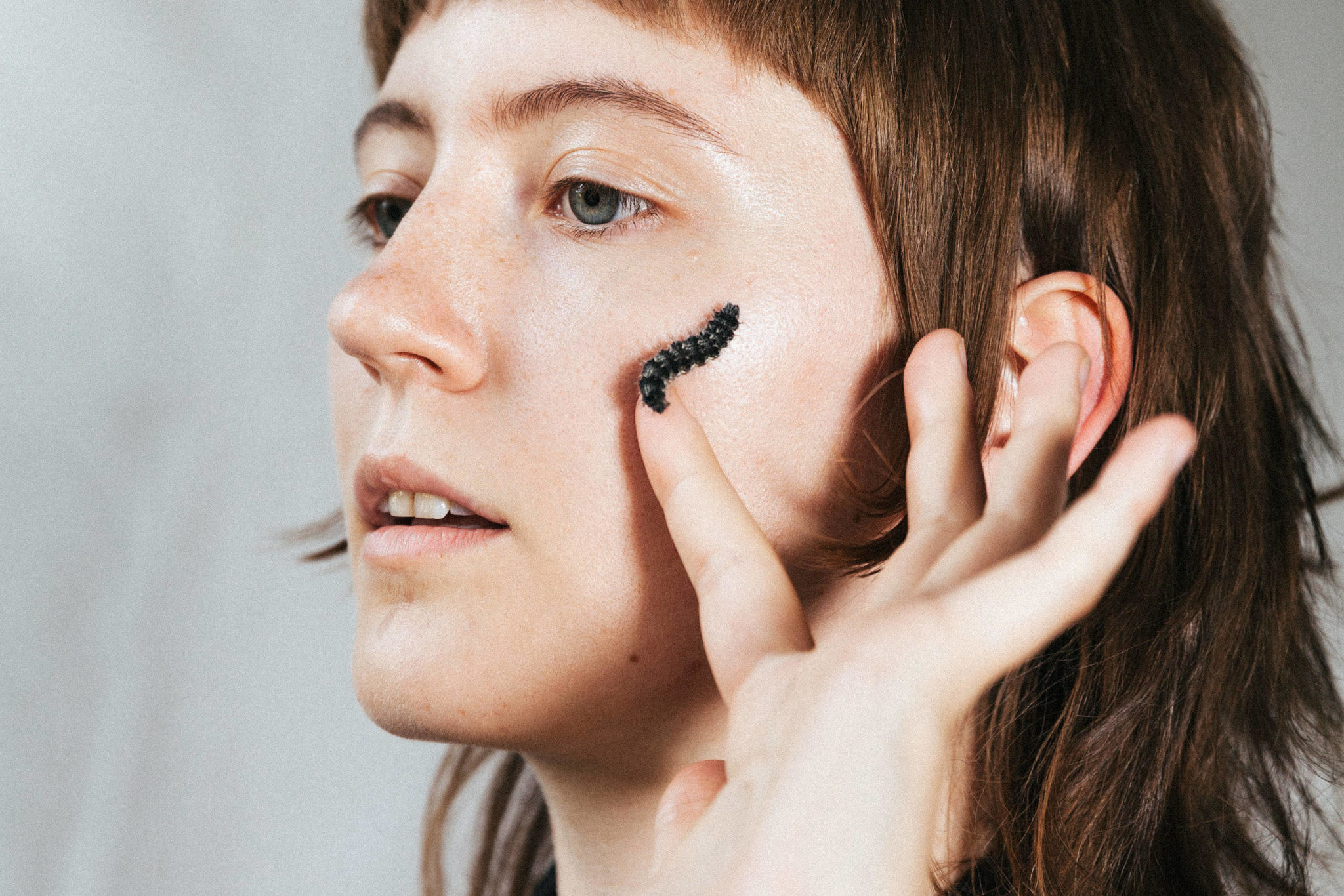 Keeping on top of her well-being is a must, but Tara chooses to see her mental struggles simultaneously as a source of creative power. She sees the world through a unique lens, amalgamating sensory overload with avant-garde concepts of reality.
"I didn't leave the house at all when I was 16, because it felt like everything was too much," she says. "I've been there, and I don't want to go back. What are you gonna do, live the rest of your life in your room? That's not a life worth living. I wouldn't necessarily say that being a musician is the easiest or the best choice for someone with anxiety, just because of the stress and touring. It's so inconsistent, not to mention how overwhelming it can be at times. 
"The key is to leave your comfort zone and don't allow it to limit yourself. Challenging my instinct to reduce my triggers by avoiding any and all anxiety-inducing situations essentially trains me. My mental health and my creativity are two sides of the same coin. Anxiety is the reason why I make art. I'm sensitive, so I need an outlet to process my feelings. I've also had times where I was thinking about whether I'd prefer to feel less by going on medication. 
"I would probably miss out on the positives. Meds don't just hamper extremely negative emotions, they also inhibit extreme joy a lot of the time. I've come to accept that this is just who I am, I can't change it. Not that going on medication is the wrong choice for anyone, but it's not for me right now. My oversensitivity makes life very vibrant in a strange way."
Doyle's 2020 debut album Alchemy was written between Kreuzberg and a Norwegian forest, and recorded with her newly formed band. The contrast with her method of crafting new album Værmin is stark, in many ways.
"Coming out of school and attempting a music career, I still didn't really know any musicians and had never played in a band," says Tara. "The first album was kind of an experiment with how to make my songs into something that wasn't just me at a piano. The producer I was working with at the time came from more of an indie-rock, acoustic background. 
Advertisement
"Afterwards, I was curious to see what other avenues I could explore. I was impressed by the way my current producer, Simon Gough [Grammy nominated for his work on Hildur Gunadóttir's Chernobyl score] could make these huge soundscapes. I really enjoy space and having an immersive experience to listen to, so he was perfect for that."
Regarding her links with major music company BMG, Tara's manager worked with the former head of Modern Recordings around 20 years ago. This provided a way in.
"With Værmin, we wanted to go label shopping. Alchemy was only released on my manager's label, and it did very well in Germany, but that's as far as we could go. I was curious to see what would happen if we had more international press, so we contacted Kennedy from Modern Recordings. They liked the album from the start and have been very forthcoming. It's been an easygoing symbiosis so far."
Alchemy was penned as a concept album inspired by the dream psychology of Carl Gustav Jung, with which the musician has dealt intensively. The phases of alchemy are called blackening, whitening, yellowing and reddening; starting from a chaotic low point, experiencing inner purification and concluding with enlightenment. Her delicate, ethereal vocals are often layered over intense pain and volatile themes, and Værmin is as deeply moving as her debut.
"I use songwriting as a way to put myself into certain situations, like an actress writing her own script," says Doyle. "You can immerse yourself in a specific mood. My general motivation hasn't changed since 2018. Alchemy was the first time I wrote with a concept I kept in mind throughout the process. The second album continues that trend, but with a new concept that uses society's 'undesirable pests' as a metaphor. The practice has brought more depth and layers to how I write."
One theme holds particular interest. 
"I'm fascinated by how fear and anxiety sometimes come from a place of wanting to avoid shame," Doyle explains. "When you think about it, shame is a social construct where you've been taught that something is unacceptable. Maybe you were never even told that, you just ascertained from society that it's not okay to appear or act a certain way. This thing we've learned can dominate our lives, or influence major choices. 
Advertisement
"What I can only hope is that the album and the lyrics inspire people to think about their own shadow, or the things they find unacceptable about themselves. We should question the way in which our society deems 'pests' as undesirable, because it's unsustainable. At the end of the day, you can't make those parts of yourself go away."
All songs are named after leeches, caterpillars, snails and worms, with the haunting 'Snail I' shared as the first single late last year, followed by 'Crow'. With her warm and soaring voice layered over light-yet-powerful production, Doyle conjures a rich and textured atmosphere, adding breadth and levity to her art. 
'Værmin' celebrates the beauty of these creatures and thus asks a political and existential question: What would happen if we "welcomed" them instead of rejecting them? Skirting around what society perceives as "ugly" rarely results in progress.
"'Værmin' was the most interesting song to write on the album. It's Norwegian, and sounds like a folk song that's already been around for a while. Writing in Norwegian feels very personal for me, because it's the language that I most associate with childhood. I always write with a sort of purity or childlike wonder. Sometimes it takes a while to write a song, and other times the song comes to me already finished. Those are always special experiences. It's like I'm a medium in those moments. Something is created but it doesn't even feel like I made it."
"I'm excited to have my music heard in other countries because I get the impression that a lot of German people don't listen to lyrics. One of the most vital reasons that I write songs is to get the lyrics out and a message across. From my impression, I feel like I always had the feeling that I'm kind of all three cultures but also none of them,
What are Doyle's plans for the immediate future?
"The plan is for me to be in Ireland on February 15, Covid restrictions depending," she says. "I'll be playing the Ruby Sessions. Being in Ireland always feels very easy, because the people are very warm-hearted. What's been passed on to me is the humour. It's such a big part of everyday life…people don't take themselves too seriously. It can be risky living in Germany with that sense of humour! I had to learn that it's not always okay to poke fun at someone when I was growing up. Germans take you at your word."
• Værmin is out now via Modern Imprint
Advertisement