President Michael D. Higgins' Reclaiming The European Street: "He sees in the current rise of fascist movements a need to learn lessons from the past"
President Michael D. Higgins may have opposed Ireland's move to join what was then called the European Economic Community in 1972. But it is clear, in his latest, powerful book, Reclaiming The European Street, that Michael D has evolved a far more nuanced view of the great European project.
During the 1972 referendum on entry to what was then the European Economic Community, Michael D. Higgins spoke in every county of the Republic against joining. Many on the left, in Britain as well as Ireland, then viewed the EEC as a rich man's club, run for the benefit of heavy industry and for ranchers seeking profit from mega-farms.
But Ireland joined by a thumping majority, and the EEC itself changed, becoming ever-more social-democratic in its policies, especially in the days of Jacques Delors. The London-Dublin axis, which had dominated Irish politics for centuries, was slowly replaced by a greater sense of involvement with European capitals.
Under the Erasmus scheme, young people could study in a European country; and Irish farmers, for a while anyway, benefitted from grants and higher food prices.
As the EEC became the EU, Higgins found many allies for his progressive ideas in a range of social-democratic parties across Europe, while the Peace Process was greatly encouraged by European politicians under the wise guidance of John Hume.
Some of these politicians played a key role in preventing a hard border being imposed by the British last year, in the context of Brexit. Small wonder, then, that Michael D. Higgins is now a major enthusiast for the much-widened European Union. In this, as in much else, he reflects the views of a majority of Irish people.
Advertisement
RISE OF FASCIST MOVEMENTS
Problems remain, of course. The Union is now far more market-driven than in the days of Delors. It exacted a ferocious toll on citizens of peripheral countries (the so-called PIGS), when it bailed out banks during the financial crisis after 2008-10.  President Higgins, although he signed the enabling legislation for Ireland ("the alternatives were far worse"), has become arguably the most scathing critic (along with Jurgen Habermas and Yanis Varoufakis) of the ensuing austerity.
His essays and speeches plead for more State regulation to protect workers in a gig economy; and he argues that ethical and cultural values, rather than merely financial considerations, should help to "remake the European street".
Two major speeches praise the Greeks for their contribution to democratic culture; and one senses that the President feels that, far from owing, it is the Greeks who are owed. At the time when Chancellor Merkel punished the "debtor economies", he said that in their zeal to save the Euro, the Germans were in danger of jeopardising the entire European project.
While radical socialists such as Perry Anderson claim that the Treaty of Rome (1960) was a sort of "coup", President Higgins repeatedly sees the Union as sourced in the Manifesto of Ventetere of 1944, the wartime dream of Italian socialist partisans, Altieri Spinelli and Ernesto Rossi.
He shows how, in a figure such as Roger Casement, Europe produced a critique of its own past imperialism and a documentation of human rights (as later defined by the UN).
He pays tribute to the little-known Pawel Strzelecki, a Polish idealist who saved thousands of children's lives during the Irish Famine – claiming that the British intention in those years was "to clear the land of tenants." He demonstrates how major Enlightenment intellectuals like Kant and Herder opposed imperial thinking even in its heyday.
Advertisement
He pays tribute to the oft-forgotten victims of the flu pandemic of 1918-19 (whose plight was mentioned only once by Asquith in the house of Parliament), and quotes Paul Ricoeur's dictum that "to be forgotten is to die twice." He sees in the current rise of fascist movements, and in the challenges of Covid-19, a need to learn lessons from the past – for greater social solidarity in the face of recession and medical catastrophe.
REBUILT FROM BELOW
The triumph of market forces, the President contends, has corrupted universities, whose professors seldom supply a necessary cultural critique. (This is a telling point – the well-remunerated professors at the European University in Florence have yet to create a faculty of literature).
The Union has, by Perry Anderson's recent count, almost three hundred Jean Monnet Chairs of European Studies, forever churning out papers on economic and political policy-formation. The President would have them read Karl Polyani's The Great Transformation, a 1944 study of the need to move beyond a merely economic model of austerity.
The Union, as he sees it, has been exemplary in expanding personal freedoms,  but less impressive on workers' rights or social cohesion.  The decline of trade unionism has made way for the "precariat", and for the rip-off of anxious young people across the Union. He quotes Robert and Edward Skidelsky: "We need to focus much less on making money and much more on cultivating the things that matter – leisure, knowledge, friendship."
Advertisement
Sadly, the effect of the banking crisis has been to reduce social solidarity,  damaging health, education and social welfare systems. Even university leaders  have "become colluders in a neo-utilitarian myth that  substituted uncritical description, and thus a rationalisation of a system that is failing, for creative scholarly thought."
The President believes that the self can be developed not through individualism but through interaction with others; and that narrow academic specialisms need to be challenged.  What really counts cannot be counted; and what can be counted doesn't often really count. The fixation of professors on short-term outcomes should make way for more blue-skies research.  And for a social art like that of the great sculptor, Imogen Stuart, who came to Ireland from Germany.
Michael D. Higgins writes brilliantly about the idea of "home" in an age of mass-migration, when even children of the middle class can scarcely afford to purchase a house. But, above all, he implies that Anderson's critique be answered – by a Europe which, no longer constructed from above, is rebuilt from below. From the street itself.  It is a Europe which needs, as Jacques Delors once said, architects rather than fire-fighters.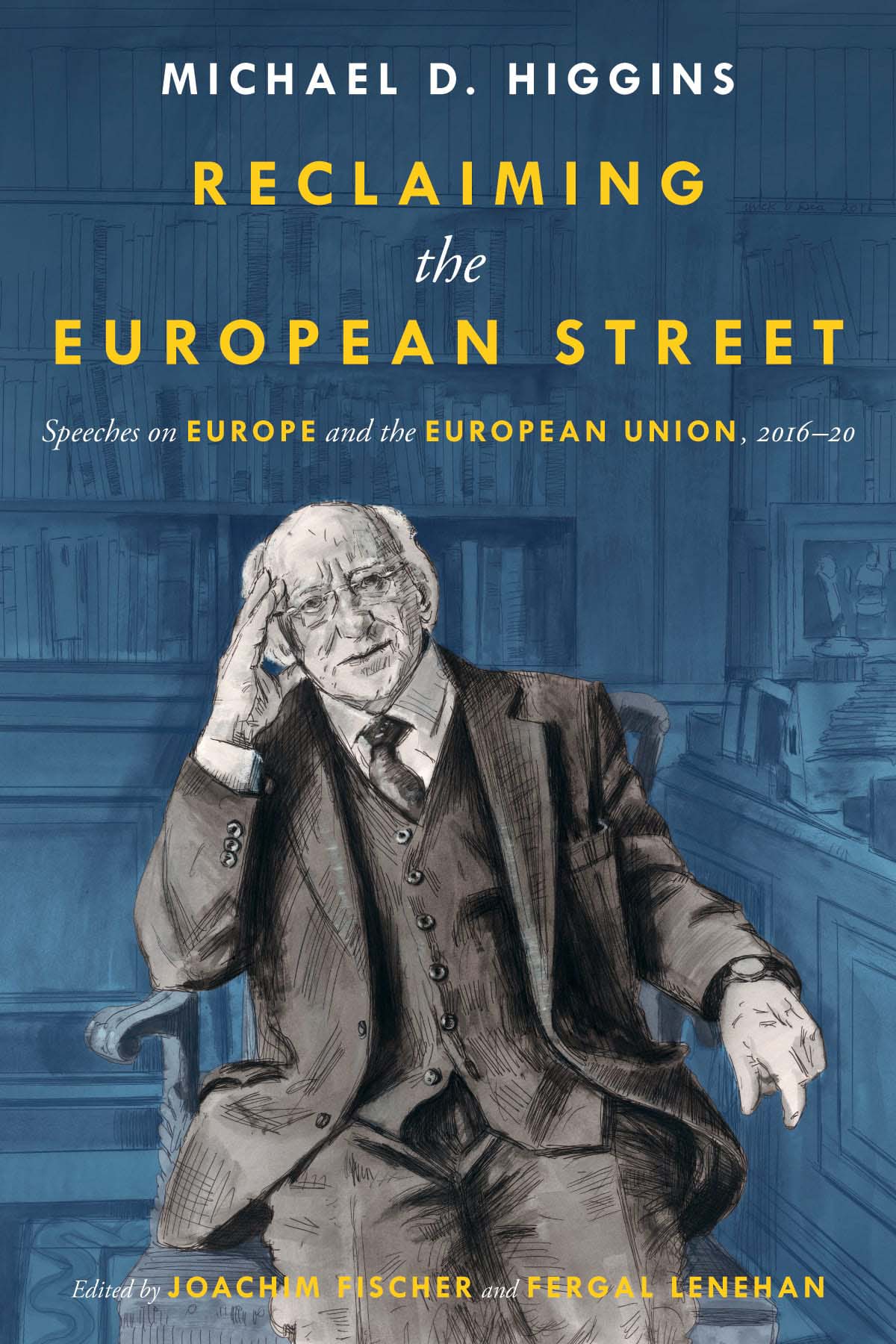 • Michael D. Higgins' Reclaiming the European Street: Speeches on Europe and the European Union 2016-20,  edited by Joachim Fischer and Fergal Lenehan, is published by Lilliput Press.
• Declan Kiberd teaches at Notre Dame (Dublin)