On Sunday, April 18, President Michael D. Higgins turns 80. To mark the occasion, we're revisiting a classic interview – originally published in Hot Press in 1983. It offers an extraordinary insight into the President as a young intellectual and politician, setting out an agenda which in so many ways predicts with stunning accuracy the way that society has evolved. Shortly afterwards, Michael D. Higgins joined Hot Press as a columnist. The sub-headline at the time read as follows...
John Waters talks to Senator Michael D. Higgins about music, his life, his vision of a new society and the rot at the root of Irish politics.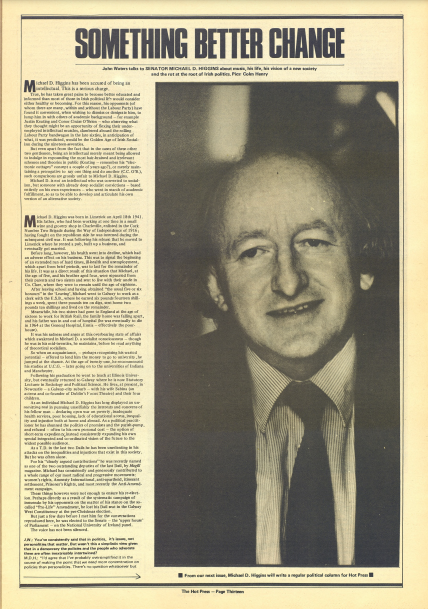 Michael D. Higgins has been accused of being an intellectual. This is a serious charge.
True, he has taken great pains to become better educated and informed than most of those in Irish political life would consider either healthy or becoming. For this reason, his opponents (of whom there are many, within and without the Labour Party) have found it convenient, when wishing to dismiss or denigrate him, to lump him in with others of academic background — for example Justin Keating and Conor Cruise O'Brien — who observing what they thought might be an opportunity of flexing their under­ employed intellectual muscles, clambered aboard the rolling Labour Party bandwagon in the late sixties, in anticipation of what, it was predicted, would be the Golden Age of Irish Social­ism during the nineteen-seventies.
But even apart from the fact that, in the cases of these other two gentlemen, being an intellectual merely meant being allowed to indulge in expounding the most hair-brained and irrelevant schemes and theories in public (Keating — remember his "elec­tronic cottages" concept a couple of years ago?), or merely main­taining a prerogative to say one thing and do another (C.C. O'B.), such comparisons are grossly unfair to Michael D. Higgins.
Advertisement
Michael D. is not an intellectual who was converted to social­ism, but someone with already deep socialist convictions — based entirely on his own experiences — who went in search of academic fulfilment, so as to be able to develop and articulate his own version of an alternative society.
Michael D. Higgins was born in Limerick on April 18th 1941. His father, who had been working at one time in a small wine and grocery shop in Charleville, enlisted in the Cork Number Two Brigade during the Way of Independence of 1916; having fought on the republican side, he was interned during the subsequent civil war. It was following his release that he moved to Limerick where he rented a pub, built up a business, and eventually got married.
Before long, however, his health went into decline, which had an adverse effect on his business. This was to signal the beginning of an extended run of hard times, ill-health and unemployment, which apart from brief periods, was to last for the remainder of his life. It was as a direct result of this situation that Michael, at the age of five, and his brother aged four, were separated from their parents and two sisters, and sent to live with their uncle in Co. Clare, where they were to remain until the age of eighteen.
After leaving school and having obtained "the usual five or six honours" in the 'Leaving', Michael went to Galway to work as a clerk with the E.S.B., where he earned six pounds fourteen shill­ings a week, spent three pounds ten on digs, sent home two pounds ten shillings and lived on the remainder.
Meanwhile, his two sisters had gone to England at the age of sixteen to work for British Rail; the family home was falling apart, and his father was in and out of hospital (he was eventually to die in 1964 at the General Hospital, Ennis — effectively the poor-house).
It was his sadness and anger at this overbearing state of affairs which awakened in Michael D. a socialist consciousness — though he was in his mid-twenties, he maintains, before he read anything of theoretical socialism.
So when an acquaintance — perhaps recognising his wasted potential — offered to lend him the money to go to university, he jumped at the chance. At the age of twenty-one, he recommenced his studies at U.C.G. — later going on to the universities of Indiana and Manchester.
Advertisement
Following his graduation he went to teach at Illinois Univer­sity, but eventually returned to Galway where he is now Statutory Lecturer in Sociology and Political Science. He lives, at present, in Newcastle — a Galway-city suburb — with his wife Sabina (an actress and co-founder of Dublin's Focus Theatre) and their four children.
As an individual, Michael D. Higgins has long displayed an un­remitting zeal in pursuing unselfishly the interests and concerns of his fellow man — declaring open war on poverty, inadequate health services, poor housing, lack of educational access, inequal­ity and injustice both at home and abroad. As a political practit­ioner he has shunned the politics of promises and the parish-pump, and refused — often to his own personal cost — the option of short-term expediency, instead consistently expanding his own special integrated and co-ordinated vision of the future to the widest possible audience.
As a T.D. in the last two Dáils, he has been unrelenting in his attacks on the inequalities and injustices that exist in this society. But he was often alone.
For his "clearly argued contributions" he was recently named as one of the two outstanding deputies of the last Dáil, by Magill magazine. Michael has consistently and generously contributed to a whole range of our most radical and progressive movements: women's rights, Amnesty International, anti-apartheid, itinerant settlement, Prisoner's Rights, and most recently the Anti-Amend­ment campaign.
These things, however, were not enough to ensure his re-elect­ion. Perhaps directly as a result of the systematic campaign of innuendo by his opponents on the matter of his stance on the so-called "Pro-Life" Amendment, he lost his Dáil seat in the Galway West Constituency at the pre-Christmas election.
But just a few days before I met him for the conversations reproduced here, he was elected to the Senate — the "upper house' of Parliament — on the National University of Ireland panel.
The voice has not been silenced.
Advertisement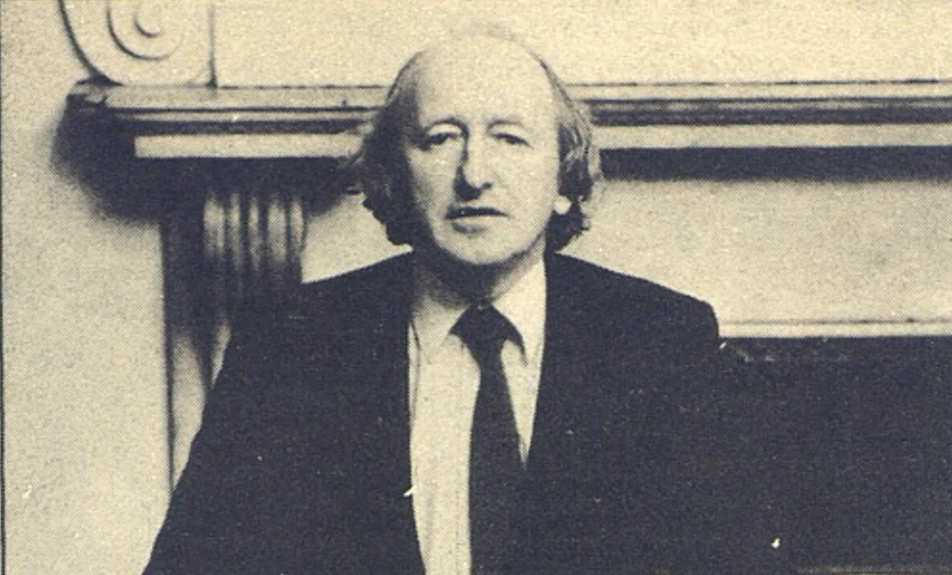 John Waters: You've consistently said that in politics, it's issues, not personalities that matter. But wasn't this a simplistic view given that in a democracy the policies and the people who advocate them are often inextricably intertwined?
Michael D. Higgins: "I'd agree that I've probably oversimplified it in the course of making the point that we need more concentration on policies than personalities. There's no question whatsoever but that, historically, the mobilisation of people to achieve anything has involved the exercise of personality — not only in individual terms, but in collective terms as well. But personality can be massively misused in great collective gatherings. I suppose the great fascist rallies would be an example of that.
"I think what I'm saying is that there is really no such thing as a politics that could be divorced entirely from the people out of whose mouths the policies would be coming. Many people have ruined very attractive arguments by being just the most boring gobshites you could possibly hope to meet. But equally, you've had absolute inanities being tolerated from people whom you might regard as pretty passable personalities."
J.W.: Would you discourage a cult-of-the-personality around Michael D. Higgins?
M.D.H.: "Oh, I would discourage that. I would be perfectly happy if other people came along and took up most of the issues that I've been associated with over the years; and simply, first of all, sought to comprehend them and then to promote them and speak about them. Part of my own work in politics has been, not to invent ideas, very often, as to convey ideas that were either so eclectic or had been put in such an obscure way that they had acquired no audience. So I have very often, really, been trying to use skills — many of which are simply technical — to get an audience for an alternative kind of an Irish society.
"I just happen to be someone who is pretty prominent at the moment in making a case for an alternative society — in particular, an alternative economy. And nothing would please me better than to be replaced."
Advertisement
J.W.: In your Chairman's Address to the Labour Party's annual conference you said that "all the old moulds in Irish politics are cracking!" What basis do you have for this view?
M.D.H.: "From working with politics and within parties, and within the context of trying to respond to problems, I felt that there wasn't a sufficient comprehension among the people who were within the political parties about what was going on. I spent most of that address attempting to outline what were the negative forces external to the Labour Party, such as conser­vatism, the division of the country, emigration — these kind of things — and what were the ones that were internal to itself, such as for example its tendency to capitulate to conservatism, to clericalism and such things and to make a statement on that.
"But having said all of that, I said that we were probably enter­ing a new phase. And what I had in mind was that a number of things were happening outside of the political, that were going to exercise a force on the political system. To put that into ordinary language: politics has gone on for a long time as something that has just held the ring with a basic version of society as it was. But I could detect in the outside environment — all around the political — forces that would have been regarded as little adjust­ments in the previous decades — that were now really challenging the shape of the society. And the biggest single one that I had in mind was in relation to the unemployment question. When I began in politics thirteen years ago, unemployment was just under 60,000; now it's 187,000.
"But equally, the population had changed in other ways. It had changed in relation to educational access. It had changed in relat­ion to repression. It had changed in relation to its values. Many things like that. And I was saying that you couldn't really have a future of the Labour Party that spoke about reviving socialism on the basis of an old model. I believe, for example, that people will never, ever, have employment again on the model of the nineteen sixties. That whether you like it or not, you're going to have to have a com­pletely new definition of work. That equally, the educational system that lay behind the preparation of people for the single job that he or she would have for most of their biography — that that, in fact, will have to give way towards again, the new condit­ions in which the world of work would have to be changed.
"I think that the new way out of it will be to define work as activity. You will have to get back to that. And I think that that's what progressives and socialists should be at: in saying to the unemployed that it isn't an aspect of your personal disorganisation that you're out of a job. And that it isn't a private exper­ience. That there are, in fact, hundreds of thousands like you. That it is the result of a major failure within the economic system, that is supported by certain political values. And what I meant by that phrase, that the old moulds were breaking up — I felt that the problems were now going to put a pressure on politicians that had evaded many of these questions for a long time; and that they wouldn't be allowed to evade them in the future.
"I equally felt that if the Labour Party didn't make up its mind that it was going to say something different, something com­prehensive, something new, something encouraging, and something that had a bit of commitment that it would be shortly perceived as being no more than the poor man's version of the two conser­vative parties. And I was warning the party about that."
J.W.: But isn't it also true that the Labour Party's present in­feriority complex in relation to its political role is merely symp­tomatic of the overall reluctance to do anything more than scratch the surface of issues. In discussions about petty-crime the debates usually centre around how many new policemen should be sent out on the beat, instead of addressing themselves to trying to ascertain why people turn to crime in the first place.
Advertisement
M.D.H.: "Closed minds. I've found that very, very much. The crime is one great example of it. The Evening Herald declares war on crime about once every three weeks! I remember when they were on about the time the Bugsy Malones took a holiday in Spain, the Herald announced the day they left, and then they announced the day that they came back. This kind of crap!
"I've been lecturing on the whole question of deviance, law and crime for fifteen or sixteen years, and anyone who knows anything about it knows that you have to try to examine the nature of the environment in which people are stealing cars, and so on. And what you have to ask yourself the question about is, how provocative it is, in some ways, for people with very large cars, and great fur coats, and binoculars, to be parking their cars, very often in very ostentatious ways — and badly locked — in areas in which to take a car just doesn't have the status of a crime in the minds of the people who live in that environment. It's part of the normal recreational activity that people get a buzz out of, in a way, to hop in a car and perhaps later to exchange experiences with one another about what they did and what they took. Now, what's tragic about it is that very young people in deprived sett­ings often wrap the cars and themselves around poles and lose their lives. And dozens have, because they're in charge of lethal machines that are more powerful than they think or know. And the next thing is that they're dead.
"The most important thing is not the number of cars that are stolen, but in fact, why it is happening. And if you want to under­stand why it is happening, you have to go into the families and you will find that they are generally large families, that they're overcrowded in housing, and that perhaps the principal bread­-winner hasn't worked for maybe three or four years previously."
J.W.: Gay Byrne in his morning radio programme has been engaging in what appears to be a fairly systematic hardline cam­paign to mobilise middle-lreland on the subject of petty crime. And some of the letters he's been getting have been quite hyster­ical. A listener in Dublin suggested that the best way to curb the new trend in city-centre burglary — obtaining access by making a hole in the roof of the shop or building — was to allow the army to patrol the city-centre rooftops after dark with orders to shoot to kill. And of course Byrne doesn't agree or disagree when such views are expressed. He merely says something like 'a lotta people are thinking like that — a lotta people'; and leaves it at that. Break for music. James Last.
M.D.H.: "Yes, you've hit it right on the button. And his thing about it, at the moment, is to hit the nerve every morning about an old person who's been attacked, and there'll be forty letters from people who understand nothing about crime and its back­ground — the causes of the whole deviance originally, and these kind of things. And this type of thing is encouraging and whipping up a great fear in the population which later will be exploited by right-wing politics.
"And the interesting side about it is that you won't have a public programme at peak-time, like his, asking why are we wasting twenty million pounds in building a secure woman's prison in Clondalkin, when in fact the number of women in prison has declined every year since the foundation of the State.
"I have never been asked on his programme, for example, as someone who has been dealing with the subject of crime for many years, to discuss these questions. And I have very definite suggest­ions to make. But that would never get on. The way it would be put would be that "these are just some of these soft, wet, liberals who are interested in these kind of things. In fact (laughs) my own three-in-one system was stolen a few years ago. Maybe I should have used that opportunity to get on!
Advertisement
"The media focus tends to reflect the emphasis of the society. And a question we have to ask is: are we entitled to ask the media to go further than the received assumptions of the society? And supposing you answered 'No' to that, I think the one thing we are entitled to ask the media to do is not to be completely un­critical about the assumptions of the society."
J.W.: In your address to the recent conference of Labour Youth you spoke of 'Incipient fascism'. How real is this threat, and what form does it take?
M.D.H.: "If you look at the circumstances prior to fascism . . .the most thing that made fascism possible was silence. The people who should have spoken up, didn't. The people who knew that the opinions that were being offered were ignorant and reactionary and didn't condemn them — their silence made it all possible. At the moment what's taking place are attacks on minority groups, attacks on the poor, attacks on Social Welfare recipients, attacks on the unemployed by virtue of what they need and what needs to be transferred to them. And the moral outcry that one would expect - that it isn't their fault they're out of work - that it's the economy that isn't functioning, and that therefore it's a State decision — that comment isn't often being made and I see a drift, in all of this, towards the conditions that existed prior to the great Fascist movements."
J.W.: The Minister for Education, Gemma Hussey said in a recent interview that we have "a very good educational system - an excellent one in fact". Would you agree?
M.D.H.: I don't. No. I think there are lots of things wrong with it. I think it's inflexible. I think that not enough people have access right across the system. I think there's a great deal of authoritarianism within it. I think that idea that you should have lost your shot at third-level education, if you haven't taken it by the age of twenty-one or two — that is if you go into your twenties, you continue to pay taxes which fund education, but you can't go back into the university system — is to me absolutely crazy. What should happen is that you should be able to take advantage of your third level educational opportunities at any time in your life. Only a very unrepresentative section partic­ipate in third-level education, which is used exclusively to re­produce the professions and the privileges attached to the professions in Ireland.
"At the present time you have an exam-terrorised system — ridden by points. Where the university sits on top of the second level system, even though only a tiny proportion will in fact go on to university – which is another cracked idea. And given the points system, the maximum amount of information has to be pushed to the greatest number of people with the minimum amount of disturbance. And the relationships that are necessary in these classroom situations are authoritarian. There is a person imparting information and there are people receiving information efficiently or inefficiently.
"At the end of a good teaching session, what should be gener­ated is a number of questions rather than answers. Curiously, these questions themselves would lead to further questions, which in turn would lead to discovery, which in turn would lead to a critical kind of awareness of where you were in your environment and indeed in your life. And the point about that is that it would lead to a freer, opener society that would not tolerate the in­efficient instrument of the economy as it is at the present time.
Advertisement
"I'll give you one more example which is interesting. Coming out of the second level system most people will know that the capital of France is Paris and the capital of England is London and that Dublin is on the east and Galway on the western side of Ireland. We try to give people some idea of the crudities of their spatial relationships. We give them a map of their physical little back garden, but we don't give them any map at all that will tell them of the institutions that make decisions about their lives. The response there is to individual artistic productions when people strike the thing of either planetary survival or of the question of different options, or of how the vision of the world has become so locked in that it's kind of like a prison.
"On the other hand, there was nothing as much of a cop-out, an apologia for the existing system as — I think it was a Status Quo video, and the guy is working there in a garage or something, and the next thing you see him with the album under his arm, and the next thing he has changed his clothes, and suddenly he has become something else. That couldn't have been designed better. The Irish Manage­ment Institute would have loved that one. The idea being the old one: you work hard and you play hard. It's a schizophrenic idea — that what you are doing for the company for dollars in the day­ time, is work, but that you become another person at night. Well the thrust of everything that I have been saying, about education and about politics and about the economy and about relationships generally in the society is that what you need is integration."
J.W.: Would you describe yourself as a rock'n'roll fan?
M.D.H.: "Oh I would! Yes indeed. I was in Slane for example. That was a bit of nostalgia. I think the Workers Party refer to me as an ageing hippy as a result! Very early on, I was a reggae person. I liked reggae very, very much. I felt genuine sadness at the time Bob Marley died, I remember, for the amount of happiness he had given. But then again I knew there was something odd happening in the world when I read that Princess Margaret was visiting Studio 54 and bopping to reggae music. Something had happened between the content of the music, the social setting in which it was being performed and the people who were practitioners.
"Without being analytical at all about it, what I like part­icularly about rock music is the electricity of it. I love the whole sensate explosion of music. I like the audacity of performance. I admire live performance very, very much. I find it very easy to let myself go in collective gatherings. I'll put it another way. I've been interested in theatre for a longtime. My wife is an actress, and a lot of my friends are in the world of performance. And I feel very happy with performance when it is happening.
"I was just frankly appalled at the little interest there was in relation to things like the arts within politics. Playing music, dancing, being in the theatre — this has never come to be regarded as serious work. It's always been regarded as a kind of picnic from the main activity of work — when I can truthfully say, that I have, among my closest friends, encountered more complex intell­igence, more real sensitivity, more humanity, more genuine compassion and care, and in fact more constructive anger about the shape of the society, among people who are within those communities, who have remained friends of mine over the last twenty years, than I have within the formal political process.
"When I was speaking on the Youth Employment Agency Bill in the Dáil, I looked for a practical assurance that some of the money would be available to the people who wanted to put on the painting workshops, the jazz workshops, the people who wanted to put on the theatre. Is an artist a worker? I would argue that if you go through the Dáil and Senate, that you would get an appalling answer to that question. This is what I have in mind too, about the moulds being broken. That's a clear example of what I'm saying about the shape of the future — there will be no such thing as a person having a single occupation right through life. People will have two or three. And in order to make the shift from one occupation to another, you'll need broad-based skills rather than narrow ones. There's going to be far more mobility in this society.
Advertisement
"The real problem at the moment is that income has always been associated with work. If you don't work you've no income, and therefore you have nothing to spend. So the technical problem is about getting income out across the community — across work as activity — in different ways. And what a brave Party would say, in the next ten years, is that you abolish things like Supplementary Welfare Benefit and Supplementary Welfare Allowance, in the sense that you abolish the names. And you start redistributing like mad! And there's every argument to say that what you will unleash will collapse the division between black economy and legitimate economy. That what you will un­leash in the society by way of creative work options might in fact make for a far better society. I think that will happen within the next forty years —generally in Europe. But I would say: y'know, why do we have to wait?
"If I was using the money from the Youth Employment Scheme —the 90 or 100 million — I would be using it in that way, rather than peopling of traditional schemes. I think that they've got the cart before the horse about all this financial rectitude thing. I think it's completely wrong. Because what happens is that they're going to cut off millions in public expenditure, thereby creating more unemployment. There­fore the bill goes up, and the transfers that have to be made by taxation to pay for that are coming from a narrower base. It begins to complain. And the next thing that happens is that you have a war between people with jobs who claim to be the tax­ payers, and those without jobs, who it is suggested are spongers on society. And then you have the very worst kind of conflict you can have in a society.
"So people will fall back on things which are simply instincts. Instincts of individualism. Instincts of aggression. Instincts, all of which will create packages of violence, when they see around them all of the institutional restrictions as institutional violence, and the whole system could then come under siege.
"And my view about it all is that the whole thing is avoidable. That's the most important thing I have to say: there is an alter­native. And the interesting thing about the alternative is that it is exciting. The kind of Irish person that could come past this crisis could be such a multi-faceted person in relation to self-expression, in relation to the senses, in relation to total experience — could be such a complicated person, and such a sensate person, and such a sensitive person, that it would be wonderful. But what we are much nearer to producing are monsters."
J.W.: Do you think rock music can achieve anything in terms of social of political change?
M.D.H.: "Oh I do. You're so much younger than I am, but I was a young person in this wet island when people were averting their eyes from downwards of the waist of Elvis Presley. And one of the things the poor old king did, at least, was to remind people that there was a part of their body which they had almost for­gotten existed; that it was still there! It had an importance way beyond music. It was the beginning of a whole questioning attit­ude about repression and of pettiness and of sordidness, in relation to matters sexual. That goes way back."
Tail ends . . . About the Amendment, Garret Fitzgerald and his liberal image among some young people.
Advertisement
"Hopefully his behaviour over the Amendment will straighten their heads out now. This business where you go on Crusading in the morning and you're for the Amendment in the afternoon. That, more than anything, exposes the bogus nature of it all.
"This Amendment campaign is all about blackmail"
On himself . . .
"I have been presented as a kind of semi-mad person, that's eccentric. That speaks in an unusual way. And that despite all these disabilities of madness, there are these kind people who remember all the work I did for them who put me back in the Dáil. That's a load of crap!
"I do know that there are several people whom I drive quite mad! Which I think has been a great mark of my progress over the years!"
Photos: Colm Henry