A thoroughbred rock 'n' roller, Malcolm Noonan was elected to the Dáil for the first time last year at the 10th count, and months later was appointed Minister of State for Heritage and Electoral Reform by his party leader Eamon Ryan. He talks to Stuart Clark about his indie days of yore, his activism, the Greens in government, climate change, biodiversity, housing, drugs – yes, he did inhale – and lots more.
With Paschal O'Donoghue a 3Arena regular, Leo Varadkar inveigling his way backstage at an LCD Soundsystem gig – we'll gloss over the band subsequently calling him a 'tosser' – and Catherine Martin jamming with Glen Hansard, the competition for most rock 'n' roll government minister is actually a lot keener than you'd think.
Unless it suddenly transpires that Jack Chambers has a secret goat-sacrificing death metal past or Helen McEntee once roadied for Motörhead, the accolade has to go though to the Minister of State for Heritage and Electoral Reform, Malcolm Noonan, who's variously supported John Cooper Clarke; hosted a civic reception for Tommy Ramone; played in a bar band with R.S.A.G.'s Jeremy Hickey; and helped organise the Kilkenny Roots Festival.
Prior to entering electoral politics with the Greens in 2004, Noonan was national coordinator with Friends Of The Earth Ireland and a community activist working in the areas of mental health and suicide prevention, school food programmes and Traveller and migrant welfare.
After sixteen years as both a Kilkenny County and Kilkenny Borough councillor – the Tommy Ramone shindig happened during his 2009 stint as mayor – Noonan was elected to Dáil Éireann in February 2020 on the 10th count, which was as nail-biting as it sounds.
The ministerial call came at the end of July after the Green Party's equally nail-biting coalition talks with Fianna Fáil and Fine Gael were successfully completed.
Advertisement
Shortly before that Noonan had supported Eamon Ryan in the Green's leadership contest – he'd previously run against him himself – whilst managing not to say anything disparaging about the challenger and his soon-to-be cabinet colleague, Catherine Martin.
This Hot Press Interview with Minister Noonan starts in his Custom House office where the dress code is suit and tie and ends over a pint or three in his Kilkenny local where he looks altogether more comfortable in well-worn jeans and a check shirt.
While clearly relishing the task, you get the feeling that he's still processing the magnitude of what's happened to him and, by extension, his wife and children aged 6, 8, 17 and 18. It's impossible for Noonan to go for a quiet drink anymore with three people coming up to him asking for a quick word, which he happily gives them.
We'd rendezvoused earlier outside Rollercoaster Records, the shrine to all things vinyl set up by the late Willie Meighan who also happened to be Malcolm's election agent.
While the constituents who stop him on the street today for more of those quick words are all friendly, the Minister admits to being roundly abused on more than one occasion by disgruntled Greens who consider going into coalition with Micheál and Leo an act of betrayal.
Before getting down to political business, let's examine those rock 'n' roll credentials more closely…
Stuart Clark: You were part of the same '90s Kilkenny music scene as Engine Alley, My Little Funhouse and Kerbdog, all of whom bagged major deals. Were you close to signing on the dotted line yourself?
Advertisement
Malcolm Noonan:  I was in one serious band called the Jerusalem Taxis for about three years. It was good punky stuff – Minutemen, Hüsker Dü, that sort of thing. We played a lot of gigs with The Slowest Clock who had a similar approach and style to us. We were both culchie bands – their drummer was from Kikenny but they were based in Laois – and recorded in the same Dublin studio, Sonic, with Albert Cohen. We also supported Engine Alley quite a bit both in the Newpark Inn, which was the hopping Kilkenny venue at the time, and in venues like The Baggot Inn. There's a 1991 Fanning Session of ours on the web. We went over to London to do a showcase for Setanta and 4AD, which is when it all fell apart.
How did the solo Johnny Cooper Clarke support come about?
I don't remember much about it, although I have a cassette of it. It was in Cleere's in Kilkenny. The place was rammed with the audience right up on the stage. I was shitting a brick, really.
The only good thing about Margaret Thatcher's eleven years in power is that it gave bands on both sides of the Irish Sea something to be really angry about.
Yeah, music and politics went totally hand-in-hand back then. I bought my first guitar and harmonica aged 15 to mimic Bob Dylan and Woody Guthrie. Then I began writing songs about social issues – everything from corrupt planning and environmental stuff to domestic violence – which gathered apace when I joined Jerusalem Taxis. At the same time, I was involved with Friends Of The Earth Ireland, and various other organisations like the Campaign For Nuclear Disarmament and the Stop THORP campaign, THORP being the nuclear reprocessing plant at Sellafield, which posed a real threat to Ireland.
Advertisement
Was yours a political family?
Both my parents were very active in volunteering and fundraising and being involved in the community. All of that has an influence on your life. Dad was in the army and served three tours in the Congo in the 1960s, so he had a broader worldview than most people here. He wasn't involved in any of the big skirmishes, but he wrote a lovely book about it being one of the first missions the Irish Defence Forces had taken part in, and how it set the tone for Ireland's international peacekeeping role. He's still alive and thankfully in good health. He met my mum in Kildare while he was stationed in the Curragh. They moved down to Kilkenny and had ten of us. It was the norm back then to have big families – neighbours of ours had 14 children!
Money must have been tight.
We grew up on a local authority estate and didn't want for anything, although needs at the time were very different to now. It was actually a very, very happy background. I would have struggled later on to keep a roof over my head. I was a single dad for quite a while, which definitely fed into my politics.
Were you old enough to understand what was happening in 1981 with the Hunger Strikes in the North?
Yeah, they affected me quite deeply. I still vividly remember the black flags on lampposts and the deaths being announced on RTÉ News. The behaviour of the British authorities under Margaret Thatcher was totally inhumane. You couldn't not be influenced or affected by the atrocities that were happening on a daily basis in the North, and the frustration we all felt about the lack of political dialogue that was needed to move it forward. It sparked a huge surge of activism towards Sinn Féin.
Were you tempted to go the Sinn Féin route yourself?
Advertisement
No, never. Although not overt, our family's politics were always left leaning. An exception being an uncle of mine who was a private nurse to Winston Churchill. He wouldn't speak about it very much but I remember being in his house and seeing all this Churchill paraphernalia. Anyway, with the Greens only very fledgling here at the time, we were a Labour-leaning household.
Which wasn't the way most people voted back then in Kilkenny.
No, it was Fianna Fáil and Fine Gael then and still is. They dominate politics and local government – it's been difficult to crack that nut. There were left and independent politicians who broke through, which gave me an inkling that it could be done. One was Liam Quigley, a Socialist Workers Party councilor who was really able to stand up to the old guard. Jim Kemmy, the Democratic Socialist and Labour TD and a fantastic man, was a huge influence on me too. I knew there was a space there, but was shocked when I ran for the County and former Borough councils and in both instances topped the poll. We were running on Green issues – public transport, clean air, clean water – which at the time was quite novel. People wanted to try out the new guy and see what he was like.
One of your team described you – admiringly I think – as a 'professional stubborn bastard.' Correct?
(Laughs) I would be a stubborn bastard, yeah. I've literally never set foot on the St. Francis Bridge, which opened in 2015 and to my mind is a blight on Kilkenny. I campaigned against a Tesco location locally because I've seen how they've hollowed out town centres in the UK. I haven't set foot in there or McDonald's either.
Did you ever chain yourself to anything or get arrested?
No, I didn't. I don't why not; maybe I was unlucky (laughs). I've always believed in the right to peaceful, respectful protest.
Advertisement
Do you look at Extinction Rebellion and wish you were 25 years younger?
Absolutely, yeah, it's great. I actually wish I was forty years younger and involved in Fridays For Future. Before I got elected to the Dáil last year, there were two young girls camped outside our town hall every Friday. Each time I went into the council meeting, they were waiting for us, which to me was phenomenal.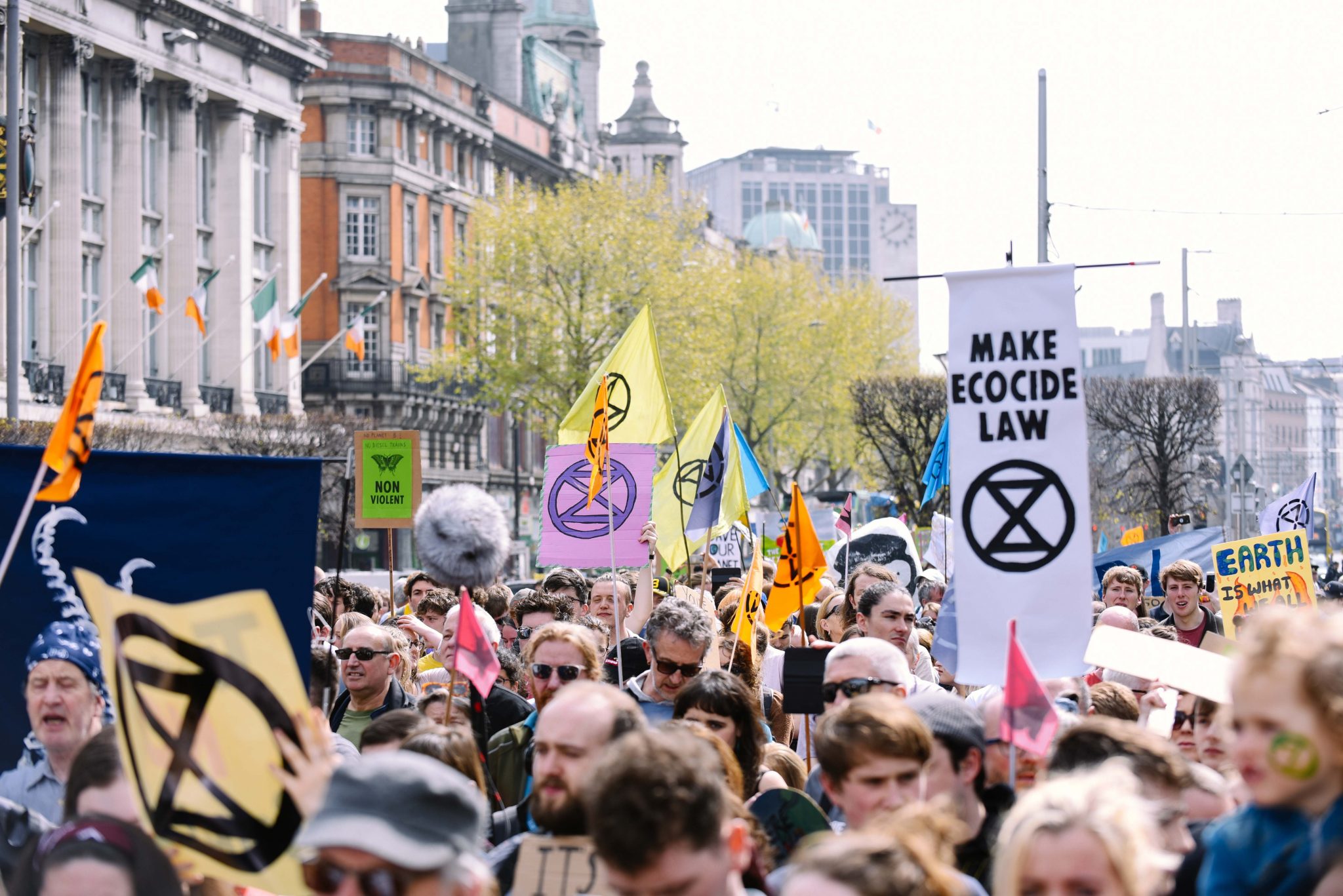 Would you say kids are more or less politically literate than they were in the '80s?
Actually, just this morning we were going through the pre-legislative scrutiny on the Electoral Reform Bill, elements of which fall into my area of responsibility. The Green policy would be to reduce the voting age to 16 – the Programme for Government commits to exploring the option – but I don't want to do it without consensus. Austria and Malta have both gone to 16 and they've tried it too in Nicaragua, Scotland and the Isle of Man so there are plenty of models to look at.
One imagines that it would skew here in favour of parties like the Social Democrats, People Before Profit, Sinn Féin and yourselves who traditionally attract a lot of younger voters. Has research been done?
Yeah, there has and there's no evidence to suggest it would veer towards left-leaning parties. A lot of Fianna Fáil and Fine Gael TDs and senators are in favour of the voting age being brought down to sixteen so they're not afraid of it.
Advertisement
Your party chairman, Hazel Chu, told me recently that the Greens aren't doing enough to engage with minorities who don't have a natural political home. Fair comment?
Certainly we've engaged with the Irish Traveller Movement and are actively engaging with other groups and organisations. We're an open, welcoming party so we would love to see people have the courage to put themselves forward for selection and election. It's really important that our council chambers in particular are reflective of our population, which currently they are not.
You wouldn't be rushing as either a woman or a person of colour to stand for election if you'd seen the racist and misogynistic abuse directed at Hazel Chu by rightwing trolls.
What she's had to endure has been horrendous. Hazel has been incredibly brave in continuing to stand up for what she believes, and speaking on behalf of a lot of people in society who feel voiceless. She's been an excellent Lord Mayor for Dublin and I'm sure she'll continue to be an excellent councillor and step up to the next level in Irish politics.
To go back to the Traveller community: would you say that their exclusion from large swathes of society is a form of apartheid?
That's the term being used and I don't disagree with it. Their lived experience is exactly that. The 90% unemployment rate, the poor mental health outcomes, the well being of women: these issues aren't being addressed in a way that is improving the quality of Traveller lives. A lot of the events we're doing as part of Heritage Week this year are around Traveller culture and heritage. Without the Travelling players who've carried on the tradition, a lot of Irish music would have been lost. Traveller culture is rich and should be celebrated and not hidden away. It's a challenging task and we also need hate speech legislation, which we're moving on, to deal with the online abuse.
How quickly do you see that happening?
Advertisement
The process is underway and will hopefully be completed within the next year.
What about social media companies being properly held to account for what appears on their platforms?
There are European digital media initiatives and the establishment of a media commission. We need a suite of policies, both at a European and national level to deal with online platforms. It was quite robustly debated at the committee stage of the Electoral Reform Bill.
To use Hazel Chu as an example again: things have been said about her on Twitter that would never be allowed to appear in a newspaper or on the radio.
Social media companies need to step up and bring in a very robust means of regulating their own platforms. In terms of what they moderate and don't moderate, that space and the public attitude towards it is changing.
Did you ever think in your Friends Of The Earth or CND days that you'd end up in a government office?
No, it's been quite incredible. The forming of a government in the depths of a pandemic was certainly a new experience from our perspective (Laughs). To get elected was a huge achievement given that I had probably the lowest first preference vote of any TD. I got in on huge transfers from the left, so I'm conscious of that. When Covid broke, I was absolutely certain in my mind that we had something to offer and needed to be in government. We were given a mandate by having 12 TDs elected and came close to 14 or 15. We went through talks with all the political parties – Sinn Féin, Social Democrats, Labour – and from our perspective the only viable coalition that was emerging was with Fianna Fáil/Fine Gael.
Advertisement
Would you have any problem going into coalition with Sinn Féin?
We held talks with them last year in good faith, but the numbers simply weren't there to form a government. I think they will be a viable government party in the future.
The thing most likely to win Sinn Féin the next election is their housing policy. Haven't they rather stolen a march on the Greens?
Eoin Ó Broin is a very competent housing spokesperson, but at the same time you had Sinn Féin councillors voting against the delivery of five hundred units in Fingal recently. What we're trying to do is strike the right balance between private sector development and public housing. The institutions were brought in by Michael Noonan at a time when there was no investment at all in the state. We're now recalibrating in terms of first-time buyers having the opportunity to purchase houses as well.
Are you happy with the new measures designed to stop cuckoo funds hoovering up new-builds?
I think so, yeah. Minister O'Brien is committed to having a mature rental market, and a good delivery of social affordable housing. It's not going to be easy. The critical thing is having the capability to put in the infrastructure and there being enough tradespeople to actually construct that housing.
To solve the housing crisis we need land, which the Catholic Church have a huge bank of. Given the compensation they still owe to abuse survivors, is there a case for the state seizing some of it?
Advertisement
Absolutely, yes. It's terrible to think that we would have to force the church's hand, but there are church properties all over the country that could be repurposed for families to live in. They have a role to play here and haven't stepped up.
Is there an appetite within government to take them on?
I haven't spoken to colleagues about it. I do think it's a conversation we need to have.
Where do you stand on the separation of church and state?
I am absolutely of the view that when it comes to schools and hospitals, we need to separate that relationship. It has been toxic.
Advertisement
At what point did you realise that a ministerial job was on the cards?
I didn't give it any consideration really. Our main concern – and it caused a huge internal wrangle in the party – was whether we'd continue in talks or not. There were some who were opposed to it and getting to that two-thirds majority was challenging. Eamon offered the portfolio to me and I was thrilled because it's an area I have a lot of background in.
That 'huge internal wrangle' has been going on for quite a while now, and resulted in young stars like Saoirse McHugh quitting the Greens. Are you concerned about losing someone of her calibre, and the emergence of a breakaway party, An Rabharta Glas – Green Left?
Saoirse has been brilliant and will continue to be brilliant in whatever she does. It's inevitable that people come and go in political parties, especially ones that are as activist-driven as the Greens. As for Green Left, I suppose the local elections will be their testing platform. It'll be interesting to see how they perform.
It's not quite at an Edwin Poots/DUP level, but the leadership contest must have left deep scars on the party.
I'd have to say "no". There were certainly differences of views and approaches that lead to it – and are probably to some extent still there – but once the leadership contest was dealt with, I think the party has rallied around the party leader and deputy leader. There's a very good working relationship within the parliamentary party and getting the Climate Bill through was a pivotal moment. It's been at the core of our existence for thirty years.
Wouldn't Catherine Martin have been a better choice of leader in terms of appealing to young voters and left-leaning activists like Saoirse McHuge who've bailed?
Advertisement
Catherine is a huge asset to the Greens, as is Eamon whose broad appeal to voters was underlined in the last election. It's not an age thing – just look at the movement Bernie Sanders built in the United States and people voting Michael D. Higgins in again – or a woman or man one. Young people are attracted to the Greens among other left parties because they see us as having a range of policies that are addressing issues of concern to them, which is primarily climate and nature.
History shows us that junior coalition parties usually get hammered in the next election. Is that a concern?
It doesn't preoccupy my thoughts at all. I don't particularly care. That sounds flippant, but the reality is we're here to do a job. My priority is to implement our policies while we're here. The Climate Bill passed through the Dáil by 28 votes to 10. To look up at a screen and see that was quite powerful. The big agenda for me with this portfolio is nature and biodiversity. I have to see through that agenda for as long as I'm here. I'll worry about an election after that.
The Climate Bill was a red line issue going into coalition, but underwent numerous amendments before being passed. Is it 100% what you were personally hoping for?
It is, yeah. Fine Gael and Fianna Fáil had a bigger journey to get to the magical 7% reduction in emissions every year than we did. It was a huge leap of faith for them to come on board. It went through rigorous debate, and passed by a huge majority, which demonstrates the cross-party support it enjoys. There's no doubt there's going to be challenges, especially agriculture and transport. From the perspective of the Greens, it was a vindication for Eamon Ryan who has campaigned all his life for it and the rest of us who've knocked on doors for the past twenty years to get votes for the party. But as I said, it's great testament to the other two political parties.
The Irish Farmers Association marched on the Dáil over concerns they have in relation to carbon removals, biogenic methane and carbon leakage. Others have condemned the Climate Bill for its lack of emphasis on Just Transition.
I would disagree with that. I don't think it needed to be overtly in the bill. Just Transition permeates every facet of what we're trying to achieve here. There's been strong government emphasis on habitat restoration, re-wetting our bogs and trying to create alternative employment for workers in the midlands who are most disenfranchised (by the Climate Bill). It's also about deep retrofitting our homes; making public transport more widely available and more affordable; and addressing fuel poverty in low-income households. Just Transition is also about our farmers having alternative sources of income that aren't based on herd numbers or increased expansion, but on results-based payments for biodiversity, for carbon storage and moving towards a Common Agricultural Policy that's mature enough to recognise their stewardship of the land.
Advertisement
Do you understand why there were hundreds of farmers outside the Daíl waving placards?
Absolutely I do. They're worried about their incomes, their futures and the next generation coming up. I've had positive engagement with the IFA and other farm organisations since we went into government. We want vibrant rural communities and sustainable farming that provides a viable income and keeps them on the land. In doing that we have to acknowledge that the current global food production system is broken.
The ultimate goal of the Climate Bill is net-zero emissions by 2050, but what tangible differences will we see over the next ten years?
A transformation in how we move about in our villages, towns and cities. We'll see a significant shift towards walking and cycling, which is going to be healthier for everybody and makes for better air quality. There will also be a big shift towards electric public and private transport and more freight on our railways. Our local authority housing policy is going to move from a B3 energy rating to A2 by 2025, which is going to require a massive, deep retrofit of existing properties. We'll have a Common Agricultural Policy that's fit for purpose and works for farmers in the east, where it's intensive dairy, as much as it does for farmers in the west. We'll hopefully take the best from Covid and see a lot more remote working or hybrid versions of working. By 2050 we have to be zero carbon, which means a huge ramp-up of renewables. The marine planning we're doing at the moment is going to see a big shift towards offshore wind.
Are you sure there's enough money to give us the public transport system you're outlining?
Yeah, I think so. The next iteration of the National Development Plan is going to make a significant impact on that. But it's also about accessing European green deal monies. Minister Ryan is very committed to really deep investment in public transport – not only in Dublin and other urban centres, but also in rural areas where a lot of young people are forced into buying a car. The Climate Bill will hold future governments to account.  My job now is to do the same for nature.
What progress are you making?
Advertisement
We have a new National Biodiversity Plan; marine protected areas, which Minister O'Brien and I will be working on; and new river basin management plans. We want to ensure that all of those plans are binding, and have robust targets that have to be met not just by this government but future ones as well. I want to build my budgets up over the next three to four years to a point where they can't really be undone.
Do you think your coalition parties really get it or are they just humouring you?
The Taoiseach talks very eloquently about biodiversity and nature all the time; he definitely gets it. I was speaking last week to Simon Coveney about basking sharks. It's not tokenistic. They're deeply committed to this project. I have to say I've been impressed.
Time for the famous Hot Press question: have you taken illegal drugs?
I have, yes. I've certainly smoked cannabis in the past.
It doesn't seem to have harmed your career?
No, it hasn't. I'm always open about sharing my experiences with drugs.
Advertisement
Are you in favour of decriminalising cannabis?
I have a real concern about the potency of a lot of the hash that's sold here. The cannabis I smoked in my twenties is very different to the cannabis on the streets of Ireland now. It's bloody strong and causing serious mental health problems. We have to ask, "What's causing young people to get wasted?" Many are from very difficult and challenging background and there's a lot of instability in their family lives. We need to improve their job prospects and other life opportunities. We definitely need to move things forwards, though, in respect to medicinal cannabis.
You're at odds here with your own manifesto, which states that the Greens are in favour of decrim.
That is the policy. I would have serious concerns about decriminalising cannabis because of the potency of what's going around at the moment.
What are your Top 5 sustainability must-dos?
Buy a bicycle; consume less; cut down wherever possible on travel; be mindful of others and your impact; and try to leave things in a better state than you found them.
Are there any books you can recommend to people trying to get their heads around biodiversity?
Advertisement
The most influential book to me was Jonathon Porritt's Seeing Green, which was written in 1984 and remains a manifesto for change. John Seymour's The Complete Book Of Self-Sufficiency goes into everything from how to butcher animals to making twine. It's the bible if we end up in a situation where food security becomes really challenging.
Hopefully it won't come to home abattoirs… Thank you, Minister.
(Laughs) Thank you, Stuart.
• National Heritage Week runs from August 14-22