Soulfire
There's a fine book by the estimable Barney Hoskyns, Say It One More Time For The Broken Hearted: Country Soul In The American South, where he lays out the relationship between those two great pillars of American music, country and soul, and how they came together in places like Rick Hall's FAME studios in Muscle Shoals, Alabama. In magical, holy places like that black singers got together with white musicians to create a hybrid that, at its best, can sooth the most troubled soul by expressing the pain of living. It's grown up music, a balm to anyone who ever had a heart. Yola's Bristol might seem like an odd spot for it to show up in, but why wouldn't it? People fall in love and get their hearts broken from Tullamore to Tibet. One of this year's best records, Walk Through Fire, is a joy to anyone whose record collection stretches from Aretha To Waylon, and even the Grammys have sat up and taken notice, showering the singer with multiple nominations. It couldn't happen to a more deserving piece of wax.
The band makes a quiet entrance, followed by the woman herself, looking fabulous in a sparkly dress and formidable afro, to generous applause. She sticks to the low registers, dodging in and out of the slide Telecaster notes during 'Lonely The Night' – "broken hearts live alone." Say it one more time. There's some tail-feather shaking at the song's end to greet the cheers, "they've let me loose!" she smiles as she tries to negotiate that hair with the acoustic guitar's strap. 'Ride Out In The Country' combines pedal steel with some hints of a honky tonk piano and a useful bit of tambourine behind the "falling out of love" chorus.
"This song was written after a house fire, well a me fire, I was a human torch and as I was burning, it dawned on me that I was happy as a pig in shit." She's talking about a real incident when a faulty burner exploded and nearly snuffed her out before she even got started. Most of us would have only one thing on our minds in a similar situation, but not her apparently. "All the things in my life were fixed, I put myself out and once I was out of the bandages I started writing songs." This leads, naturally enough, into 'Walk Through Fire' and when she sings "the red hot coals are calling" she obviously knows what she's talking about. 'Still Gone' goes into a gorgeous Motown beat when the chorus hits that minor chord, and then she tells us about running into Black Keys man Dan Auerbach at a showcase who then invited her in to write songs and put the album together, his own Easy Eye Studio in Nashville being the latest marker on that country-soul map. 'Shady Grove' is a product of their first writing session, sweeping along on a gentle bed of brushed drums and appropriately keening pedal steel.
"I've been on the road forever, and you get so tired you can't even sleep." 'Rock Me Gently' tries to find rest, to "take away these memories" before the first cover of the evening. "I used to dance to albums like Honky Chateau, and I always thought I'd sing this song," she says by way of an intro to a beautiful run at Elton's 'Goodbye Yellow Brick Road'. Yola's voice swoops up from her boots to the flying chorus, it's no secret that Elton and his co-writer Bernie Taupin were fixated on the music of the American south, and this is probably what they had in mind when they wrote this song, and who wouldn't accept a couple of vodka tonics, to set them on their feet again?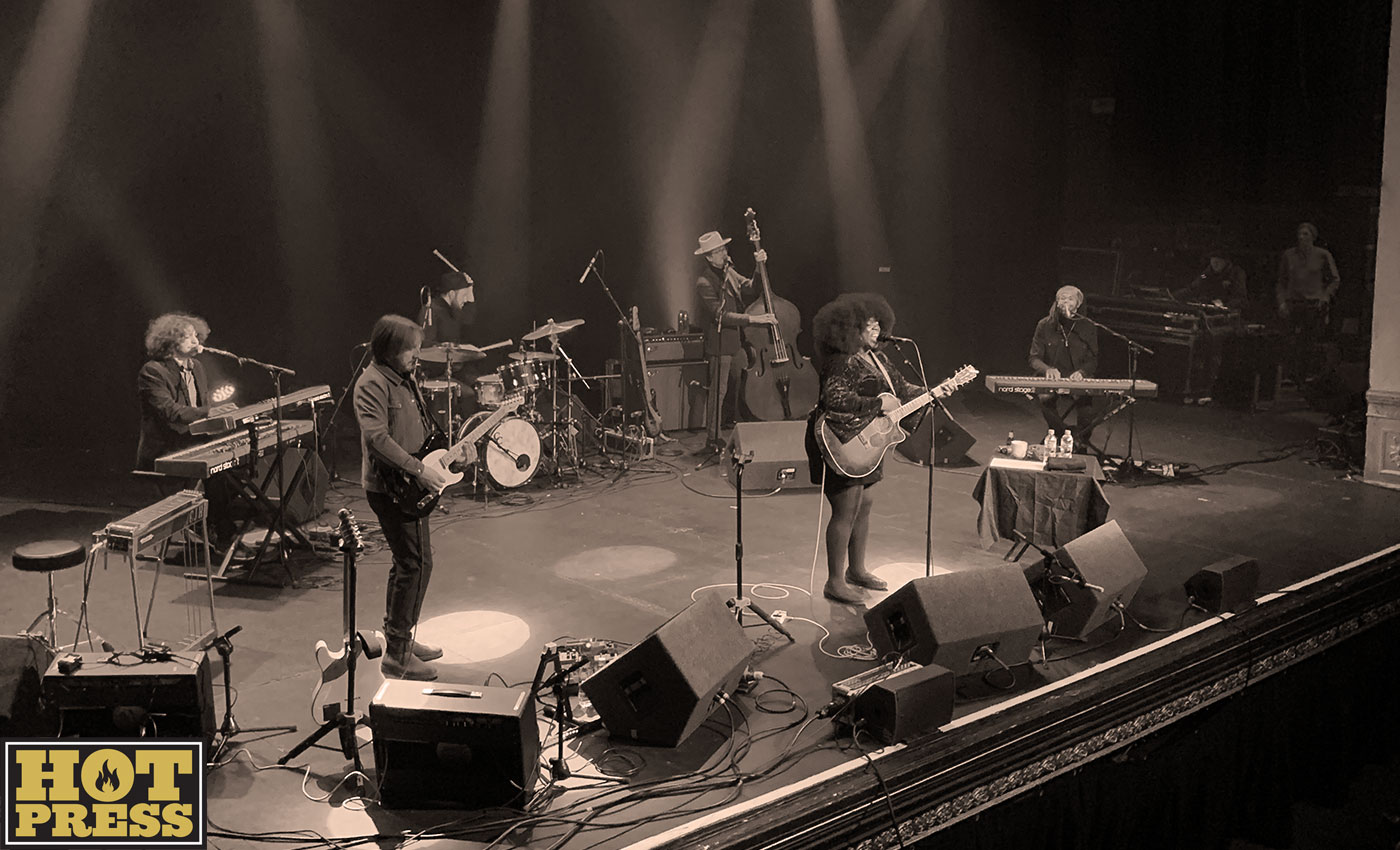 Advertisement
Another cover with Birds Of Chicago's 'Never Go Back' and that nagging guitar riff that might have come from Nile Rodgers if he had been born a bit further South. Yola turns the song into a defiant soul shout, forget those "lost tears", it's all enough to get one lone trooper out of her seat to dance. She brings things back down with 'Deep Blue Dream', her eyes close as the pedal steel heads for the heavens. There's a rumble of recognition from the audience as 'Faraway Look' emerges from a piano/cymbals introduction, a song that owes a debt to Tammy Wynette, and you could easily imagine the first lady of country singing the lines "nobody moves the way you do, walking 'round the grocery store' as Jones heads for the liquor section again, leaving her alone with her thoughts. It's Yola's song though, her voice crackles with power, and it's let loose as 'It Ain't Easy' – "this goes out to everyone here who's in love, you got nothing but work to do" – draws to a close. She introduces the band – is her guitar player really called Chris Hillman? Makes sense – before the Hammond and maracas in 'Love Is Light' and then 'What You Do' from 2016's Orphan Offering E.P. – proving that she had it before Auerbach came knocking – driven by Craig Hanson's double-timing, stick-splitting drums.
At this point, my fabulous showbiz pal Marty Whelan leans in and offers a drink, showing me the key the promoters have trusted him with. I have visions of bacchanalian excess, which he cruelly tempers by reminding me he has work in a few hours. Mr Whelan has been an admirer and vocal supporter of Yola since the album was released and there's a good chance a lot of the audience here tonight – few of us will see twenty or even thirty again – first heard the record on his show. His tempting has distracted me though, It's the last song, but Yola knows there's an "unwritten covenant between artist and audience" so there'll be another. She goes into Joni Mitchell's 'Big Yellow Taxi'. Marty returns with the drink and informs me that Yola had the big, round balls to actually play this song at Joni Mitchell's birthday celebrations, but then Joni was lucky to have her. It sounds like The Band are backing her as the tambourine shakes and the song moves into Joe Cocker's Mad Dogs & Englishmen version of The Box Tops' 'The Letter'. We're now in the middle of a gospel revival meeting as Hillman goes full Robbie Robertson for the evening's only obvious guitar solo. This is getting serious, turning into Delaney & Bonnie at their best. They go off, but they come back for that promised last song. It's got to be Aretha's version of 'Spanish Harlem', the tambourine is now working so hard you half expect someone to pass the plate. It breaks down, and that voice takes it home. There's a standing ovation because of course there bloody is.
Yola is a performer of great charm, and that band are pretty handy, but it's the voice we're talking about, and a good half of my record collection is alive in it. This was, perhaps, a more subdued affair than her Academy show earlier this year, but it allowed the listener to be fully enveloped by the sound of her miraculous instrument. Those golden gramophones are surely a foregone conclusion.
https://open.spotify.com/album/3YkPGNQ0ATRPcigTb74F5A?si=myblkrOMScG4XANebGQRBw
Advertisement