Live Report: Rina Sawayama kickstarts 'Dynasty' tour in explosive fashion at Dublin's Academy
British-Japanese electro-pop sensation Rina Sawayama tore the roof off The Academy last night, marking an incredible start to her much-anticipated 'Dynasty' tour. Photos by Meryl Prendergast
Rina Sawayama embodies the pop moment as she thrills die-hard fans at Dublin's Academy last night, impressively living up to the hype behind her thrilling 2020 debut album SAWAYAMA.
The London-raised star exploded onto the scene with her buzzy 2017 EP, Rina, and vibrant 2018 single 'Cherry'. Both harnessed the soul of R&B and the fun-filled essence of dreamy synths. The pop princess leaped headfirst into goth-rock icon on last year's should-have-been-Grammy-nominated LP, which landed on some of the highest-profile 'Best of 2020' lists in music. Tapping into the core of her identity with bravery, she somehow curated high-energy gems out of the process.
Raucous nu-metal, glittering R&B and ferocious avant-garde electro-pop masterpieces were all on the menu last night. The 31-year-old entertained a legion of devoted followers, with an audience as colourful and diverse as the performer. Clearly her penchant for encapsulating anger, frustration, heartbreak and deep sadness and turning them into packaged pop anthems has garnered quite the crowd, deservingly. Prior to the Japanese-British act hitting the stage for the first of her Dynasty shows, Hanna gave a spirited support slot while a DJ later blasted Charli XCX, Gaga and Carly Rae Jepsen to a delighted audience. A gathering of queer gig-goers were enraptured by the pansexual star, who's defiant and empowered state of self-expression has inspired the masses.
The gig was 14s (Gen Z territory), but the crowd were predominantly composed of those under 30.  The venue was immediately sweat soaked, the air thick and heavy - but security were handing out pints of water to those waiting at the front of the barriers. The events at Astroworld have potentially had an effect. Squeals erupted whenever the lights changed, the anticipation rife for Rina's big entrance. And what a Dublin debut it was; Sawayama stomps into the Academy with album opener 'Dynasty'. Sporting a fierce black ensemble and laser sharp eye make-up and with two talented back-up dancers by her side, it was a pretty spine-tingling first appearance. Coming out of the gate with musical gut punches, Rina's band were also incredible. She made excellent use of her guitarist and drummer during her goth/rock-heavy tracks, which were some of the most explosive of the night. Her flame-haired guitarist in particular belongs in the Rock & Roll Hall of Fame.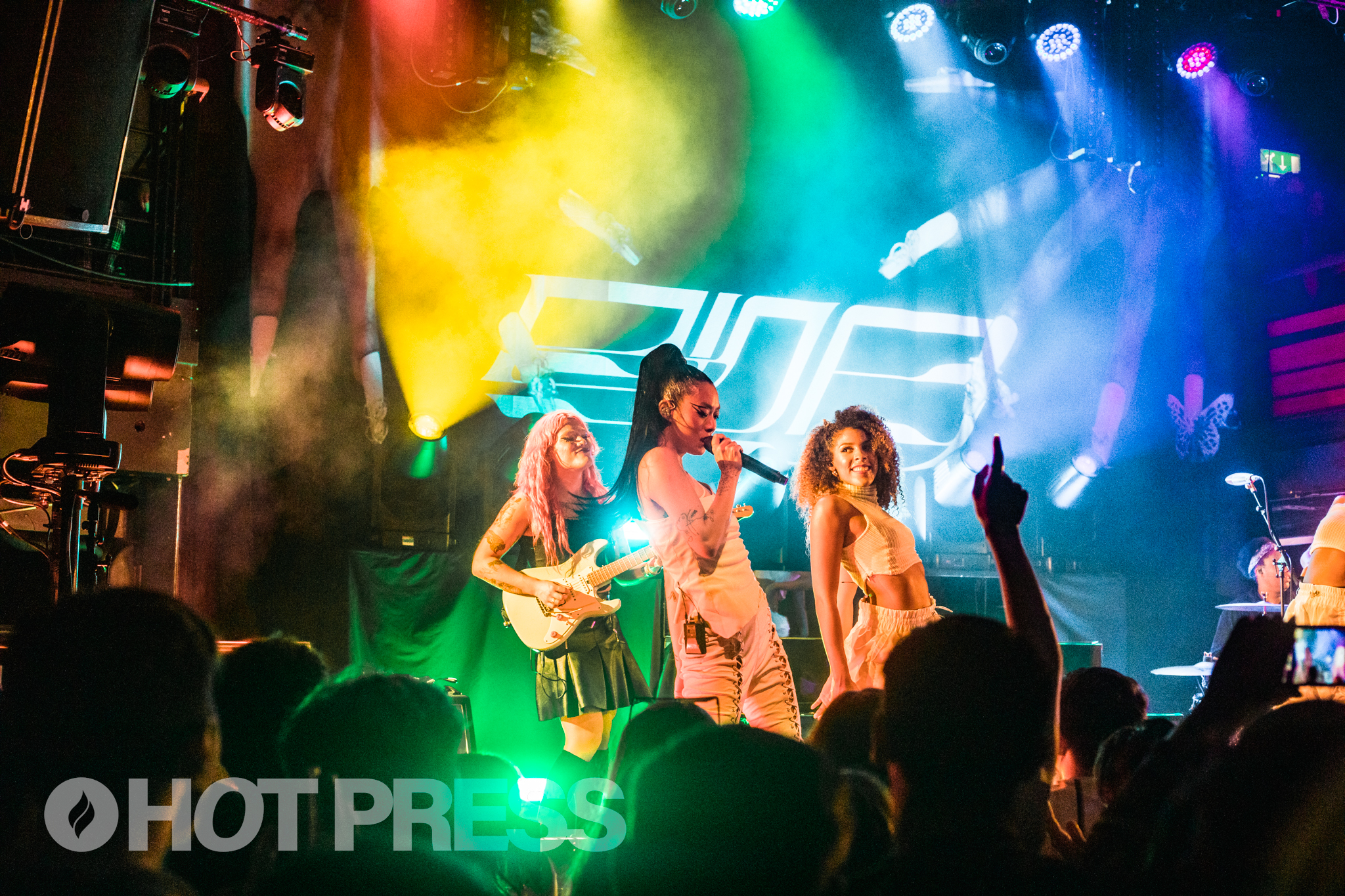 Advertisement
The pop star exorcises her demons above mosh-pit-friendly riffs on 'STFU!', her second track of the eve. Themes from intergenerational pain, racism and mental health are somehow paired with incendiary lyrics and genre-imploding soundscapes. The crowd go wild for her nu-metal side, and it's hard to deny the pure energy emitted from the stage. Her precise dance moves paired with raw lyrics have reeled everyone in, hook, line and sinker. "Have you ever thought about taping your big mouth shut?" the audience screams, "Shut the fuck up!". Amazingly, her vocals never waver - despite competing with insane guitar solos. Even a death drop doesn't deter her.
"The last 18 months has been fucking crazy," Rina says, pausing for a moment to breathe. |From the bottom of my heart, I just want to say thank you. Thank you for streaming SAWAYAMA, for making me feel seen, feel heard, feel loved. Most importantly, thank you for making me feel confidant".
This perfectly segues into 'Comme des Garcons', with the mantra "I'm so confident" ("like the boys") acting as the track's principal statement. It's yet another electro-pop banger. Next up comes 'Akasaka Sad', with expert choreography. "This song is about depression," she says, earning a gigantic cheer from the audience - who presumably relate to the struggle. Featuring warped beats and frenetic electronic elements; it's high-octane and has SOPHIE's influence written all over it.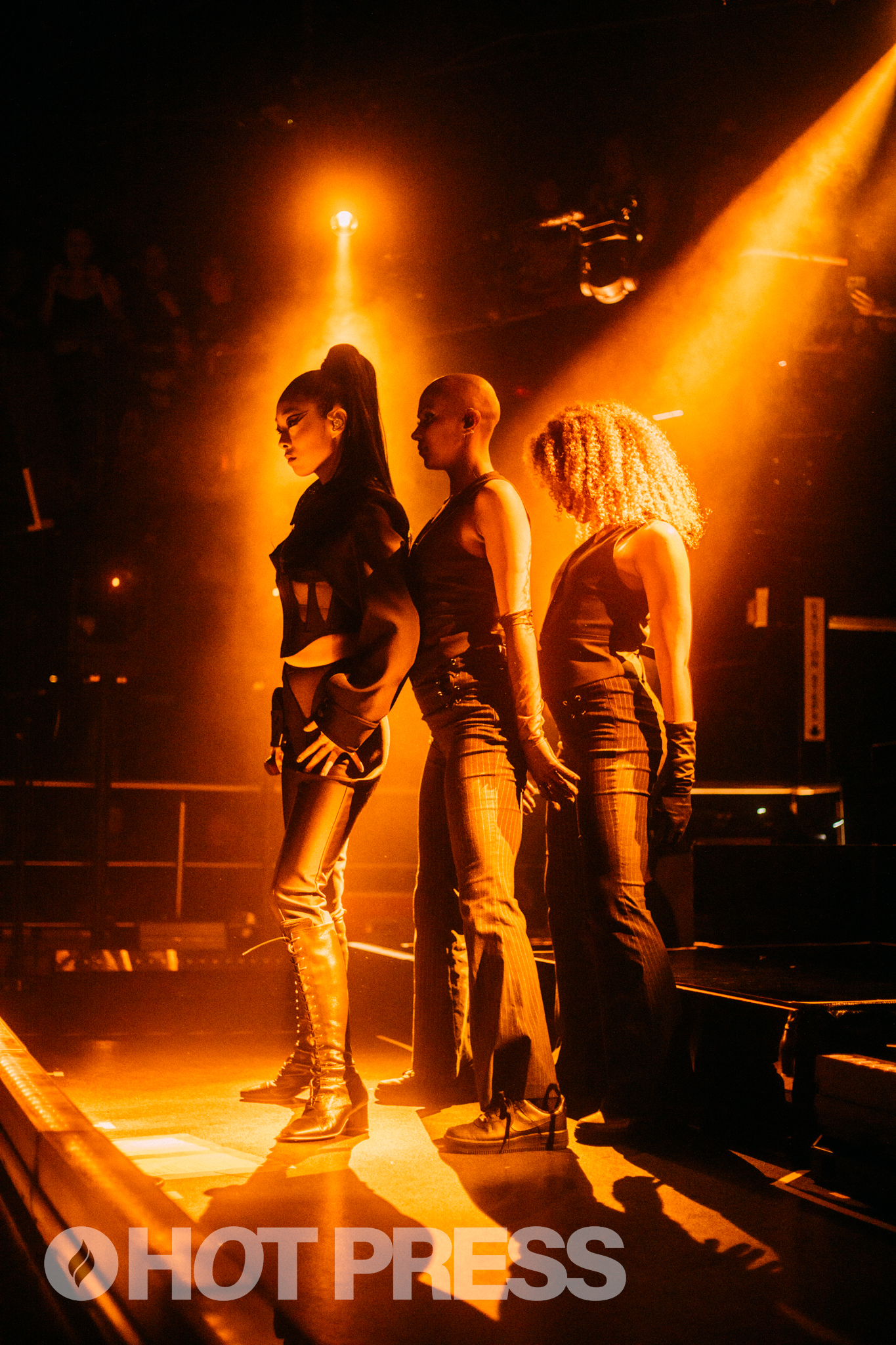 It's crystal clear that Sawayama rehearsed the show within an inch of her life. Effortlessly cool on stage, her adoring fans scream "SLAY RINA!" at least once every ten seconds. Up next comes 'Snakeskin', more content from her debut album. This number has green light effects and trap beats. Drama is served up hot.
The room is vibrating at every turn, and the crowd never want the gig to end. Rina belts out 'Cyber Stockholm Syndrome', another rock-heavy SAWAYAMA track, before entering her Rina EP era. 'Paradisin' and 'Love Me 4 Me' appeal more to the younger members of the crowd, but the self-love element never comes across as too saccharine. It's pure pop, with a dose of pop-punk on the side. Her voice shines on 'Bad Friend', another 2020 banger with an infectiously catchy chorus (she's almost too good at crafting those...).
'Mission Impossible' precedes a slick outfit change, which sees Rina reemerge in a white body-clinging top and jeans. An otherworldly PSA against racism is played on the sound system while she changes, taking her experiences with Japanese cultural appropriation into account. 'Who's Gonna Save You Now' might be the best rock performance of the gig, but it's almost cruel to choose. Killer electric guitar melodies underlay Rina's stadium-rock vocals, mingled with sweet pop elements.
Advertisement
'Tokyo Love Hotel' brings it back to the ultimate pop realm, marking a cheeky nod to those who try to rip off her culture. We dare you not to dance to her choruses. "So many faces in one room, and we're finally here together," she tells the euphoric crowd. 'Chosen Family', Rina's heartfelt paean to fraternity in the LGBTQ+ community, brings tears to the eyes of many audience members - and Sawayama herself.
She concludes the pre-encore set with 2018's 'Cherry'. The energy has yet to dip - she's having a blast. The track explores her experience of coming out as pansexual, and internalised biphobia. On the surface, it's about a subway crush but there's always a layer of substance when it comes to a Rina track.
The encore consists of 'XS', of course. The clever track is all about overconsumption and excess in the most camp of ways. It mocks capitalism in a sinking world, according to the singer-songwriter. There's lush, dynamic instrumentation plus exotic violins, a beat pulled straight from the 2000s, and the right amount of chaotic electric guitar.
The star wraps up the show with club banger 'Lucid', paired with Lady Gaga's 'Free Woman' (from her Chromatica LP). My only alteration was that she didn't perform 'Lucid' in full, because it's legitimately one of the best club anthems and underrated songs of 2021 - but who am I to critique Rina?
Sawayama gave her fans a night to remember at the Academy: she'll never be in venues this small again Rina is making the best case for her to become the new decade's reigning dance-floor diva (sorry, Dua Lipa).
Advertisement
Stream SAWAYAMA below:
Revisit the July 2020 Hot Press interview with Rina Sawayama here.
Photo credit: Meryl Prendergast
RELATED