Little Mix's concert at the 3Arena on Tuesday was more than just a pop concert. It was a feminist statement. Or was it?
The screens at the 3Arena invited us to the "Little Mix take over" and proclaimed that "What you are about to see may be too much for you to handle". Indeed, it was a lot, but let's start at the beginning.
From the first two songs, 'The National Manthem' and 'Salute', the theme for the night was set: We are powerful and strong women; we are feminists. The four girls arrived on stage in some fierce military armour inspired outfits - the 'sexy' version of course - leading the perfectly choreographed and well-organised female revolution. The next few songs played into a similar scheme with a lot of admittedly impressive dancing and very few live vocals.
During their first outfit change, the screens displayed a compilation of reactions to their music video for 'Strip', which saw them posing sans clothes with insults written all over their perfectly-staged bodies. Returning to the stage, Little Mix performed their song 'Wasabi', clearly directed to all their haters and critics out there. It was very in-your-face, and it won't be the last time you'll see me writing this.
After two other upbeat songs, namely 'Bounce Back' and 'Black Magic', the girls disappear into the ground again only to return in glittery gowns – you just know that the ballad part is coming up. On a gigantic triangle stage, Little Mix floated over the audience, which is actually a great idea for them to get close to all of their fans, not only the first row. While swinging in the air, they sang 'Told You So', which finally showcased their singing ability.
They followed that up with the gender-neutral ballad 'Secret Love Song, Pt. II', dedicated to the LGBTQ community. It was a rare intimate moment between the band and the audience, who shouted the lyrics from the top of their lungs (or from the rooftops, as they sing in the song). Did I mention that I'm a sucker for singalongs?
Advertisement
Anyway, following another outfit change, we're back at the choreographed dance numbers (and feminist themes) again. "We are the activists", says the screen. "I don't need a man", sing Little Mix. After a shoutout to their exes while wielding bedazzled baseball bats, a Gloria Steinem quote appears on screen accompanied by Little Mix's 'Woman's World'. You really can't make the message more obvious.
The last outfit change for the night dressed them in fiery body suits, contrasting the water that rained from the ceiling during encore songs 'More Than Words' and 'Touch'.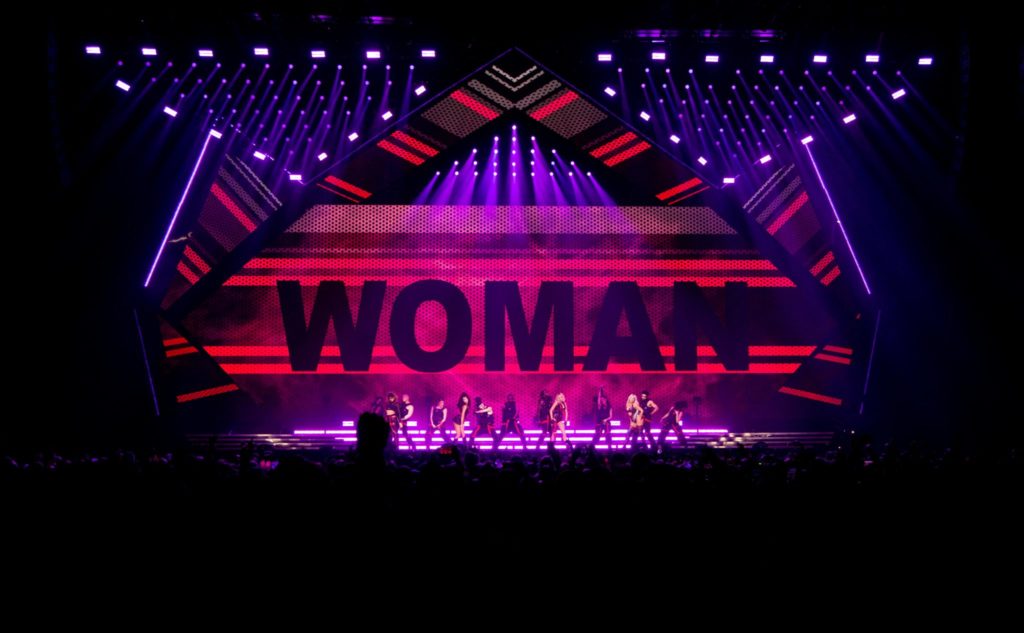 Little Mix are often hailed as the feminist girl band of our time and their concert certainly references this reputation. Their lyrics often advocate girl power, female empowerment, independence and strength, which are all themes of the feminist movement. But at the same time, they still are a manufactured girl band that falls victim to their own sexualisation. How does that fit with feminism?
Feminists have been discussing the mainstream takeover of feminism ever since the arrival of the Spice Girl's Girl Power in the '90s. Does feminism lose its progressive and rebellious power when it infiltrates the mainstream? Can it be called a feminist strategy when women are proudly showing their bodies while also exposing themselves to the male gaze? Today's feminism is so complex and multi-layered that it's not one thing anymore. There are so many different opinions on what feminism means today.
So here's my stand on this: Little Mix have a very young audience. Most of their fans are little girls who still have to learn to stand up for themselves. That said, having role models like Little Mix opens up a world for them in which they learn not to be afraid of their sexuality and to be proud of their bodies. Yes, their feminist statements are very on-the-nose and not exactly subtle, but that's necessary to get their message out there because these little girls in the audience don't yet have the knowledge that adults do. They still have to learn a lot of things, so why not learn it at a Little Mix concert?
Mainstream feminism opens up all those feminist strategies and references to an audience that isn't necessarily exposed to those themes. It spreads the word. As long as one little girl that attended the Little Mix concert looks up the name Gloria Steinem, their work is done.
Advertisement