Still The Most Rock N' Roll Rock N' Roll Band In The World. Report: Pat Carty. Pictures: Abigail Ring.
When The Black Crowes arrived, fully formed, in 1990, my mates and I thought they had been engineered in some rock n' roll laboratory just for us. Here, at last, were young men playing and, almost as importantly, looking like some glorious down-from-the-mountain hybrid of The Stones, the Faces, Humble Pie and every other band I had been listening to when I was supposed to have been listening to The Smiths and REM. Nevermind and Ten were still at least a year away but grunge was always going to be a bit mopey for me anyhow and who needed it anyway when there was a record that kicked and swayed and got down like Shake Your Money Maker? They even managed a hit single with an Otis Redding cover. Thank you Jesus, thank you lord.
They played the National Stadium in October 1991 and I and the unsinkable Miss Coyle, who in a very pleasing circularity is also here tonight, were there. I'd probably received a ticket for my twentieth birthday a couple of weeks before hand and I can remember it like it was yesterday. They played most of the album, covered Dylan, and offered one new song, more of which later. They nearly tore the old gaff down and I wanted to run away with them.
I saw them again several times over the years since as members left, great records were released, their appeal became slightly more selective, and they toured with Jimmy Fucking Page before there were hiatuses and then they hung up their boots around 2015. Then, Chris and Rich Robinson, the brothers whose baby it was and the last men standing, placed their hatchets underground to celebrate thirty years since that first record and announce this tour. Their Dublin stop would be delayed for the same reason everything else was delayed but The Coff, who listened to those records with me in small flats back in the long ago, saw them in Colorado and warned me not to miss it, like there was any chance of that.
We didn't catch the start of Reef's set as we were at a book launch on a boat cruising around Dublin Bay but that's another story. Anyway, we took our seats just in time for the big hit 'Place Your Hands' from their 1997 high-point Glow, also produced by George Drakoulias, the man at the desk for that first Crowes record. It still has appeal although the band look very different, with a lot more hair and beards on display. Jack Bessant on the bass is now so Gandalf-like he should at least be sporting robes if not the full cape and staff. Singer Gary Stringer's ratty t-shirt and truckers cap gives him the appearance of someone whose just changed the oil under the car but the voice is still there. 'Revelation' has a very pleasing touch of AC/DC about it, all that talk of swimming and cider might be the reason why he declares he loves Thursday nights on a Wednesday, and they do a mighty cover of Fleetwood Mac's 'The Chain'. Fair play to them, good job.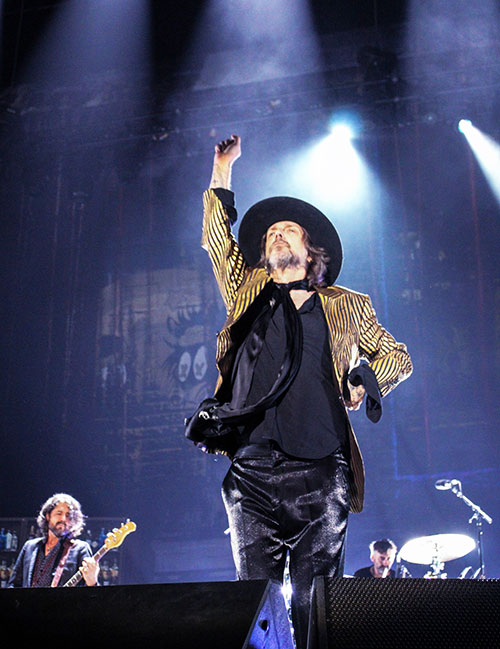 Advertisement
The Crowes' backdrop is the kind of saloon/dive bar that one might never leave. There's an actual barman, who Robinson will later claim they stole from The Love Boat, and a Wurlitzer. When the lights come up, the band are having a drink at the counter while a backing singer – I'm not sure if it's Mackenzie Adams or Leslie Grant – shimmies by the jukebox to Elmore James' 'Shake Your Moneymaker'. It's a pretty cool scene but then Rich Robinson takes his position in front of a precarious looking heap of amps – various AC30s, etc. – and puts a guitar around his neck. 'Twice As Hard' kicks like a particularly upset mule. Chris Robinson dances in from the side of the stage, twirling a Crowes logoed umbrella, in a fetching gold striped jacket, a hat with some class of feather in it, and the requisite long scarf. From this distance, he looks much like he did thirty years ago and he cavorts like a man half his age or more. All the moves are there, variations of which he will peddle throughout the evening; strut, clap, point, hands on hips, grab the mic stand, give it a twirl, grunt, shout 'Oh YEAH!'. An honours graduate from the university of Rod and Mick. As he jigs about, the band do their best to cave everybody's head in, there's the first slide solo of the night and the riffing ending is heavier than a truck.
"Dublin, it's Rock N' Roll!" Robinson tells us, in case we haven't copped it, before the telecaster chords of 'Jealous Again' ring out. Sven Pipien seems to be having a problem getting his amp working so it's slightly lob-sided until his bass comes in but once it does, we're rocking. It breaks down to Chris's single note riff while his brother hollers, 'Don't you THINK I WANT TO?" Are those velvet pants? If they're not, they should be. They share a microphone, the backing singers clap time and when it finishes, we're welcomed to "The Black Crowes Rock N' Roll Show" and assured that, "We're all on the same page", which we undoubtedly are.
The rest of side one, in old money, of the album can be summed up with a few questions. How can Rich Robinson wring so much soul out of so few notes, as in the opening of 'Sister Love'? How come other bands just can't chug like the Crowes do during the chorus of 'Could I Have Been So Blind'? What's pushing the blood around Chris Robinson's body after he's sung his heart out during 'Seeing Things'? He promises to turn a Wednesday night in Dublin into a Sunday morning in Atlanta and when the two guitars bleed into one and the organs swells around them, we are there, kneeling in a pew, listening to him testify, before the Hammond solo from Erik Deutsch makes believers of us all.
Otis' 'Hard To Handle' – sung from one Georgia boy to another – gets a huge response, as expected. The guitars scream, Robinson with the hand on his hip does his honky-tonk prancing, and our arses are kicked. "I told you it's a Rock N' Roll Show. Let's Rock!" 'Thick N' Thin' lands like a meteor into a puddle, the difference between the Crowes and other rock bands being that they know how to swing as well as rock. The acoustic and organ in 'She Talks To Angels' rolls over us like molasses on a pancake as Chris proves again that whatever he's done to himself in the last three decades, the pipes have survived intact. In fact, let's take another look at him during 'Struttin' Blues', dancing around, grunting and oh yeahing and then giving the mic stand the full majorette treatment as the band attempt to melt down the surrounding walls. He really should be teaching classes in this stuff. Not to be outdone, brother Rich leads the band into a jammed out, gargantuan finish.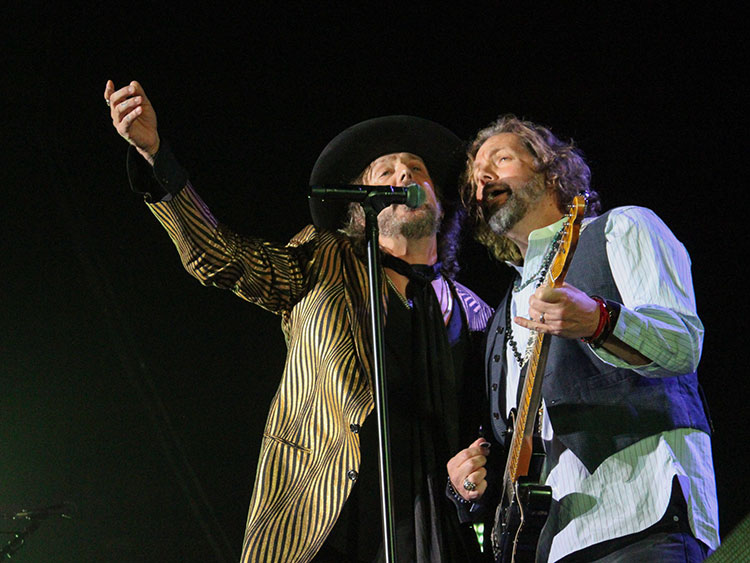 "We need a little feeling." They've got it. 'Stare It Cold' has Rich nick the riff from The Stones 'Soul Survivor' and make it his own. The band shift into double-time. "Don't chew wanna FEEL IT?!!" We do. We are. "Awllrite Dublin, that was Shake Your Money Maker. How it was, how it is, how it will be. This is 'No Speak, No Fuckin' Slave!'"
I might be imagining things, but I think the band kick into another gear once they've put the album they're here to celebrate to bed. When The Crowes released their second long player, The Southern Harmony And Musical Companion, in 1992, we couldn't believe that it was even better than the first one. It's still their masterpiece where they incorporated more Southern Rock influences and made it all theirs. 'No Speak, No Slave' is, frankly, fucking ferocious. Hogan, a professional musician himself, is sat next to me with his mouth open for the duration. The guitars seem to be pulling down the ceiling as the lights swirl around them. Rich Robinson appears to be plugged directly into the mains. "Sting Me' does just that. "The Black Crowes," as another old mate Mark used to tell me, "are just funky." 'Wiser Time' from third album Amorica has an almost dissonant start on Rich's 355 before the hi-hat shuffle opens it out into country rock epic territory, a perfect run at an underrated song.
Advertisement
After band introductions, we get the descending guitar figure that opens 'Thorn In My Pride, which was the new song they played all those years ago in The Stadium. At a push, it could be The Crowes' finest few minutes. Tonight it's even better, building slowly into extended 'Midnight Rambler' territory as Chris blows like a demon into his harmonica and his brother answers every note with a perfect one of his own. Robinson runs from one side of the stage to the other pleading, sighing and begging, "All I wanna know is do you ever want to let it shine?" If that wasn't enough, and it surely would have been, "Here comes the Remedy!" As a closing song, it's perfect. Tight and loose, rockin' and funky, it was and is the kind of song that should play when you look up 'rock n' roll' in a dictionary – exactly enough guitar solo, a fantastic break down in the middle and a chorus that must have left their competitors at the time in tears.
"Thank Y'all" Chris shouts as he walks off but they're back on quickly enough. "We haven't had the opportunity to be here for quite a while so thank you very much". They covered The Stones' 'Rocks Off' on their recent 1972 E.P. so here it is. Of course it rocks, although I reckon they might have been better off finishing with 'Remedy', but it doesn't really matter. The other tiny niggle I have is that perhaps – and it's only a perhaps – 3Arena was just a bit too big for this show. If this has been in the tighter confines of The Olympia or The Stadium, we'd be talking about one of the greatest gigs ever. Still, ignore all that. The Crowes were magnificent, as funky and as soulful and as rockin' as they always were, combining everything that's so life-affirmingly wonderful about this thing we call rock n' roll. Long may they run.