Interview - Ronan Collins: "I'm absolutely terrified about the way radio is going for Irish musicians and songwriters"
The Ronan Collins Show on RTÉ Radio 1 has the biggest listenership of any music show in Ireland, north or south. Here, the self-effacing Dubliner Ronan Collins talks about his early days in 2fm, appearing naked on the cover of Hot Press, the National Lottery "fix", the end of music radio, nostalgia for the showbands – and the current state of Irish music.
In May of this year, Ronan Collins celebrated his 41st year with RTÉ. Originally from Glasnevin on the Northside of Dublin, he began his career as a 'legitimate' broadcaster with the new-fangled 2fm – or Radio 2 as it was known at the time – when the station launched in 1979. He has been a feature on the national airwaves ever since, making the switch to RTÉ Radio 1 in 1985. He has also featured on television, notably fronting the National Lottery programme, becoming one of the best known names in Irish broadcasting.
Looking back over his packed career, he still reckons that now is the most exciting time for him. His current daily show on Radio 1, from noon to 1 pm, attracts the biggest listenership of any music radio programme on the island, north or south. But does he like the music he plays on his programme?
"I don't like all of it", he tells me when we meet for a chat in Dublin's Shelbourne Hotel. "But it's not about me. I enjoy people asking for a specific record and I enjoy playing it for them. There's lots of music I like that wouldn't fit, like the jazz-rock of Weather Report, guitarist Lee Ritenour or drummer Steve Gadd. My own experience as a drummer brought me into a world I cherish to this day, the world of musicians. I don't care what they play. I get great joy from the company of musicians."
FEEDBACK FROM LISTENERS
I remind Ronan that when Radio 2, the early incarnation of 2FM, was being set up an old guard within RTÉ radio deeply resented young upstarts from pirate stations coming to take the jobs.
Advertisement
"It was very exciting, going from a pirate station to RTÉ," he says. "But it was also very difficult. I probably wasn't very good. I didn't have much experience and I was surrounded by others in the same boat. We were making it up as we went along. Back then we saw the job as music radio, although that doesn't seem to have much priority anymore."
So what did you learn?
"I learned the need for a structure and a policy rather than just playing any record you fancied. I learned about rules and boundaries. As a producer, Bill O'Donovan encouraged me to bring my personality to bear within those limits. But it wasn't until I moved into the morning slot that I settled down with people seriously interested in music radio. They gave me two years on the Breakfast Show to make it work. I actually did it for five years."
Collins was accepted as part of the RTÉ family. He became the first to front the Lotto draw, presented a game show on television, did Eurovision duty on radio, and later became the poster boy for the Showband revival, both on TV and off.
He bemoans the general decline of music radio, where music is played for its own intrinsic value rather than just to fill airtime.
"Music radio has practically disappeared," he says. "Some RTÉ broadcasters see music as a kind of interruption in their chat or a break from the programme, rather than a fundamental part of it. To me, music has always been central. I'm criticised for it now because I mention artists' birthdays and anniversaries. Allegedly, that's not what the kids want.
"But sure kids aren't listening to the radio! They rely on algorithms to lead them to what to play, even if they don't know they're being led. But I've always relied on the feedback from listeners. If I don't play the exact record they ask for I'll steer them towards something similar I think they'll like. In effect, I'll be their algorithm. That's part of my job."
Advertisement
ANTI-SPOTIFY
Ronan Collins is a DJ. He is, as it happens, also a drummer. Having played with top notch outfits like The Others and the Dickie Rock Showband, he's acutely conscious of the current difficulties Irish musicians are facing, trying to earn any kind of living. Does that factor feeds into his selection of music?
"I'm absolutely terrified about the way radio is going for Irish musicians and songwriters," he confesses. "My support for Irish music has been well documented down the years, but I have a problem with the tendency these days to record everything at home. A lot of stuff gets thrown at people like me that's not a lot better than demo quality, even before Covid."
Some of what he has to say might be seen as a put-down of Irish talent. It is certainly not intended that way.
"I think too many write the songs and then sing themselves when they really shouldn't," he offers. "Because the song gets lost in the weakness of the performance. A lot of the country dance bands record music specifically for dances, but there's not many people up for dancing when I'm on air! Then again, I haven't supported artists who have gone the X-Factor route because they're simply using music to become famous. I still believe the message is the music."
The very first broadcast Gavin James did on radio was with Ronan.
"What I really love about Gavin and others like him is the support they give each other," he says. "It's not like thirty or forty years ago. There was no way Bob Geldof was going to help anyone when he started! I probably feature at least one new song by an Irish artist every day. That said, I have to balance my desire to support them as much as possible with the expectations of the listener. So I'll play it if it fits.
Advertisement
"But I bristle a little when artists ask me for support because income from radio play is their only income, while they're giving their music away for practically nothing on Spotify and elsewhere! They'll argue that if it doesn't go on Spotify nobody will hear it. But if you don't put it on Spotify you can plough your own furrow as Luka Bloom did recently!"
Is Ronan anti-Spotify?
"Absolutely! I most definitely am. I refuse to encourage anybody to look for anything on Spotify."
He's enthused about the increased support being shown on RTÉ for female performers.
"I always support the RTÉ album of the week," he says, "whether it's male or female. I can't imagine playing a record purely on a gender basis. But I've featured lots of Irish women, people like Ailbhe Reddy, Emma Langford, Roisin O and terrific grafters like Wallis Bird and Aoife Scott. I play them not because they're women but because they make great records. Leaving aside issues to do with the Pandemic, the Irish music scene is actually in great shape. "
I put it to him that he's generally seen as a safe, conventional man.
"Oh, yes. I think I'm a simple, straight-forward man. I'm still married to the same woman, Woody. I'm conservative in my behaviour and my appearance. My best friends are people I've known for at least 40 years. I don't drink alcohol or use drugs. But I'm a moody fucker, which my wife and family have learned to live with."
Advertisement
On the other hand, Collins has had a few public spats over the years.
"I had a go at Louis Walsh over the group Six," he recalls. "They did a cover of a '70 hit 'There's A Whole Lot of Loving'. Louis is very good at picking songs that have been hits already, and then he criticises acts for not being original.
"At the time I felt sorry for the Six kids, launching their career with a cover of a very ordinary pop song and doing their first gig in front of 20,000 people as if they were already stars. This was going to be their life: instant fame for winning a TV programme. But I said, 'They're not stars and you're giving them a completely false environment'. After that, it got very personal!"
Phil Coulter was another to attract Collins' ire.
"It was during another of those TV talent shows, Phil told one of the acts that they should 'lose the guitar'. I wondered how he, as a pianist and a writer of wonderful hits, as well as some ordinary stuff, would have reacted to being told as a kid that he should lose the piano?"
FANTASTIC SCRIPTS
Alongside his career as a broadcaster, Ronan Collins has emerged as a kind of frontman for the Showband Revival, presenting hugely successful shows around the country.
Advertisement
Bob Geldof famously dismissed showbands as "typical Paddydom". As presenter of Reeling In The Showband Years, how does Ronan feel about that?
"I don't know what he meant," he says. "I'm not sure that Bob ever saw a showband in their heyday. But I think their popularity today is about nostalgia. The showband scene was a big social thing. Reeling In The Showband Years played in the Siamsa Tíre venue in Tralee, which would never have had them in the old days. But now it's ok because showbands are seen as having been part of the cultural and social fabric of the country."
Collins achieved a level of notoriety in 1984 when he appeared apparently naked on the cover of Hot Press. It was a brave thing to do at the time,. Why take the risk?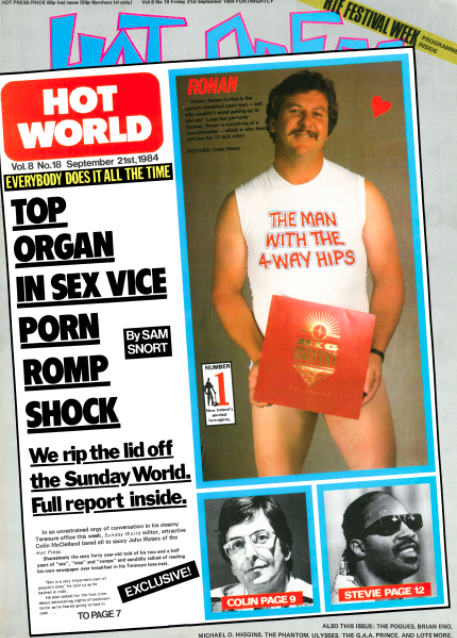 "I did it for the laugh and because you asked me to do it," he smiles. "I got no negative feedback about it at all. As you know, it was intended as a send-up of the Sunday World of that era and even they saw the joke. I was delighted when I went to the recent Hot Press covers exhibition to see it up there. There were covers of Rory Gallagher, Phil Lynott, U2, Geldof – and me!"
His early radio memories go back to the pirate era, before Radio 2.
"A lot of the time it was totally shambolic, with no planning or no direction," he remembers about the pirate scene. "But there were some real jocks involved, people like Declan Meehan, Mark Storey, Robbie Irwin, people who saw the value in music and radio without any expectation of a full-time career. I sometimes did a phone-in show and I'd be given these fantastic scripts to help me tee-up the controversial topic for the day. They were written by Pat Brennan, who worked later in the RTÉ newsroom, and Gene Kerrigan, the columnist with the Sunday Independent."
Advertisement
In the early days of the Lotto draw on RTE television, which Ronan presented, the country was awash with conspiracy theories that it was fixed.
"I was the first to present the draw and did it for 19 years. We heard the rumours and had a good laugh at them. You would have daft notions like it's never won in Dublin if it's over 4 million and then the reverse theory would do the rounds. Even we could never figure out how you would fix it properly."
PRECARIOUS EXISTENCE
After 41 years of dedicated service, Ronan Collins' future with RTÉ is now uncertain. His contract is ending this year and there have been rumours that Una Healy – who deputised for him for a week earlier this year – might be replacing him permanently.
"I've always believed that if I wake up one morning and don't want to do the job, I'll stop," he says. "I've never felt that. But there are forces at work who want to make the decisions about what I do, and where I do it. They want to make those decisions without me now. I can try to stand up to them, but ultimately somebody else will decide.
"In five years time, I'll be a couple of years into a change in direction I'm looking at and, hopefully, that change in direction will have worked. I don't see myself working at radio in RTÉ five days a week. But I would like to continue with what I am doing for a couple of years yet.
"My demographic is not a popular one with either advertisers or the younger management," he adds. "So there's a big question-mark now, over whether RTÉ will try to attract younger listeners to Radio 1, and risk alienating existing listeners."
Advertisement
Even after 41 years, you can't really escape the fact that broadcasting in Ireland is a precarious existence.
"When somebody else makes that decision," Ronan concludes, "they won't be asking if it's all right with me."
• The Ronan Collins Show is on RTÉ Radio 1 from Midday to 1pm Monday to Friday.