Comedy is not listed in the Arts Act 2003 as a form of art. As a result, comedians have to shoehorn their work into other art forms – dance comedy anyone? – if they want to apply for State funding. "How mad is that?" asks Matthew Tallon, as he makes the case for greater funding for Ireland's neglected stand-ups. Photography: Miguel Ruiz
I'm a stand-up comedian – which, as you can imagine, for the past couple of years has been incredibly fine and good. (Insert sad trombone sound effect).
Like all artists, opportunities to perform our practice have been intermittent and unreliable, and we've had to adapt.
Of course, this has meant an increased reliance on funding schemes: a fundamental bedrock of Ireland's artistic landscape. The government acknowledges this need, creating new grants like the Agility Award and even planning a Basic Income for Artists scheme, all to help artists to continue pursuing creative endeavours over this tough time.
There is just one problem. Comedy – stand-up, sketch, or otherwise – is not listed as an art form in the Arts Act 2003. This makes it ineligible for funding by the Arts Council, Culture Ireland, and most other arts organisations in this country.
The following things are listed: visual arts, theatre, literature, music, dance, opera, film, architecture and circus. Yes, circus. This means that literal clowns can apply for Arts Council funding, but comedians can't.
Advertisement
MONEY MONEY MONEY...MUST BE FUNNY
What is art? We all know a lot of stuff about art. We know it's what brings a tear to your eye at the end of Titanic, and what causes pretentious jerks in turtlenecks to use words like 'obfuscate' and 'heterogeneity' at parties. But trying to actually define art is a tricky thing, all the more so when you need to decide who gets money for it.
To me, the omission of comedy from the Arts Act comes down to two questions: does comedy need funding in this country; and does it deserve it, i.e. can comedy meaningfully be considered capital-a Art?
Luckily, the answer to the first question is easy. While Covid has certainly exacerbated the problem, lack of funding has hobbled the creative development of comedy in this country for decades, perpetuating an infrastructure which crushes creativity and leaves emigration as the only prospect of success.
Say you're a talented, up-and-coming, future voice-of-a-generation comedian (named, oh I don't know, say… Matthew Tallon. For example). Bereft of any government support, you basically have two routes to earning money from your craft.
Advertisement
First, there is the traditional comedy club route. A pub-owner agrees to let you run a weekly gig to bring in more punters. The continued existence of the club is therefore entirely contingent on alcohol sales.
In any art form, the environment shapes the art that is created. This is self-evident: Pride and Prejudice would've been a very different book if Jane Austen, rather than being a member of 18th century England landed gentry, was instead a POW in the Vietnam War (though incidentally I would very much like to read this version of Pride and Prejudice.)
Nowhere is this more true than in live comedy, where you get an immediate response (or a crushing absence thereof) from your audience. Unlike theatre or dance or painting, comedy has a direct and measurable goal: to make the people in front of you laugh now.
So, from this model has naturally blossomed a style of comedy that appeals to drunker bar crowds: louder, more vaudevillian performances and jokes which are 'broader' in an attempt to be relatable to large swathes of different people.
Now, I happen to love this model. There is no feeling more electric than sitting in a bar packed with disparate groups of people, laughing with the unison of an orchestra. But it's undeniable that there are associated issues. The need for broad appeal can lead to a lot of stereotype-based material, which can be lazy or hateful – or both. Also for reasons that would take whole other articles to unpack, the people who feel most comfortable in this environment tend to be cis straight men, narrowing the artistic perspective significantly. It's still art, but plenty of it is bad art.
EMERGING COMEDIANS
In addition, in this model the vast majority of the money goes to the promoter rather than the performers, which I actually think is fantastic and well-deserved because those promoter lads do way more of the work than us, and honestly I'm just grateful for the opportunity (oh god please still book me for gigs).
Advertisement
The other, less-travelled path is to try to apply for funding anyway and shoehorn yourself into another category. Usually theatre or film, though I like to be ambitious and go for architecture (The Arts Council still haven't gotten back to me on my application for a 'Haha Hotel' on Dawson Street).
The main problem with this Trojan Horse tactic is that applicants are generally assessed on their achievements under the 'false flag'. So if you apply to make a sketch show under the film category, you'll be judged based on your achievements as a filmmaker, while your comedy experience is all-but disregarded.
Sometimes this tactic works. The resulting comedy is also shaped by its environment, often leading to the dreaded introspective one-person theatrical show – guaranteed to have a sad monologue in the third act – wherein the comedian pulls back the curtain to tell you about their 'journey'. The criticism levelled against these shows is that too often they just aren't very funny. Sometimes comedy pretends to be theatre so much it just becomes theatre.
At their best, both traditional stand-up and deep theatre-comedy can be transcendentally beautiful and human experiences; at their worst, they can be almost unbearably cringe (but hey, who said something can't be art if it's cringe? Have you been to much community theatre recently?).
However, it is undeniably a polarising infrastructure for an emerging comedian trying to develop their craft and creative voice. It'd be like if all aspiring musicians were forced to join either a cheesy pop band or an experimental acid house noise collective to seek funding.
EXTREMELY DISHEARTENING
In settings like the Edinburgh Fringe Festival or New York City, there is room for 100s of shades of grey between these two extremes. This diversity of tone and style nurtures an improvement in quality across all forms of comedy. One of the most important conditions for artistic development is heterogeneity (twist: I was the pretentious jerk in the turtleneck).
Advertisement
But because Ireland is such a small market, and therefore offers a restricted number of opportunities commercially, we need to actively nurture this diversity in the way we have, with considerable success, in our world-famous Theatre, Literature and Music scenes: through a solid bedrock of funding opportunities. Well thought-out, these provide talented creators with the artistic freedom they need to grow and ultimately to make unique, interesting work.
It should be noted here that a couple of organisations, such as the Dublin Fringe Festival and Screen Ireland, are choosing to platform comedy voices in this manner, but this is going very much against the tide.
Fail to provide that funding and what happens is that the genuinely brilliant people give up or go abroad. Think about it: all the best Irish comedy products of the past 30 years, from Father Ted to Derry Girls, were produced in the UK, simply because they would never have been made here.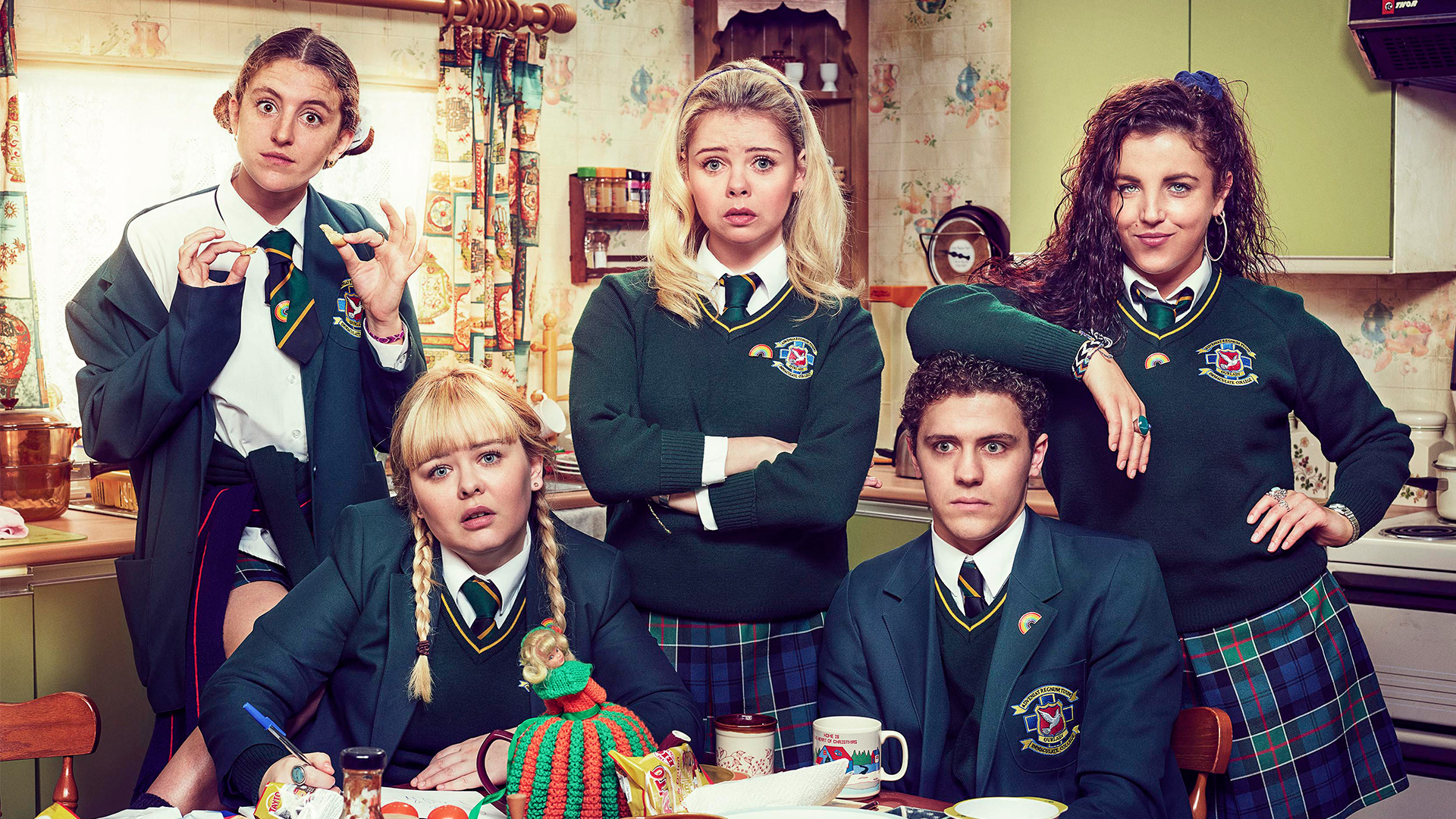 The level of talent in Irish comedy right now is incredible. Yet the only place I see the funniest performers on TV is in ads. This is especially true of online comedians, who kept millions of people entertained over successive lockdowns, yet have no prospects for generating an income, other than making lame spon-con videos.
And honestly, fair play to them for making that bank, but it's hard to tell how hilarious someone is when they're trying to hawk Deep RiverRock (P.S. please, please, sponsor me Deep RiverRock).
This much I can say, without fear of being wrong: it is extremely disheartening for people at my level, who love comedy and work hard at it, but are still a long way away from selling-out shows, to see no avenue for development except emigration.
Advertisement
FEEL THE ATMOSPHERE
What can comedians do to bring about change? For one thing, I would recommend comedians all join Praxis, a trade union for artists that welcomes comedians. They are currently fighting for better conditions in the Basic Income for Art Practitioners pilot scheme. It's a direly-needed and important policy, and it currently excludes comedians though any out-of-work clowns should get very hyped. Unless we get involved now, this and every further advancement for artists in this country will leave us behind.
But none of this answers the other question: is comedy art? Reflecting on this, I read a bunch of incredibly dense and boring philosophical treatises on the nature of Art, then proceeded to beat my head against a Jackson Pollack painting until my blood became indistinguishable from the canvas.
The main thing I learned is that trying to define art is like, hard. Any attempts to do so rigidly always turn out to be wrong. Plato, Kant, Hegel, Marx, Nietzsche: none of them could do it. Now, if only those idiots had the writers of the Arts Act 2003 around to tell them – it's visual arts, theatre, literature, music, dance, opera, film, architecture and circus – they'd have been away in a hack. Am I right, or what?
Possibly the closest to a satisfying definition I got was abstract painter Ad Reinhardt's: "Art is art. Everything else is else everything else." (Reinhardt further elaborated: "A brush is a brush. Stagflation is stagflation. The movie Avatar (2009) starring Sam Worthington is the movie Avatar (2009) starring Sam Worthington…" He went on this vein for another seven hours, but the quote is usually truncated for brevity).
In truth, you can only know art when you're experiencing it. If you really want proof that comedy is or can be an art form, go watch some James Acaster, or Mitch Hedberg or Maria Bamford. Feel the atmosphere these people create when they speak, and ask yourself if that's art.
Or, if you want to experience how comedy is capable of true artistic beauty – I'm thinking what Van Gogh experienced when he gazed upon a starry night, or Wordsworth when he wandered through a field of daffodils – well, then you should just come to one of my shows.
Advertisement
See you in the front row.