'I can't bear to see any more children with lives cut short': Palestinian Voices - Dr. Jilan Wahba Adbalmajid
"Every time this death rains down, we say this time is worse than the last," says Dr. Jilan Wahba Adbalmajid, Ambassador to the Mission of the State of Palestine in Ireland. In today's Palestinian Voices series entry, Dr Adbalmajid describes her father's displacement in the 1948 Nakba, Israel's influence over Western media, and how the Irish Government can take action.
For the past nine days, Israel has bombarded Gaza's defenceless, unarmed civilians in relentless airstrikes. Among the buildings destroyed have been schools, the area's only COVID-19 test processing clinic, beachfront cafés, the ice cream factory and media offices. To date, 213 have been killed including 63 children and 36 women.
Over 1400 people have been injured, many thousands more traumatised and will spend the remainder of their lives dealing with PTSD and 48'000 have been displaced and are seeking shelter in UNRWA schools, which have also received threats of destruction from occupation forces.
On top of this, the Norwegian Refugee Council announced yesterday that 11 of the children killed in Gaza had been taking part in the organisation's trauma programmes. Their short lives were spent in fear as a direct result of Israeli aggression in Palestine.
"These people had lives, names, hopes and dreams," Ambassador Adbalmajid says. For today's Palestinian Voices entry, Hot Press speaks to Dr. Adbalmajid, who generously offers her time.
Can you tell me a bit about the work that you carry out as Ambassador, and how you came into this role?
Advertisement
I'm so proud to have taken this position. The Palestinian relationship with Ireland is extremely important to us. I represent my people and government, and work with the Irish government to enhance and strengthen our long-standing friendship. Ambassadors are the President's highest-ranking representative in the post state and his/her responsibilities are immensely varied.
I coordinate activities not only between Palestine and Ireland but also among our missions (to the EU) and communities abroad. I also follow up with host state cooperation regarding our cause on different international platforms. I am in close contact with all the Irish TDs and the solidarity groups in Ireland as well as different municipalities and city councils to bring our voice to all the Irish counties and communities.
I started my career in 1995 with the Palestinian Ministry of Foreign Affairs and Expatriates after the signing of the Oslo accords. I completed my masters and PhD alongside my work as a diplomat since then. I was promoted last January 2020 to be the ambassador of the state of Palestine to Ireland, after the retirement of my friend and mentor Ahmad Abdelrazek.
Can you tell me about your links to Palestine?
I was born in Gaza to a family of 6 siblings. My father was born in Lod and my mother was born in Jaffa in 1944 (historic Palestine) and they moved to Gaza after Israel forcibly expelled both families along with more than 750,000 Palestinians during the NAKBA. My father still has the keys and deeds to his property in Lod, but we will never see it again - Palestinians have been denied the right to return and reclaim the properties they were expelled from.
My parents, aunties and cousins still live in Gaza. All my brothers and sisters left Palestine for education and work and they settled abroad in London, UAE, France and Egypt. I have three children growing up here and being educated in Ireland. My eldest graduated from TCD and is now undertaking a masters in UCD, my son is studying mechanical engineering in TUD and my little one is still in primary school.
Based on your work for the Mission of the State of Palestine, how can the Irish Government help Palestinians?
Advertisement
The Irish government, through successive administrations, have provided a strong pro-Palestinian voice on a world stage. In diplomatic circles, words matter and even the mildest sentiments in defence of Palestinian right to self-determination are appreciated. There comes a point though when more than words are needed.
There are some very practical steps open to the government - ending all military trade with Israel is a big one. Ending trade with illegal settlements is another - the settlements are built on and profit from stolen land. The other is supporting the implementation of justice. Israel must be held accountable for committing war crimes and sanctioned strategies must be activated. There should be no double standards for breaches of international law.
All of the international community have measures at their disposal which could contribute to the end of this hostile occupation – economic sanctions, for example, are a non-violent way of ensuring that Israel is made accountable for breaches of international law. Prohibition of arms sales is another. Ireland led the way against South African apartheid and could do the same again for Palestine.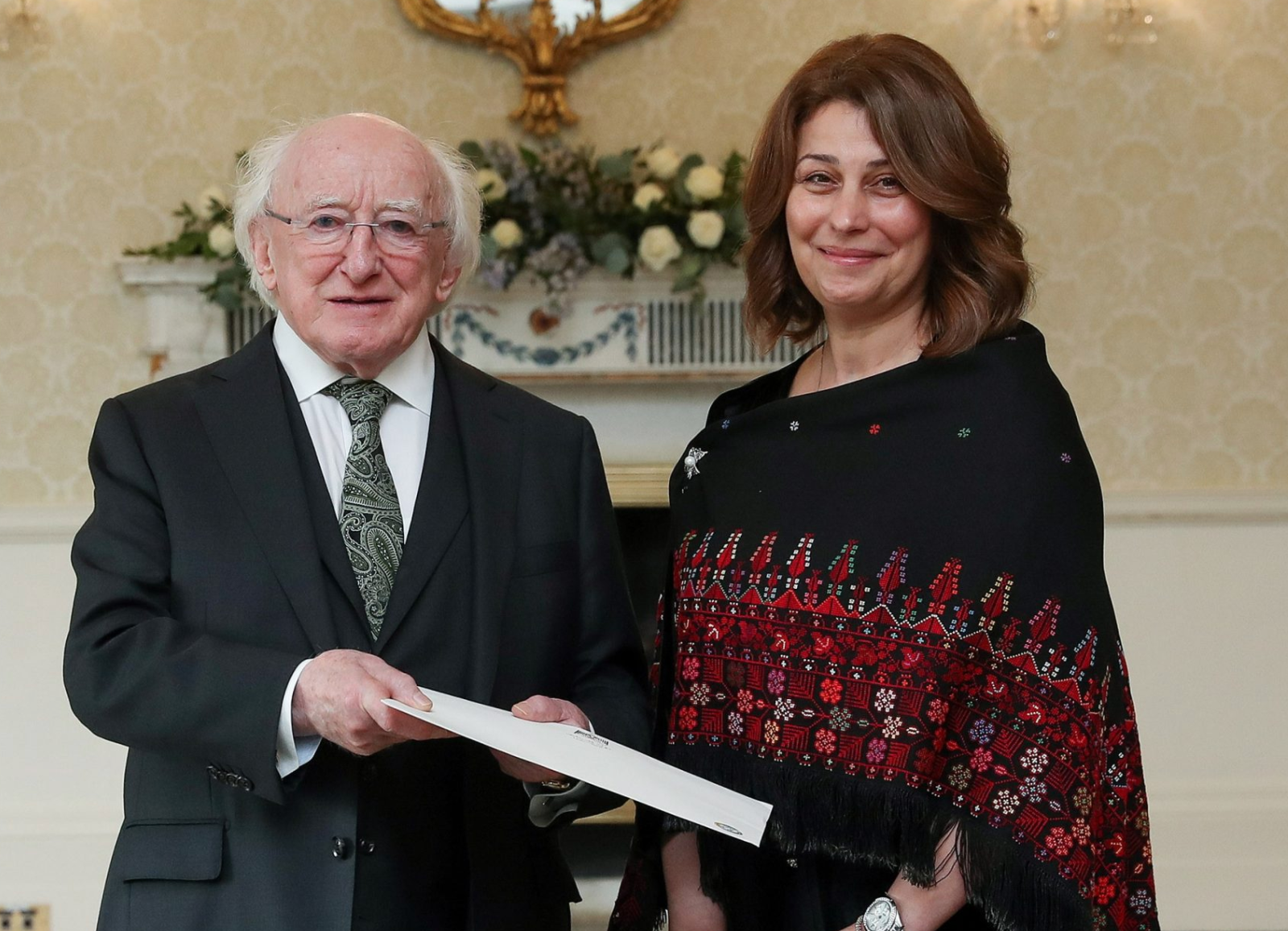 How traumatising has it been for you to witness the events of the last few weeks - in Gaza especially? What is different about the current violence, compared to the events of the last few years?
Every time this death rains down, we say this time is worse than the last. This time Israel, the occupying power, is targeting our civilians in their houses and buildings, roads, schools, hospitals electricity and water infrastructure and our main arterial roads have all been targeted and destroyed.
This time, Israel also targeted the voices of truth - the journalists and media offices. The onslaught is severe and intense. So far, Israel has refused mediators and insisted on completing its operation to achieve its goals of the subjugation and displacement of the Palestinians in Gaza.
Advertisement
Can you describe Israel's use of Western media to control the narrative?
Western media always platforms the Israeli voice or at best perpetuates the deeply flawed "both sides" narrative. One of us is a subjugated, colonised and oppressed people and the other is a military superpower with backing from the USA. Several outlets have reported on high profile comments from world leaders about Israel's "right to self defence" but absolutely ignored the Palestinian right to live in peace, to worship in peace, to own heir own homes without fear of demolition, displacement or land theft.
The unbalanced and unfair comparison ignores the rights and entitlements of the Palestinian people to resist the oppressive apartheid policies of their coloniser and defend themselves. Is violence when committed by Palestinians terrorism and when committed by Israel self-defence? Are we happy with these double standards?
As our Minister for Foreign Affairs said to the UN Security Council this week, every time the world leaders speak of Israel's right to defend itself, it is further emboldened to continue murdering entire families in their sleep.
The media and the international community have to realise the root causes of this problem; the prolonged Occupation and its systematic policies of discrimination and apartheid.
How hurtful is it to see how the media defend Israel's war crimes as an act of "self defence"?
Palestinians have been dehumanised for so long by Israeli governments through their apartheid policies and refusal to educate their children about the truth of the occupation. Their supporters in the Western world facilitate this dehumanisation and play down the lived experiences of Palestinians by using language such as "conflict" or "casualties" to refer to the occupation and their attacks on real people, families, lives. Social media changed everything. Now, people can see that women and children are living and dying in dire circumstances due to a years long blockade, that Palestinians are being exploited, displaced and killed because our occupier does not believe we have a right to exist. We believe that the tide will turn and that we will eventually be free. The international community need to step up - political will and determination is needed to right these wrongs.
Advertisement
What is your hope for the future of Gaza and Palestine?
Freedom and the right to self-determination. I want my children to visit their grandparents and my house in Palestine without permission from Israel. I want my people to be able to worship safe in Al Aqsa, in the Al Ibrahemi mosque and in The Church of the Holy Sepulchre and The Church of the Nativity. I want peace between a free, sovereign State of Palestine and all its neighbours.
What can Irish people do to help Palestine?
Humanitarian aid from the government as well as fundraising from big hearted people and groups makes a huge difference to life in Palestine. Ireland funds schools, water infrastructure, a solar powered sewage plant in Gaza and individuals too many to name have made life a little better for Palestinians young and old alike through their efforts. The Irish have big hearts and a strong affinity for other colonised nations.
I hope and pray for an end to this Israeli aggression soon. I can't bear to see any more children with lives cut short and I just want peace in the Holy Land so I can sleep at night without worrying about my parents, family and friends. I want to see a free and peaceful Palestine with East Jerusalem as its capital.
Dr. Jilan Wahba Adbalmajid is Ambassador to the Mission of the State of Palestine in Ireland. To contact her office, visit palestinemission.ie.