It was a year when people engaged with books as never before - and there were plenty of brilliant works to choose from. Pat Carty selects his literary highlights of 2020.
'Tell me this, do you ever open a book at all?' We all probably opened a few more than usual during the sit-down-and-shut-up-sojourn that was 2020. Here are some of the ones that helped me through.

Irish Fiction
1. That Old Country Music
Kevin Barry
Canongate
If you read Night Boat To Tangier – and you certainly should have – you already know Barry can knock out the dialogue, but it's the characters that shine in this quite brilliant collection of stories, and none more so than the West of Ireland, which deserves top billing in the dramatis personae. One of the stories even has a happy ending for Christ's sake, although this should not be taken as a sign that Barry's mellowing, as the Hemingway western, cops and robbers game of 'Ox Mountain Death Song' might be the best thing he's ever written, and that is certainly saying something.
2. Love
Roddy Doyle
Jonathan Cape
Fans of Doyle's Two Pints series will find a lot to – eh – admire here as the gas dialogue that he's been peddling since The Commitments is very much present and correct when Davy and Joe get back together. Yes, on the surface, it's just two auld lads catching up in the pub, but Love is so much more than that. It's a celebration of life, and a life that has no love in it isn't really a life at all. You'll laugh, you'll cry, and the last thirty-odd pages will leave you in bits on the floor.
Advertisement
3. The Pull Of The Stars
Emma Donoghue
Picador
As timely as the arrival of a bus in the rain, Donoghue's novel takes place in a Dublin beset by a pandemic: the Spanish flu of a century ago. The city is also still in recovery after the shock of The Rising as Nurse Julia Power does the best she can in an understaffed maternity ward. Nothing is held back in detailing the mechanics of how we come into this world, which isn't easy to read, but that's probably the point. Even the love story that emerges emphasises the hardships of the time, which make our own emergency look quiet comfortable in comparison.
4. The Dirty South
John Connolly
Hodder & Stoughton
A stand alone Charlie Parker adventure that takes the detective back to near the start of his story – just after the tragedy that makes and breaks him – and reminds readers new and old what a bad, arse-kicking bastard he really is. By removing nearly all traces of the supernatural, Connolly constructs a tough western that satisfies like a drink on a hot day. It also cleverly provides an entry point into one of the most brilliant on-going series in genre fiction for those who might have felt left out or intimidated. Kerching!
5. The Searcher
Tana French
Penguin/Viking
There's a perfectly good plot in French's eight novel – The Searcher is not a part of her Dublin Murder Squad series – involving a missing brother and small town ne'er do wells, but it's the local colour that wins her the medals. Cal, a retired Chicago cop, buys a house to do up in rural Ireland but when he befriends bedraggled urchin Trey, he is dragged into some dark goings-on. The craic with Cal's neighbour Mart and local shopkeeper Noreen is a delight – there's a night in the pub that had me all misty eyed – as is French's unerring ear for chat.
Also Highly Recommended
6. Hamnet – Maggie O'Farrell (Tinder Press)
7. Snow – John Banville (Faber & Faber)
8. The Cutting Place – Jane Casey (Harper Collins)
9. A Thousand Moons – Sebastian Barry (Faber & Faber)
10. Highfire – Eoin Colfer (Jo Fletcher Books)

Irish Non-Fiction
1. OK, Let's Do Your Stupid Idea
Patrick Freyne
Penguin Books Ireland
Deservedly admired for his witty work in The Irish Times, Freyne turns his hand to the more personal for his first book. In a series of biographical essays, he introduces us to his Army Ranger Da, his feminist Ma, his life growing up in small town Ireland, and his close friends. There's some hoot and snort stuff about "working" in Germany with his mates, playing in a band, and the madness of jumping out of planes, but there's tears of another stripe when he tackles care working, mental health and his childless marriage. Freyne's honesty and humanity shine through.
Advertisement
2. Flann O'Brien: Gallows Humour
Ed, Ruben Borg and Paul Fagan
Cork University Press
Collections of critical essays can sometimes miss the point and kill the joke, but this is an endlessly fascinating compendium on Ireland's greatest writer – all complaints to the usual address – that is guaranteed to put a light bulb over the heads of hardened Flannatics. The main themes are the body – you know, prosthetics, syphilis, the whole bit – and death and how these notions are addressed in O'Brien's work. I was particularly taken with Katherine Ebury on the death penalty and Siobhán Purcell's connecting of The Third Policeman and Beckett's Molloy, but each entry will have you reaching for the source material again.
3. Walking With Ghosts
Gabriel Byrne
Picador
I'd forgive Byrne anything because he was the star of Ireland's greatest TV show – all complaints to the usual address – Bracken but I expected this to be hard work, thanks to the advance blurb. I was wrong. Adopting a non-linear structure sees Byrne as the worst plumber in history one minute, and lording it in Hollywood the next. There's some weird stuff about fame – what's the story with yer one and the aran jumper? – and some well-publicised darker stuff too, but this is really a remembrance of the Ireland he left behind, one which is no longer there.
4. A Ghost In The Throat
Doireann NÌ GhrÌofa
Tramp Press
How does one describe this book? Is it autobiography? Ní Ghríofa takes us through how a newborn changes her life. Is it a work of scholarship? After some serious bumps in the road, Ní Ghríofa – a poet herself – works on translating 'Caoineadh Airt Uí Laoghaire', a poem of mourning from the 18th century by Eibhlín Dubh Ní Chonaill, and her translation is included here. She becomes obsessed and the lives of these two women intertwine across the centuries, and that is where this remarkable, lyrical, and wholly original work of art takes off and becomes something else entirely.
5. Never Mind The B#ll*cks, Here's The Science
Luke O'Neill
Gill
The pandemic made a bit of a hero out of the plain-speaking O'Neill – although selling his company for a fortune made you want to kick him in the shin out of envy – and his easy manner on the airwaves has earned him the nation's trust. Who better then to tackle the big questions such as is there a difference between men's and women's brains (don't, Carty. Just don't – Ed)? Should we vaccinate the kids? What about euthanasia? Good questions all, but the best thing about this book, and O'Neill himself, is that it seeks to divert the landslide of bullshit that threatens to bury us all.
Also Highly Recommended
6. Beyond The Tape – Marie Cassidy (Hachette)
7. Break The Mould - Sinéad Burke (Wren & Rook)
8. The Running Book – John Connell (Picador)
9. Diary Of A Young Naturalist - Dara McAnulty (Little Toller Books)
10. This Is How We Dance – David Diebold (Monument Media)
Advertisement

International Fiction
1. Sorry For Your Trouble
Richard Ford
Bloomsbury
The weird and wonderful thing about Ford's writing – in this collection of short stories at least – is that nothing much seems to be happening until it hits you that lots of things are happening. Major events like Clinton's election and the Iraq war happen just off screen as the real lives of the characters trundle on. People go shopping, they have affairs, they go to concerts, they get punched in the jaw, they get on with the business of living, and Ford's masterly use of language, where not a single comma is wasted, elevates these everyday events to epic levels.
2. Troy
Stephen Fry
Penguin/Michael Joseph
Fry could make a bank statement riveting, and the rise and fall of the city of Troy is the greatest story ever told so you can't go wrong here. As well as recounting the events in Homer's Iliad, Fry also fills us in on the very bad apple, the vows for Helen, and the arseholery of Paris that caused all the problems. Far from being some sort of stuffy academic's wet dream, this is fantastically exciting romp with all the gods, heroes, sex, violence, magic, wooden horses and dodgy heels that anyone could ask for.
3. Utopia Avenue
David Mitchell
Sceptre
On the one hand, this is an enjoyable ramble through the music scene of the late '60s, as Mitchell's titular band rise up the ranks and encounter everyone from Lennon, Jagger and Bowie to Francis Bacon and – maybe - Samuel Beckett. On the other, it's the latest entry in the 'uber novel' that he's been building since his 1999 debut Ghostwritten. The clever thing is, it works both ways. Mitchell also attempts the impossible and comes close to capturing the magic of music with the written word. There's a great playlist to be extracted from this too, although he will always be wrong about Rush.
4. The Silence
Don DeLillo
Picador
Where will you be when the lights go out? In the dark, of course. DeLillo's short novel – it could serve as a bookmark should you decide to read Underworld again – describes the aftermath of some undisclosed event that has turned off the power. Might have been the Russians, the Chinese, or even aliens, but our screens have gone blank so "what remains for us to see, hear, feel?" It's a dig at our device dependence, a reflection on the pandemic, mentioned in retrospect as the book is set in 2022, and a warning about our "more advanced, more vulnerable" world.
5. V2
Robert Harris
Hutchinson
Harris is, as it says on the cover, the master of the historical/political thriller, and he proves it again with this gripping tale set against the backdrop of the German V2 rocket attacks on London that took place near the end of World War II. The main characters are British analyst Kay Caton-Walsh and German scientist Rudi Graf, but this is really all about the rockets themselves and their physical and psychological impact on a city that thought its enemy all but defeated. A riveting mix of fact and fiction, from an endlessly fascinating period in history.
Advertisement
Also Highly Recommended
6. Piranesi – Susanna Clark (Bloomsbury)
7. The Kingdom - Jo Nesbo (Vintage)
8. The Mirror & The Light – Hilary Mantel (Fourth Estate)
9. Broken – Don Winslow (Harper Collins)
10. The Last Day – Andrew Hunter Murray (Hutchinson)

International Non-Fiction
1. The Ratline: Love, Lies And Justice On The trail Of A Nazi Fugitive
Philippe Sands
W&N
Nazis on the lamb, American and Russian agents in post-war Rome as the Cold War dawns, foul-play from the church – how could this story be anything other than riveting? Sands switches between recounting the life of Otto von Wächter, the Austrian who served as Nazi governor in Krakow and Galicia during the war before going on the run, and his encounters with Horst, von Wächter's son, who still wants to see his father as an honourable man. The more Sands investigates, the clearer it becomes that Horst's faith in his father is misplaced in this history lesson disguised as a thriller.
2. Rage
Bob Woodward
Simon & Schuster
Even if you've been in an enviable coma for the last five years, you wouldn't have to get too far into this book to realise that Trump was, as Woodward states, with considerable understatement, "the wrong man for the job." The journalist who helped bring down Nixon pulls back the curtain to show us what we already knew; Trump, referred to as "a moron" and "an idiot" by those in close proximity to him, is an egotistical, intellectually bereft, soulless aberration. Has there ever been anyone in history who boasted so much about so little? (I've stood beside you in a public house – Ed)
3. Sex Robots & Vegan Meat
Jenny Kleeman
Picador
You're right, that is the best title of the year and it delivers what it promises on the jacket. Kleeman takes a look at inventions and developments that are very nearly here. How about AI-equipped sex robots for the sad and lonely (where were they for the last ten months? etc.), or a device that you can knock up on your nearest 3D-printer so that you might euthanise yourself using liquid nitrogen? Not to mention "clean meat", i.e. lab-grown chow that will end the livestock industry that's killing the planet, and functioning artificial wombs. Truth is stranger than fiction.
4. More Than A Woman
Caitlin Moran
Ebury
In this sequel to 2011's hugely successful How To Be A Woman, the always good-value Moran tackles the war zone that is middle age. Oh yes, it's coming for you too, kids. Due to an irreparable birth defect, I don't know much about being a Mum or smear tests, and I'm not that worried about the size of my arse, although I am middle aged so I do know it's bigger than it was. Despite this handicap, I still find Moran laugh out loud funny on occasion because I'm a human being, with teenage offspring, who finds hangovers more debilitating with every year that passes.
Advertisement
5. Agent Sonya: Lover, Mother, Soldier, Spy
Ben Macintyre
Viking
Macintyre has good form here – The Spy And The Traitor was one of the books of 2018. The Sonya in question is Ursula Kuczynski, recruited as a communist spy when she was a bored architect's wife in the Shanghai of the early 1930s. That sentence should be enough to make you want to read the book, and the added facts that Kuczynski moved to Russia with her children in tow, and then to England where she was crucial in securing the scientific knowledge that would help the Soviets create their own atomic bomb, should seal the deal.
Also Highly Recommended
6. The Splendid And The Vile – Erik Larson (William Collins)
7. American Sherlock – Kate Winkler Dawson (Putnam)
8. Until The End Of Time – Brian Greene (Allen Lane)
9. Hidden Valley Road: Inside The Mind Of An American Family – Robert Kolker (Quercus)
10. Facebook: The Inside Story – Steven Levy (Penguin)
Sports Book Of The Year
Champagne Football: The Rise And Fall Of John Delaney And The Football Association Of Ireland
Mark Tighe and Paul Rowan
Penguin
Even confirmed sport-o-phobes who can barely spell 'Football' like me couldn't help but eat this up with a spoon. I don't want to land Hot Press or myself in front of our learned friends, so let me say that this book – one which will have you shouting 'Jaysus!" several times – alleges that Delaney used the coffers of the FAI. as his own personal ATM, funding a lifestyle that might have had even Mariah Carey going "ah, here!" What really boils my britches is the fact that Delaney is my cousin's cousin, yet I couldn't get my snout anywhere near the trough.

Music
1. One Two Three Four: The Beatles In Time
Craig Brown
Fourth Estate
Surely there are no more stories to tell about the fab four? If that's true, nobody bothered to inform Craig Brown, so the Private Eye man went ahead and dug up some new ones. Well, new to this reader at least. How about Macca nearly taking the job with Massey & Coggins? Mal Evans and the condiments on the plane from Nairobi? The original lyrics to 'Eleanor Rigby'? There's no way you knew any of that. Brown is funny too, especially when he puts the boot into Yoko's 'work', which rankled some but seemed perfectly fair game to me.
Advertisement
2. William S. Burroughs And The Cult Of Rock N' Roll
Casey Rae
White Rabbit Books
A thorough and expert examination of the influence that Burroughs' writings, cut ups – "when you cut into the present, the future leaks out" – and audio collages have had on the artier end of rock n' roll. Rae follows Burroughs' beat adventures around the world, through more exotic locales than your average Bond movie, with guns and drugs (lots of drugs) and even a bit of writing. The supporting cast includes, but is not limited to, The Beatles, The Stones, Bowie, Lou Reed, Patti Smith, Kurt Cobain and a load of other heads. A trip.
3. Small Hours: The Long Night Of John Martyn
Graeme Thomson
Omnibus Press
"Did any musician in the seventies fly so free as Martyn did," asks Thomson, "only to fall quite so far?" It's a fair enquiry as we are reminded of the unassailable beauty of masterpieces like Solid Air and One World, only to have them compared, unfavourably of course, to lesser later works. Thomson doesn't shy away from painting a warts and all picture of Martyn the man either, and while there are laughs to be had from his adventures with partner-in-crime Danny Thompson, genius provides no excuse for some of the behaviour recounted here. He brought that fall on himself.
4. 75 Van Songs: Into The Van Morrison Songbook
Stuart Bailie
Bloomfield
Stuart Bailie takes a trip down memory lane and around the streets and avenues of Belfast to present a personal celebration of the work of Van The Man in his 75th year. As it says on the tin, he takes the 75 Morrison songs that mean the most to him and expands on them, with everyone from TS Eliot to PJ O'Rourke giving him a dig out. They're presented in alphabetical order, which is fair enough, for picking favourites is nigh on impossible when every one of these songs is touched by greatness. Bailie's reminiscences do them all justice.
5. Overpaid, Oversexed, and Over There
David Hepworth
Bantam Press
Mick Jagger used to say something about how he and Keith never considered song writing in the early days because who would want a rock 'n' roll song from England? Most of the world, as it turned out, would very much want them, and America in particular. Hepworth is on familiar ground here, detailing the remarkable fashion in which bands from the "British Isles" – which allows the inclusion of U2 – ruled the Americas from the arrival of The Beatles in 1963 to the turning of the tide led by Michael Jackson, Madonna and Springsteen. David Coverdale? A million dollars? Preposterous. Marvellously entertaining.
Also Highly Recommended
6. Sympathy For The Drummer: Why Charlie Watts Matters – Mike Edison (Backbeat Books)
7. Broken Greek: A Story Of Chip Shops And Pop Songs – Pete Paphides (Quercus)
8. Sing Backwards And Weep – Mark Lanegan (White Rabbit)
9. Not For You: Pearl Jam And The Present Tense – Ronan Givony (Bloomsbury)
10. Confess: The Autobiography – Rob Halford (Headline)
Advertisement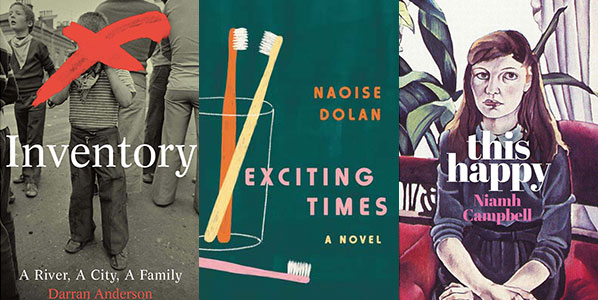 HP Towers Personal Choice
Inventory
Darran Anderson
Chatto
Anderson's beautifully written memoir is testament to how normal Derry life managed to be in the most abnormal of Troubles-era circumstances.
It's the juxtaposition of Saturday afternoon trips into town to buy records with your school pals being shot, blown-up or abused by squadies, which strikes such a "There by the grace of God goes I" chord.
To this day suicide rates in Northern Ireland are higher than they are in other parts of Ireland and UK, a legacy perhaps of all that bloodshed.
As war raged in Derry – and make no mistake, it was a war – Anderson still managed to get his teenage kicks, which shows there's joy to be had even when the bastards are working overtime to grind you down.
STUART CLARK
Exciting Times
Naoise Dolan
Weidenfeld & Nicolson
A highly perceptive examination of the neurosis of modern love, Naoise Dolan's debut novel proved a stylishly written effort with three memorable characters at is core. The story follows Dubliner Ava, who relocates to Hong Kong in search of new adventure, and quickly strikes up a relationship with go-getter English banker Julian.
In one of the novel's most adroit observations, Ava notes that Julian works for exactly the kind of financial institution that caused the crash in Ireland – but this push-and-pull seems to be at the core of their relationship. Indeed, their chemistry appears perfect as they explore Hong Kong together, only for the situation to be complicated by Ava's growing attraction to half-Chinese, half-Singaporean lawyer Edith.
Filled with moments of wit and insight, Exciting Times offers a fascinating take on politics, class, urban life and the ex-pat experience. A true zeitgeist novel, it was deservedly one of the year's big cult hits.
PAUL NOLAN
This Happy
Niamh Campbell
W&N
It wouldn't be far off the mark to talk about this being a golden age of Irish women's writing. We all know about Sally Rooney and the extraordinary impact of her two powerful novels Conversations With Friends and Normal People. But she is not operating in isolation – far from it. Among the genuinely fresh and wonderfully invigorating novels I read this year were The Butchers by Ruth Gilligan and Exciting Times by Naoise Dolan. Both should be on everyone's end-of-year recommended lists.
But the one that most captured the imagination, for me, was the very brilliant This Happy by Niamh Campbell.
There is a tendency on occasion to use fiction as a way of letting the world know that women are regularly and cruelly traduced in relationships. And it does happen of course. But one of the qualities that these three writers – four if you include Sally Rooney – have in common is their unwillingness to sugar-coat the attitudes and the actions of their central female characters. They, it seems, are as capable of being wilful, obstinate, unpleasant and – when it comes to it – treacherous as any of the men that are depicted.
This is especially true of Niamh Campbell's heroine in This Happy, Alannah. She is brilliantly drawn, and oddly attractive despite the extraordinary selfishness that is her dominant characteristic. Niamh Campbell is good on sex and sexuality – and on the complexities that surround it far more often than is conventionally acknowledged. You are not meant to like Alannah, but she has an irresistible quality. Which is true, too, of Niamh Campbell's writing. She is sardonic, brave and funny. There are lots of laughs in This Happy. But she is also a fine stylist, someone who knows that every word has a part to play. She weighs them exceptionally well. And you are left with the impression of a writer who is herself both wise and liberated.
NIALL STOKES