With Ireland in the grips of a homeless crisis, Stephen Porzio, with the help of the Dublin Simon Community, speaks to individuals who are sleeping in tents in the centre of Dublin. These are their true stories. Photography: Zoe Keating and Miguel Ruiz
"Many of the individuals we work with have experienced trauma in their life," says Daire Moriarty, support worker for Dublin Simon Community's Rough Sleeper Team, a group of seven people on the streets 365 days a year providing support to people who are homeless. "If they don't get the support they need, it can have a negative impact on their mental health. Being on the streets really exacerbates that." Daire introduces Hot Press to some of the individuas with whom Simon works. Here are their brutally heart-breaking stories...
Gerry, 61.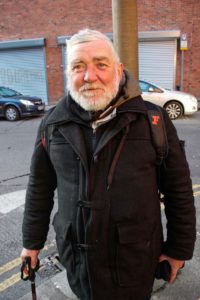 "My wife committed suicide after 20 years of marriage. I came in one night and she was hanging. I cut her down," says Gerry, describing the event which led to him camping in Dublin. "My head went all over the place. I had just lost everything that I had ever wanted."
The former psychologist prefers to stay in a tent than in hostels. "I don't want to be sitting around people taking crack," he says, "and injecting things in their arms. I'm not interested in that."
Advertisement
Now homeless for two years, at first he found camping relatively quiet.
"I got to know people," he recalls. "We had our tents set up and for over a year we never had problems. We didn't cause trouble to anybody."
However, as winter bit hard last year, Gerry lost toes due to frostbite. "As I was sleeping, I left my foot sticking out," he recounts. "Some people came along and stole my shoes. It was lashing rain. I had to walk to Penneys to buy a new pair of trainers. In that time and with the cold in the night, I lost five toes.
The wave of attacks on those sleeping rough has made life even harder for Gerry.
"There was a man two nights ago. At 4:30am, six people pulled him out of his tent. They kicked the ribs out of him and took every penny and his phone off him. They left him half dead. Another man's tent then got set on fire."
Gerry says the Gardaí are not interested in crimes against the homeless. "The police do not want to know," he accuses. "We are their enemy and there's nothing to do during the day. You're not allowed to sit in a park or on a bench. In other words, just walk around all day long. How can I with my foot?"
Gerry is frightened now that winter is upon us.
Advertisement
"I'm going to lose my leg if this keeps going. I'm lucky though. I'm 61. I'll be dead next year. The young guys - they've got 20 to 30 years of this in front of them."
Darren (36), Christopher (30)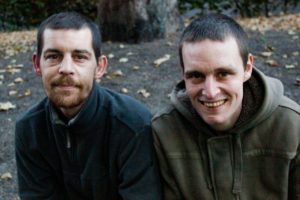 Darren has been homeless eight years and Christopher for five. Cousins who live rough together, both had been in relationships that broke down.
Like Gerry, they both feel there is a lack of respect for the homeless on the art of the authorities.
"We'd been camping in the Phoenix Park," says Christopher. "Our tent was taken up by the Gardaí. Our clothes, our belongings - everything we had was in the tent. We left a note for them not to take our stuff."
"They only gave us 24-hours notice," Darren adds. "We told them we needed more time to find a spot to put our tent. We went back and it was gone. We had to start all over again." Preferring not to disclose where they are currently based, Christopher says they still face trouble from the Gardaí.
Advertisement
The guards are not nice people," he states. "They are our enemy. Where we have our tent based now is just a forest. The last time I came out, three of them rugby tackled me to the ground and arrested me. I took a fit in the back of their car with my hands behind me in cuffs. They should have taken me to the hospital. They didn't. That's not right. They just think we are animals."
Christopher has begun suffering regular seizures. "I've been to hospital. They don't know what's wrong. They think it's the conditions I'm living in. Being in the cold, run down and not eating properly. Basically just wasting away."
The cousins are on various waiting lists for houses. However, Project Worker for the Rough Sleeper Team, Roisin Casey says: "It's hard to get two friends into accommodation. You can't register them as a couple but they don't want to separate."
"If I didn't have Darren," says Christopher, "I'd have done something stupid. It's good to have each other. He looks after me, I look after him. We help each other out. At least I have somebody who I can rely on and keep me happy. It's very depressing living like this."
Patrick (21)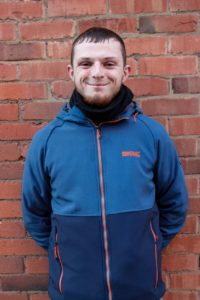 "I'm out there looking for jobs," says Patrick, who has been homeless since he was 17. At the age of three, he was taken from his parents who couldn't look after him due to addiction problems and put into care.
Advertisement
"Last week, I went down to the Navy. Even though I'm homeless and I don't have the money to get a hotel, I stayed overnight in Cork City Centre just rambling around. I got two hours sleep. I did a fitness test and an interview on the Naval base. Then, I got the bus back up here. I'm still looking for jobs."
Patrick also prefers to camp than to stay in hostels.
"If you could see inside hostels, they'd all be shut down," he argues. "The toilets and showers are horrendous. I'd rather pay a gym membership to use their facilities."
According to the 21-year-old, the hours imposed by hostels can make woring impossible. "I was working in a bin truck while I was staying at a hostel," he recalls. "I didn't finish until 3am and I used to have to ring at 10pm and say I won't be in until the early hours of the morning. Then, you are up and out by 8am. Those 12-hour shifts catch up on you. It's very hard."
Like Christopher and Darren, Patrick lost many of his possessions after his tent was taken. "I was collecting my money from the post office. I return, and my tent is in the back of a county council truck. Now, I have a week bed in a one-man room in a hostel. After that I'll be moving into a three-man room. If the other lads are decent and they don't drink or take heavy drugs, I'll stay. But I'd say there's a 90 per cent chance I'll be back on the streets in a week."
Patrick has aspirations: "I have my goals. I've done first aid for eight years of my life. I want to be a paramedic."
Currently though he says he spends most of his days in the bookies for warmth, aggravating his feelings of depression.
Advertisement
"I would like somewhere where I could sit down, maybe watch TV," says Gerry. "Look around the city at the empty spaces. They won't sell the land because they want them for hotels."
"There's not one public toilet in Dublin," Darren adds.
"Every day is sad," Gerry says. "You wake up, you're sad. You go to bed, you are sad. You've done nothing. You've achieved nothing. There's nothing there to make you feel better about yourself."
RELATED