Sylva Tukula, a transgender asylum seeker from South Africa, was buried without ceremony in a State-owned HSE plot in Bohermore Cemetery, Co. Galway, early in May 2019. This was a deeply traumatic moment for the LGBTQ+ community in Galway, and the surrounding region.
Sylva's friends were not able to attend the funeral, because they hadn't been informed that the burial was taking place. There has been a subsequent apology issued, by the Department of Justice, who accepted responsibility for the breakdown in communication – they also funded a memorial event. But the sense of loss experienced by Sylva's friends, including many at the Galway LGBT+ support organisation, Amach (meaning 'out' in Irish), will be very hard to repair.
Last Saturday week, to honour her memory, members of Amach marched at Dublin Pride, an event in which – in the past – Syvla had thrilled. How does a community recover from such a body-blow? We went to Galway to speak to LGBT+ people there.
LIBERAL VIEWS
Cameron is a member of Amach. On the Thursday before their planned march in Dublin Pride, the group were snowed under, preparing all of the details of the trip to the capital, but Cameron made time for me nonetheless.
"We're going to march as a group," Cameron says. "People from Amach, Teach Solais, and those at Enar Ireland and Outhouse – just to celebrate her life and remember where she wanted to be. What we're doing is marching in the Parade. It's a space where people can come together."
Advertisement
Cameron, identifies as a non-binary trans person and uses 'they' pronouns. I asked about their experience growing up. For a Sligo native, being queer was not easy.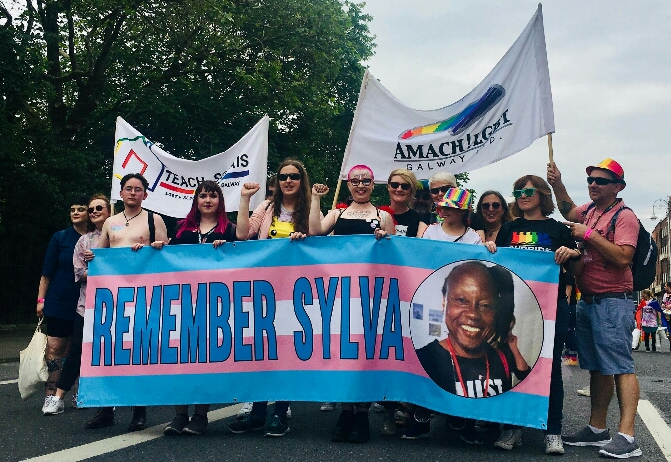 "I suppose it's quite similar to most LGBT people's experience growing up in a rural setting. There was really no LGBT support. I struggled a lot in my latter years in secondary school, not being able to be who I was. It's quite similar to most other people's stories from a rural context. it's why I moved to Galway for college."
Galway city is special: the stronghold of the Irish language in urban Ireland, it also has a diverse immigrant population and a huge number of tourists passing through. It provides a melting pot of cultures while still retaining a quintessential Irishness.
"I came to Galway to find a community and to find a space where I felt supported," Cameron recounts. "With that said, my parents and siblings and family are fantastically supportive."
Does Cameron think that a lot of queer people from the west of Ireland move to Galway for similar reasons?
"In Galway, we see a lot of rural isolation. It is certainly a factor for certain people when they move to a bigger city or a bigger town. I know for me it was."
Advertisement
Amach is the first LGBT+ organisation of its kind in the West of Ireland.
"We have people that travel for two or three hours to come to different events, to come to Drop-in or whatever is on. We cover a lot of the West of Ireland, not neccessarily just Galway."
How does Amach reach out to rural LGBTQI people?
"It's about how we give rural areas the opportunity to get involved," Cameron says. "We try to have events at times that suit them and try to make sure we consult relevant people when organising. We don't charge for our events, to make sure there's no financial barrier. We try to take some of the stuff we do out into the community as well.
"I think there is a huge perception, or stereotype, that people from rural areas are really backwards or that they don't have liberal views. I think that is the case for some people – but that's also the case with some people in urban environments too. I think sometimes we need to give rural communities the chance to show they are welcoming and inclusive."
QUITE MULTI-CULTURAL
I spoke to Muireann Ní Cheallacháin (pictured above), an Irish language tour guide, who takes people around the pre-historic hill forts of Dún Aonghasa, on Inis Mór – the biggest of the Aran Islands.
Advertisement
"Well, it's mostly international tourists I give tours to," Muireann says, "but if any local primary school wants to do a tour, I do them in Irish too."
I imagine providing Irish language tours of Dún Aonghasa is a fairly niche market. "It is," she laughs.
Would it be important to Muireann to have a partner who is a gaeilgóir?
"Yes! It sounds like I'm now going into a very niche market of a woman who likes girls and speaks Irish," she smiles. "If they were foreign it wouldn't matter as much, but if they were Irish I would really like if they made the effort."
There is a queer Irish language dictionary entitled An Fóclóir Aiteach. As a queer Irish speaker, how has Muireann found living on the Aran Islands?
"Everyone on the island speaks Irish and so I think it's no different to English speakers really. I don't think it makes much difference what language you speak: everyone is super-inclusive.
"I'm originally from south Galway, a village called Kileenaran, near Kinvara. The nearest shop to me would've been a mile down the road. The closest village would've been Ballindreen, which consists of you know, the two pubs, the primary school, the church and of course, the GAA pitch."
Advertisement
What was Muireann's experience like growing up?
"Well, I didn't really know I was gay until about first or second year when I was in an all girls secondary school in Kinvara. It was kind of different because we still had nuns in the school so it wasn't really discussed at all.
"I wasn't entirely sure because I was like 'Oh yeah I like boys', and someone kind of suggested to me 'You know, you can like girls too' – and I was like 'Oh wow'. But I never really openly admitted it until I was maybe sixteen."
Would Muireann's experience have been more positive in an urban centre?
"Not really," she offers. "Everyone's like 'Oh rural Ireland it's all reclusive and old people and they wouldn't be very accepting', but I actually think the rural community is... I wouldn't say more accepting because I don't have much experience with an urban community, but when I came out to my parents, to my neighbours, to my friends there was never any hassle. The old lady down the road was like 'Oh, you can be into all sorts of things now'. It was never an issue, like, 'Oh, bejesus, you can't be in my house now'.
"The only time I ever felt not accepted was actually from the younger generation. They'd be the ones who'd make fun of you and use the slurs. Which I always found slightly weird, but you know, whatever."
This was sad to hear. You'd hope that younger people would lead the way in supporting LGBT+ rights.
Advertisement
"Now that I'm in college in Cork," Muireann adds, "it's very easy to fall into just LGBT society friends, or people from certain classes. It's very easy to fall into a clique."
That's not something that Muireann wants.
"I always find that you get a lot of 'blow-ins' in rural Ireland," she riffs. "You get people who come and they fall in love with the countryside. Then you actually find people you meet and it's 'She's from Poland, she's from France'. And so I actually think that rural Ireland is quite multi-cultural. And it's very accepting."
Is there be a class divide in rural Ireland?
"Oh god no," Muireann says. "There's five neighbourhood kids that you have to hang out with. You know, there are no other options. You have your five friends who you grew up with, and there's going to be massive age gaps as well. But you just make do. Everyone's just way more accepting. There's a lot more tolerance with rural communities than in bigger towns.
"When I moved to Westport, even though it's not a massive town, it was slightly bigger than what I was used to. I can remember when I was growing up there was one cisgendered guy. His name was John and he liked to dress in dresses. Everyone was like 'that's cool, that's a lovely dress you're wearing. Your hair is gorgeous, your make up is fabulous'. Like, there was no question of not accepting or anything. It was just like: 'This is the way it is. This is John. We all have to say hi'."
Could Muireann ultimately see herself living in rural Ireland with a partner? "Yes definitely," she says without a moment's hesitation. "If I ever had kids, I'd definitely like to raise them in rural Ireland, there's no question about it. Perhaps Galway, maybe rural Cork or else, if I had a full-time job, on the Aran Islands."
Advertisement
A MASSIVE PUSH
What about the politics of Pride? How do Muireann and Cameron feel about the corporate sponsorship of Pride. Does the capital's flamboyant display make an impact – positive or negative – on rural LGBT communities?
"I think some people want to see Pride as a celebration but for me personally Pride is a protest," Cameron says.
"I would say the rural areas of Ireland see Pride as a lifeline as opposed to a protest. They see it in the media; they see people who are like them; they see visibility; they see all these colours and they see, 'you know maybe in a few years time this somewhere I could be' .
"And of course, Pride can be a celebration for people," Cameron concedes. "I don't think we're here to police what people feel during Pride. But for me, it's always been a protest. In that sense, as rural members, we have to fight tooth and nail for everything that we get."
For her part, Muireann is not keen on the corporate sponsorship of Pride.
"On the one hand I'm like, 'Oh that's cool'. But on the other, I feel that they're jumping on the bandwagon. I feel it's too little too late. And I know it sounds stupid sometimes, but realistically they're making money off it somehow. It's all about the money. If they put the money into LGBT+ charities instead of floats that'd make sense, but they're not going to generate money out of that.
"Marriage equality was a massive push. I thought it was a great time to be Irish. Realistically, I think things are getting better. But there is a thing like 'you got marriage equality, what more do you want?' There's almost a lull in the whole movement now.
Advertisement
"It's almost complacency. Like: 'I've finished my five miles'. There's not enough: 'Let's go the extra one'."
If you want to read more on this, delve into our Pride Beyond the Pale series, where we spoke to members of the LGBT+ community throughout Rural Ireland.
Co. Kerry: https://www.hotpress.com/culture/2019-gay-pride-beyond-pale-22777208
Co. Kilkenny: https://www.hotpress.com/culture/lgbtq-2019-pride-beyond-pale-visits-kilkenny-22777779