Malik Amir Iqbal's story is that he came to Ireland to escape intra-family violence, a result of his refusal to be forced into an arranged marriage. Despite this, his application for asylum was refused. Now, his fate is in the hands of the Minister for Justice, Helen McEntee, and over thirty artists are asking her to decide in his favour – before she goes on maternity leave at the end of April.
Malik Amir Iqbal re-discovered himself as an artist in a Direct Provision Centre in Co Longford. It is a remarkable story. The question now is: might it have a happy end?
It was Mona Considine, the artistic director at Backstage Theatre, Longford, who – back in 2017 – prompted Iqbal's unique odyssey into the world of song and dance.
"Mona offered us to come out in the community, show your dance and get together with the community," says Iqbal, a polite man with a gentle smile (on the right in main pic).
Considine wanted Iqbal, and others in the direct provision centre, to be part of Welcoming Strangers, a show that was aimed at forging a bond between newcomers and locals through the medium of song. The asylum seekers were glad to oblige.
"The idea," says Catherine Young, the show's choreographer and lead dancer, "is that, we come together and share different cultures or dances or songs. Whoever's in the room, we learn their song – and share that."
Advertisement
As a result, Iqbal – a salesman in a previous life – got to dance his way across Ireland with Young's troupe, in the process finding his true calling as an artist.
"From there, I started theatre and dance," he says simply.
PERMISSION TO STAY
Malik Amir Iqbal has since been involved in a variety of productions, performing in festivals like Big Bang. Being something of a renaissance man, he has also run exhibitions of his artwork.
And yet Iqbal's application for asylum in Ireland was rejected. So too was his subsequent application to be allowed to stay on humanitarian grounds.
That he was immersed in the community in Longford, volunteering in community projects and integrating within the wider arts community wasn't enough for the immigration authorities, he says. He is now faced with the prospect of deportation.
The only thing that can forestall this now is an order from the Minister for Justice Helen McEntee. The good news is that a number of artists have called on the Minister to give Iqbal 'permission to stay' before embarking on her upcoming maternity leave on 30 April. It might just work...
Advertisement
Iqbal, who is from Pakistan, has been seeking asylum here since 2015. He is fleeing family violence that he says arose from his refusal to marry a Muslim relative. He was in love with another woman, he says, a non-Muslim.
The Minister for Social Protection Heather Humphreys is set to lead Minister McEntee's department from May to October. She isn't familiar with Malik's case, however, and his artist friends fear that he could be deported before Minister McEntee returns to the office.
"Because there's already a link between Minister for Arts, Catherine Martin, and the Minister for Justice, we want to make one big push to get Malik's leave to remain cleared up," says Donal O'Kelly, a playwright and actor.
"We know that the (current) Minister is familiar with Malik's case, and we hear is sympathetic," says Mona Considine. Under Minister Humphreys, she said, it would feel like "we're starting all over again."
HIGH INCIDENCE OF COVID
Iqbal feels that he ticks all the right boxes to stay in the country. He is, he says, attached to Ireland by many ineradicable ties.
"They have to consider what I'm doing in Ireland," he says. "All my life changed in Ireland. I did all the exhibition artwork, I did social work, I did all the volunteer work."
Advertisement
This, despite the fact that he doesn't have permission to work here in a job. He has submitted proof that his life is embedded in the country to the Department of Justice, along with "reference letters" from people who know him well. They all say that the community in Longford wants him to stay.
In all, thirty-four artists have written in support of Iqbal's stay. Among them, Donal O'Kelly says, is legendary actor Stephen Rea, who has also written to Minister Catherine Martin asking her to discuss the issue with Minister McEntee.
"I provided them with everything, but they didn't consider," Iqbal says. "I think they didn't even read all those reference letters, even from all the big artists and big art groups – they just sent me a letter that 'you're not eligible for leave to remain on humanitarian grounds'."
"The entire community has attested to his contribution to the arts and to what he has to offer," says Catherine Young, "but they're still not listening to us."
Reference letters make up only one element of an application for leave to remain, a spokesperson for the Department of Justice tells Hot Press.
"Each case is therefore examined in detail and on its individual merits, taking all relevant factors into account," the spokesperson adds.
So called 'considerations of public order and security' are also applied to applications for leave to remain. However, Iqbal does not know the exact reasons why they refused his request.
Advertisement
The Fianna Fáil TD for Longford, Joe Flaherty, is among those supporting Iqbal's campaign. He asks how the Government can be trusted to fulfil promises made in its White Paper for ending Direct Provision if people like Iqbal – who have the community's trust and support – don't get a chance to stay?
"For people like Malik Amir Iqbal," Flaherty says, "who has spent six years living in Direct Provision while waiting on a decision on his application, who has never been given a permit to work and who is currently living in a direct provision centre with a high incidence of COVID, the White Paper offers no answers."
WRONGFULLY DEPORTED
Although making art within the confines of a shared room is difficult, Iqbal perseveres.
"I can't do what I want to do," Iqbal says, matter-of-factly. "How can you do artwork with colours in a shared room?"
But he tries anyway because he prefers to be active and productive. "When you have nothing to do, it's very stressful."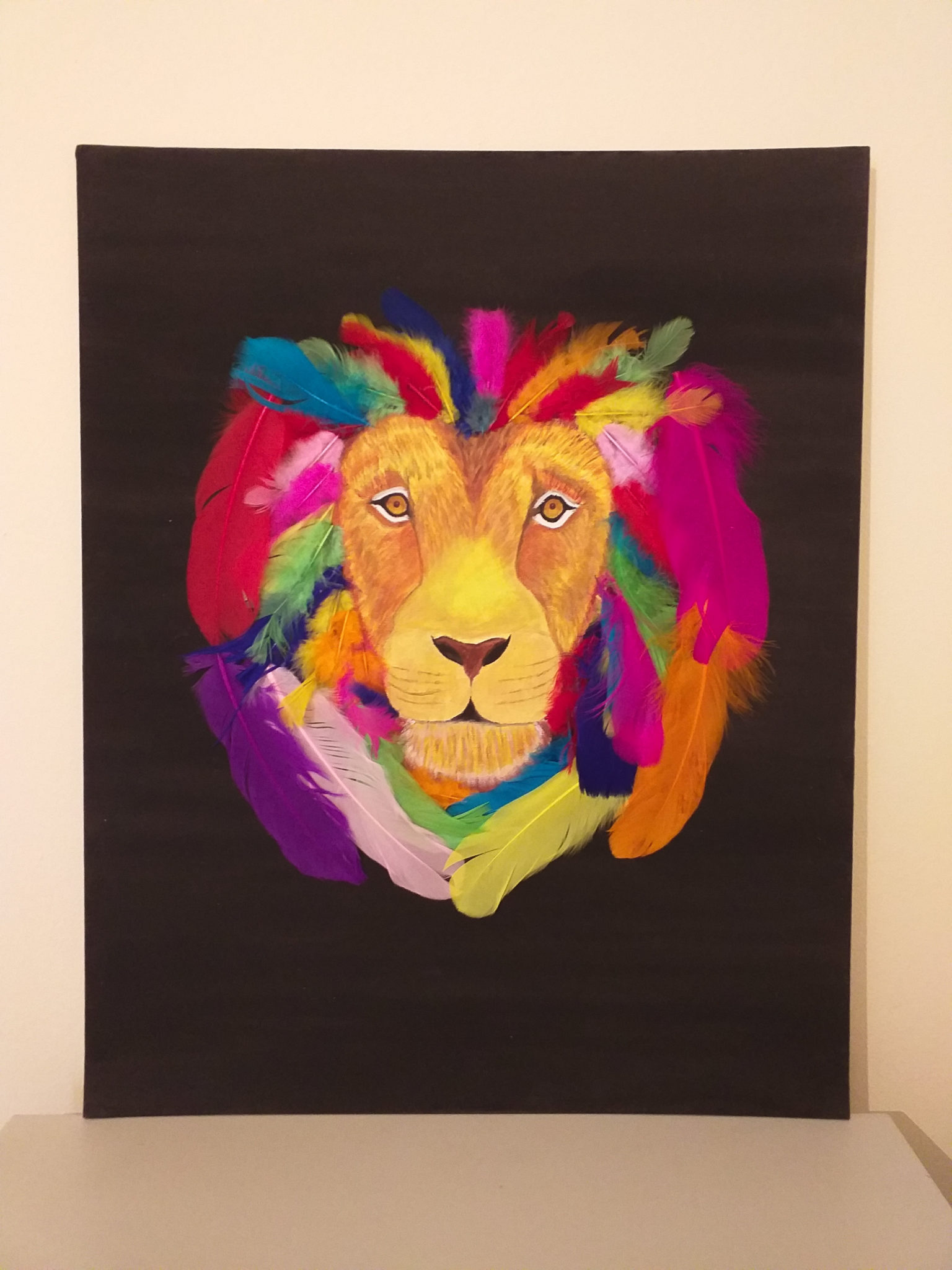 Advertisement
Animals take the spotlight in Iqbal's paintings: a lion's head with its mane made out of a sprawl of colourful feathers; a parrot stretching its red, blue and green wings over a pond; a hand-made butterfly with fiery wings hovering over white crafted flowers growing out of the sea. Animals, Iqbal says, signify a sense of freedom, which is why he's drawn to them as subjects.
"Freedom is in our nature, so I feel happy to paint freedom moments," he says. Hopefully, the irony will not be lost on the Minister for Justice.
In Longford, Iqbal used to teach art to local kids before the pandemic hit. He has made his post-pandemic plans already, hoping the Minister will let him stay long enough to realise them.
"I want to make more pieces," he tells Hot Press. "I want to do more exhibitions, I want to know the artists around, and I want to teach the kids and people who are interested in art."
Donal O'Kelly got to know Iqbal as a result of his involvement in Young's dance troupe. He has particular reasons for supporting Iqbal's fight for the right to stay.
Donal featured in the play Jimmy's Hall when it ran in the Abbey Theatre in 2018. Jimmy's Hall portrays the life of Jimmy Gralton, an Irish socialist leader who built a dance-hall in Leitrim. He was denounced from the pulpit by the parish priest and the building was burnt savagely to the ground. In an astonishing turn of events, Gralton subsequently became the only Irishman ever to be deported from the Republic.
"He was wrongfully deported," says O'Kelly.
Advertisement
That, of course, is an understatement!
FUTURE HAPPINESS
During the show's Abbey run, an event called Jimmy's Hall Today was held on the set, at 3pm on 27th August 2018. Donal O'Kelly recalls that, as part of Jimmy's Hall Today, Iqbal and "the whole dance troupe" – including another asylum seeker from Pakistan, Vicky Khokar – danced a piece called It Takes a Village.
"It was an amazing piece of art," Donal says.
That same evening, at 10pm, Vicky Khokar – a friend of Iqbal's – took a flight back to Pakistan "to obey a letter saying he had to leave the State voluntarily or face deportation," says O'Kelly.
"He left," O'Kelly adds, "with the explicit understanding that it would be easy for him to come back again."
In fact, the deportation order with which he had been threatened was allowed to come into effect, meaning that he is precluded from returning to Ireland for 10 years. It is, those who knew Vicky believe, an astonishing and totally unnecessary injustice.
Advertisement
While on stage that day in the Abbey, Vicky Khokar spoke about his treatment by the Irish immigration authorities, urging the audience to make sure "the same thing doesn't happen to his friends."
His words stuck with Donal O'Kelly.
"That's what makes me so determined now," he says. "Malik must be granted leave to remain. There's nobody's interest served by denying him leave to remain in the community in Longford."
Will Minister Helen McEntee listen? It is over to her now.