Shock-A-Lock-A, Boom! Sign O' The Times, the chef-d'oeuvre of the Prince catalogue, gets the upgrade it deserves.
Dearly beloved, if you're not already familiar with Prince's 1987 masterpiece, Sign O' The Times, then I feel sorry for you, but also a little envious for what you have yet to experience. It is, not to put too fine a point on it, the greatest record of that decade, one of the greatest records of any decade, and a musical education in and of itself. Prince – a gargantuan talent who made everyone else, then and now, look like they weren't even trying – threw it all in the pot: slow ballads, hard funk, screaming rock n' roll, psychedelic pop, soul, and everything else he could thing of. Frankly, it is the reason ears, feet, and hips were invented. I have "written" about it fairly extensively before so, rather than repeat myself, and to offer some background on these recordings, let me direct you towards My Favourite Things: Prince and Sign O' The Times.
Off you go, we'll wait for you here…
Doo-be-doo-be-doo-be. Right. Following on from last year's excellent and exhaustive exhumation of 1999, SOTT is now expanded out to eight CDs – 13 pieces of wax – incorporating what must be every idea the man who was in purple but now favoured peach and black had while he worked towards the album's completion. There's also an outrageously rockin' Utrecht show from his annus mirabilis, with horns added to a 'Little Red Corvette' that careens into a ridiculously funky 'Housequake', ten minutes of 'I Could Never Take The Place Of Your Man', an extended 'Forever In My Life' which runs into 'Kiss' that would have left James Brown needing a sit down, and, Jesus Christ almighty, just listen to the way the brass and the guitar close out 'The Cross', and - and - an equally fantastic DVD of a New Year's Eve benefit night in Paisley Park. How do you get a band to be this tight? How hard did he have to work them? Did Prince sleep at all in the eighties? Anyone who's thinking about starting out in music should take one look at the stop-start 'Let's Go Crazy' as it goes into 'When Doves Cry' and immediately sell their instrument and sign up for that accountancy course. And that is as nothing compared to the full half-hour of 'It's Gonna Be A Beautiful Night' - Prince casually sits in on the drums as Sheila E moves to the front to rap, and then Miles Davis just strolls on to join in for a while. The Rebirth Of The Cool, if you will.
The three discs/6 LPs of unreleased material from the infamous vault are the stuff of Prince fans' dreams, and trace the path through the unreleased albums Dream Factory, Camille, and Crystal Ball to the record we should already know. We begin with the earliest recording here, the original 1979 new wavey 'I Could Never Take The Place Of Your Man' – it seems the bedroom wasn't the only place where he was playing the long game ("Shut up already, damn!" – Ed). Another take of 'Teacher, Teacher' from 1985 was included in the 1999 box, but here the guitar is replaced with what sounds like a harpsichord, because that is where he was at.
Advertisement
'All My Dreams' was originally intended for Parade, but Prince dropped it at the last minute. It was also set for inclusion on that Dream Factory album, but that was abandoned after he broke up The Revolution. I could get completely carried away and tell you that the distorted spoken word section was later used in 'Acknowledge Me' when Prince did release a three-disc version of Crystal Ball, a collection of outtakes that came out in 1998, but that would only confuse things further. 'Can I Play With U?' was the track that Prince sent to Miles Davis for his Tutu album, before Prince himself asked for it to be removed as he didn't think it fitted in. The Davis lines do sound like they were dropped in after everyone else was finished, but that horn could belong only to him.
A section of the sunshine funk of 'It's Wonderful Day' was used as background music during the God-awful Under The Cherry Moon – Prince was a genius at everything, apart from acting – and part of its melody and lyrics would be repurposed for the live wig-out of 'It's Gonna Be A Beautiful Night' on the original album. This 'Strange Relationship' is slightly less frantic than the one we know, but no less interesting for that, 'Visions' is a piano piece by Lisa (Wendy & Lisa) Coleman which Prince had asked for to open Dream Factory, and the brass on this take of 'The Ballad Of Dorothy Parker', which was something I was particularly looking forward to hearing, shows that Prince knew what he was doing, as his finished arrangement is far superior.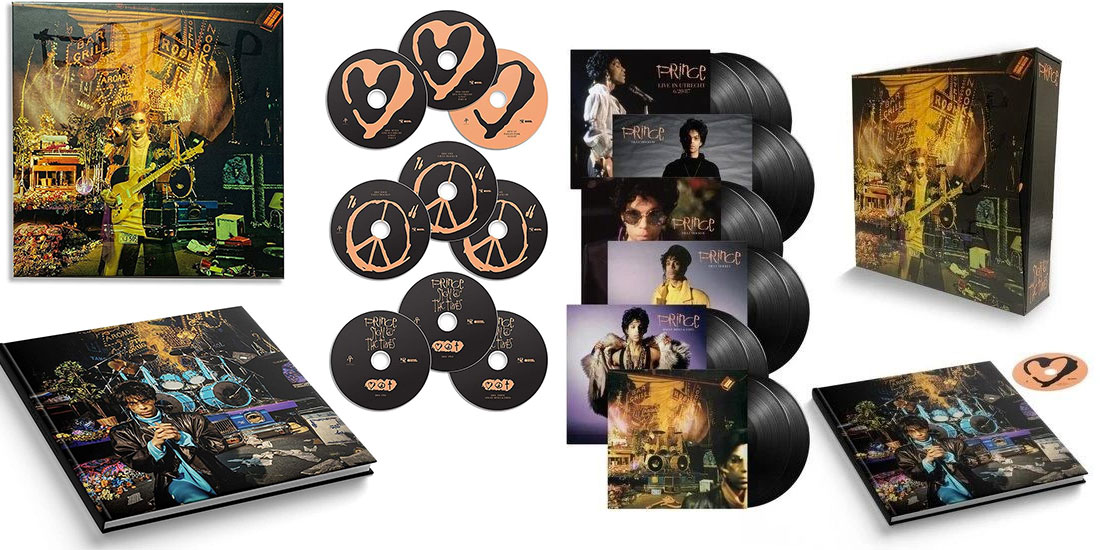 'Witness 4 The Prosecution', another Dream Factory cut, surfaces here in two different configurations, a harder version with The Revolution, and a more slinky solo, drum machine-heavy track. 'Power Fantastic' is the kind of big ballad that he could probably knock out during his lunch break, and the hopelessly obsessed amongst us will already know it – with slightly different vocals – from The Hits/The B-Sides collection that was released in the '90s. The breakneck speed of the jazz exercise 'And That Says What' is really just Prince and the band showing off, on the kind of jam that Stevie Wonder used to include on his double albums.
A song called 'Love And Sex' was cut during the Purple Rain sessions, and included on that reissue, but the track with the same title here is a different animal, a slower thing, punctuated by screaming guitar. There's two mixes of 'A Place In Heaven' – one with a Prince vocal, one with Lisa singing, and also 'Nevaeh Ni Ecalp', which is the Lisa version backwards, the kind of arsing about that The Clash were at around Sandanista!, but we'll allow it.
'Crystal Ball' was released in a brilliant ten-minute version in 1998, and there's a shorter mix here, which is still great, but it's just not as great as the other one. Maybe the compilers at Paisley Park felt they were running out of room, although that seems unlikely. 'Big Tall Wall' is another one that gets both the band treatment and a solo version, and the falsetto and claustrophobic drum machine sound of the latter shades it. 'In A Large Room With No Light' is a further Revolution knees-up, a re-recorded version of which was made available on the Montreux Jazz Festival website in 2009 when Prince played there.
Advertisement
Let us pause here for a second. I know what you're thinking, if you've made it this far. "Is he really going to go through every song? That's only disc one of the three sets of outtakes! It'll take forever and that's a mighty long time!" Well, I'm here to tell you that it's probably only fair to leave something for those who are really interested to discover for themselves. With that in mind, here are just some of the highlights from the other two discs. Try the hard bass-slapping funk of 'Emotional Pump', the pure gospel of 'Walkin' In Glory', an even-better-than-the-original alternate 'Forever In My Life', the irresistible groove of 'It Be Like That Sometimes', the so-far-over-the-top-it's-back-around-the-other-side 'Adonis And Bathsheba', even the lolloping reggae beat of 'There's Something I Like About Being Your Fool' – it is all astoundingly good, and remember, this is the stuff he left on the shelf.
There's even room for the kind of B-Sides, like 'Shockadelica' and 'La, La, La, He, He Hee', that would have been the high points of most other artists' careers, and extended versions of 'Housequake' and 'Hot Thing' that would have the needle on the sturdiest of funk-o-meters buried in the red.
There's no two ways about it, this is an expensive proposition, but, then again, it looks like you're not going to be going anywhere for a while, and, if you have to be locked in a room… It will surely take even the most mentally-unbalanced Prince nut ("Eh, hello?" – Ed, again) a lot of time to absorb everything here, but I suggest that it would be time very well spent. Normally, these kind of releases - although one this extensive is rare - are for the demented super fan only, but pretty much anything here could have been released by this demigod back in the '80s and we'd still be talking about it. It is that great.
Staggering, untouchable, unquestionable, irreplaceable genius; we will never see his like again.