'A Bowie Celebration' will donate $2 per ticket purchase to the Save the Children organization, a charity important to Bowie.
'A Bowie Celebration: Just For One Day!' is a global streaming event that will kick off 2021 with a star-studded Bowie tribute. On January 8 beginning at 6pm PT / 2am GMT, the event will be hosted by Mike Garson, David Bowie's longest standing band member. The stream will bring together an array of artists who worked with Bowie, or were deeply influenced by him and his work, for a celebration on what would have been his birthday and weekend of the fifth anniversary of his passing.
A new wave of artists has been added to the lineup, including the Grammy award-winning British music icons Duran Duran, vocal sensation Adam Lambert, UK chart topper Yungblud, three-time Grammy nominee Andra Day, actor/musician Michael C. Hall, Mott the Hoople icon Ian Hunter, singer-songwriter and virtuoso guitarist Anna Calvi, award-winning musician Atticus Ross, Kind Heaven Orchestra vocalist Etty Lau Farrell, and How to Destroy Angels vocalist Mariqueen Maandig Reznor.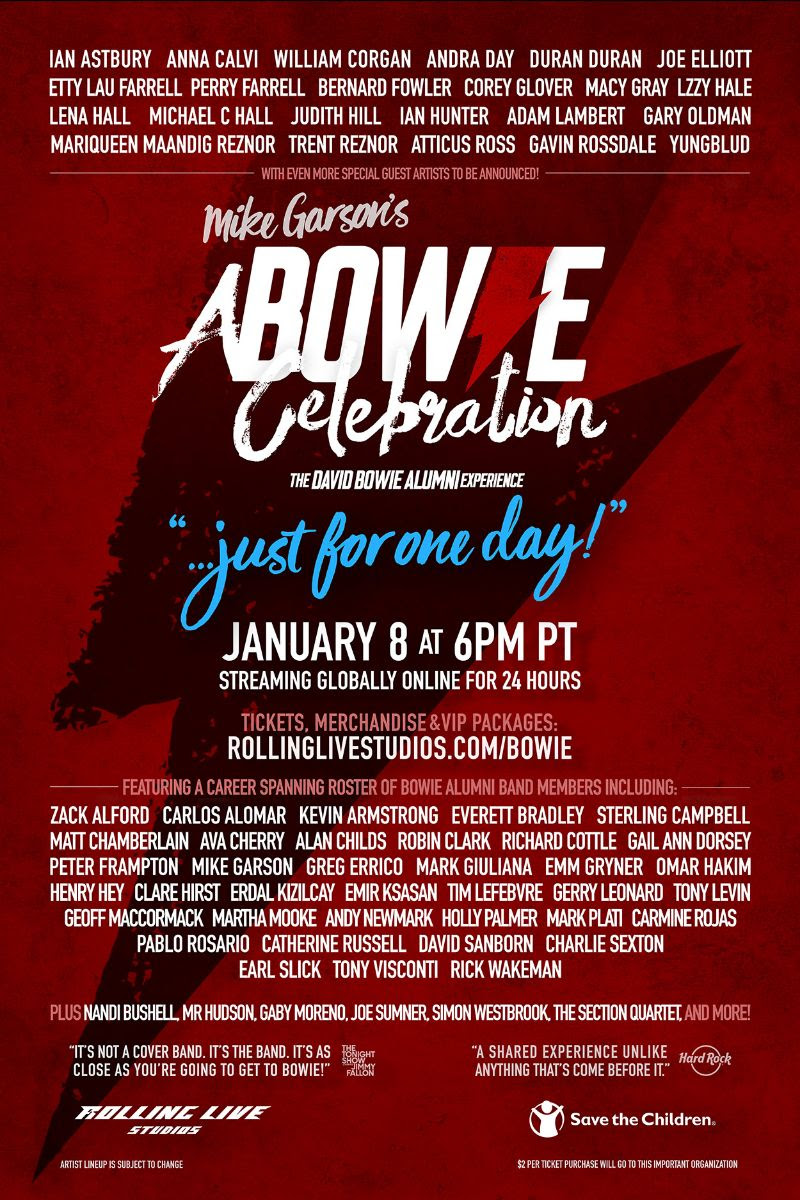 Advertisement
They'll join alumni members of Bowie's bands, spanning his 1969 self-titled album through his final album, Blackstar. Newly announced alumni returning to honour Bowie include Grammy Award-winning guitar legend Peter Frampton who was childhood friends with David and was featured on Bowie's Never Let Me Down album and his Glass Spider tour. Also joining the show is Grammy Award-winning saxophone phenom David Sanborn who recorded on Bowie's Young Americans album and was featured on his 1974 Diamond Dogs tour. Yes keyboardist Rick Wakeman also joins the special A Bowie Celebration stream on January 8 having played piano on Bowie's Space Oddity, Hunky Dory and The Rise and Fall of Ziggy Stardust and the Spiders from Mars albums.
Tickets are on sale now.