Karen Cowley, aka Krea, has released her anticipated debut EP The Callows today.
Irish singer-songwriter Krea has released her debut EP The Callows today, featuring a beautiful title track.
Karen Cowley (aka Krea) and her two bandmates announced a hiatus from Wyvern Lingo last summer, following which Krea was awarded the prestigious Music Bursary by the Arts Council.
Taking up a a residency at the renowned Centre Culturel Irlandais in Paris, Cowley dedicated her time to crafting the songs that would make up her upcoming solo EP (out today).
"The Callows are the flat grasslands along the Shannon, and the word comes from the Irish 'Caladh', for meadow," Karen explains of the EP's inspiration. "My mother is from Shannonbridge, Co. Offaly, where I spent a lot of time as a child. There's something really tranquil and ancient about the landscape there. I wrote 'The Callows' at a time where I was feeling unmoored and craving a stronger sense of identity and rootedness.
"Images of this beautiful part of the country kept coming to mind, particularly the view from where my grandparents are buried at Clonmacnoise Monastery along the river. The Irish landscape and the effect that it has on me comes into each of these songs in some way, so I wanted to acknowledge that in some way in the title and artwork."
Advertisement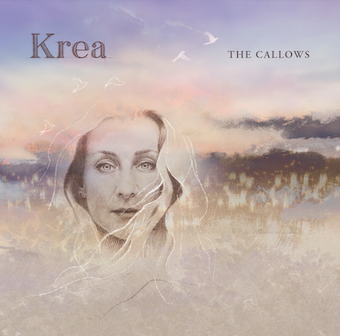 The title track begins with calm harp strings and stirring vocals on top of gentle piano chords. Otherworldly harmonies act as a bed of angelic noise, but her core voice is never overpowered by instrumental elements. "My head is begging me to fix this, but I feel numb and listless," she declares, seeking shelter and stability.
Krea has already achieved two number one albums as a member of the indie-folk band Wyvern Lingo. Her talent has also led her to collaborate with esteemed Irish artists such as Denise Chaila and Hozier, with whom she featured on the chart-topping duet 'In A Week' from the Bray native's chart-topping debut album.
In late 2022, Krea embarked on her solo journey with the enchantingly serene debut single, 'September Sun' - followed by 'Last Day of the Year'. In addition to her skills as a vocalist and pianist, Krea has recently taken up the harp, adding yet another layer of musicality to her repertoire.
To celebrate the release of The Callows, Krea will embark on a mini-tour across Ireland, bringing her captivating performances to audiences throughout the country; launching her project in the Workman's Cellar on July 30th.
Listen to The Callows below.
Advertisement
Confirmed Tour Dates:
July 14th - Garter Lane Theatre, Waterford
July 18th - Ruby Sessions, Dublin
July 20th - Frank's Place, Wexford
July 21st - Sea Church Ballycotton, Cork
July 30th - Workman's Cellar, Dublin EP LAUNCH
August 17th - Harbour Bar, Bray, Double Headliner with Caoi de Barra