Hatchlings are releasing a new EP Gay Hymns next Friday.
atchlings, an outfit known for their beautifully soothing harmonies, have released a stunning new track titled 'Choir in the Belly', the lead single from their forthcoming EP Gay Hymns, which is due for release on 19 April.
'Choir In The Belly' opens with the sort of warm and expressive three-part harmonies and gentle piano and guitar sounds that have become the signature sounds for the band.
Hatchlings is a collaborative project made up of five multi-instrumentalists and songwriters. Their sound consists mainly of folk and jazz infusions while remaining pop-conscious. The band has been compared to Grizzly Bear, O Emperor, and Villagers.
Over the past few years, Hatchlings have performed extensively in Ireland and abroad. They have enjoyed the position of House Band for the Arbutus Yarns stage at Body and Soul and as a result, have played with countless musicians and poets in impromptu settings.
The band have shared the stage with Planet Parade, Lemoncello, David Keenan, NEOMADiC and Lela Jane, to name a few, and are continuing to collaborate and gain momentum.
Advertisement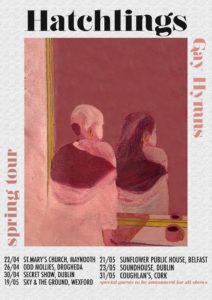 The Gay Hymns tour starts on 22 April in Maynooth, followed by dates in Drogheda, Wexford, Belfast, Cork and a Dublin show in the Sound House, on the 23 May. Besides the tour, you can catch them at Body & Soul, Knockanstockan, Electric Picnic, and Eichstatt Festival in Munich, this summer. They will also be announcing dates for a few shows in Germany very soon, which are to take place in August this year.
In a statement about the album, Conor Cunningham said "For this release, we wanted to explore a much softer palette than we used for our first EP, Montessori. What arrived was a collection of narratives that sit somewhere in the middle of folk and jazz, each with a keen eye on the ever-changing nature of Irishness. The songs were much more collaborative this time round.
"The opening track Conduit, for example, is a 2-part piano saga written and arranged by Eamon, with Peter and Jamie penning opposing lyrics for each section. The clarinet and drum parts were then left open for myself and Niall's own interpretation, each adding their own appropriate weight.
"We spend a long time as a band trying to find the balance that each song needs, and I think, for this EP at least, we found it".
https://open.spotify.com/track/3fJrHzAVQSvzRgRSyg7tFY?si=SdtKwiTyRla1Eip1gcCkYQ
Advertisement