The Lost Brothers' Oisin Leech on Bob Dylan: "What an honour it was to see Bob and his band work their magic in such a spectacular setting"
As part of our 'Bob Dylan at 80' special feature, The Lost Brothers' Oisin Leech (pictured, right) remembers seeing the legendary singer-songwriter live in Sicily twenty years ago...
In 2001, I had the privilege of seeing the last show of Bob Dylan's European Tour. It took place in the Sicilian town of Taormina in an ancient Greek amphitheatre overlooking the Mediterranean sea. To add to proceedings Mount Etna was erupting far in the distance behind Bob and his band. I remember the red night sky behind Dylan as he sang and played his acoustic guitar through a magnificent set which included 'Boots Of Spanish Leather' and 'One Too Many Mornings'.
Earlier that day some friends and I had busked some Paul Brady and Planxty songs in the town square. We ran our guitar amps through a petrol generator and soon had gathered a modest crowd eventually earning our ticket fare to see Bob that evening.
Dylan's gig was life-changing and when I think back now twenty summers later I realise what an honour it was to see Bob and his band work their magic in such a spectacular setting. We slept on the beach that night and were pleasantly surprised and amused to discover that our little street performance had caught the eye of the Sicilian newspaper the following morning.
Below is a clipping I found recently. It's from July 29th 2001- it shows Bob's glowing review front and centre and to the side there's an article entitled 'Those Irreducible Irish' describing a few vagabond street musicians called The Fluid Druids of whom I was the guitarist.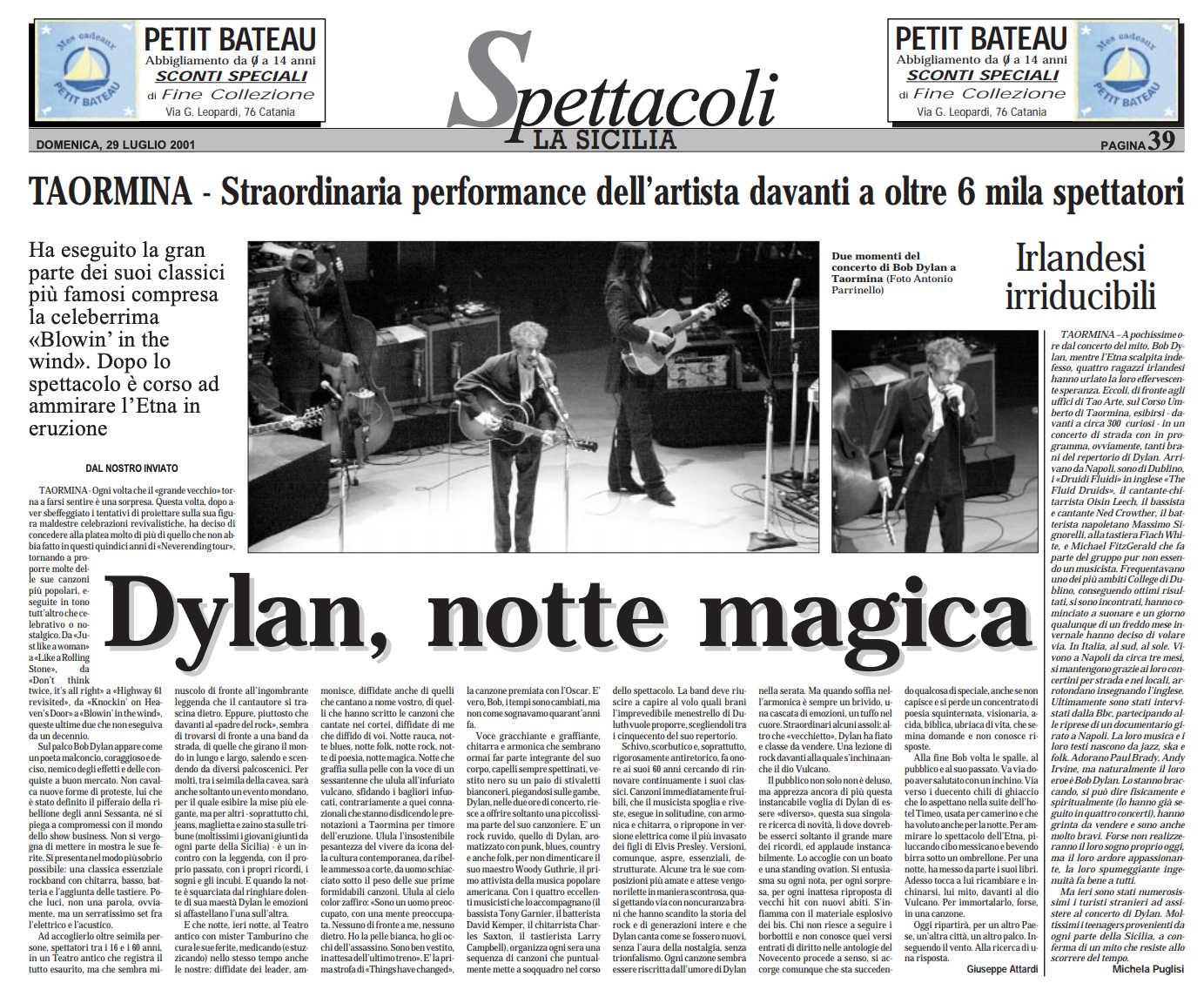 Happy Birthday Bob - and see you down the road.
Advertisement
At midnight by lamplight,
Your records of clay,
Throw dust 'cross the airwaves to shatter the pain,
The cogs of the mind spin
round your song,
And in one thousand years,
They will still belong,
In the libraries of art,
In the halls of lost love,
Beside Michelangelo and Catfish's glove.
(O.L)
Oisin Leech is a Meath based songwriter who founded Joey Procida's Folk Club and is one half of The Lost Brothers. Their sixth album After The Fire After The Rain was co-produced by long-time Dylan bassist Tony Garnier in New York in 2019.
Read the full Bob Dylan special feature in the current issue of Hot Press – out now: