Named IMRO Munster Venue of the Year 2018, Live at St Luke's Cork are gearing up for St Patrick's Weekend with a line-up featuring up and coming homegrown talent.
Irish cult band Interference will kick off St. Patrick's Weekend at Live At St. Luke's Cork on Friday, 15 March. Noteworthy for their live shows and for their powerful songwriting, centred around the late singer-songwriter Fergus O'Farrell, their sound has influenced a generation of Irish musicians, including The Frames/Swell Season frontman Glen Hansard, and are featured in the hit movie musical Once. Support on the night will come from Limerick's psychedelic-folk songwriter, Elaine Malone, recognisable for her haunting voice and poetic lyricism, combined with grunge roots and psychedelic leanings.
On Saturday 16th March, Scullion, one of the most popular and influential bands of the late '70s and early '80s in Ireland, return to Cork for what promises to be a very special night in the stunning former church. Sonny Condell, the creative core and inspiration for the band, continues to invent and innovate. He writes music and songs that are powerful, poetic, soulful, and joyful. Undoubtedly one of Ireland's most enduring creative artists, with Robbie Overson and Philip King, he creates the signature sound that is Scullion. Opening for the band will be songwriter and multi-instrumentalist from Wicklow, Anna Mieke. Expect to be treated to tasters from Anna Mieke's highly anticipated debut album 'Idle Mind', due for release in April.
Following on Sunday, 17 March, is Lankum, a group of individuals whose close vocal harmonies, instrumental interplay, and dramatic storytelling assure us that folk music can be angry, progressive, and is still very much a vital force today. Lankum will perform at Live at St. Luke's with special guest Jimmy Crowley. Their two albums 'Cold Old Fire' (2013, recorded under former name Lynched) and Rough Trade debut 'Between The Earth and Sky' (2017) breathe new life into ancient/modern rituals with urban punk fervour, rural psycho-geography and, underpinning it all, the eternal drone of the uilleann pipes.
Tickets for the individual shows (€23-€25 + booking fee) are available online from www.liveatstlukes.com, Pro Musica on Oliver Plunkett Street, or Henchy's Bar at St Luke's.
Advertisement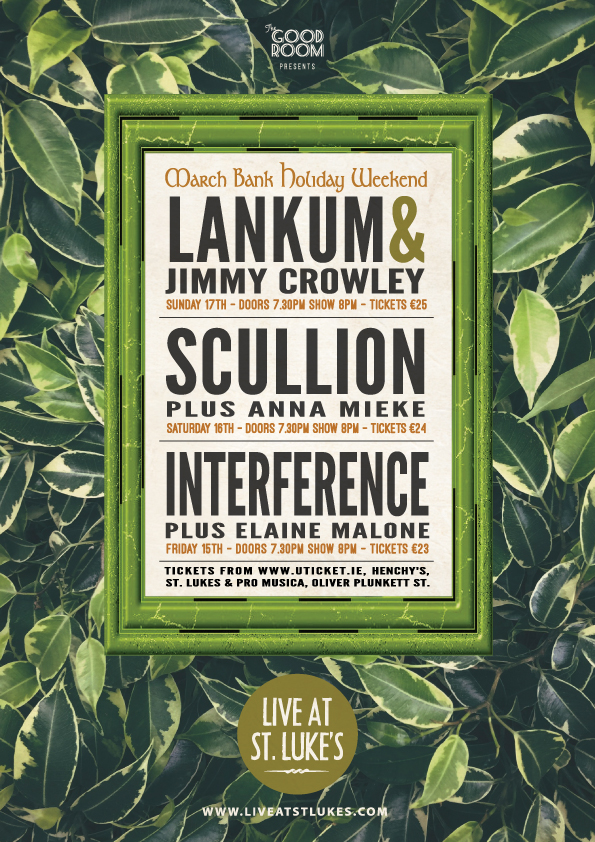 LISTINGS:
Interference plus Elaine Malone at Live at St Luke's Cork
Time & Date: Friday 15th March 2019 | Doors 19.30, starts 20:00
Tickets: €23 + booking free available from www.liveatstlukes.com, or from Pro Musica on Oliver Plunkett Street / Henchy's Bar, St. Luke's
Ticket link: https://uticket.ie/event/interference-live-at-st-lukes
Advertisement
Scullion plus Anna Mieke at Live at St Luke's Cork
Time & Date: Saturday 16th March 2019, doors 19.30, starts 20:00
Tickets: €24 + booking free available from www.liveatstlukes.com, or from Pro Musica on Oliver Plunkett Street / Henchy's Bar, St. Luke's
Ticket link: https://uticket.ie/event/scullion-live-at-st-lukes
Lankum plus special guest Jimmy Crowley at Live at St Luke's Cork
Advertisement
Time & Date: Sunday 17th March 2019 | Doors 19.30, starts 20:00
Tickets: €25 + booking free available from www.liveatstlukes.com, or from Pro Musica on Oliver Plunkett Street / Henchy's Bar, St. Luke's
Ticket link: https://uticket.ie/event/lankum-live-at-st-lukes