Niwel Tsumbu: "I've been living in Ireland for about 17 years. It's great to see culture from many different places coming into this land"
See Niwel Tsumbu's Heartbeat play the Sugar Club on December 6th as part of the Afro-beat Evenings from Improvised Music Company, Choice Cuts, and Dublin City Council.
Congolese master guitarist Niwel Tsumbu strikes me as an incredibly busy artist. When I call him up to chat about his upcoming show at the Sugar Club in December, I get an international dial tone. He's still in Paris, as the Artist in Residence at the Centre Cultural Irlandaise for this month.
A masterfully elegant and fluent guitarist, vocalist, musician, collaborator and composer; Tsumbu will perform on December 6th for the Afro-beat Evenings from Improvised Music Company, Choice Cuts, and Dublin City Council. It marks the first of three nights showcasing rich musical world of Afrobeat.
"I'm looking forward to it for different reasons," he explains, when I reach him. "I've been back playing live in front of people since the end of the last lockdown, so the novelty has worn off again. It's back to normal now. But I'm looking forward to it because this is the first time in a while that I'll be playing with this group of musicians. We're been playing songs that I recorded for an album a few years ago, so I haven't played those numbers in a long time."
Headlining as 'Niwel Tsumbo's Heartbeat', he will be joined by Peter Erdei (bass), Diego Ramirez (drums) and regular collaborator Éamonn Cagney (percussion). It will be the first time in a few years since this particular quartet have played together, he tells me. "The musicians in the group are very good friends."
"They're all artists that I've worked with the most in a lot of different sort of groups and combinations and projects over the years. As a quartet we did a few gigs, but then we haven't played this combination for about three or four years.
Advertisement
Tsumbu and co. are also due to be joined by a number of special guests on the night, but for now, he's opting to keep that surprise to himself. But he's excited to be part of the project, and is looking forward to each of the other nights in the series as well. Dublin favourites Yankari will play on December 13th, supported by  Selu & the Living Things, and Manden Express, who will close out 2021 with a bang on December 27th with support from Limerick's Elikya - New School Congolese Rhymba Orchestra.
"I'll definitely be at the other nights, I love Afrobeats," he tells me.  "It's great to see all the music.cI've been living in Ireland for about 17 years. It's great to see that there's more and more culture coming into Ireland now, from many different places, it's becoming quite normal. It's very different to when I arrived.
"There's definitely more definitely more musicians from all over the world - Iran, Nigeria, Congo. People are very open, from my experience. I've played all over Ireland; counties, remote places, cities and towns. The reception is really great to see - sometimes you play to people who have never heard anything apart from music that they already know. When you come with something new, these people seem to just digest it. That feels really good."
As well as playing all over Ireland, since his arrival in 2004 Tsumbu has also played with a stunning array of musicians from every possible genre. He's appeared with Trasna (Mel Mercier, Liam O Maonlai) at the Festival of World Cultures, and in China at Expo 2010 alongside famed composer Xiaohui Ma.
He's shared the stage with Baaba Maal and played concerts in his native Congo and Paris. His performances of 'Electric Counterpoint' at The Reich Festival in front of composer Steve Reich and at Kilkenny Arts Festival were a triumph, and he continues to collaborate with leading DJ Donal Dineen on his Parish live act, the Crash Ensemble, composer Roger Doyle, Eamon Cagney's Treelan ensemble, Dave Flynn's DFF, and many more.
One of his most recent releases was last years The Art of The Duo with percussionist Éamonn Cagney, and he also features on Rhiannon Giddens and Francesco Turrisi's latest collaborative album, They're Calling Me Home – recorded in Dublin's Hellfire Studio and now nominated for two Grammys: Best Folk Album and Best American Roots Song ('Avalon').
Advertisement
Tsumbu laughs when I ask him how it feels to technically be a Grammy-nominated artist.
"It's really, really great news. It's amazing to be part of part of that record, but the experience of it was really great: it will live with me forever. I've played with Francesco before a few times but I've never played with Rhiannon. So when I went to record them, it was actually a very, very interesting encounter. The way we recorded it, they didn't send me any music. I just arrived at the studio, and the engineer was ready to press record, and then they just explained the songs quickly. So all the music that is now nominated was improvised, not by choice!"
"I enjoyed recording, but also I was nervous, because these were all kind of first take songs," Niwel concedes. "It was just a really wonderful time playing with them, you know? They've worked together for so long so that they have already something going on between them. It was easy to just fit in with what they were doing."
2022 looks to be another year of traveling, projects and collaborations for Tsumbu. He plans to release a number of solo tracks he's been working on, traditional music he's arranged for guitar and voice. He will be travelling back to Paris, and onto London and Berlin also, for tours of projects he got involved in over lockdown, and has also got a project with Steve Cooney, Robbie Harris and Eamon de Barra. "We're doing some traditional Irish-influenced music. We just released a song two months ago, so we're now planning some gigs in the new year. We can't wait!"
Tickets for Niwel Tsumbu's Heartbeat on December 6th at the Afrobeat Series at the Sugar Club are €10 excluding booking fee and will be on sale at thesugarclub.com.
The Afrobeats Series from Improvised Music Company, Choice Cuts is presented as part of Dublin City Council's Live Local Performance Scheme supported by the Department of Tourism, Culture, Arts, Gaeltacht, Sport & Media.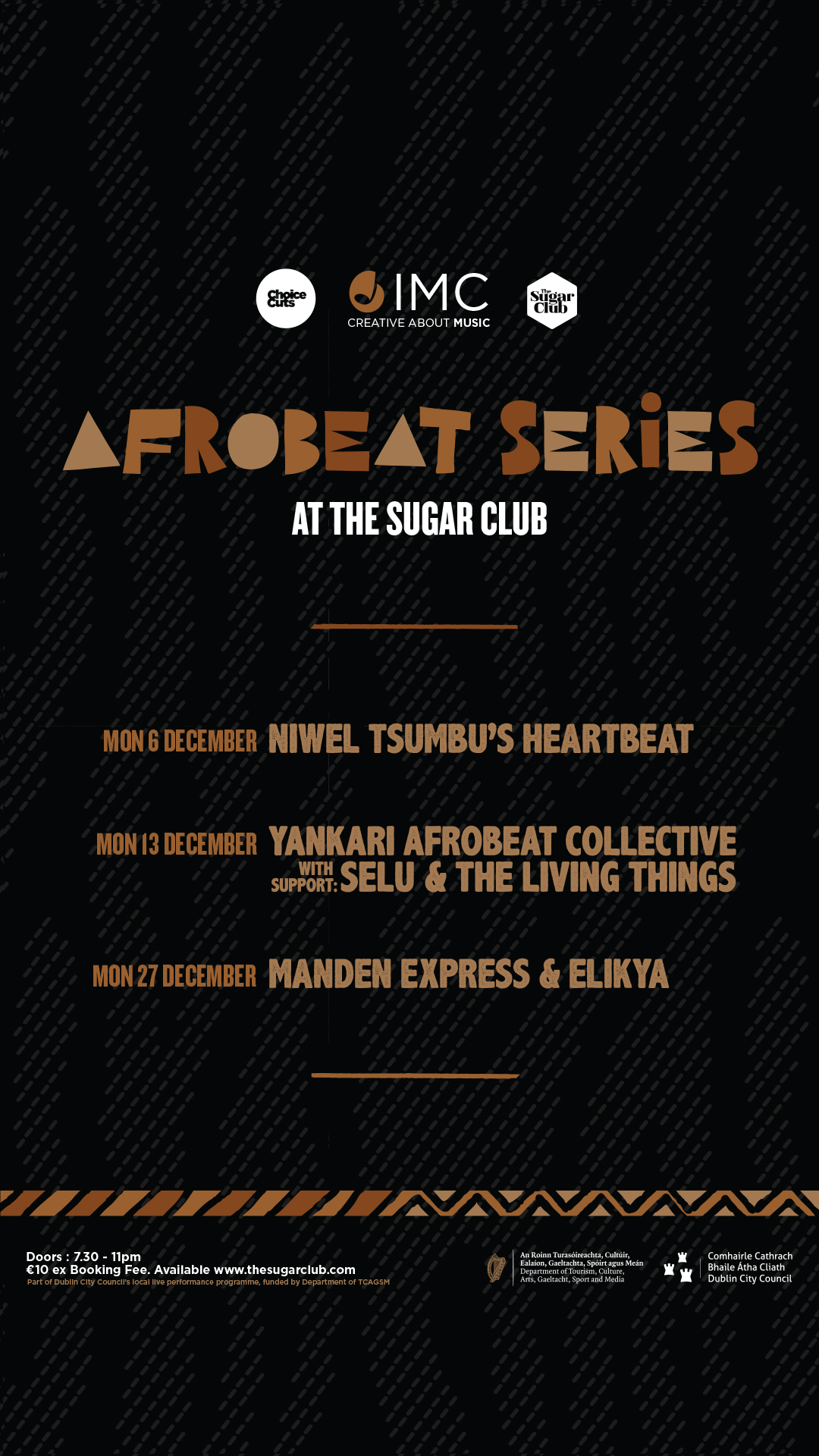 Advertisement
RELATED