The Chamomile Records co-founder from Lucan is reaching new heights.
Dublin-raised, London-based alternative R&B star Monjola has been chosen to support Kid Cudi on his 'To The Moon' world tour.
Monjola will open the Paris show for the Chicago hip-hop star on November 20th this year, according to AEG Presents France.
The rising alternative R&B talent is one of the Irish capital's most thrilling stars, exploding onto the scene with previous singles 'Smile', 'Know You', 'Feels Right' and 'Where u at' with fellow Chamomile Records co-founder Aby Coulibaly. He patiently perfected his craft by testing the waters on SoundCloud.
His confidence and seamless flow between rapping and singing propelled the infectious singles to instant success, with millions of YouTube views and Spotify streams combined. Monjola's own blend of smooth R&B innovation, mile-a-minute raps with clever wordplay and multifaceted vocals have earned him critical and commercial acclaim.
Check out the poster below:
Advertisement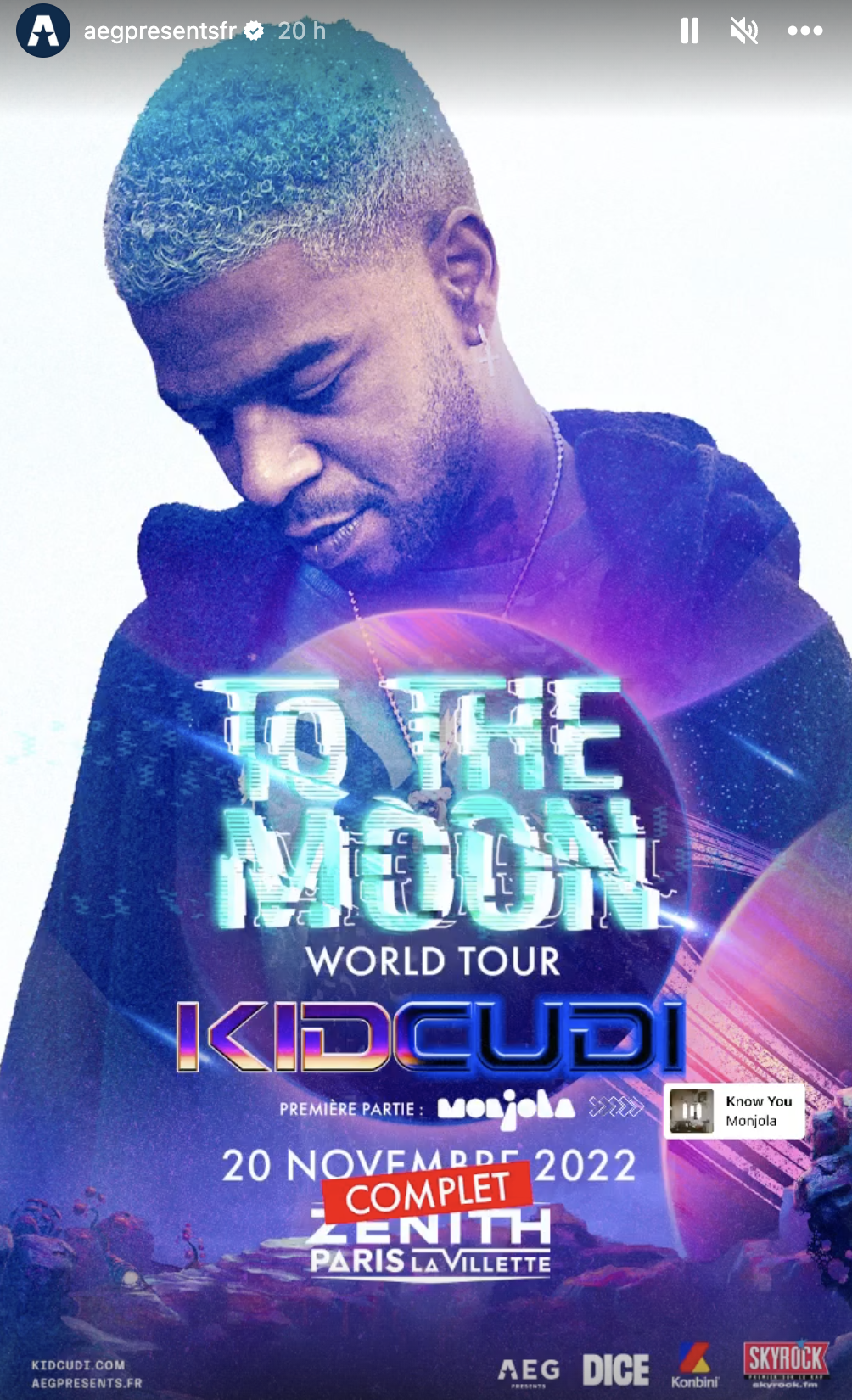 The Lucan native returned with a new single, 'Extrovert', in April alongside an accompanying video directed by Sam Fallover.
'Extrovert' is the hip-hop sensation's first release of 2022, and follows his guest appearance at Aby Coulibaly's explosive debut headline show in the Sound House, Dublin last Thursday.
The single sees Monjola alternate his voice effortlessly from sweet, serene soul to laidback rhymes. Written by Monjola with the help of his younger sister, Mope and produced by his brother Moyo, the song's instrumentation features soothing, jazzy guitar underpinned by punchy R&B beats.
Monjola says, "Extrovert is about not wanting to be alone but also feeling alone when you're around people. Pushing people away cause you don't wanna get hurt but at the same time also craving the company of the same people."
Released via Chamomile Records, a triple-venture co-founded by Monjola, Moyo and Abi Coulibaly - the trio often collaborate together. The black-and-white visuals include fisheye perspectives of Monjola's London life.
Advertisement
RELATED
Lifestyle & Sports
17 Nov 23