MIX (Music Industry Xplained) Course Wrap Night: Panel Discussion With Industry Experts
By: Stuart Clark
Big breaks, radio airplay, PR, festivals, merchandise, music colleges and the rise and rise of the Fontaines D.C. were among the topics discussed as some of Ireland's key industry players gathered for the Hot Press MIX (Music Industry Xplained) Course Wrap Night.
After thirteen fascinating weeks of lectures and masterclasses, this year's Hot Press MIX (Music Industry Xplained) Course culminated in another of its lively Wrap Night panel discussions.
Chaired by our assistant editor Stuart Clark, who's given up on Jeremy Paxman and is now trying to channel his inner Fiona Bruce, the words of wisdom were dispensed by:
Trevor Dietz – As manager of Fontaines D.C., he's helped mastermind the Dublin guitar merchants' journey from BIMM music college to the top of the Irish and UK charts with a detour via-The Tonight Show Starring Jimmy Fallon. Also a booker of bands and spinner of records in the Workman's Club, what Trevor doesn't know about the current state of the rock 'n' roll industry could be written on the back of a plectrum.
Luan Parle – Having signed to Elton John's Twenty-First Artists management company in her early teens, the Wicklow singer-songwriter bagged another deal with Sony Music that saw her work with the Grammy Award-winning likes of Bill Bottrell and Billy Steinberg. Eventually opting to go the independent route, Luan has released three critically acclaimed albums (number four is on the way) and become a director of the Irish Association of Songwriters, Composers & Authors.
Jenny Headen – Following successful stints with Universal Music, Sony Music Ireland, MCD and Entertainment Architects, she set up her own We Are Redhead PR operation in 2015. Something of a festival specialist, All Together Now, Forbidden Fruit and the new Yurt City dance event have all benefitted recently from Jenny's bulging contacts book.
Advertisement
Ruth Scott – Winning the 2fm/Hot Press DJ For A Day competition in 1996 was the launch pad for a distinguished radio career that saw Ruth spend 18 years with 2fm before joining Radio Nova. A regular fill-in on Virgin Media's Elaine Show, she's also become a humanist wedding celebrant and is much in-demand as an event MC.
FIRST RECORDS BOUGHT
Jenny: Bon Jovi's Slippery When Wet. I had the slashed jeans and denim jacket to go with it!
Trevor: U2's Wide Awake In America EP, which included a phenomenal live version of 'Bad'. I still get goosebumps listening to it.
Ruth: I'm the youngest of eight kids, so from about the age of three or four I was listening to James Taylor, Queen and Elton John. Unfortunately, my first pocket money purchase was Pseudo Echo's cover of Lipps Inc.'s 'Funkytown', which was down to me fancying the lead singer. Thank you 1980s!
Luan: Mine was The Beatles' Live At The BBC on cassette. We're overdue a cassette revival…
FINDING THE RIGHT ACT TO MANAGE
Advertisement
Trevor: Fontaines D.C. came along in 2016. I spotted them and put them on three or four times at the Workman's and then we decided to take the relationship from promoter to manager. I'd been putting on bands for twenty years and had my plan of attack ready for when one jumped out at me. I'd watched and studied the managers who came into the venue; people like Frank Murray, God rest his soul, who looked after The Pogues. He called me just before he passed away – Frank was looking after the Mighty Stef at the time – and said, "Have you found a band yet? No? Well, just go out and find them!" Lo and behold, these guys came along pretty soon after. In my experience, managers of successful acts are happy to give advice if they think you're serious about what you're doing.
At the start, when we decided to work together, it was really just one question. I went for a coffee with the boys in William Street and asked if they'd set their goals and their endgame. I wouldn't have worked with the band if they hadn't had huge expectations and huge dreams. If other people had heard the conversation that day they would have gone, "Jesus, these guys are nuts, it's not going to happen", but I knew we could go well beyond Ireland with this. So, first and foremost, you need a band that shares your vision and who are reliable, accountable and honest.
HAVING A HIT
Trevor: Did I expect Fontaines D.C. to go top ten so quickly? From the outside looking in, it seems immediate but it felt quite slow to us. The first single, 'Liberty Bell', was in May 2017, so there was two years of a wait before Dogrel came out.
We didn't realise we had such a big hit on our hands until the label started tipping us off about the UK pre-orders being though the roof. I don't think the charts mean anything to eighteen-year-olds but, having grown up with them, they're still part of how I measure things. I was there the week of release going, "Are we selling more than Emma Bunton? How are the Chemical Brothers doing? Are we going to get top five?" It felt very bizarre!
THE PUBLICITY GAME
Jenny: I started in Universal Music in Dublin in 1999 and stayed with them for a few years before moving to Sony where I did PR and radio plugging for every type of act you can imagine; punk, heavy metal, hip hop, country, MOR… If you want to work for a major label, you need to have an understanding and appreciation of all sorts of different music. If it's an independent record company, you mightn't necessarily need that breadth but I do think you're limiting yourself if you're just, say, into heavy metal and want to work exclusively with those sorts of acts.
Advertisement
I learned a lot about releasing records and promoting bands, but more and more it was the live side of things that interested me. So, after a brief spell working on the Witnness festival, I joined MCD where, again, you're dealing with a really broad range of acts. Being with MCD – who are such a massive operation now – gave me the knowledge and confidence to set up my own PR company, which looks after a lot of festivals. I've been in the music business for twenty years, but I'm still learning new stuff all the time. If you say, "That's it, I know everything there is to know" you're in trouble.
THE RIGHT PR FIT
Jenny: The very first thing I ask people who approach us wanting PR is, "Please can you send us your music." It's because we have to love it to work it. I'd be very suspicious of a publicist that agrees to work with you before they've heard what you want them to plug. Then we sit down and talk about a plan. What do they want out of it? Gigs? Radio airplay? A record deal? A Late Late Show appearance? I'd be very wary of somebody guaranteeing you the Late Late before the campaign's even started! It's about goal setting, it's about timelines and, you know, "Is this feasible? How do we roll it out?" For want of a better cliché, you need to be on the same page. A lot of research goes into PR-ing something. You have to know the DJs and bloggers and journalists in Ireland and beyond who are likely to be into what you're promoting. You have to exercise quality control, otherwise they're not going to take your calls or open your emails.
BECOMING A RADIO DJ
Ruth: I entered the DJ For A Day competition in 1996 with a cassette tape – remember them? I'd done a few days of rag week radio at college – my degree was in European Studies, so I have no official broadcasting training – and thought I'd chance my arm. After I got into the final and won it, I got offered a job doing the breakfast show at Live 95 in Limerick, which was a very steep and necessary learning curve. It's a bit like being a pilot in that you only become good by building up your hours. You need to go on air and make an absolute fool of yourself. Which I did a lot of in Limerick! Then RTÉ came back to me and said, "Do you want to come up to Dublin?" which to somebody from the West was code for, "You're set for life!" So I started working on 2fm and was there for the guts of twenty years until about three years ago when they booted me out, which happens quite a bit in radio – upsides and downsides.
Now I work for Radio Nova who are the soundest lads ever. I do a lot of other things as well because the days of only being a radio presenter are long, long gone. To make a living now you need multiple strings to your bow. Wedding celebrant, event MC… bar mitzvahs. I'm doing them all.
As for getting into radio now, I'd strongly recommend volunteering for the student radio station if there's one at your college. Quite a few of their presenters go on to work for the likes of Spin Southwest and iRadio. It's volunteer work, but community stations like Dublin South FM take people with enthusiasm rather than experience and train them up. Communicorp has an online station FRQ FM, which they're using to nurture new radio talent.
Advertisement
LAUNCHING A CAREER
Luan: I was a kid who really just loved to sing. I started writing songs when I was eleven and got to perform 'I Look Up To The Sky', which was a Christmas ballad, on the The Late Late Toy Show. On the back of that, I got invited on to a couple of other TV shows, and signed my first record deal aged twelve. It was kind of mad but taught me a lot – good and bad – about the industry. I kept on performing all the way through my Junior and Leaving Cert, and then recorded a little EP. I bought myself a copy of the Hot Press Yearbook and sent it off to everybody in the record company contacts section. I got a lot of refusals but that didn't stop me. I put pen to paper and sent the EP to you, Stuart. You did a lovely little piece in Hot Press, which lead to me getting a call from Sony. That's basically how I got my second record deal.
Management-wise, I signed to the company owned by Elton John, Twenty-First Artists. I got to open for him in the Hammersmith Odeon, which was as mind-blowing as it sounds. Rocketman is on my list of films to watch, but it'll be hard because I was living in that bubble.
I ended up recording an album in the States with a guy called Bill Bottrell, the Grammy-winning producer who worked with Michael Jackson and The Traveling Wilburys. The album didn't get released – there's a lot of that in the music industry. The choice is either give up or learn from it. I went for the latter and have been independent now for the last ten years. It has its pros and cons but overall I like the feeling of being in control.
GOING TO MUSIC COLLEGE
Trevor: The lads don't give it much kudos in terms of making Fontaines D.C. what they are but, again as an outsider looking in, I think what they got from the BIMM course is the total confidence they have in each other. When you see a band coming through, there are all the various egos. There's a leader, there's a follower, and there are the quiet ones. You get guys who are afraid to sing in front of each other whereas with Fontaines D.C. they don't care. They're 100% comfortable in each other's company and will burst into song at any point. That comes from performing the whole time at BIMM. One of the big strengths of the course is that most of the tutors are active musicians. The stuff they're talking about and teaching is right up to date.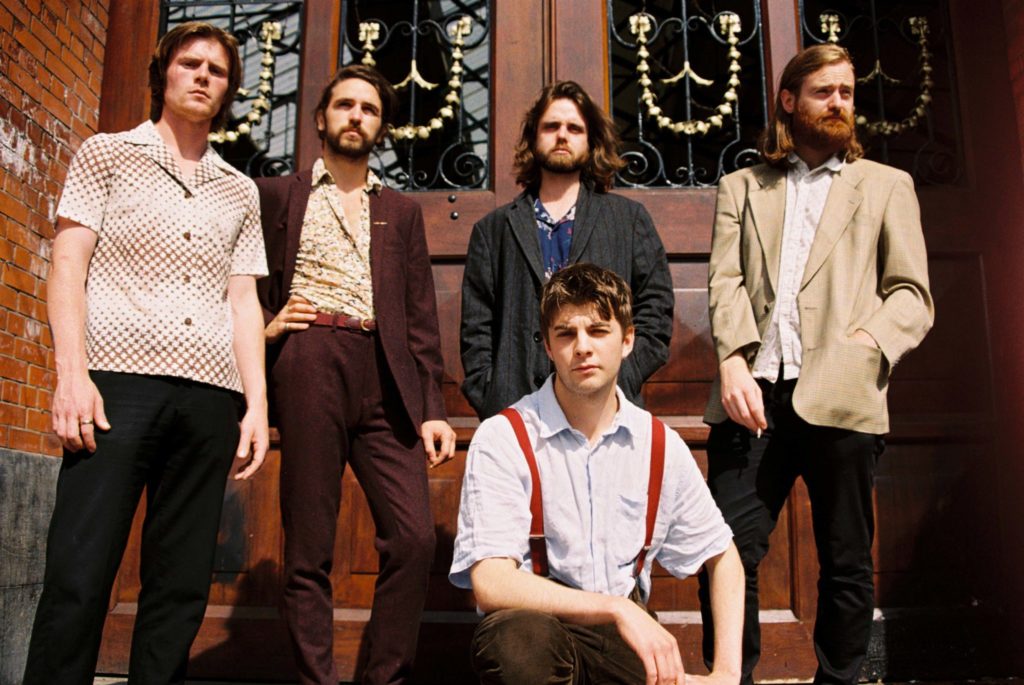 Advertisement
THE DIY ETHIC
Jenny: There's such an opportunity to decide for yourself how to plug, distribute and talk about your music. Technology is a big part of it. When I was starting out in the business, you had to go into a studio and pay a hundred quid an hour to record something that was releasable. Now you can do it on a computer at home for more or less free. You can either sign to a major who have their own in house people or remain independent and piece together your own team. You don't even have to be in the same country as them because it can all be done over the internet.
Ireland has a deadly hip hop scene now, and those artists are really good at using social media to get the word out.
Luan: As an independent artist it used you to be massively expensive to get your music to journalists and DJs – all those CDs, scrawled letters, stamps and Jiffy Bags! Two years ago, the Irish Association of Songwriters, Composers & Authors was involved in the setting up of Yangeroo, which is a digital delivery service. There's a quality control filter applied to what gets sent out, so those journalists, DJs and now bloggers know what they're getting is worth listening to. It's saving artists hundreds, possibly thousands of euros every time they release something. Jenny's right, there are so many different platforms out there. Embrace the change. It'd be great if people bought as many records as they did twenty years ago, but they don't. You need to work with these new platforms rather than resist them.
What have come back into fashion big time are videos. They don't have to be expensive. You can reach out to somebody who's studying film production in college and say, "Do you want to try and get your name out there?" You can make something really cheap that looks really good.
There are only so many hours in the day so that building up a team thing is really important. I do my own booking in Ireland, and have a brilliant German lady, Petra, looking after things for me in Europe. She organises all these little house gigs – it's a big thing overseas. The host transforms their house into a venue and invites their friends who all pay the normal ticket price to be there. You sell a lot of records at house gigs. It's really cool.
Trevor: Before the Fontaines were a band, they put on some spoken word nights at the Workman's and released two poetry books together. They had the confidence to expose themselves lyrically and get their ideas out.
Advertisement
As a manager, you want to know that a band are capable of doing things for themselves. Part of the reason I was so attracted to working with the lads is that they have a very simple way of putting their stuff across – particularly on social media. Promoting their early gigs before I became involved it was, "Fontaines, time, place." There was no hard sell, no "come see us." There was nothing gimmicky about how they presented themselves. And they still point-blank refuse to compromise on that. They just put the songs out there and your Pitchforks, Guardians, NMEs and Hot Presses sold it for them with their good reviews. It wasn't calculated, but their understated way of doing things has become a bit of a Fontaines D.C. trademark.
GETTING AIRPLAY
Ruth: Do you know what flipping does my head in? When somebody emails me and says, "I sent you a CD; can you listen to it and tell me what you think?" There's no MP3 or link. I might be out of the office reading the email so I can't root around my desk to find it. Make stuff as simple as you possibly can and be aware that most people in radio have really short attention spans. Anyone remember Vine? They were six-second videos that I'd watch going, "Oh God, too long!" Also be aware that 95% of DJs work off a playlist. They might have some input, but ultimately it's the music scheduler who decides what you hear. The person doing that at Nova is Greg Gaughran who chain-listens to new stuff, even though the majority of what we play is classic rock.
Most stations will, though, have one person like Peter Devlin who curates his own show on Nova on Saturday evenings. He's a musician himself and plays a really eclectic range of music. Find out who the other Peter Devlins around the country are.
Trevor: Contrary to what other people might tell you, radio is not dead and airplay still sells records. The support we got early on from Steve Lamacq on BBC 6 Music was a major factor in us getting signed. We released our first three singles ourselves and were prepared to do the album that way as well, but because of him playing 'Checkless Reckless' off the air all of these really cool industry people started coming to our gigs. After one of them, we got a call from Partisan Records, a label with a big presence in the States. I was hugely impressed that they'd already signed the Black Angels who I'm a massive fan of, and Idles who we've just finished doing thirty dates across the States with. Matt Berninger from The National and Steve Jones from the Sex Pistols were both at the L.A. gig. Stuart Pierce the footballer and Shane Meadows are also big fans, and Elton John – him again! – bought Dogrel on Record Store Day. Anyway, there was no bullshit, no playing games. It was, "We want the band." The gig was on the Wednesday, Partisan rang on Thursday and on the Friday they sent their A&R man, Jeff, to Dublin. It moved that fast.
MAKING THE MOST OF AN INTERVIEW
Ruth: I had to interview Gay Byrne once and was really nervous about it. I was like, "What if all my questions are shite?" Anyway, Gaybo's full of chat and afterwards tells me that whenever he's the interviewee, he turns up with three stories in the back of his head. If there's a lull in the conversation or the questions are indeed shite he can go, "That reminds me of another time when…" and run with it. You wouldn't, I hope, go on stage without a set-list so don't go into an interview with nothing to talk about. Think about the group dynamic; there's no point in the silent strong type sitting nearest to the microphone. You'd be amazed at the number of artists who are the silent ones and sit at the front when you really want the gobby keyboard-player!
Advertisement
Jenny: An interview is often your first point of contact with somebody, so if it's dull and boring they're going to think your music is dull and boring. You're not a comedy act, you don't have to crack jokes, just have something interesting to say and opinions on things.
LEARNING HOW TO SAY "NO"
Trevor: You want as much press as possible, but at the same time you've got to protect the guys' physical and mental health. So we won't be doing 46 interviews at the next festival, there will be two. I have to figure out how much we can take on without the lads being driven insane. Everyone at Partisan is fantastic, but I've had to tell them: "Don't always expect an immediate answer when you email because that's not how it works. Everything gets put to the band." Part of my deal with the lads is that they won't find themselves in the position where they say, "Hold on, we didn't agree to this." There's constant communication. I'm sure it's infuriating for the label, but if the response takes a day, it takes a day.
They say that band democracy doesn't work, but it does with Fontaines D.C. We could easily have done sixty festivals this summer, but that would have meant no time for writing, no time for rehearsals, no time to focus on their relationships. The reason so many bands release shitty second albums is that they don't say "No" to things and get two months to write and record it. That's not going to happen with Fontaines D.C.
KEEPING AFLOAT FINANCIALLY
Luan: The money's in the merchandising. A friend of mine, Emma Langford, got t-shirts done up that you can put on your dog! People are far more likely to buy that sort of stuff at a gig than online, so you need to take a good range on the road with you. CDs and vinyl sell really well at shows, and to stand out a bit I've put my music on a memory stick.
Advertisement
Publishing is the other big one. The Irish Association of Songwriters, Composers & Authors is always happy to give artists free advice. We're not only for performers, but also those people who sit in a room at home and write songs. We're a big part of the Play Irish initiative and have just launched the Irish radio music app, which is curated by musicians and DJs and people in the industry. It's all helping to develop a sense of community.
As Ruth said, you have to have your fingers in a few other pies. That's super important. For the past ten years I've been doing songwriting workshops in schools. I love it and it's still within music.
Ruth: I was just thinking I might start selling merch. I do gigs for the Dublin Chamber so I'd be there in my newsreader dress going, "Anybody want a tote bag?"
CAREER HIGHLIGHTS
Ruth: Top of the list is getting to work with Larry Gogan. I'm in radio twenty years, and he still calls me a youngster, which makes me feel amazing. Larry is very kind and wise. I got to do radio reports whilst climbing Kilimanjaro, which was wonderfully surreal. This is going to be a total ball of cheese, but I met my husband through radio. He was a listener who rang in to take part in a competition and lost. He Facebooked me to say "thanks" for the Disney Hits compilation we sent him as a runners-up prize and when I saw his picture I was like, "What? He's hot!" and I married him.
Trevor: Surviving through this game for the past twenty years without having to compromise. I've never had to put a DJ or a band on that I thought was shit. And, of course, it's lead to my involvement with Fontaines D.C. It'll probably have to die down a bit before the madness of what's happening really sinks in. Incidentally, bands looking for a gig should just Facebook me. If I like your stuff, we'll start you off with a Bank Holiday Sunday at the Workman's. That's kind of how Just Mustard and The Murder Capital came through.
Advertisement
Jenny: It was a real privilege to work with John Reynolds on the first All Together Now. It was John's vision to put on an event of its nature and scale with so many different elements. From the music and the spoken word to the low-key branding and the festival's sustainability ethos, John, who took such pride in the events he put on, dreamed it all up himself.
Luan: I'm a massive Prince fan, so nearly fainted when I got to meet Wendy and Lisa in A&M Studios in Hollywood. That compensated a bit for the album I recorded there not being released! Another time I was in the communal canteen at Sphere Studios in London and was invited to sit down and share a pizza by this familiar looking guy who said, "Hi, my name is Brian May." We had the most amazing chat. And then, of course, the Elton gigs. You take the knocks, but also get these amazing experiences.
Hot Press MIX (Music Industry Xplained) returns in 2020. For more information, see here.