"Thanks to all who did support us and slept on couches and worked long hours and for free all to support madame X," Madonna wrote in a since-deleted Instagram post.
Madonna has caused backlash after revealing that many of her employees worked "for free" as team members.
In a since-deleted Instagram post, the singer shared an image which alludes to violence against women, with the caption going into detail about her recent V Magazine shoot inspired by Marilyn Monroe's death.
The pop legend posted a behind-the-scenes snap showing photographer Steven Klein holding a knife to her throat, taken during the controversial Marilyn Monroe photoshoot.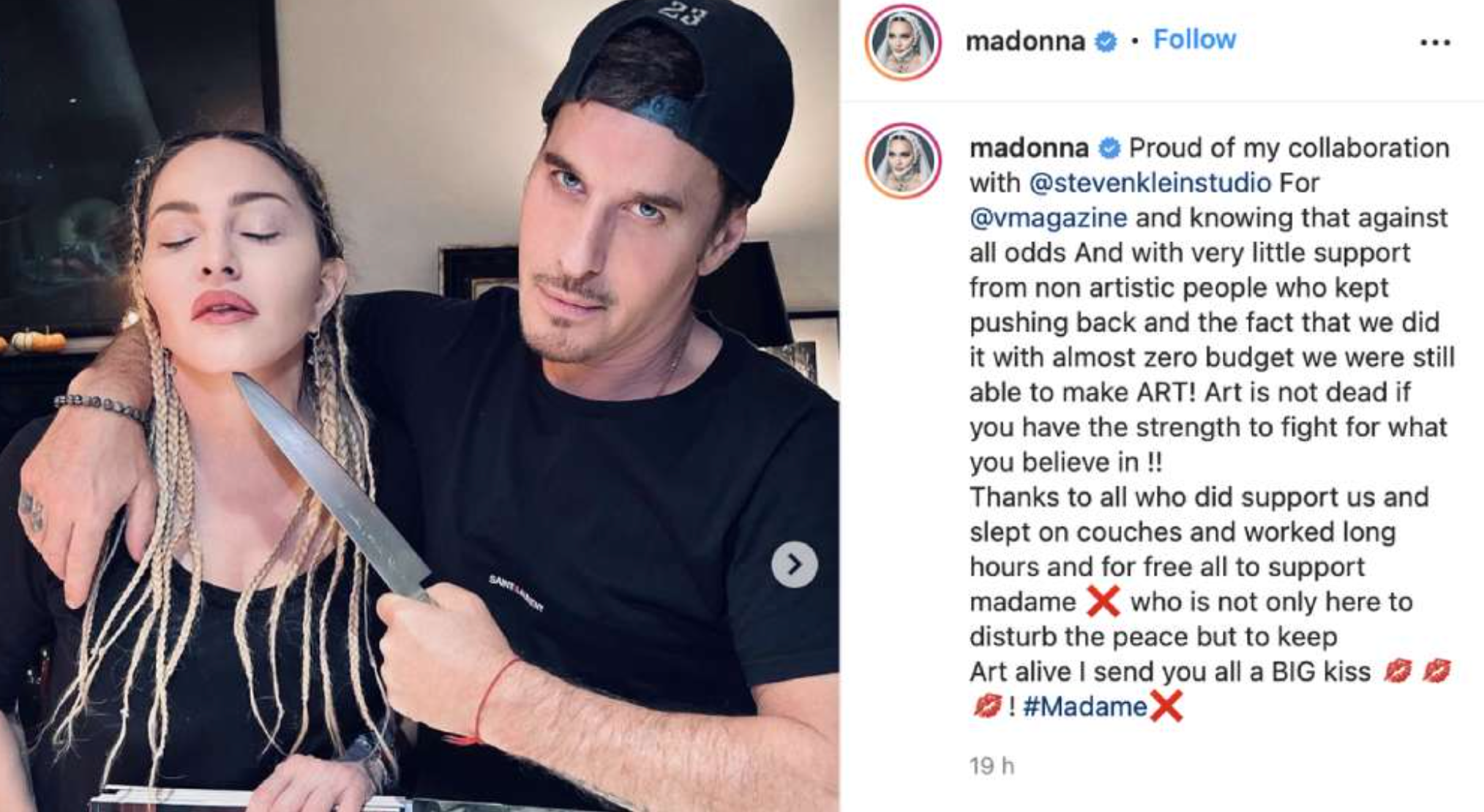 Credit: Instagram/@madonna
"Proud of my collaboration with with @stevenkleinstudio For @vmagazine and knowing that against all odds and with very little support from non artistic people who kept pushing back and the fact that we did it with almost zero budget we were still able to make ART ! Art is not dead if you have the strength to fight for what you believe in !!" part of Madonna's caption read, before it was deleted.
Advertisement
"Thanks to all who did support us and slept on couches and worked long hours and for free all to support madame X who is not only here to disturb the peace but to keep Art alive I send you all a BIG kiss."
Needless to say, the disappointment of many at the star's failure to pay her team was swift.
"Absolutely mad that millionaires can sit around and act like they made some enormous sacrifice for the sake of art on the backs of other artists when they could barely sacrifice a cent. If you really care about art so much, then care enough to pay for it and give it value," one Twitter user said.
"I'm so tired of rich artists exploiting the hard work of other artists and then acting as if it was all a labor of love, and not a love of free labor. Pay your people, you can afford it."
Hey @Madonna, if it was created by unpaid or under paid labor, it's not called art, it's called a pointless exercise in exploitation.

Reach into those very deep pockets would you? https://t.co/n9beoYcxaT

— Ben Beckford (@bbeckford) November 23, 2021
Madonna was criticised for the recreation of Monroe's death, with images that included empty pill bottles. The Madame X singer is seen posing in similar positions to Monroe's final shoot, Bert Stern's The Last Sitting (1962), which was completed six weeks before the actress' death. The shot in question shows the 'Like A Virgin' artist laying face down on a mattress, exposed.
Advertisement
Marilyn Monroe passed away from a drug overdose at the age of 36 on August 4th, 1962. Madonna has been said to have had a fascination with the Hollywood icon for decades. The pop star's 1984 music video for 'Material Girl' was based on Monroe's performance of 'Diamonds Are a Girl's Best Friend in 1953's Gentlemen Prefer Blondes.
She also played Monroe during a Saturday Night Live sketch in 1985, and dressed up as the glamorous actress in a sparkling strapless gown and white fluffy stole for an Oscars afterparty in 1991.
For some morbid and eerie reason, Madonna decides to re-create Marilyn Monroe's death bed. The black and white photo is actually Marilyn Monroe's bedroom where she died. pic.twitter.com/beQJ1Av3Ij

— Mike Sington (@MikeSington) October 29, 2021
Photo credit: V Magazine