Levi Evans: "Being a young kid, seeing all these people coming to see my dad at stadiums, it's a lot to take in..."
The son of iconic U2 guitarist The Edge, Levi Evans is a dab hand at music himself, as evidenced by his excellent series of pop and hip-hop singles. He talks about his Irish roots – and his new life in LA...
It's 10am and enviably bright and sunny in Los Angeles, where Levi Evans is based. The son of U2 guitarist David Evans aka The Edge, Levi was just 14 years of age when he moved to LA, and his Irish accent is still intact. Eight years ago, he was studying at Wesley College in Dublin. Switching from Ireland's characterisatically grey skies to sunny Los Angeles may sound like a dream come true for some, but it wasn't an easy change for a teenager to make.
"Leaving at that age was a huge adjustment," Levi admits, recalling the sudden alternate universe he found himself in. "I moved to the public high school and it took a while to find my feet there, but after about a year I made friends and it got easier. I was living in Venice Beach at the time and Santa Monica, but I'm in a different part of LA now. It's so big, I feel like I've barely scratched the surface."
Sporting a white hoodie and giant black headphones, Evans looks the part, for what is one of his first interviews – although he has been doing the college radio circuit, discussing the inspiration behind his brand of pop/R&B and hip-hop.
"Demon Days by Gorillaz was just so influential to me," he grins. "It really sparked my love of music, because it was always part of my life. I don't remember what age I was when it came out, maybe around seven, but it's still stuck in my head. I remember I had an iPod Shuffle as a kid, and I never knew what I was listening to because there weren't song names. I would just download a big playlist off my folks' iTunes. A lot of the time, for me, there was no face or even name to the music."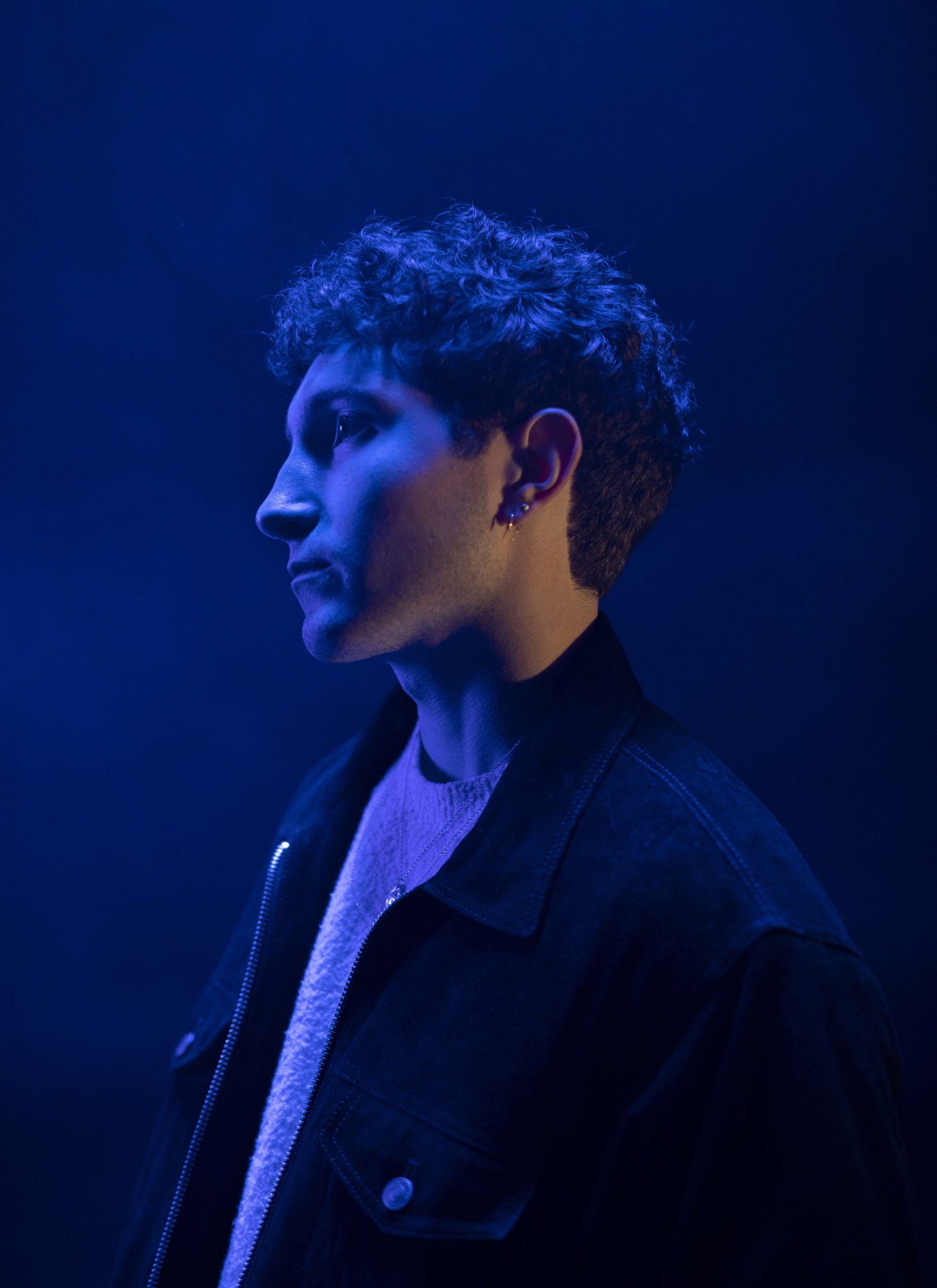 Advertisement
Notwithstanding the fact that The Edge is his dad, Levi took his time before deciding that a music career was for him.
"It's a beautiful thing, but it took me a while to figure out that I wanted to do this as a career," the 22 year-old confides. "For a while, I wanted to be an animator. It wasn't until I was 16 and my friend got me into '90s hip-hop that I connected with it as a possible career. For a long time, that was all I listened to. I was under a rock. When I first made music as a teenager, I was doing hip-hop production and started rapping! It had nothing to do with my dad or anything like that. I got into college to learn more production. But as I matured, I started singing and realised it was more my pace. My first stuff was super-juvenile, but it was true to me."
Having flirted with the idea of doing a degree in music at the University of Miami, Levi left to intern at record labels and learn the craft hands-on.
"People definitely told me my first stuff was juvenile, but I swear it's not bad!" he laughs. "I still go back and listen to it, but I only released it for a second before taking it down. There was definitely some constructive criticism handed out to me.
"That's fine," he adds. "I feel like I've always taken those comments pretty well. I listen, but I'd never get mad about it. I'll always test out other people's theories of what I should be doing – if I believe in them."
Levi still runs in the same circles, maintaining his friendships with Dublin artists Malaki, Matthew Harris and Lucy McWilliams from his US residence. Evans' latest single 'Bug Bite' is a collaboration with the latter, combining lush electronic elements with laidback lyrical delivery and a captivating beat.
"I've known Lucy for ages, we kind of grew up together," says Levi. "I did the production for 'Bug Bite' and I wrote the chorus and a verse. I knew that a female voice would be really, really great. Who other than Lucy, you know? I hit her up during quarantine when I was in LA and she was in Dublin or Berlin – I can't remember which. A month or two later, when she had time, she sent back her verse. Lucy recorded over the chorus and then I mixed it all together. I'm super-proud of it."
Advertisement
As of now, Levi's music is difficult to categorise.
"If you listen to 'Numbers' versus 'Bug Bite', they're such different songs," he reflects. "I have another single coming out that I actually made a few years ago. The genres are so out there. There's a guy called Oliver Malcolm who's a bit similar, in terms of writing acoustic songs as well as rockier songs. He's got crazy production and samples. People today listen to everything, though, because of streaming. I'm coming from that generation of listening to a wide range of genres, so I tend not to put myself in a box. If I feel pressure to make a certain type of song, then I just won't make anything. Having freedom is important.
"'Numbers' is my favourite song that I've put out so far. I played it at a couple of shows and it went down well. I wrote it before bed when I was just trying to make more songs for my setlist, but then everyone seemed to love it."
With his streaming numbers growing by the day (currently sitting at a cool 50,000 monthly Spotify listeners), Levi has adapted to being in the spotlight.
"I actually love being involved in music videos and in front of the camera," he enthuses. "Sure, it can get a little awkward sometimes, but I've gotten more used to it. A switch goes off in my head and I just get in the zone. I really enjoy being on set and being a part of something bigger than me. It's a good time. I definitely do get stage-fright though. Especially in the minutes or the hours leading up to a gig. I'm always questioning whether this is really what I want to do, but it's always worth it in the end.
"I did a few shows – in Dublin and in LA – and I was really nervous. I put on this facade, like an alter ego. Now that I'm playing with more instruments, I really see how scary acoustic shows can be because you're out there on your own. There's no backing track, so you can't hide behind anything. Those are the most nerve-wracking moments. If you mess up once on guitar, you're very vulnerable."
Advertisement
Having a U2 member as a parent must surely create high expectations.
"I don't think about the pressure too much," Evans shrugs. "Subconsciously, there probably is more of it on my shoulders when you have a parent in the industry. I want to be successful but the question is, what does that look like for me? Being a young kid, seeing all these people coming to see my dad at stadiums, it's a lot to take in. I'm staying positive and loving what I'm doing rather than letting it get to me.
"I could probably handle fame, for the most part ," he adds. "I guess we'll have to see when we get there, you know? An international tour is definitely on my bucket-list, but that's it for now. We're getting the live gig together and a solid band. I'm really looking forward to that. It's one step at a time, in terms of goals. Dublin is on the list, for sure. London as well… wherever the audience is. We're still in the beginning stages of building that up. Some American cities would be great.
"I have a couple of things coming down the pipeline. There's no release date for my new single, but it's coming soon. Again, it's different from everything I've put out. There's another featured artist on it. That's all I'm gonna say! (laughs)."
Are there any aspects of Ireland that Levi yearn for?
"I really missed the people when I first moved to LA," he responds, pausing to think. "The main thing is still the people and the culture. The banter. I really do love going back, and have a lot of fun when I do. I have to explain the lingo and stuff like that to people in America. We'd all get along, if my LA buddies came to Dublin, or my Irish friends came over here. It's the little nuances and the humour is a bit different, too. I feel very much at home in Ireland, even eight years after leaving."
•'Bug Bite' (featuring Lucy McWilliams) is out now.
Advertisement