Jack Dora on 'Sanitize Me': "The mundanity of lockdown has basically taught me to not give a shit"
Jack Dora's new single, 'Sanitize Me', is out today.
How have you been finding inspiration in the mundanity of lockdown?
The mundanity itself – and how batshit crazy it can make you – has inspired me a lot. You have so much time on your hands to think and turn inward. It's like all of the behaviours that you'd usually suppress are running rampant. I get to let my freak flag fly and shake off whatever reserve I had before. I'm finding a lot of excitement in that personal development, and it's inspiring me to try out so many different genres and styles of storytelling. The mundanity of lockdown has basically taught me to not give a shit, and that attitude inspires the hell out of me. The sky's the limit kind of thing.
Also, there's very little going on in my life these days and I'm typically very outgoing. So that, coupled with my unhealthy obsession with productivity, drives me to create that excitement in my music. Sometimes you just have to use your imagination and fashion the excitement out of thin air. There's also the fact that I work in a mental hospital.
Your new single 'Sanitize Me' is poking fun at aspects of lockdown – what are you hoping to achieve, with that provocative approach?
I want people to feel something – but in a different way than what we're used to. A lot of art and content today is lazy because as audiences we're lazy. Everything is designed as if we're 5-year-olds with short attention spans, and our intelligence is constantly being insulted. So the idea is to make people laugh firstly, and then secondly make them question exactly what it is they just laughed at. If I can make a song that straddles the line between humour and sincerity, and deals with a serious subject, then it's a multi-faceted thing – and makes you work a little harder without even knowing it. Making an upbeat funk song about a guy who is so desperately lonely and who isn't exactly a pillar of picture perfect mental health feels incongruous, and forces you to think more than you might with your average funk song. I'm also trying to get people to lighten up a little bit. There's not always such a need to be serious, and if you can see the humour in a dark situation, life is so much easier. And fun!
Advertisement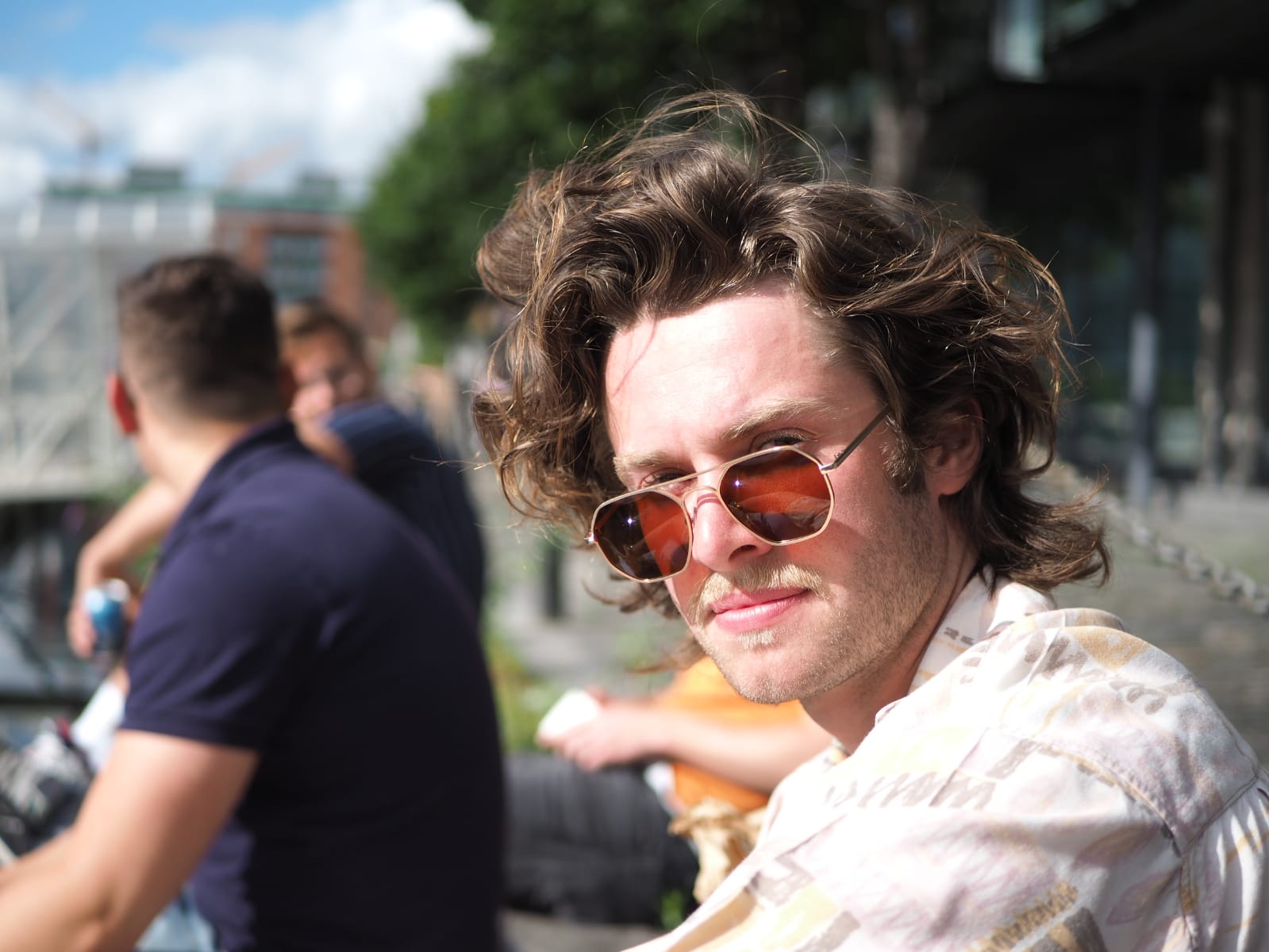 What influenced your new wave/disco/synth-pop direction?
My dad really got me into David Bowie at a young age. I was absolutely enamoured with his music and how he fluidly moved through genres. His obsession with soul and funk definitely influenced my own obsession with them. But I think it mainly came from movies like Saturday Night Fever and Scarface, and games like Grand Theft Auto: Vice City. They introduced me to the late 70's and 80's – this larger than life world of colour and excess and I absolutely fell in love with it. The music was so outrageously joyous and danceable, mainly because of those gorgeous analog synthesizers, and it perfectly matched the fashion and attitude. It was kind of slick and trashy at the same time, and that definitely matches what the Jack Dora project is for me. It's kind of about sleazy people. People who are shiny on the outside and broken on the inside. Hiding behind their pastel lapels.
Danceability is a big part of your sound – what's it been like launching these singles, while dancing is technically illegal?
I'm delighted to hear you say it's a big part of the sound. I want the music I make to get people dancing, so I'm not going to sugar coat it – it's been pretty frustrating. But it also feels like this boiling kettle that's going to finally just explode when I can gig again, or go to parties with my friends and see them dancing to my music. That delayed gratification will make it so much more satisfying, and I can't wait to boogie down with people and see them share in the joy I get from making music. At the moment I still get a lot of videos from my friends dancing with their roommates in their houses listening to my songs and that makes it a lot easier. I also get drunk in my house a lot and dance to my own music, so I'm not completely missing out on the action.
What can we expect from your debut EP, coming out later this year?
Advertisement
I was telling a friend recently that I've been trying to get people to underestimate me a little bit with this project. I've been pretty careful with my release plan, so as to slowly tease my movement into other niches, and to gradually show that I'm a better storyteller than that kind of direct pisshead nature of 'Pretty Damn Lit'. So with this EP, rather than italo-disco and funk, it's a lot more synth pop. I'm still producing it, but it's more guitar-driven than my earlier singles and the storytelling is better. It's an homage to the '80s with a focus on the sleazy people I mentioned. It's like if Prince and Madonna had a baby, and the baby was a member of both New Order and Blondie – with Giorgio Moroder on production. It's going to be spicy. Yenkee from Cork is mixing a couple of the tracks and he's adding a really slick touch where I'd be a little more rough. So yes, slick, sexy and synthy.
'Sanitize Me' is out now: