It's ten years ago today since Leonard Cohen played the first of his magical Lissadell House gigs
The late, extremely great promoter John Reynolds gave us the inside story of Leonard's W.B. Yeats pilgrimage
One of John Reynolds' many crowning achievements was his bringing in 2010 of Leonard Cohen to Lissadell House in Sligo, where the Canadian made a pilgrimage to the grave of W. B. Yeats.
"Leonard and myself often spoke about the beautiful events that took place there: the dancing in the rain at Lissadell and being close to where his hero, W. B. Yeats, is buried," Cohen's trusted lieutenant, Sharon Robinson, told Hot Press shortly after her friend's death. "That was definitely one of his favourite concerts."
It was also a very special night for John Reynolds who took real pride in his shows. His passion and love of music shone through in his account of those rainy nights in Sligo...
"It's in the Irish DNA that we're a nation of storytellers," John reflected. "Deep down we're also quite cynical as well as humorous, which are all the characteristics that Leonard had in his songs and his poetry."
"A lot of the credit must go to Rob Hollett, his agent, who was instrumental in him going back out on tour again. The first show Leonard did in IMMA was extraordinary. I later read in an interview that he was nearly moved to tears by the audience reaction when he came back on for the first of many encores. At the end of that series of shows, knowing that Leonard had a love of Yeats, we bought him an original, signed book and gave it to him, together with a card signed by the 73 crew and other people who helped make them happen. I was subsequently told that it was one of his most treasured possessions, which planted the seed for Lissadell.
"People talk about magic at shows, and it's an indefinable thing, but those nights in Lissadell had an aura about them that I've never experienced before and will likely never experience again. It was the spirit of W.B. Yeats engaging with the spirit of Leonard Cohen, as literally a hundred metres away, the Atlantic waves pounded away. It was the biggest seating-rig ever assembled in Ireland, and we had all four seasons in one day, so there were huge challenges that had to be overcome.
Advertisement
"I'll never forget Leonard, who had a slight cold, skipping down the stairs after the first gig and saying to us, 'That was magic, I can't wait for tomorrow!' I was like, 'Oh my, God!' It obviously had as profound an effect on him as it did those who were watching.
"He visited Yeats' grave, and signed the book, 'Leonard Cohen, Montreal'. There's another lovely story involving the backstage catering at Lissadell, which the local coffee shop took care of. Before sitting down to eat, everybody had to write their name and who they were working for. Being the incredibly gracious and humble man he was, Leonard refused to jump the queue and when his turn came put down, 'Name: Leonard Cohen. Working for: Myself. Signed: Leonard Cohen.'
"In every aspect, they were a class outfit. An hour before showtime, everybody – including the tour accountant – would put their suit and hat on. So determined was he to get Lissadell perfect that, on the afternoon of each of the shows, he did one hour and twenty minutes of soundcheck.
"On the Saturday, he sent word through that all the people doing security and working the bars and food outlets were welcome to sit down and watch. There were probably 40 people dotted around the 13,500 seats, all with big daft grins on their faces because they were witnessing something so unique. The thoughtfulness of the man knew no bounds.
"Again, huge credit must go to Edward Walsh and his wife Constance, who bought into the idea of staging gigs in Lissadell for the first time. Without the leap of faith on their part, the magic wouldn't have happened."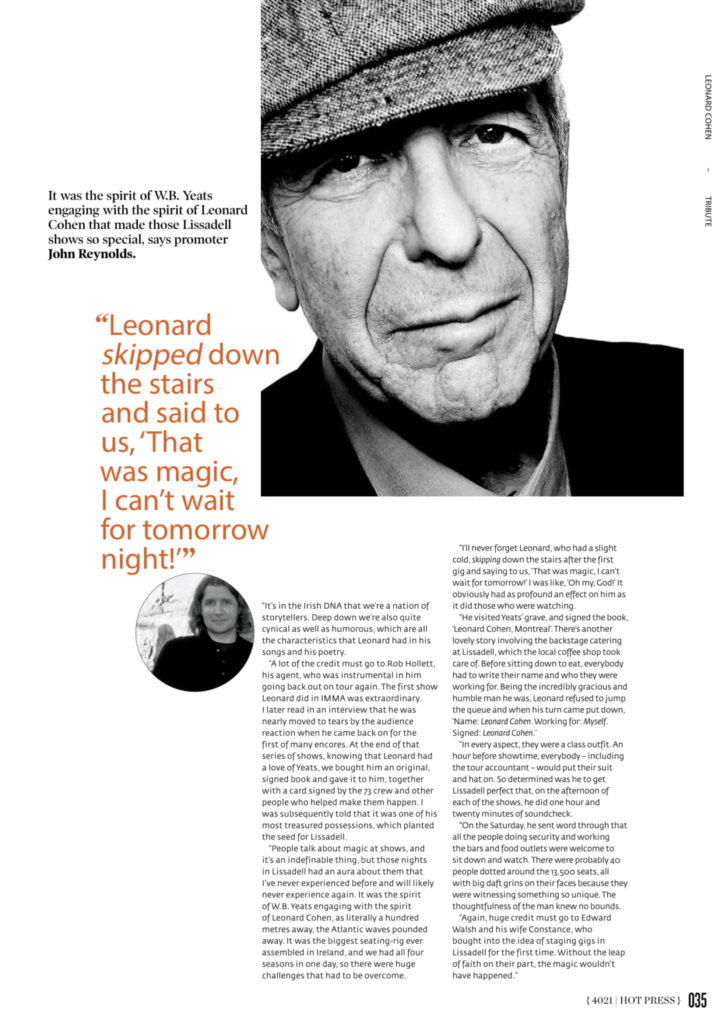 Advertisement