Tickets go on sale this Friday.
Excitement levels are currently at 666% here at Hot Press thanks to the news that metal icons Iron Maiden will be returning to our fair isle next year. 'Eddie and The Boys' will play the Belsonic Festival in Ormeau Park, Belfast on June 13, 2022 and tickets go on sale this Friday (April 16) at 9am via Ticketmaster.
Performing a career spanning set, the evergreen Eastenders' Legacy Of The Beast tour has been quite rightly called the greatest metal show on Earth and to ensure you're fully prepared for this diabolically good feast of sound and vision, here's verdict from the Irons' previous Belfast show in 2018 from HP's resident Maiden maniac Edwin McFee. Spoiler alert: contains references to giant Spitfires, swashbuckling zombies, bombastic metal anthems and Beelzebub's boudoir...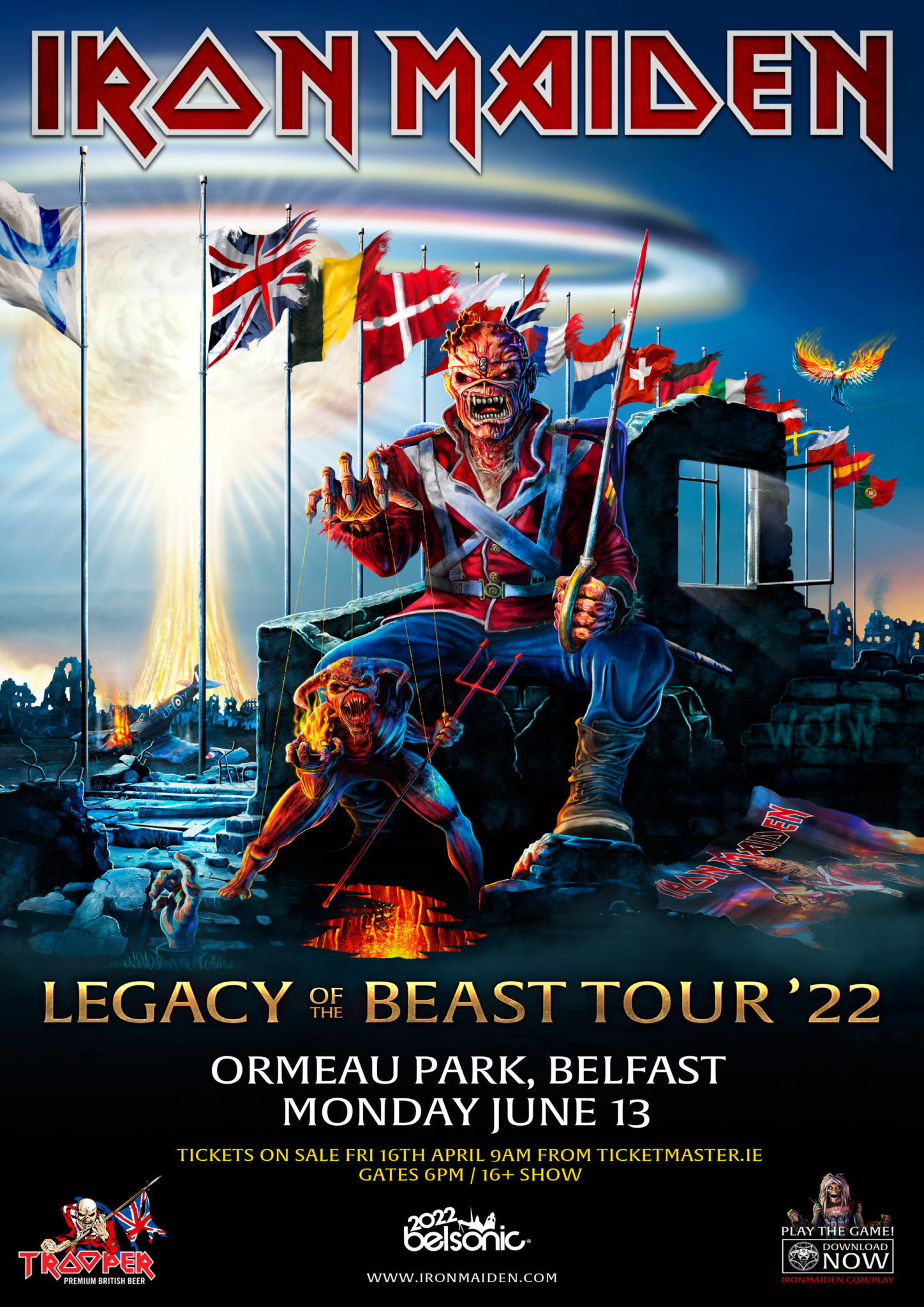 IRON MAIDEN,
SSE ARENA, BELFAST
August 2, 2018
Traditionally, Belfast has never been a Maiden town. Over the last four decades since the band's inception, Steve Harris and his evergreen mob have only played in the city four times (including tonight). Traditions, like records, are made to be broken though (and the six-piece know plenty about both) and Northern Ireland has finally fallen into line with Scandinavia, South America and more as the masses are now converted to the thriving cult of Maiden, selling this arena out in a matter of months. "Iron Maiden's gonna get ya/No matter how far" as the song goes…
As a fan who's stuck by the band through the tougher times and travelled around Europe to see them, the sight of 8000 plus punters of all ages crammed into every crevice of this venue is a heart swelling, if slightly surreal sight. In town for their Legacy Of The Beast tour, the show has been raved about by the broadsheets and eulogised in the likes of rock bible Metal Hammer and for this reviewer's money, it's their most ambitious production to date.
Advertisement
Inspired to raise the stakes after the eye-popping Book Of Souls jaunt came to an end last year (the band have been alternating between a new album tour and a 'history tour' since the millennium's infancy), this latest Maiden show has it all. A fan-pleasing set including cuts we haven't witnessed live in decades, more flames than Beelzebub's boudoir, sword fights, plenty of Eddies and oh yes, at one point a massive fucking Spitfire looming ominously over the band's heads.
Appearing for neck bothering opener 'Aces High,' the 90% life-size model is quite the sight and the whole arena gasps/screams as one once it's revealed. Second song 'Where Eagles Dare' forcibly assures any doubters that the band have the substance to back up the style and drummer Nicko McBrain in particular puts in a Herculean performance on this monstrous Piece Of Mind cut.
Tonight's show can be split into four themes-war, religion, hell and damnation and the stage changes from battle torn trench to an Eddie-adorned stained glass church with ease. Preferring to let the show do the talking, firebrand frontman Bruce Dickinson keeps chatter to a minimum and instead dives into the dressing up box for copious costume changes, all of which subtly pay tribute to different eras of the Irons.
Tonight's set is littered with highlights, but a notable mention must go to 'Sign Of The Cross.' An initially underrated labyrinthine slab of metal that is now finally getting its day, the image of their cloak-clad singer brandishing an illuminated crucifix at the audience like Peter Cushing is one I'll never forget. 'Flight Of Icarus,' which hasn't been played live since 1986, is another massive moment. Featuring a humongous statue of said Greek myth and Dickinson armed with flame-shooting gauntlets, it's an incendiary marriage of sound and vision (Note to self: I must put a pair of them on my list to Santa this year). Elsewhere, 'For The Greater Good Of God' is satisfyingly meaty and 'The Clansman' is, was and always will be a classic from the pen of the genre's best songwriter, their leader/bassist Steve Harris.
Perfectly capturing the power and pageantry of this indomitable, indefatigable band, Iron Maiden's latest tour may be their greatest yet. Perhaps more importantly though, it leaves little doubt that there's plenty of life left in The Beast. Up the Irons.