Cheap Queen, the debut album from the highly-touted, multi-million-streaming King Princess, has finally arrived. Peter McGoran spoke to the "very high, very jet-lagged" singer in Dublin, with Mark Ronson, becoming a queer icon, and her love for Enya all on the agenda.
"Oh my God, the journey's been hellish - I'm sorry if I seem tired!" Mikaela Strauss is kicking back in the downstairs room of The Academy in Dublin, where she's set to perform in just over an hour. "We flew from LA to Philly. Drove from Philly to New York. Went from New York to London. Then London to Dublin. I'm having a day." She shakes her head. "I'm really jetlagged, so I've been super-stoned just to try and balance it out."
No apology necessary. Is being stoned working?
She laughs. "No!"
This is King Princess' first trip to Ireland. The ultra-hyped 20-year-old American pop star has spent the past six months playing every festival under the sun: within a matter of weeks, she's ticked Coachella, Lollapalooza and Glastonbury off her bucket list.
Her status as one of the most exciting up-and-comers in the world continues to grow exponentially. Her debut single, '1950', was everywhere when it was released in 2018. A hyper-literate ode to LGBTQ love, which saw King Princess hailed as a 'queer icon' overnight, it's gone on to amass over 300 million Spotify plays. Yet, when I switch the recorder on, she launches into a soliloquy about her favourite Irish artist - Enya.
Advertisement
"I just want to do this whole interview about Enya," she says. "Oh, she's a classic. A real classic." KP beams amd gives me a quick rendition of 'Only Time'.
"That song's really hot," she says. "They're all hot. If you think about it, the 'Sail Away' video is so next level. Like the photo-composite element. She's so fucking incredible. I'm so intrigued by her life story. I'm intrigued by the fact that she has played one solo show - ever. Also, she lives in a fucking castle. I wanna live in a castle. Then the stuff she did for The Lord Of The Rings, she fucking merked that shit. That's Enya's lane."
As tempting as listening to her talking about Enya all day is, I've only got Princess for about 15 minutes and there's things I'm intrigued about too: like, how has she been getting on, working the live circuit?
"It's been going great," she nods. "We've been doing festivals, which is kind of a departure from playing shows like this, because you just roll up and it's not your venue. You're trying to get to grips with what the sound's like. It's also normally all outdoors and people are fucking hammered. It feels like nothing's contained. I like this venue though," she says, gesturing around her. "This venue's more like smokey, all-in-it-together vibes."
King Princess has been on a runaway freight train the past few months. She's been touring, releasing music and recording all at the same time. That must be difficult...
"Definitely," she says. "I'm gonna need some time after I tour this record to write more music and sit down and do my shit, but you have to compartmentalise a little bit. Find meaning in playing the music live."
Does she worry about burning out?
"I do," she laughs, "but I scream about it enough that I think everyone gets how I feel. If it gets too much, I'll scream at someone: 'YOU CAN'T DO THIS TO ME!' They normally understand."
Advertisement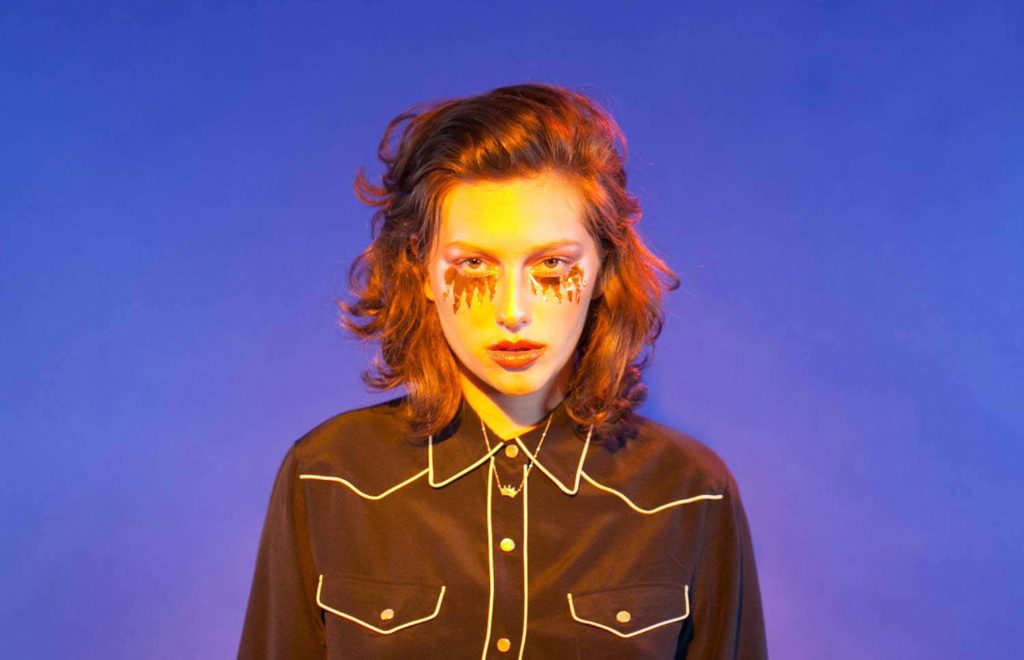 Earlier this year, she collaborated with Mark Ronson to release the single 'Pieces Of Us'. She's now signed with his label Zelig Records. What's the relationship like?
"If I had to use a term, I'd say 'Daddy': he's just 'Daddy'. If I have a song and I'm thinking, 'I really believe in this', I'll play it for him. That's our relationship. He's my ears. And he doesn't always say what I want him to say and it pisses me off. It's frustrating. But it also means he's really trustworthy. I love him. He's been a great source of support for me. But also, I'm a producer and I'm coming up, in many ways, under him. That makes me feel stable and good, because he's turned out some of the most iconic music of my lifetime. Like his work with Amy Winehouse. His entire catalogue is incredible. I hope to one day look back and say, 'Hey, look at all this shit I produced', in the way I look back on him now."
How did you connect?
"I met him, because he'd heard my music somewhere and said he really liked it. He introduced himself and right away he said that he didn't want to change it. He said, 'This is great, I want to put it out'. It was that terminology of wanting to put it out rather than wanting to fuck with it - that was incredible and gratifying. It was also cool to realise we didn't necessarily have to work together all the time to be partners. The artist/producer relationship has worked for so long on the producer holding the key - but with Mark and I, we're two different producers having conversations about what could make my shit sound better. Don't get me wrong, we clash in a lot of ways, but it's way more even than lots of these relationships. You see all these fucking stories about artists and producers hating each other, so it's cool to have someone who gets you as a person."
She has a powerfully liberated attitude to sex and gender politics.
"I would love to be a queer icon someday," she responds. "It's great because we're in a time right now where it's such an open lane for queer people to step in and put good shit out there. I'm really happy that I'm surrounded by the right people, and that I put out the music that I did. Everything has been perfect, and everyone has been so kind and supportive, so if that's iconic - I'm on board."
Advertisement
Many fans have attested to embracing their sexuality after listening to her music.
"It's funny, I was thinking a lot about this. There were certain things I watched as a young person that truly made me think, 'Oh, I'm gay!' Things that I watched or listened to. It's the same with the next generation of young people. The people who are older, gay or straight, who are enjoying the music, I'm grateful for that. But for the kids - maybe it's educational for them. They get to hear other gay people and make the connection that they're not the only fucking gay person out there. They're part of something that's bigger than themselves. And that's really cool because I think isolation is the biggest part of growing up gay. So when there's art that speaks to you like that, it makes everything a little bit easier."
Cheap Queen is one of the most anticipated albums of the year. What can she tell us about writing it?
"It's all these songs that I amassed over the last year, during that crazy time when everything else around me was popping off. So, what I'd say about it is: it sounds like a woman who's in the midst. 'Bitch in the midst', that's how I'd describe it - a bitch in the midst of it. And that's cool because there's something 'grown up' about it too. It's the sound of an artist who's grown up."