The US hip-hop icons will perform on December 9th in Dublin's 3Arena.
Rap icon Ice Cube makes his long-overdue return to Irish shores as he unveils details of a hugely exciting 'High Rollers' tour this winter.
The hip-hop OG is enlisting fellow rap artists Cypress Hill and The Game, who'll be performing at the 3Arena Dublin show (December 9th), making this one of the must-see events for Irish rap fans. Tickets go on sale next Friday, June 16 at 10am from Ticketmaster.
Starting out in Glasgow's OVO Hydro on December 5, the 6-date tour is Cube's biggest of the UK & Ireland yet, and takes in shows at the 3Arena Dublin, Manchester's AO Arena, and the O2 Arena in London on December 11.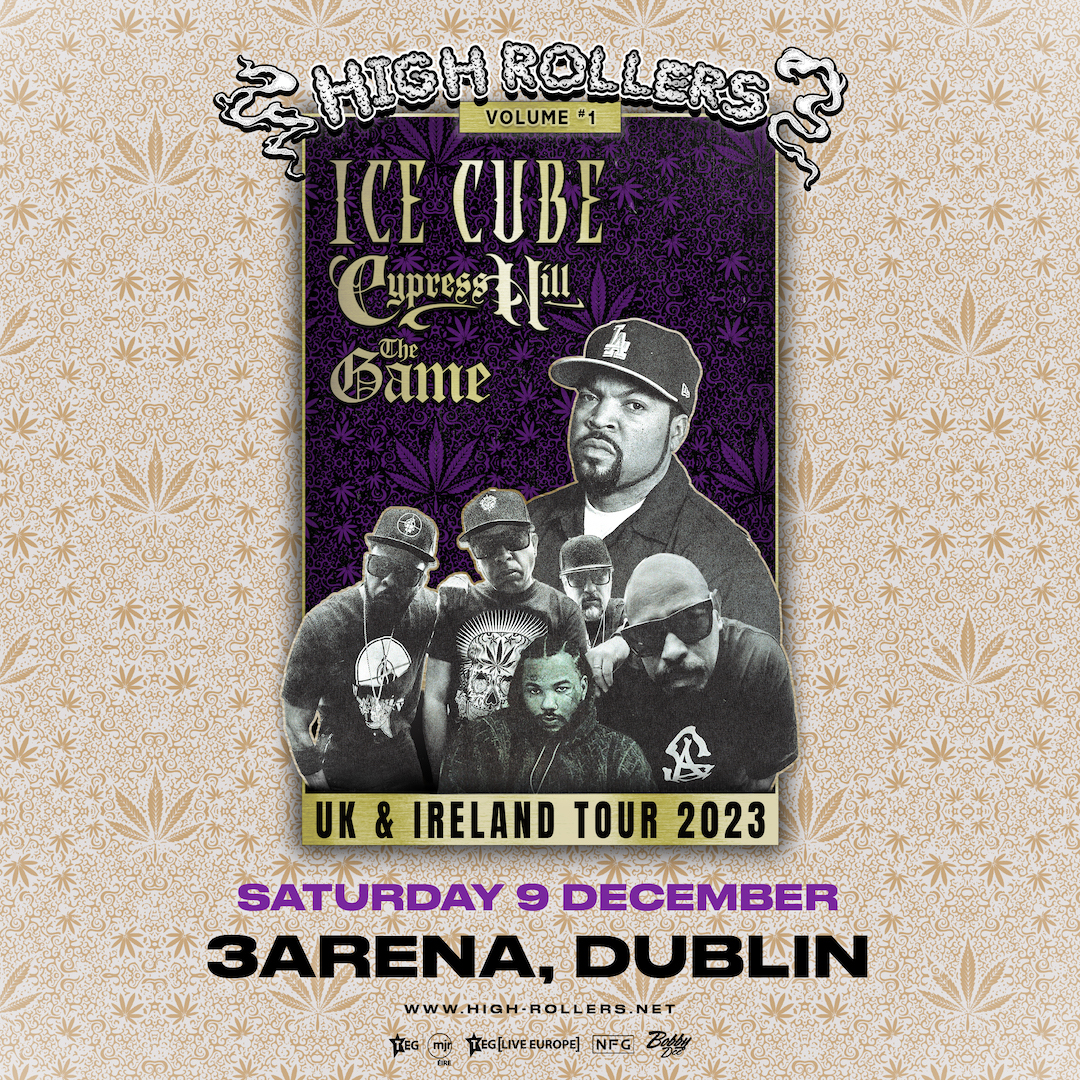 Ice Cube is an award-winning musician, actor, director, producer, civil rights leader and basketball entrepreneur. After penning the most memorable lyrics on N.W.A.'s groundbreaking 'Straight Outta Compton' and 'F##k The Police', Ice Cube left the group at the peak of their popularity to pursue a hugely successful career.
As a solo recording artist, he has sold more than 10 million albums while remaining one of rap's most respected and influential artists and was inducted into the Rock and Roll Hall of Fame in 2016. Beyond music, Ice Cube is a life-long civil rights activist and the co-author of Contract with Black America.
Advertisement
In the film arena, he has established himself as entertainment's most successful figures and was honoured with a star on the Hollywood Walk of Fame in 2017. He's produced the Friday, Ride Along, Barbershop, and Are We There Yet? franchises as well as the critically acclaimed N.W.A. biopic Straight Outta Compton. He is also an acclaimed writer (Friday, The Players Club, The Janky Promoters) and director (The Players Club).
One of the most bankable actors in cinematic history, he has also acted in the 21 Jump Street franchise and has had star turns as a conflicted teen in Boyz N The Hood, a greedy soldier in Three Kings, and an elite government agent in xXx: State of the Union.
Joining him will be the legendary Cypress Hill, who burst onto the scene in 1991 and are the first Latino-American hip-hop group to achieve platinum and multi-platinum successes. Since the release of Black Sunday, the group have put out seven more albums including 2018's critically acclaimed Elephants on Acid.
Tickets available on pre-sale June 14 at 10am.