---
IBI Chairman John Purcell on Irish Music Month: "Radio can play a huge part in supporting Irish music – because Irish radio has people at the heart of it"
John Purcell – Chairman of the Independent Broadcasters of Ireland (IBI) and CEO of KCLR 96fm – on the importance of Irish Music Month.
During Covid-19, everybody had to look inward, and think about where they're from. It gave time for reflection – which happened to coincide with being approached by Niall Stokes from Hot Press, with the idea for Irish Music Month. I brought it to the board of the IBI, which represents all of the independent stations in the country. They didn't take an awful lot of persuading – people thought it was a great idea.
It's a particularly opportune time to be supporting Irish music, because Irish artists have never been under more pressure. The stopping of live music, and the fact that people couldn't perform, was an unprecedented challenge. But radio has been there throughout the whole pandemic – and Irish music is something that's a really big part of radio's output.
So, Irish Music Month felt like the right idea at the right time. It came together quickly – we were delighted about the support of the Broadcast Authority of Ireland, under the Sound & Vision scheme. We've been working hard, over the past few weeks, getting it all together. People have responded really well.
The stations taking part are local stations, and they're very in touch with their local areas, and with musicians. IMRO, and the various other partners, including XL Retail group, RAAP and MCD Productions all see the importance of it. As in any kind of crisis, it makes a difference if people can galvanise quickly – and that's what happened.
Irish radio stations have been playing Irish music for a long time. We have a real – and increasing – appreciation of the importance of it. But to have the President of Ireland, in his statement welcoming Irish Music Month, put the importance of pop and rock music in a cultural context – talking about the contribution that Irish music has made to Irish life, in helping people to express themselves – was really heartening. I'm sure it's heartening for musicians, but it's also heartening for people in radio to hear him say that.
Advertisement
When it comes to it, radio can play a huge part in supporting Irish music – because Irish radio has people at the heart of it. It's not run by algorithms. If you just let your music be chosen by algorithms, you miss the human touch. While there's a lot of discussion about podcasts, the good old radio on the kitchen windowsill blasting out the music every day is still huge.
Local stations have come together and done stuff before – like when Dolores O'Riordan passed, and we all got together and played one particular song, all at the same time. But there's never been something like this, where so many stations have come together over a month, and united under the one flag of supporting Irish music. It's unprecedented, and I would say it's historic as well.
Music hits people in the gut. It's so important. A world without music is unimaginable for someone like me. Covid has taught people that as well. The gigs that they planned to go to, and the musicians they wanted to see playing, were all taken away for so long. People have started waking up and smelling the coffee, in terms of realising how precious it is, that you can have people singing about their own experiences in their own voices.
Hopefully, Irish Music Month will make people wake up and go, 'Jesus, we really do have an awful lot of great music around here!' Because that's the truth of it...
For more information about Irish Music Month, listen to your favourite independent radio station, read Hot Press and stay tuned to hotpress.com
Advertisement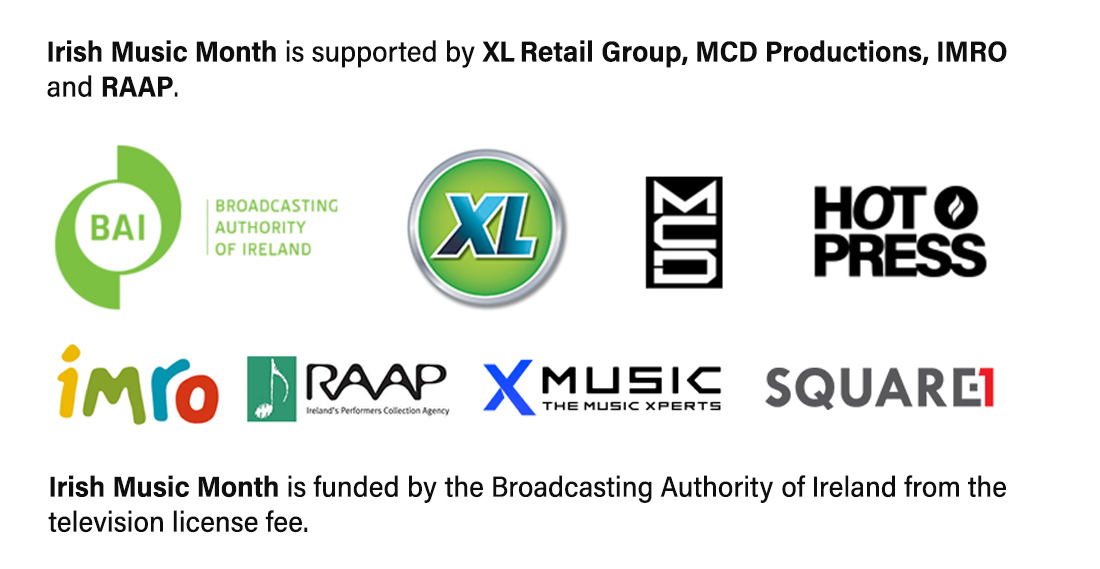 Irish Music Month is supported by XL Retail Group , MCD Productions, IMRO, RAAP, X-Music and Square1
Irish Music Month is funded by the Broadcasting Authority of Ireland from the television license fee