By: Jack Byrne
Tickets are going fast.
A wealth of Irish talent will be descending upon the National Concert Hall in Dublin this Thursday (November 22nd) as artists will be collaborating with choirs to sing brand new versions of their songs in order to raise funds for the marginalized communities of the Turkana district in Kenya.
The event is hosted by Aidlink, an Irish charity that is dedicated to helping and improving the lives of African people living in poverty. Their projects thus far have included building wells, constructing primary school sanitation facilities and training farmers in the likes of Kenya, Uganda and Ghana.
This year in Turkana, they have focused their attention on primary schools, and are hoping to increase enrollment as well as aiding the process of making them more child friendly with improved water and sanitation facilities.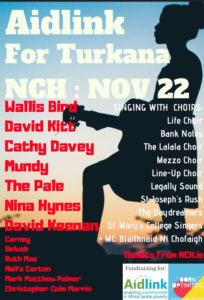 Advertisement
The event will serve to raise the vital funds needed for the project to come to fruition, and will feature the likes of Wallis Bird, David Kitt, Cathy Davey and many more providing unique performances alongside a range of different choirs.
Tickets for the event are on sale from the National Concert Hall website, and are priced from €35.