They started out as a bunch of mates from Swords, gigging and busking together. Steadily, they have conquered hearts and minds, in Ireland and around the world, through hard work, great songs and superb live performances. After a prolonged hiatus, with the release of their third album Politics Of Living, they are ready to talk again – about mental health and the importance of talking; about our 'fantastic' President, Michael D. Higgins; about social media; and about how staying grounded and sticking together is at the heart of their musical success.
Down around 3Arena, gale force winds battered buildings and swept trees and debris onto nearby Luas tracks. A storm of a different kind was brewing when I met Irish indie-pop four-piece Kodaline, who are preparing to release their highly anticipated third studio album Politics Of Living.
Irish indie-pop four-piece Kodaline have just released their highly anticipated third studio album Politics Of Living. When Hot Press caught up with them last month, the lads were in the midst of a hectic promotional schedule involving countless radio interviews, in-store signings, and live busking performances in front of hundreds of avid fans. It is a process they relish after a few false starts with the record that led them to cancel the European leg of their tour this September. Fast-forward a month and the tour has been reinstated and the band – comprising Steve Garrigan, Mark Prendergast, Vincent May, and Jason Boland – have already sold out shows in Belgium, the Netherlands, Germany and Czech Republic.
Their trajectory has been steadily upwards, starting with the release of their debut album In A Perfect World, which entered the Irish Album Charts at No.1 in 2013 and No.3 in the UK. A slew of Irish sold-out shows followed, including Marlay Park in 2016 and Malahide Castle in 2018. Meanwhile, their stand-out, soaring, soulful ballad 'High Hopes' has been a huge radio hit internationally.
In the face of all of this success, the band remain almost obstinately modest. They are, they insist, just a bunch of guys from Swords who grew up playing in Battle Of The Bands in secondary school, grimy dimly lit pubs and numerous wedding gigs before graduating to the major league. Musically, Kodaline are eager to evolve and experiment, as demonstrated on their new and edgier pop-laden record. And personally too, as both Steve and Vinny open up in this interview about past struggles with mental health, their opinions on current Irish social justice movements and the perils of social media.
It must feel great finally having the album ready to go.
Advertisement
Steve - Yeah. We unfinished it and then finished it! It's been a long journey to get it done,. So yeah. It's not so much a relief: it's more, we're very happy with it and really excited to get back on tour again and head off to places like America and Europe. We haven't properly toured in a while.
What are your ambitions for it?
Vinny - I guess we just want to keep doing what we're doing, to keep playing more shows to bigger crowds – and just have the band grow. Steve - We've kinda been consistently growing, even with the new album. It's bizarre: we went to Romania for the first time and played a festival and there were thousands of people there for us.
I saw some YouTubers commenting that they heard your track on an ad in Romania and you're now their new favourite band!
Steve - Yeah, it's mad. I think it was 'Follow Your Fires' that was the No.1 played song over there, in Slovakia and Romania.
Vinny - We went to the Philippines in March and headlined a festival there in front of like 13,000 people.
That must feel insane.
Advertisement
Steve - We're going back to do a tour in Bangkok and South Korea, Hong Kong and Malaysia.
Vinny - It's mad, but we just want to keep growing. We've never had a hit song.
Steve - Everything has been a slow burner. Every time we release something and every time we go back to a city, the venues get a little bit bigger. Which is cool.
You say you haven't had a hit song, but 'High Hopes' has over 88 million views on YouTube.
Steve - In Ireland 'High Hopes' was a hit; and 'All I Want' has nearly 250 million streams on Spotify.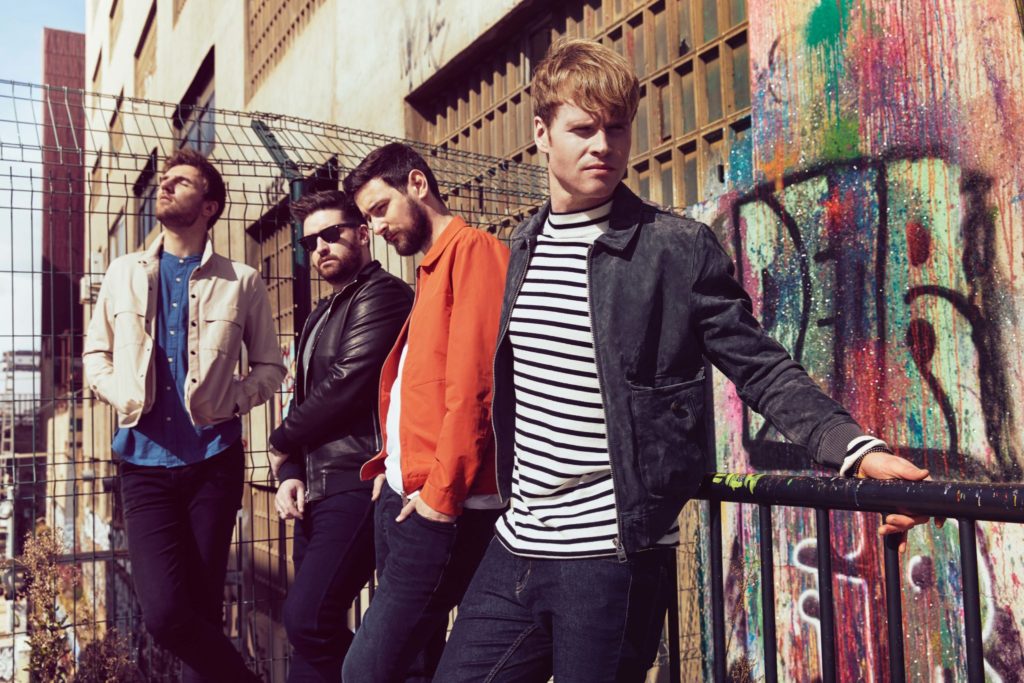 On the new album you've taken a different direction musically. You also mixed it up with producers and co-writers such as Steve Mac, Johnny Coffer and Johnny McDaid.
Advertisement
Steve - We've never worked with anybody before. Our comfort zone as writers and as a band is slow ballads. For me, as a writer, if I sit by a piano I'll come out with something. Before we started making this album, we just knew that we didn't want to do anything that we've done before.
Does co-writing make it easier?
Steve - I didn't like it at all at the start. It was so uncomfortable because I've always written for myself. I suppose you just have to adapt to it and let go. Some songs, if they're extra-personal songs, are better to do by yourself. But for others it's kinda, 'Yeah, when somebody comes out with an idea.' We know each other's ideas as a band and we've been working together for so long that, in the end, working with new people was refreshing. We were like, holy shit, when they'd come up with something that you wouldn't normally think of.
Do you have a favourite track on the album, or is that like asking you to pick a favourite child?
Steve - It changes.
Vinny - From week to week!
Steve - I like a song called 'Hell Froze Over' and there's another song called 'Angel', which we wrote about Ciara Lawlor. She's a fan who passed away at one of our gigs. After our massive sold-out show at Marlay Park, we were on cloud nine, and then our tour manager came in and told us that a fan had passed away in the audience. It brought us all crashing back to earth. We went to the funeral and it was pretty bad. We got to know the family and all that we could do really was write a song. So we wrote a song for Ciara to remember her, and gave it to the family. We weren't really going to do anything with it, and then the family asked us to release it to remember Ciara, and so we put it on the album.
Advertisement
What a gorgeous tribute.
Steve - Yeah, it's cool but it really did affect us a lot and that was the best thing – probably the only thing – we could do.
Vinny - There's nothing that you can really say, so the only way we can express ourselves is to write something; so the four of us sat in the studio and wrote it in a day or so.
Where did the album title, Politics Of Living, come from?
Vinny - We've a song called 'Politics Of Living' that isn't on the album, but might be released at some point. Everybody thinks that it's going to be a really politically driven album, but it has nothing to do with politics. It's more about the politics of life and how you deal with relationships, with your family, your friends or whatever. Steve - Every song tells a different story. It's about the trials and tribulations of everyday life.
That's what I got from it. It's more about the human condition than anything else.
Vinny - Yeah, it's human relationships. You've got friends that don't talk to other friends: it's everyday stuff.
Advertisement
Steve - There's a song called 'Temple Bar' which is just about drinking alone and feeling sorry for yourself in Temple Bar; drowning your sorrows singing 'Where Did It All Go Wrong'.
Vinny - We're not having a go at Donald Trump or Leo (laughs)! We'll do that on the next album.
Social justice and activism are centre-stage in Ireland at the moment...
Vinny - Everybody has a voice now and your voice matters, and it's more relevant than it's ever been – between the Repeal the 8th movement which is something we strongly got behind; and even on to the housing crisis with Home Sweet Home, which we were really involved in last year. It's something that's close to our hearts – but we don't try to politicise our music, because our music is escapism for people. We don't just ignore the issues either. We live in Ireland, we know what's going on – but with our album, it's 45 minutes long and it's for people to forget about all the shit that might be going on.
Do you think Ireland is a good place to live in right now?
Vinny - I think it's better. I don't think it's perfect. We travel a lot and get to see so many other cultures and countries, which look great on the surface – but I'm sure they have their problems too. I think Ireland is getting there. It's more of an open place now for the LGBT community and women's rights. There's still a huge amount of social injustice in Ireland and it's going to take some time to get over that – and wounds will not heal quickly. I guess it is a more accepting place now. We talk to people when we're away who ask what Ireland is like now – who maybe haven't been in 15 years – and you realise it's a completely different place. But there's still a long way to go.
Do you have any views on the Presidential race here in Ireland?
Advertisement
Steve - I think it's bizarre, to be honest, people using their celebrity to put themselves in the running.
Vinny - You just have to look at America for that. I just don't want Ireland to replicate that idea that if someone has a platform or is a celebrity, then that translates as them knowing how to represent or run a country. Michael D is a fantastic man. He's a poet and a scholar and I think he's great at representing Ireland – so leave him at it. If he didn't want to do it that'd be another matter, but he wants to, so just leave him to it.
So it's safe to say that you're not going to be running for the Áras in the future?
Vinny - No, I don't think so.
You had to think about that there for a second.
Vinny - Hahaha, no definitely not!
TACKLING THE MENTAL HEALTH ISSUE
Advertisement
It seems as though Irish musicians are getting more outspoken on Mental Health issues. Why do you think that is?
Steve - I think it's because of the recent high profile deaths of so many musicians. It's really sad when nobody talks about anything and you think, looking from the outside in, that everything looks perfect – and then all of a sudden someone passes away because they've been suffering with depression for a long time.
We put these people on a pedestal as well.
Steve - They're just people at the end of the day.
Chester Bennington, Chris Cornell and closer to home Scott Hutchinson were the most recent losses.
Vinny - I know Bressie has been a massive advocate for young men, who traditionally don't talk about their feelings. And I'm sure women often don't do it either, so it's across the board. Saying that it's okay to not be okay is a massive thing for people. We've all had our own struggles personally in the band.
Steve - Ireland has come such a long way. Even ten years ago, if you were to talk about anxiety or depression or said that you felt different or whatever, you would've been ripped out of it or slagged. People are much more willing to talk about it now, which is great.
Advertisement
Vinny - I also think the kind of macho-ness thing is starting to dissipate as well. I think it will die out. It's changing.
Steve - There's no more of this 'toughen up and feckin put on a brave face and push through' stuff anymore. That used to be what was said, particularly to men.
Vinny - Our generation, and the one after us, will be more open to this. Even in workplaces, hopefully we'll start giving people time off for mental health days.
I imagine you're all under a tremendous amount of pressure at the moment. The record industry machine is an unforgiving beast. How do you cope?
Vinny - We're quite lucky because there's four of us and we are our own support system when we're away. We travel with a decent sized crew and we've had the same crew for 5-6 years. We're like a big family. You can always tell when someone is down or not having a good day and we know when someone just needs to be left alone for an hour or two. I can't imagine what it would be like to be doing the stuff we're doing by ourselves, or not having the big support system. All of our family, and wives and girlfriends and friends, are amazing too.
That must help a lot.
Vinny - It's amazing. But people talk about it more. We can all talk about our problems with one another and say 'I feel shit today' or 'I don't want to do this because'.
Advertisement
Steve - I think U2 have had a therapist on the road for 25 years, which is pretty important. And they're the godfathers.
Steve, I know you've been open about your history with panic attacks in the past and I get them sometimes too. I think the fact that you spoke about that has helped people.
Steve - I've always been a shy, introverted type of person, so I never thought that I was anxious – I just thought I was quiet. Then I had a massive panic attack, when I was 19, and ever since that day my anxiety has been high 24/7 and I've kinda learned to handle it. I've been to therapy; I was on antidepressants for a while – I'm off them now; I tried everything. I have a lot of friends who suffer from anxiety, so when they were going through tough times I'd be there for them, and they are there for me. The network of people that you have around you is incredibly important.
I think it's important to remember that you're not contagious – like if I speak to someone about it, it doesn't mean that I'm going to bring them down too.
Steve - There's definitely a time and place to talk about these things. You're not going to bring it up at a dinner party when everyone is in high spirits. When you're in the middle of it, you can almost feel as though you're dying. I remember I was running around Dublin with an ex-girlfriend, trying to get to a doctor's. They we're like, 'You're having a panic attack' and I was like 'What's a panic attack?'.
THERE'S 'FRIENDS', AND FRIENDS...
There is a view that mental health and the pressures created by social media are correlated. Do you feel a constant pressure to be present online?
Advertisement
Steve - I'm a little bit half-arsed about the whole thing if I'm being honest! We do run our own Instagram and Twitter. Instagram is awesome – you can get lost in dog photos for two hours – but it's highly addictive as well. You can waste hours and it can end up feckin' stressing you out more than anything else.
Vinny - Social media is good for some things. For bands to connect with fans instantly and get reactions to songs and videos and gigs, we get that instant reaction and we know what our fans are interested in, so that's amazing. We can say something and it reaches our fans instantaneously all around the world. That said, I don't think it's good for young kids and I don't agree with children as young as 9 or 10 on Facebook. That's too much.
Steve - It's a sure sign that something's going wrong when the creator of the I-Pad, Steve Jobs, didn't let his kids have one.
Leading former Facebook executives have confessed that they won't allow their own kids on the site.
Steve - There's clinics opening up for addiction to these things.
Vinny - When I was a kid I remember everyone playing gaming consoles – but it was like, you came home from school, did your homework, and went out to play. When it got dark you'd come in, have your dinner and you might be allowed play Playstation for an hour. Now kids don't go out and play anymore. We had the most incredible summer this year, and driving through the estates in Swords there were no kids out on the road playing tip the can. It's mad. They are all in their own bubbles. It's hard for me to tell parents what to do as I'm not a parent yet. But I'm sure it's an easy thing to shut up a screaming child with a screen.
Do you ever Google yourself or read online comments?
Advertisement
Vinny - I used to, but not anymore.
Steve - I've never Googled myself actually. If you get caught up in comments you'll do yourself in. You'll never impress everyone and there are always going to be people hating. For a while, at the start, I was reading comments that would just be all trolls and you can do your head in that way!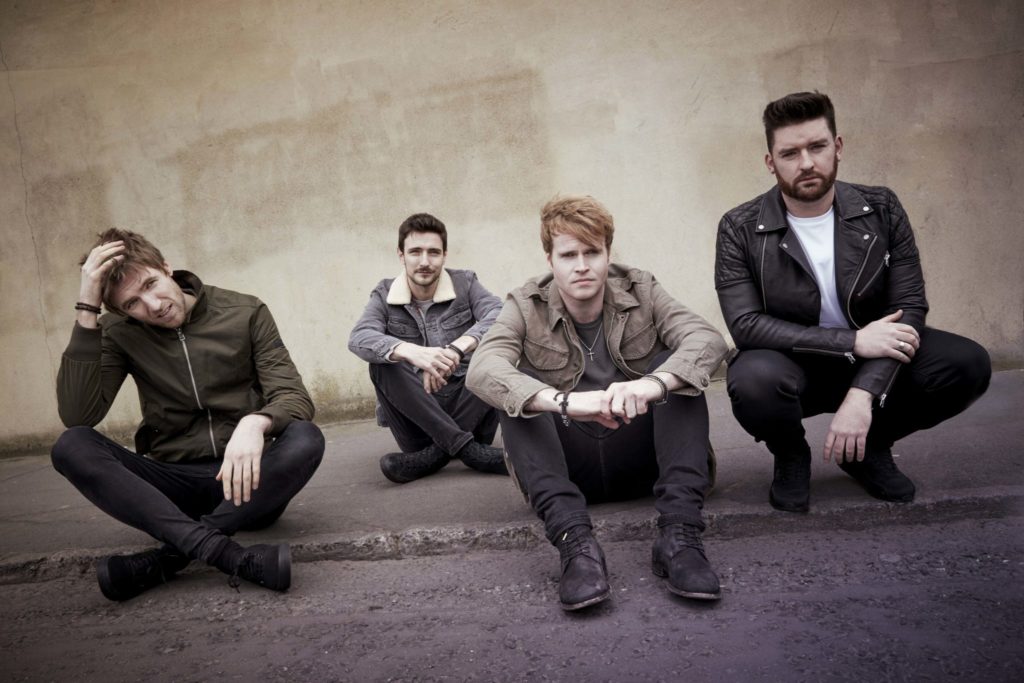 Do you feel famous?
Steve and Vinny - No.
Is that an Irish thing?
Steve - I think it's more because we grew up together, starting in Battle of the Bands in school, busking on the streets, rehearsing in Vinny's parents' house for years. We've had jobs, we've lost jobs. We grew up together, played in bars to drunk people telling us we were shit, played cover songs. So we're very appreciative of what we've achieved. I remember in Singapore, playing a show and we were rushed out of the venue with fans chasing our car and that was a proper moment – but even then we keep each other grounded. If one of us got too big for their boots, we'd bash them down again!
Advertisement
Vinny - We've had the same close group of friends since we were in school. A mate of mine was moving to Australia and ten of us were down the pub having a pint last night – we still drink in Swords, live about five minutes away from each other. Our Ma's and Da's still come to every one of our Irish shows.
PINCH ME, I THINK I'M DREAMING
Who's the main driving force in the band?
Steve - I think it was me mostly at the start, and then we got to a point where we all started doing it, but as of late, Vinny.
Vinny - I think we all have different strong-points, I look after the online social media stuff and the business side of things along with Jay; and Mark and Steve look after the musical side of things. When we're in the studio, we'll all throw our few cents worth in, but everything starts from Steve or Mark.
Steve - Jay is really good at technical stuff. If a computer breaks, he's really good at that and pedals and effects. Complicated shit.
What's been the ultimate 'pinch-me' moment so far?
Advertisement
Steve - D'you know what's crazy? We released an EP six years ago and signed a Sony Deal in 2011.
Vinny - 2012.
Steve - Publishing deal in 2011, record deal in 2012 – but it feels way shorter. We've packed a lot in.
It must be mad going into Spar to buy a jambon and hear your song being played on the radio.
Steve - I wouldn't buy a jambon.
Vinny - We were literally just in Spar a couple of minutes ago buying chicken fillet rolls.
Steve - We've had so many bizzare moments. Sacha Baron Cohen being at a gig and heckling us. Playing frizbee with Josh Homme.
Advertisement
Vinny - Playing crossbar challenge with Macklemore and Tame Impala.
What's Josh Homme Like?
Steve - He seemed a lot nicer than he comes across in the media.
Vinny - I'm a massive Queens of The Stone Age fan. We played this festival and our dressing room was next to theirs, and Macklemore, and Tame Impala – so we all ended up playing five a side together. And they're all sound. Then two or three years later, we were playing another festival in Holland and QOTSA were there again, so I bothered him not expecting him to know who I was – and he was so lovely, cool as fuck. That's my 'pinch me' moment: the fact that I'm hanging around with these people. They don't know who I am, but I know who they are! We got to hang out with U2 as well, and The Script lads, who are great. When we're all on the road doing the festival circuit, living on tour buses travelling to different cities, it can be a lovely time to catch up.
I can't imagine that there would be too much rivalry in Ireland. It seems like if one is doing well, it puts the spotlight on other artists as well.
Steve - There's definitely a spotlight on the Irish music industry right now. There's a lot of deadly up-and-coming bands.
Who's your favourite up and coming musician?
Advertisement
Steve - I really like Dermot Kennedy. His voice is amazing.
Vinny - I think he's going to do amazing things. I know he's starting to do some big things in America: it'll only be a matter of time before he starts to explode.
Steve - Gavin James too. We brought him on five tours supporting us, brought him to America. We woke up every morning on the bus with Gav's face!
Kodaline's new album, Politics of Living, is out now.