Femi & Made Kuti on Legacy+: "We wanted to show how concerned we are about our communities, and to inspire people in any way that we could"
Father-and-son duo Femi & Made Kuti discuss their stunning new  Legacy+ project, political protest, and Fela Kuti's influence on Beyoncé, James Brown and Paul McCartney.
Femi and Made Kuti – respectively son and grandson of Afrobeat pioneer Fela Kuti – have teamed up to produce the brilliant double whammy of Stop The Hate and For(e)ward, a brace of solo albums released under the joint title Legacy+. Both LPs boast the kind of mesmerising grooves and politically conscious lyrics for which Fela was renowned.
But how did the idea to release both albums together come about?
"We were going to release two separate records in 2020," explains Made, speaking on a Zoom call from Lagos. "Separately, we were doing our own bodies of work, but it was my dad's idea to release a joint album. Initially, we didn't quite figure out the logistics of how we'd organise, release and label it. We left all that until later, because we loved the idea of sharing a mutual message and communicating our passion for the arts. Also, we wanted to show how concerned we are about our communities, and to inspire people in any way that we could."
Given the growth of the Black Lives Matter movement over the past year and the burgeoning conversations around injustice and inequality, does Made feel Legacy+ has an extra resonance right now?
"Very much so," he responds. "Especially my dad's side of the album, which is very universal – Stop The Hate is really about the immigration crisis and world issues."
Advertisement
Fela Kuti consistently protested against corruption in Nigeria, which in February 1977 led the military regime to launch a violent raid on the Kalakuta Republic, a commune that Fela had declared an independent state. What is it like to live in the country these days?
"It's still very corrupt," says Femi. "Economically, one way to look at it is that when my father was speaking out, it was two dollars for one naira, which is our currency. It's now 475 naira to one dollar, so the problems are 475 times worse than when my father was speaking out."
Making Legacy+ even more vital is the fact that it references EndSARS, a Nigerian social movement protesting against police brutality.
"Police brutality affected Fela's life," says Femi. "There was the raid and the burning of his house – it's part of the story. But for a lot of people, it has really started to come to life lately, and the youth of today are protesting against how bad it is. I mean, the police just kill you at will and nothing happens. Things got too bad and today's generation are just completely fed up."
"My song 'Your Enemy' is very much about police brutality," adds Made. "It's about understanding why the police are the way they are, and understanding that the system is corrupt. Only a system this corrupt could allow  a police force this dangerous. 'Your Enemy' is attacking the law enforcement establishment that causes things to be the way they are."
Elsewhere on Made's album For(e)ward, 'Young Lady' addresses the harassment of female students in Nigerian universities.
"It was inspired by the BBC's Sex For Grades documentary," Made explains. "It was about heavy – and I mean heavy – sexual harassment of young women in universities. So much so that I haven't found a single woman who hasn't encountered some form of sexual harassment. It's blackmail: 'If you don't do this, I won't give you your grade and you won't graduate.' So it's actually life-threatening, future-threatening.
Advertisement
"I felt so helpless about it that I scrapped the song I wrote before 'Young Lady' and started from scratch. Eventually, it became a track that was more hopeful, because in Nigeria has very strong women, and it was about how they evolve through all these challenges that they face."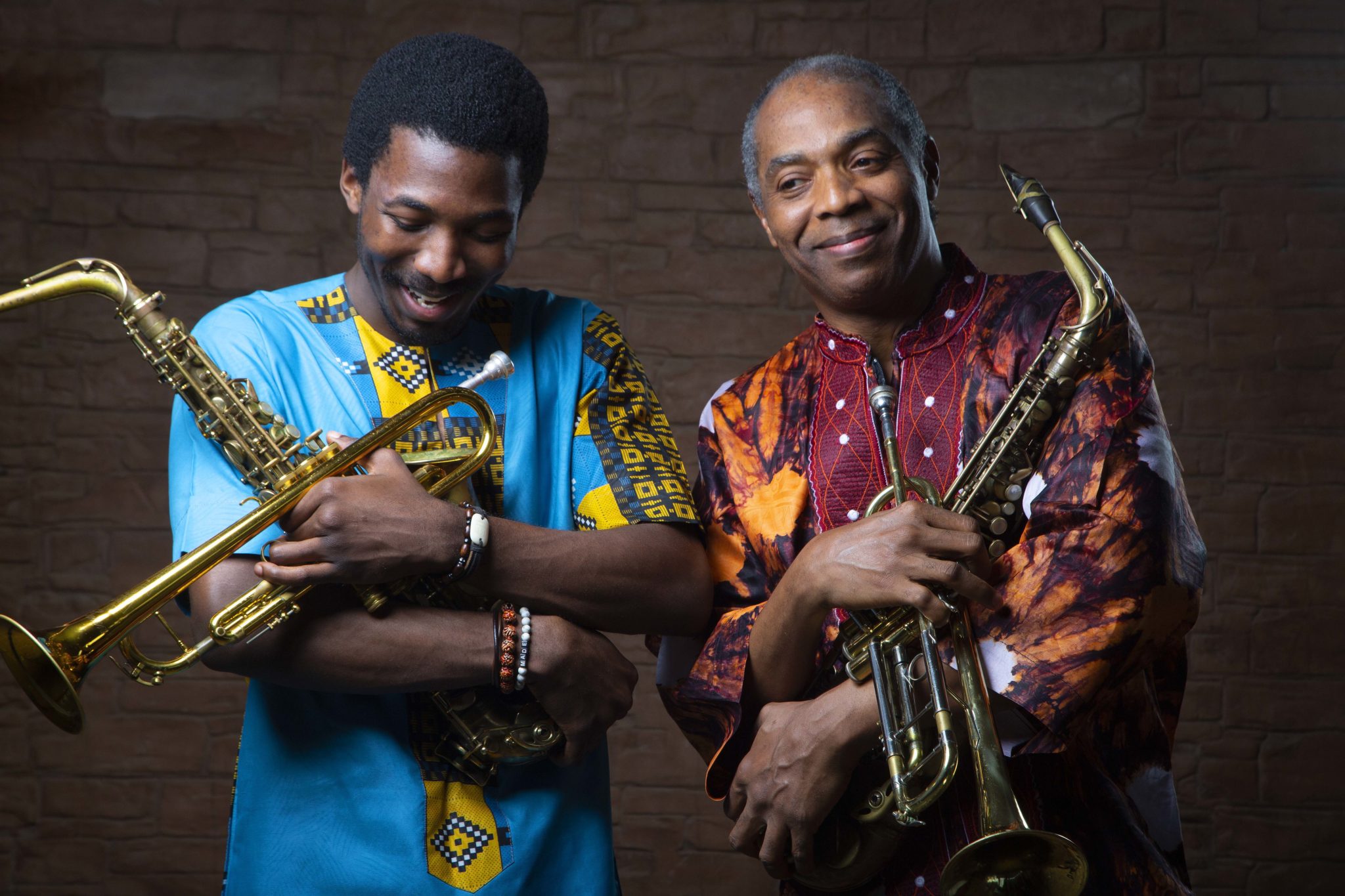 Like many others, I first became a fan of Fela Kuti through his championing by influential artists like Blur, Radiohead and Brian Eno. Notably, Thom Yorke said that in the early days of his side-project Atoms For Peace, one of their favourite means of partying was "getting wasted and listening to Fela Kuti." About a decade ago, I took a deep dive into the 1975 Fela Kuti album Expensive Shit – a masterpiece of electrifying rhythms, social commentary and wild humour.
It was truly visionary, 21st century music, and as a result,  Femi isn't surprised by Fela's enduring influence.
"Not at all," he says. "Because when I was a kid, I would listen to Michael Jackson, James Brown, Bob Marley, The Temptations – everything that came out of the west or America. And I don't think it was because I was his child, but for me, nothing sounded like him. I thought his music was very special, maybe because you were living what he was talking about. The melodies and songs were all from what he was feeling and what he was passionate about.
"There was something in his work that we didn't hear in other songs. So when I started to hear he was getting popular outside the country, I wasn't surprised. The shock I got came from Miles Davis in his autobiography, when he said he was listening to my father. I ran to him and said, 'Miles Davis is listening to you!' Miles Davis inspired my father, so for Miles to write about him, I thought that was awesome."
Fela's cultural impact only increased over the years.
Advertisement
"When I was growing up, John Lennon and Paul McCartney both loved his music and came here," adds Femi. "James Brown was here too, and there were many others fans of his, like Stevie Wonder, Alicia Keys, Beyoncé, Jay-Z, Wyclef… Name them - they're all inspired by this music. He has never been mainstream, but most of the mainstream artists have been influenced by him.
"Again, it doesn't shock me, because he never compromised or sold out to be commercial. Also, his music was suppressed here, which was another reason it was never mainstream. His music was about enlightening people and opening their minds – he wanted to challenge the status quo. It's not just about his music; I think people admire his courage and bravery. People wonder, 'What kind of a person is this?'"
Femi acknowledges that Fela paid a serious price for engaging in political protest.
"I mean, practically all of his bones were broken with the beatings he got," he says. "And he never sought asylum and he never left – he stood firm. I think that amazes people, in addition to his music and art."
Many of Fela's A-list fans have made the pilgrimage to the family's club, The Shrine, in Lagos. Listening to Femi talk about the venue, I am struck with an overwhelming pang for the joys of travel, socialising and live music. Certainly, a post-pandemic trip to, say, Berghain in Berlin followed by a visit to The Shrine would seem a superb use of the Hot Press expense account.
"My eldest son and I rebuilt The Shrine in 2,000," says Femi. "It's the biggest tourist attraction in Lagos right now. Hopefully when people visit, we're in town and they get to see us perform. Covid has kept it closed for a year now, but the restaurant is open and we're allowed to sell food – we're not allowed to have more than 50 people inside.
"The venue has about a 5.000 capacity, and we also have the biggest disco in town, which is free. We have a minimum of about 2000-3000 people every Friday. I play every Thursday, when entry is about a dollar-and-a-half. It's the place to be, basically."
Advertisement
Made, meanwhile, notes how special it is to be part of such an extraordinary musical lineage.
"I never fail to tell people about The Shrine," he enthuses. "Whenever I talk to sound engineers from outside the country, or managers – anyone at all – I mention it. I remember one person saying, 'I've heard your dad plays for four hours!' I said, 'Sometimes more than four hours – occasionally I'd join in, play til late and wouldn't make it to school the next morning!' It's a very special place, and everyone who visits says how liberating they find it – it's really down to earth. We always say, the VIP seats in The Shrine are the worst seats you can pay for, because it really isn't about money.
"Celebration is free Monday to Friday and at the annual festival we have. Weekend club nights are free as well - it's really for the people."
As for future plans, it's clear that both musicians – like so many of their peers – are looking forward to the day they can perform live again.
"First of all, we have to be very sympathetic to people who lost loved ones during Covid," says Femi. "The world has to heal. When music is allowed to come back, hopefully it will help with that. So I think we should just focus on how to end the pandemic, and then be part of the healing process. That's the way we are thinking right now."
• Legacy+  is out now.
Advertisement