As part of our special 'Electric Picnic at Home' celebrations over the coming days, we're revisiting Tanya Sweeney's original review of the first ever Electric Picnic – originally published in Hot Press in 2004.
What exactly makes for a 'boutique' festival, then? To begin with it's a question of scale. Unlike the huge crowds that converge on Oxegen or Slane, the Electric Picnic was aiming for a turnout of 15,000. That they got it at the first time of asking suggests that the event may just have struck a chord.
After all, on the weekend that was in it, there was stiff competition, with fans of grassroots local music descending on Temple Bar for Hard Working Class Heroes, and pop fans decamping to O2's all-dayer in the Phoenix Park.
By way of contrast, The Electric Picnic drew a wonderfully eclectic crowd. From the downright hedonistic to the purely curious, all seemed hell-bent on enjoying one of the sunniest weekends of the year.
Perhaps the 'boutique' festival angle worked in more ways that one – certainly, the crowd was more fashionable than the norm. There were great looking people everywhere, wooden butterfly mobiles hanging from every tree on the site, the coffee was damn good and Arrested Development kicked proceedings off on the Main Stage in great style. In short, as the show opened against the backdrop of Stradbally Hall, all was good with the world!
Arrested Development are the perfect sunny day festival band. Armed with their back catalogue of benign, sun-drenched crowd-pleasers, they mixed feel-good pop gems with rootsier hip-hop. In short, the Picnic was the ideal setting to catch the likes of 'Mr. Wendel' and 'Everyday People'. A great start.
Advertisement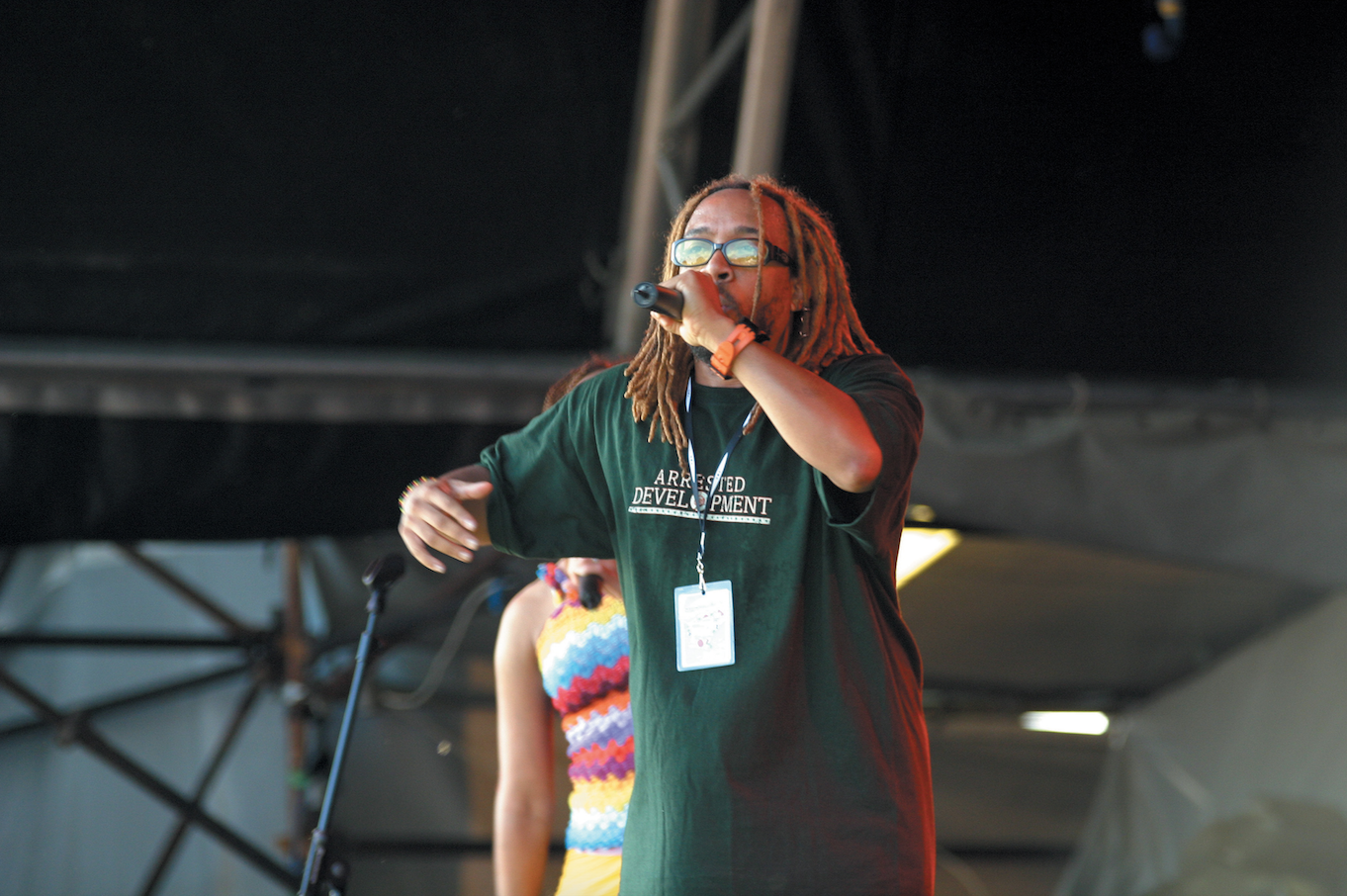 Over in the Bodytonic tent, Calvin James proved exactly why there is a general belief that he 'wuz robbed' at the recent DMX DJ-ing Championships. Working four turntables without any headphones, James' set was brilliantly structured, evolving from an elaborate scratch-fest into all-out house/techno mayhem. The place went gloriously apeshit.
Unwelcome news department – the word came through that Lee Scratch Perry had cancelled due to unforeseen circumstances (contrary to opinion, it wasn't because he couldn't get served at the bar). It was left to local hero David Kitt to fill Perry's not inconsiderably sized shoes – and he did it in low-key style.
With the faint ring of Nu Mark and Hystereo hanging in the Laois air, Kitt took a chilled-out route, offering an oasis of understated acoustic calm in an otherwise hyper, digitised world. Kicking his set off with a cheeky take on Kelis' 'Milkshake' – will that be on the upcoming covers album? – he included a number of his best-loved tracks before finishing off with an impressively uncompromising, almost trance-like instrumental.
As Grandmaster Flash took to the stage, the Electric Arena was packed to the rafters, with everyone intent on partying like it's 1979. Grandmaster's set was packed with old-skool classics, from Sugarhill Gang to Jackson Five. It made for chaotic, poptastic listening – a definite high point…
In contrast, The Detroit Cobras didn't draw 'em to the main stage in sufficient numbers to achieve lift-off. Which is a pity – they were effervescent and energetic, their frenetic, Stax-like music driven by killer hooks.
Soulwax, on the other hand – on this evidence at least – appear to have well and truly won over a crowd of discerning rock fans. No doubt their 2 Many DJs alter-ego has helped to raise their real estate, but right now their rock repertoire ain't sounding half-bad either. On the day, 'Conversation Intercom' and 'Too Many DJs' were vital and forceful, while their angular, electro-rock smash hit 'Much Against Everyone's Advice' had the benefit of instant recognition. They may have the likes of The Killers hot on their heels, but for now, Soulwax are more than able to hold their own in today's rock-pop world.
Advertisement
Super Furry Animals, as it happens, seem to consistently fend off competition of that kind with remarkable ease. The Welsh blue-bloods patrol their favoured psychedelic indie waters like lions – and no one has got near them yet as a result.
Singer Gruff Rhys emerged onto the Main Stage, resplendent in his Power Rangers stage costume. The Furries' set, as ever, was a blast of accomplished sonic wizardry, peppered with their unique brand of often touching balladry. 'Rings Around The World' was compelling, while the unapologetically effervescent 'Do Or Die' proved an instant crowd-pleaser.
They straddle various styles and assume many guises – but few acts have mastered the art of the summer anthem better than Groove Armada. Having been labelled the kings of chill-out following the release of 'At The River', Messrs. Findlay and Cato subsequently set about deconstructing this unwanted label with a more block-rockin' sound. But while it's near impossible to make Groove Armada nail their stylistic colours to any given mast, it's safe to say that the summer anthem is definitely their thing. 'Super Stylin' was reggae-house at its absolute finest and 'Love Box' provided a rather fine moment. But of 'em all, 'At The River' sounded positively sublime – one of the day's ultimate highs.
With Groove Armada cranking out the beats, the Electric Picnic came to an appropriately explosive climax. It may have suffered the odd teething problem – I'm not convinced that the food was that much above par for festival occasions, for example – but as a veritable smorgasbord of sounds, vibes and people, it was the ideal way to bid farewell to the summer months.