Experience the rich musical world of Afrobeat with some of Ireland's top musicians, starting December 6th at the Sugar Club.
Dynamic rhythms will enliven the dark winter days this December with a three-part live series of Afro-beat Evenings from Improvised Music Company, Choice Cuts, and Dublin City Council.
Taking place at The Sugar Club, each night will feature an exciting array of eclectic ensembles integrating a wide range of influences.
Kicking off the series on December 6th is Congolese guitarist Niwel Tsumbu's Heartbeat with his own distinctive fusion of new jazz, rhumba, world, flamenco, rock, soukous and classical. Keep your eyes peeled for the announcement of some special guests in the line-up.
On December 13th, Dublin favourites Yankari take the stage with rhythms, melodies and parables from their Yoruba and Igbo roots with vocal hooks delivered in pidgin-English - a sound reminiscent of the Afrobeat greats of the 60s and 70s. Fuji, Highlife, Juju, Afrobeat, Jazz and Funk form the foundation that the band build upon to create a 21st century heavy groove. Support will be from the arresting musicality of Selu & the Living Things.
Advertisement
Closing out 2021 with a bang on December 27th, Manden Express's explosive performance fuses traditional and contemporary styles of West African music from the Mande Empire of what is now known as Mali, alongside infectious Afrobeat rhythms. The supergroup blends Kamele n'goni harp, Kora, djembe, and drums with Electric bass and guitar to produce stomping grooves and hypnotic time patterns. Limerick's Elikya - New School Congolese Rhymba Orchestra, with their hybrid blend of Rumba, Soukous and seben - entrancing lead guitar melodies atop a pulsating bed of rhythm, will play support on the night.
See below for the full line-up and dates, and check out improvisedmusic.ie for further details on each event.
Tickets for the Afrobeat Series at the Sugar Club are €10 excluding booking fee and will be on sale at thesugarclub.com.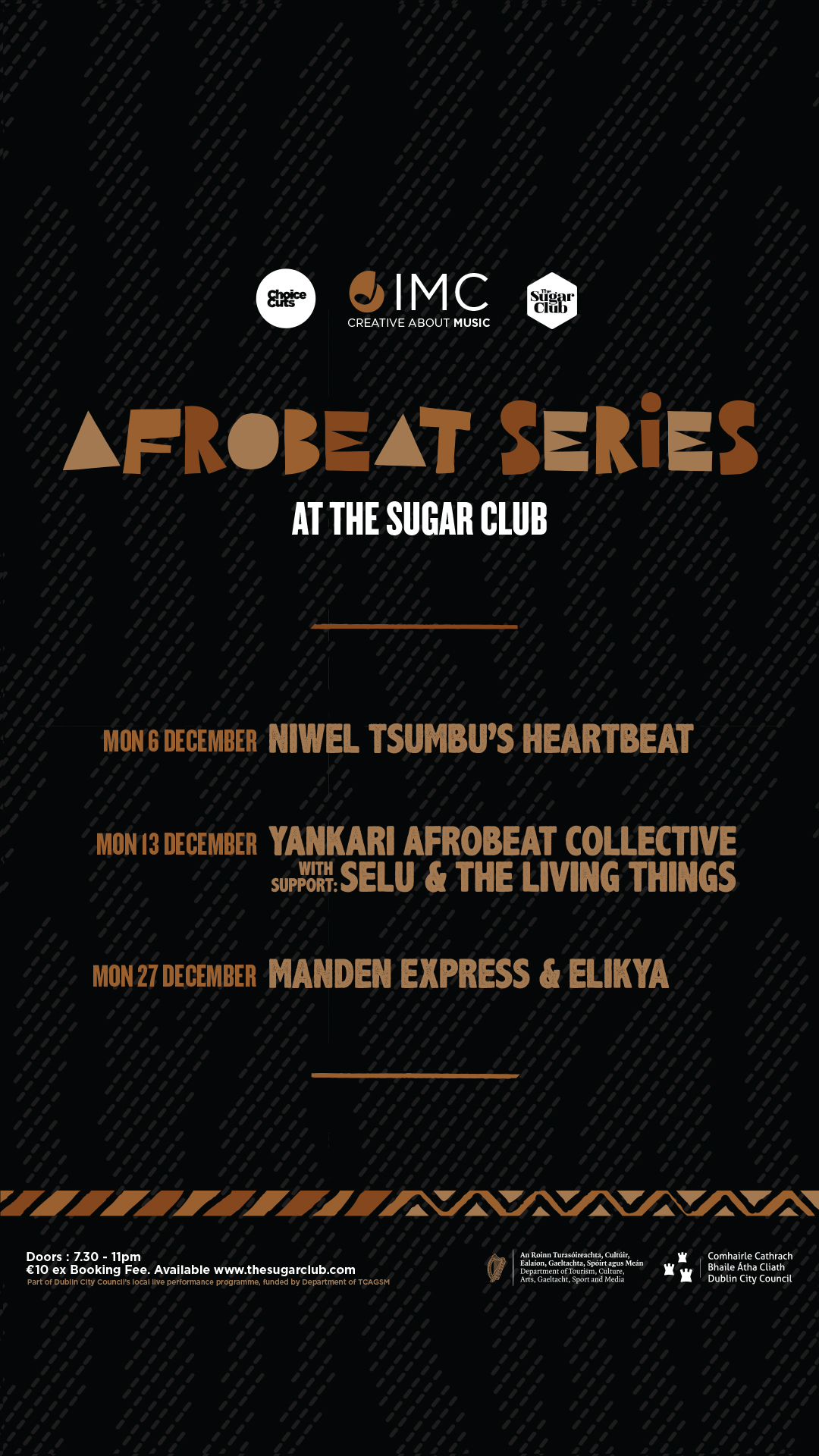 Dates:
Monday December 6th - Niwel Tsumbu's Heartbeat & Special Guests
Monday December 13th - Yankari Afrobeat Collective. Support from Selu & the Living Things
Advertisement
Monday December 27th - Manden Express & Elikya
RELATED