The track listing announced yesterday, September 5th, which would have been Freddie Mercury's 72nd birthday.
A release date has been revealed for the soundtrack to 'Bohemian Rhapsody', a film to celebrate Queen, their work, and iconic front man Freddie Mercury from the beginning of their journey through their spectacular rise to the forefront of music.
The album, which is out on October 19th (four days prior to the film's premiere, before opening across the world in early November), will feature previously unavailable performances of Queen's from Live Aid, as well as newer versions of some of the band's hits.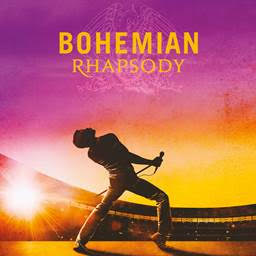 The Live Aid songs - featuring the likes of 'Bohemian Rhapsody' and 'We Are The Champions' - come from their 1985 concert at Wembley, which until now had otherwise been a rarity in Queen's extensive back catalogue of music, as they had only ever been released on video formats previously. The audio for the five tracks are exclusive to the album.
Advertisement
Joining these on the soundtrack will be new versions of their other classics which are select remastered works of the group's best studio recordings, and other previously scarce live performances from down the years spanning across different decades and countries.
You can check out the full track listing for the 'Bohemian Rhapsody' soundtrack below.
1. 20th Century Fox Fanfare
2. Somebody To Love
3. Doing All Right... revisited (Performed by Smile)
4. Keep Yourself Alive (Live At The Rainbow)
5. Killer Queen
6. Fat Bottomed Girls (Live In Paris)
7. Bohemian Rhapsody
8. Now I'm Here (Live At Hammersmith Odeon)
9. Crazy Little Thing Called Love
10. Love Of My Life (Rock In Rio)
11. We Will Rock You (Movie Mix)
12. Another One Bites The Dust
13. I Want To Break Free
14. Under Pressure (Performed by Queen & David Bowie)
15. Who Wants To Live Forever
16. Bohemian Rhapsody (Live Aid)
17. Radio Ga Ga (Live Aid)
18. Ay-Oh (Live Aid) 0
19. Hammer To Fall (Live Aid)
20. We Are The Champions (Live Aid)
21. Don't Stop Me Now… revisited
22. The Show Must Go On