Berlin-based collective CO:QUO to offer virtual workshops on technology and the music industry
The exciting new event series – which is free and open to the public – aims to demystify, analyse and discuss complex intersections of digital art and media.
Berlin collective CO:QUO is offering a look at the rapidly changing digital music landscape with their new event series, 'Music Futures & Simulacra: Exploring Without a Map', taking place online throughout the month of June.
Beginning next week, with a Discord server launching tonight (June 9), the series will explore the benefits and pitfalls of NFTs, avatars, and other emerging tools that offer new models of consumption to the music industry.
The Discord launch will be accompanied by a brand new episode of the monthly CO:QUO residency on Refuge Worldwide, where artist and musician Sui Zhen will join CO:QUO's Kaitlyn Davies for a discussion on avatars, feedback loops, and the ways that technology enables community.
The first of two Zoom workshops kicks off on June 16, at 6pm CEST (5pm in Ireland). Focusing on NFTs as a tool for musicians to exhibit, promote, and sell their work, as well as the risks and implications that accompany the infrastructure, the session will feature a variety of panelists, including renowned journalist and researcher Cherie Hu, artists Chloe Alexandra Thompson, Mat Dryhurst, VERITÉ and Zola Jesus, and Michail Stangl from Zora.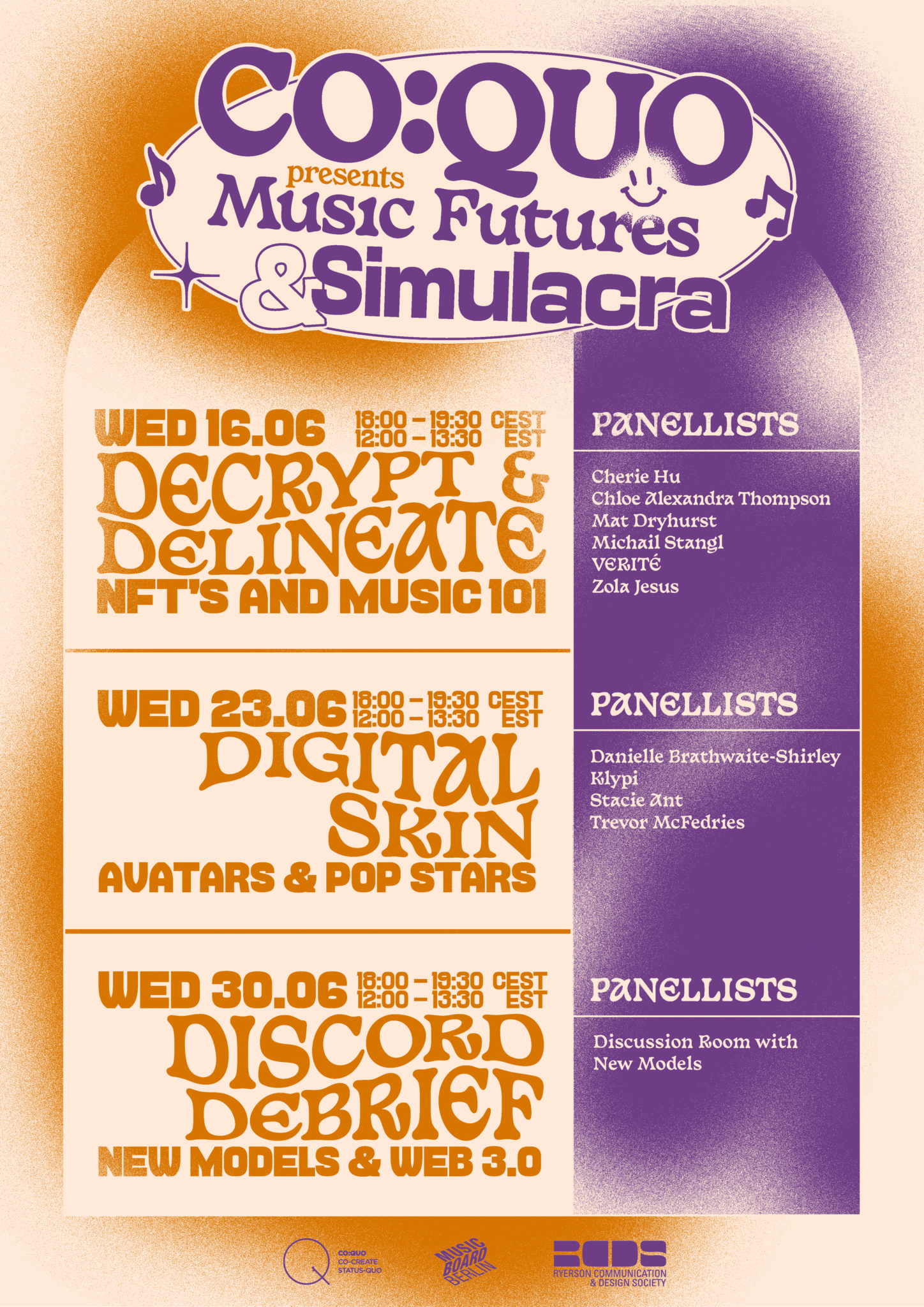 Advertisement
The second workshop, which will take place on June 23 at 5pm Irish time, is set to focus on the "legacy and presence of avatars in music and artist expression, and the freedoms they can and continue to provide music communities."
A Discord discussion room will close out the series on June 30 at 5pm Irish time, with New Models, where participants will be encouraged to join discussions on the future of Web 3.0 and practical applications of emerging technologies.
The workshops and Discord server are free and open to the public, and advanced registration for the Zoom sessions can be found at the CO:QUO website.