The U2 bassist talked about the band's 40-plus year career, songwriting, and shared revealing anecdotes about his struggle with addiction over the years.
Adam Clayton was one of the surprise guests on RTE's The Tommy Tiernan Show this Saturday evening.
In a 20 minute interview with the host/comedian, Adam Clayton talked openly about the formation of U2, the band's songwriting process, and their early school days.
At the beginning of the interview, Adam Clayton talked about U2's commercial and financial success over the past four decades and how they've adjusted to that success. He also noted that part of that adjustment involved giving back.
"We've been very lucky because we've been able to do great things with [the money]," he said, mentioning the Music Generation programme, which has made it possible for school-aged children in Ireland to have a wider access to music. As well as talking about his admiration for the programme's National Director Rosaleen Molloy, Adam said that Music Generation was his, and the band's, "proudest achievement".
Tommy Tiernan also quizzed him on the songwriting process for the band and what it means to produce each album.
Advertisement
"In some ways, for me, each record is like a progress report of how far you've come in your life," said Clayton. "Music is a mystical thing. You can't dial it in. You have to be able to connect with people. Sometimes, with a song like 'One'…If you were a musicologist you might say [about that song] 'It doesn't have the right structure', but it has something. There's an inarticulateness that allows the spirit to soar. We are also part intellect, part spirit, part physical. And music seems to water the spiritual part of us."
He also noted that part of the challenge was trying to create something that was both commercially accessible and artistically sound.
"A song like 'With or Without You' – it wasn't obvious that the radio would play that. That line of connecting with the music but also making things that are fresh to your ear. That is part of the challenge."
In the latter half of the interview, Clayton spoke at length about his struggles with addiction.
"Success went to my head," he said, acknowledging that for someone to get everything their heart desires in their early 20s, it can adversely affect them. "Anyone who I've met who has experienced success and fame in that way, and in those years - it takes them a long time to recover from it. That sounds like a complaint, but that's just what happens.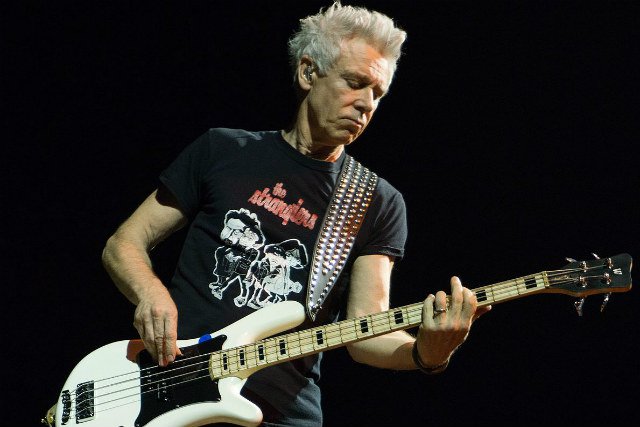 "You lose a sense of yourself, of reality. And I was very unhappy. So I drank and drugged and got myself in tabloid newspapers and embarrassed myself and everyone I knew. And I learned from it.
Advertisement
"But I also realise that to want to do this, you've got to be a little bit different in the head. And even though drink was the main problem with me - brought me down - I still have to work quite hard to keep my sanity on and off the road. My thinking can take me to bad places. My thinking isn't always reliable. But it's great having three other guys who can check you sometimes. And we do all check each other."
Tiernan also asked him about a famous U2 gig in Australia in 1993, where he blacked out for three days and missed a stadium show while the band were filming for the Zoo TV tour.
"I don't mind going there. Talking about it reminds me of it and helps me get rid of it.
It was an utterly humiliating moment for me. I had realised that I had an issue with alcohol. And I had, what we professional alcoholics called 'cold-turkeyed' and 'white knuckled'.
"And I was doing really well in Australia, we were doing the Zoo TV show, and I thought, 'God I've done so well, I might have a glass wine.' I had one. Then I said, 'I think I might have another'. And then I don't know what happened after that. But about three days after, I woke up, I hadn't turned up for a gig – in a stadium that was being filmed, with a lot of money resting on it. I'd let the three guys down. These people I'd known since we were 16, 17. I'd let down the audience, the road crew. It was not a great place to be.
"If ever there was a moment of realisation, where you wake up and go 'I have a problem and I need some help', that was it. It arm-wrestled me to the ground. And even in spite of that, even a little bit of me I thought, 'Ah, I'll be alright.' But the good news is that people did forgive me. I did learn from my mistakes. I took responsibility for my issues. I'd love to say that it was plain-sailing from that moment on, but it wasn't. It was a struggle, but I'm really glad I had the struggle and came through it and I'm here to talk about, because the alternative was a lot worse."
You can watch the full interview on the RTE Player.
Advertisement