To be in with a chance of getting your hands on this legendary gift pack from Lambay Whiskey, simply fill out the form below.
With Summer just around the corner, there's never been a better time to indulge in a Lambay libation. That's why we're offering you the chance to win this truly legendary gift pack from Lambay Irish Whiskey.
Including :
1 x Lambay Small Batch Blend gift pack ( 70cl bottle & two branded glasses)
1 x Lambay Whiskey oak bottle glorifier and 20cm Lambay Puffin ( perfect for home bars!)
1 x Pair of unisex Lambay Whiskey socks
1 x Lambay Whiskey bourbon stave keyring & Lambay puffin lapel pin
Set of Lambay beer mats and tasting mat.
Launched in 2018 but drawing on centuries of proud tradition, Lambay Irish Whiskey is triple distilled and crafted with well water from Lambay Island, which lies off the north coast of Dublin, and finished in french oak Cognac casks from the world-renowned cellars of Maison Camus in France.
Lambay Whiskey are blenders and bottlers who pride themselves on their maturation expertise and the Cognac cask finish given to the liquid they source from an independent Irish distillery.
Lambay Whiskey Small Batch Blend is triple distilled, bourbon cask matured and finished for up to four weeks in french oak cognac casks. It's elegant, floral and sweet – and makes for the perfect pairing for a mixed drink or whiskey based cocktail.
Lambay Whiskey Single Malt, meanwhile, is an unpeated malt, triple distilled, bourbon cask matured spirit. This dram is full of exotic notes of ripe banana, dried fruits and lingering spice due to the six-month cognac cask finish. Some of these casks are racked on Lambay Island, where they receive the full impact from the sea air, with brine and salt being key characteristics. Perfectly paired with dark chocolate or a good cigar!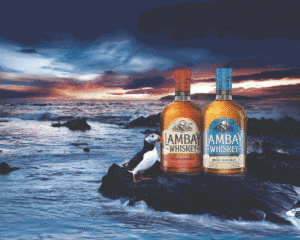 To be in with a chance of winning this prize from Lambay Whiskey, simply fill out the form below:

RELATED
Lifestyle & Sports
04 Dec 20
Lifestyle & Sports
27 Nov 20