Lifestyle & Sports
04 Jul 19
Your Ultimate Festival Survival Guide: In Association with Outdoor Adventure Store
From power packs to ponchos, we're compiling a list of essentials for 2019's festival season. Plus, keep reading for a chance to win a full camping kit from Outdoor Adventure Store!
As the anticipation for this summer's festival season gears up, thoughts of tents, chairs, sleeping bags and raincoats are already on our minds. Whether you're a seasoned veteran or a festival newbie, there's no denying that a little preparation goes a long way. But before the mad rush for the last pair of wellies in town begins, let us walk you through this year's top festival hacks – to ensure that you can spend your festival weekend focusing on the important stuff: good music and good craic.
1. Your tent is your life source, so it pays to put a little extra thought into what you're going to be sleeping in for the weekend (trust me: I once brought a tent with no poles to Electric Picnic). Outdoor Adventure Store offers a selection of nifty, durable tents that won't break the bank, including the Vango Tay 400 Tent, which packs up nice and small, and comfortably sleeps four. The Vango Tay 200 Tent is also a great option, and is the ideal choice for first time campers or festival goers.
2. There's nothing worse than lying down for a few precious hours of sleep, only to find that you've pitched your tent on the lumpiest surface in the campsite. While some people opt for blow-up mattresses, roll-up floor mats are a handy alternative at a fraction of the price. This roll mat is foil backed for added warmth, and includes two carry straps – making it nice and easy to lug from the car to the tent, and back again.
3. Finding your way to the portaloos in the mceiddle of the night is a whole adventure of its own. To carefully navigate the treacherous path of semi-visible tent lines, consider packing a handy torch. Outdoor Adventure Stores offer a few great options for under a fiver, including this. To save yourself from scrambling blindly around your tent in the dark, they also offer a range of affordable camping lanterns.
4. Stay hydrated! Bring a reusable water bottle with you, and top it up at the water stations scattered through campsites. If you want to be kind to your sleep-deprived, hungover self, try and remember to fill it up before you go to sleep.
Advertisement
5. Camping chairs are a lifesaver, particularly towards the tail end of the weekend, when your tent's surroundings inevitably take a turn for the gross. Just remember to store them either under or inside your tent when you're heading off to the stages – chair envy-related theft is no joke.
6. Speaking of rain – ponchos may not be the most flattering look on anyone, but they're a festival essential. To prevent the weather from dampening your outfit and your spirits, Outdoor Adventure Store offers a wide range of ponchos and raincoats, including the handy one-size-fits-all Summit Emergency Poncho.
7. While the seemingly never-ending line for the charging stations may tempt you to leave the phone at home for the weekend, phones can be handy for photos, looking up stages times and locating friends who tend to wander. To bypass the queues, portable chargers like the Little Jack Wallet are ideal. Compact and lightweight, the rechargeable power pack is small enough to be carried in your wallet.
With your basic survival plan out of the way, all that's left to do is enjoy yourself! But remember: we know you'll be horrifically hungover on Monday morning (with even basic movements feeling impossible) – but be sound to the planet and pack up your tent and gear when you're leaving. You may feel like your tent isn't fit for human habitation ever again, but you never know when it will come in handy!
Competition Time
The Outdoor Adventure Store are giving away a 4 person festival deal to one lucky Hot Press reader.
The giveaway will include:
Advertisement
1 x 4 Man Tent
4 x 2 Season Sleeping Bags
4 x Roll Mats
4 x Chairs
To be in with a chance of winning this fantastic package – click here.
To get a 15% discount on all the great festival deals from Outdoor Adventure Store go to oas.ie and simply enter the promocode HOTPRESS15 at the checkout.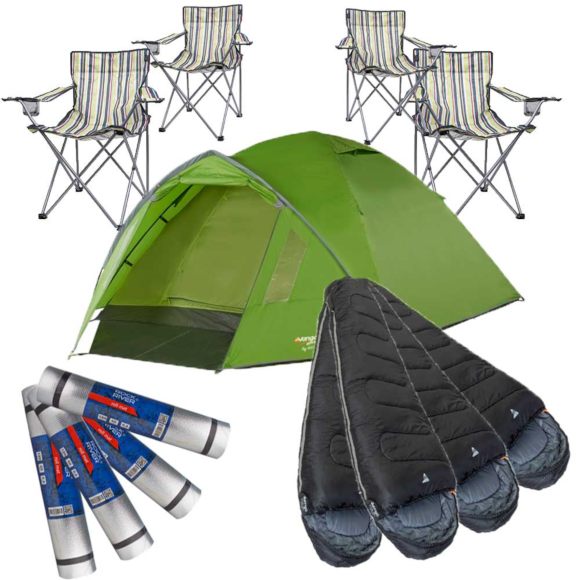 Advertisement