Lifestyle & Sports
29 Oct 19
Taryn de Vere on how her family and political beliefs influence her designs
Taryn de Vere's colourful and imaginative pieces mark her out as a unique talent - and the perfect designer to include in this landmark issue.
Throughout its history, Hot Press has celebrated how Irish fashion designers have allowed Irish people to express themselves through fashion - not just by keeping up with changing trends, but by using fashion as a way to connect to the world. Fashion can be political, personal, environmental, emotional - and for our 1,000th issue, we're delighted to feature a designer whose work encompasses all of those glorious complexities and intersections.
Taryn de Vere is an artist, writer and fashion activist living in Donegal - but most importantly, she is possibly the most colourful woman in Ireland. Attracted to joy, unusual materials, upcycling and wearable art, de Vere is known for making unique jewellery and headpieces. Several of her wearable art pieces are in the collection of the National Museum of Ireland.
Taryn de Vere's output is assembled in the family home, "on a hill in Donegal, not far from the sea," where she lives with four of her five children, who all help in the business. "The shop reflects our family - colourful, quirky, a bit silly and funny," says de Vere - which is also the kind of family environment in which she grew up in Australia.
"I was lucky enough to be born into a creative family," says de Vere. "My mum, dad, stepmum and granny all make stained glass windows. My aunt works making costumes in the film industry, and I'm the third generation to make headwear. I was making and selling my own crafts by the age of 11, when I had my first market stall. I won a scholarship for a fashion and design course when I was 16 and worked in the fashion industry when I left school. I'm not good at sitting still. When I used to have a TV, I learnt how to knit so that I could be doing something while I was sitting still. Now I listen to podcasts as I create."
De Vere's desire to embrace challenge means that her designs are all truly unique, one-off pieces. "I get bored very easily, which is why I don't tend to make exactly the same thing twice," she laughs. "My stock is ever-changing, depending on what new thing I've discovered that week, and what materials I'm playing with. I love finding random things and thinking about how I could turn them into a piece of wearable art. For example, I've used a lot of dog toys in my headpieces - they're often bright colours and fun shapes. I made an egg boob necklace out of dog toys once, and when people hugged me they squeaked. The squeak was an added bonus!"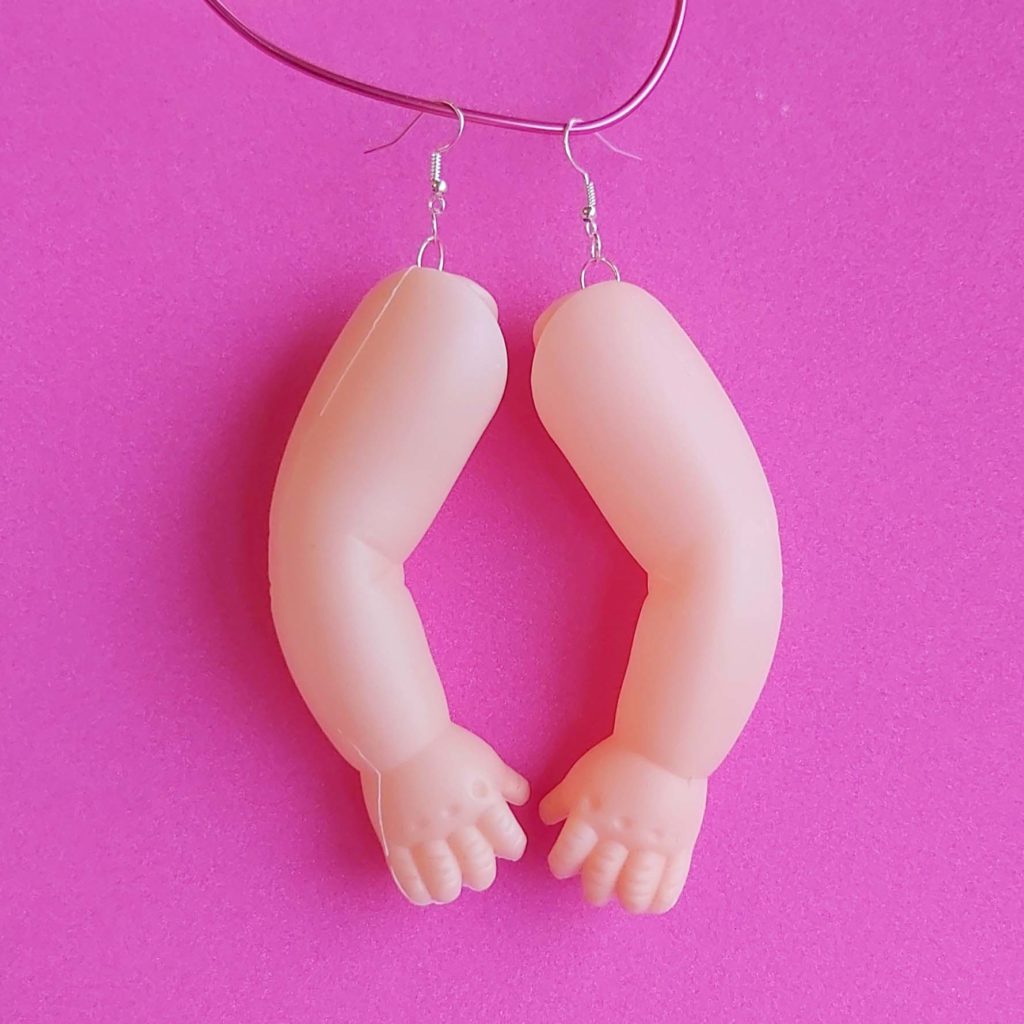 Advertisement
De Vere's work is deeply influenced by her family life, with one of her collections called 'The Things I've Said To My Children'. There are also product names like 'Can you just wait til I get off the toilet?' and 'Are you telling me that you cut off chunks of your sister's hair while she was sleeping?'. "I wanted the shop to be a reflection of my life as a lone parent with lots of kids," explains de Vere. "There is no point pretending I'm living a glamorous prosecco lifestyle, when the reality is I rarely get to finish a hot cup of tea. So I decided to do things a bit differently, to be honest and open about my family, and include our stories on the website. Instead of giving the products covetable, aspirational names, I've gone for silliness and authenticity. The fun names work with the products and with the overall colour-pop aesthetic of the shop."
But her work is also inspired by her political beliefs, and she has made headpieces to wear to marches supporting trans rights, reproductive rights and enthusiastic consent. "I define myself as a fashion activist," notes Taryn, "so all my work is inspired by my political beliefs and my personal experiences. I began making pieces of wearable art for protests during the water charges movement. I was going to these meetings where it was mostly men, and colour-wise they all looked so drab. I thought, 'This movement needs some colour and art', so I created a colourful cape. When pictures of that made it into a number of national papers I thought, I'm onto something here - I can get my message out through my fashion activism. I really upped that during Repeal, when the anti-choice people in Donegal were removing all our posters the day after we put them up. I created dozens of headpieces for each day."
She's also amassed some celebrity fans, and though she has only just launched her online shop, author Marian Keyes, Derry Girls actress Bronagh Waugh and writer Emer McLysaght have all announced themselves fans of de Vere's creations.
"I'm on a mission to make the world more colourful," says de Vere. "We know that what we wear affects our mood and that colour has an impact on how we feel, so I'm hoping to help people overcome their fear of wearing colour. I've colourful pieces from the very small and discreet to huge and over the top, so if you're just dabbling at wearing colour, I have something for you - and if you're a colour fanatic like me, I have something for you too."
You can buy Taryn de Vere's pieces at taryndevere.com and follow her very colourful Instagram account.
RELATED
Lifestyle & Sports
25 Nov 19
Lifestyle & Sports
14 Oct 19
Lifestyle & Sports
23 Sep 19