This week's catwalk: South Williams Street and Wicklow Street. Photography: Zoe Keating
In honour of Black Friday, we took to the streets of Dublin to snap shoppers' street style. Brace yourself; print clashing, bum bags and model behaviour are all to come.
Ingrid Doyle
23, Florist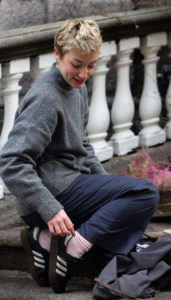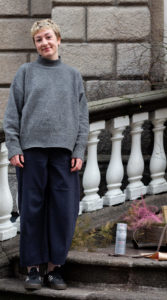 Outfit: Jumper H&M, trousers H&M, socks bought in Denmark, runners Office
Advertisement
Favourite trend: Big things, anything oversized
Wardrobe staple: Trousers, big trousers
Style icon: Loads of people on Instagram. I really like this girl Jazzelle (@uglyworldwide on Instagram)
Go-to shops: COS, H&M and Zara
Katy Syme
27, Model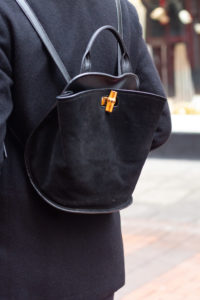 Advertisement
Outfit: Coat Adolfo Dominguez, jumper J. Crew, ex-boyfriend's long sleeve stripe top, jeans Topshop, boots Doc Martins, beret Topshop, scarf Universal Standard, bag Mango
Favourite trend: A long slip skirt, I always went mini with legs but now I love a midi length
Wardrobe staple: Beret - I wear one everyday
Style icon: My friends and people I see on the subway.
Go-to shops: A lot of vintage shops
Ju Yeong Yang (Rita)
20, Student
Advertisement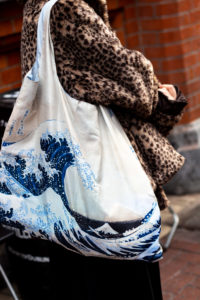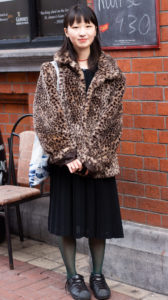 Outfit: Coat vintage, dress vintage, runners Adidias, bag art gallery.
Favourite trend: The '90s trends
Wardrobe staple: Bodysuit
Style icon: Kate Moss
Go-to shops: Charity shops
Timi Ogunyemi
Advertisement
31, PR Specialist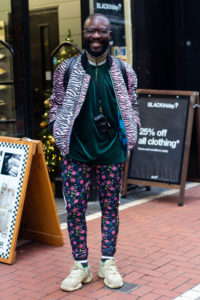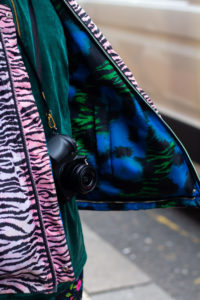 Outfit: Bomber jacket H&M x Kenzo, jumper ASOS, joggers Night Addict, runners Yeezy 500
Favourite trend: Not really into trends. I just like patterns and clashing crazy prints and florals together.
Wardrobe staple: H&M x Kenzo bomber jacket
Style icon: I used to like Will.i.am back when he was cool, now I just like cool street vibes
Go-to shops: Mainly online, Zara or ASOS
Advertisement
Katie Muirhead
24, Model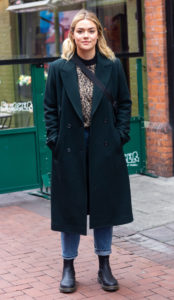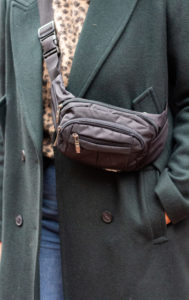 Outfit: Coat Witchery, jumper & Other Stories, Mom jeans Urban Outfitters, boots Doc Martins, bum bag Amazon, rings were a gift from her Nana in Sydney, earrings Mejuri and Catbird
Favourite trend: Bum bags, very convenient
Wardrobe staple: Stripe T-shirts from & Other Stories, I have every one in every colour.
Style icon: Cool moms that just really cool, comfortable and sick.
Advertisement
Go-to shops: & Other Stories, Urban Outfitters and Topshop
Yeong Eun (Jacqueline)
22, Student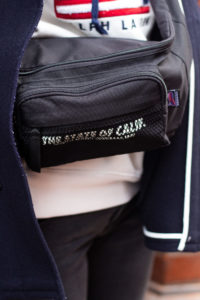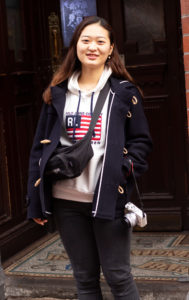 Outfit: Jacket MV10, jumper Ralph Lauren, jeans bought in a street stall, boots Doc Martins, bum bag Who R U
Favourite trend: Minimalist
Wardrobe staple: Something comfy
Advertisement
Style icon: Don't really have one
Go-to shops: Vintage shops